Zion National Park and Bryce Canyon National Park both feature amazing natural landscapes that are nothing alike, which is somewhat surprising considering they are less than 2 hours apart. Zion and Bryce are Utah's #1 and #2 most-visited national parks, respectively, and many visitors plan to see both on the same trip.
Which leads us to why you're here. You want to know where to stay between Zion and Bryce National Parks. This is one of our most frequently asked questions for this region, so we'll cover nearby towns, their pros and cons, and the types of accommodations offered in between Bryce and Zion.
---
This post may contain affiliate links. As an Amazon Associate and associate of other programs, I earn from qualifying purchases. This means if you click a link and make a purchase, I may earn a small commission at no extra cost to you.
---
Quick Recommendations: Where to Stay Between Zion and Bryce
Short on time? The quick answer is to stay in Kanab, Utah.
It's on US Route 89 between the parks and has plenty of restaurants, hotels, campgrounds, and stores.
It can get pricey and sell out in peak season, though, so book as far ahead as you can.
However, Kanab is not always the best option. Where to stay when visiting Zion and Bryce Canyon is more complicated than that.
It depends on your budget, what time of year you're traveling, and even which direction you are coming in from.
For example, if you're coming in from the west, say from Las Vegas, you have to drive through Zion National Park to get to Kanab.
It doesn't make sense to back track to the park; stay in one of the other towns near Zion.
If you're road tripping through and spending only one day in each park, we recommend staying in the towns outside of each park so you can get an early start without a long drive.
Here are some places to stay near Bryce Canyon National Park.
If you're on a budget and traveling between April and October (peak season), there's a good chance that none of the above will work for you.
We discuss other options below.
Keep reading for information to back up the statements above and to help you decide which is best for you and your travel budget.
---

---
Where are Zion and Bryce Canyon National Parks?
Zion and Bryce Canyon are Utah's westernmost parks of its Mighty 5 national parks.
They are only 1.5 hours apart, located in the southwest corner of the state.
Las Vegas is the closest big city and airport, 3.5 hours from Zion National Park.
Salt Lake City is 4 hours from Bryce Canyon National Park, if you find a better flight deal there.
The majority of visitors come from Las Vegas and visit Zion first and Bryce second.
Click the star to the right of the map title, and it will save this map to your Google Drive! To see the map legend, click the sliding bar icon to the left of the map title.
Despite how close they are to each other, these are two very different parks.
As you drive between them, the landscape will change quickly. Keep your camera out!
The main north-south route between the two parks is US Route 89.
State Route 9 branches off and connects to Zion, and State Route 12 connects to Bryce Canyon.
Can You Visit Bryce Canyon and Zion National Parks in One Day?
In the busy season in summer, no. There's just not enough time to visit both parks in one day.
You'd have time to do the scenic drive and one other hike before having to leave, eat lunch, drive 2 hours to the other park, and try to fit in another scenic drive and another hike before the sun sets.
Both parks use shuttle buses in peak season, which is generally April through October.
Zion doesn't allow personal vehicles in the inner canyon at all in peak season.
You'll have to wait for a shuttle to get into the canyon and again any time you want to move trailheads.
Bryce Canyon runs a shuttle from the town outside the park into the Bryce Amphitheater section of the park to help alleviate parking congestion.
Personal vehicles are still allowed (for now) and are the only way to see the Rainbow Point Scenic Drive and its overlooks.
Waiting for shuttles is a sneaky way to lose an hour or more per park per day.
In the off season, it might be possible to hit both parks in one day, but you'll be cheating yourself if you do.
Both parks deserve at least one full day each, even if you're just hitting the highlights on a Southwest USA road trip.
Should I Stay in One Hotel to Visit Both Zion and Bryce?
Maybe. I know, what a cheap answer, but hear me out. This really depends on how many days you are spending in each park and what kind of trip you are planning.
We've already established you need at least a full day in each park.
The more days per park you add, the more sense it makes to stay in a central location between the parks.
You don't have to worry about losing an hour to driving in the mornings if you have more time to see everything.
A more central location also makes sense if you are planning to see a lot of attractions within a 2 hour driving radius. (This is why Kanab is so attractive.)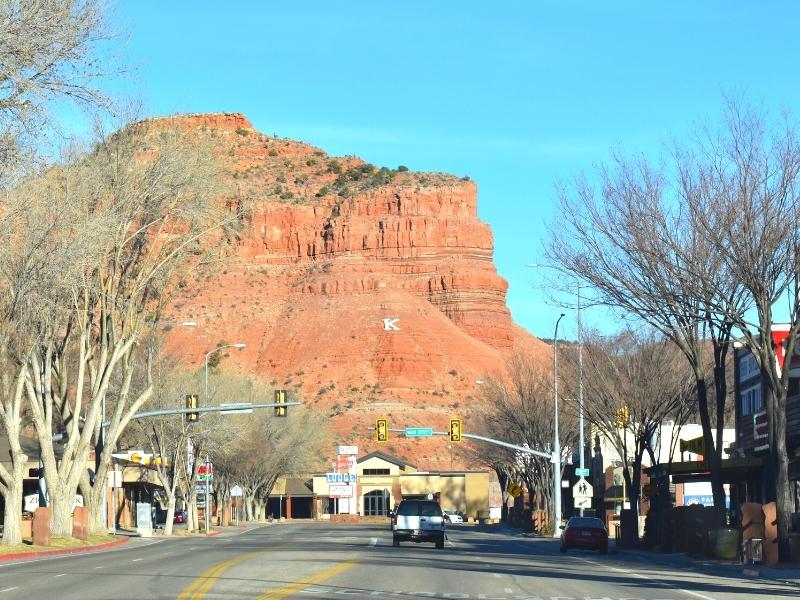 But are you road tripping through in a few days or focused on Utah's Mighty 5 in five days?
With just one day per park, it makes sense to stay as close to the park as possible so you can maximize time spent in the park, rather than wasting an hour or more driving to the park in the mornings.
Where you're coming in from and where you're going after is also a factor to consider and could decide this for you.
We did a Las Vegas Road Trip in a clockwise loop, stopping at Zion and Bryce Canyon for one day each, and it made more sense to stay in the town right outside each park's entrance both nights.
It wouldn't have made sense to drive past Zion and have to backtrack to see the park, just to have two consecutive nights in one hotel between the parks.
Also, this way we could sleep in to a reasonable time and be at the park immediately in the morning when they opened.
We prefer to drive at night rather than get up super early and drive in the morning.
Pro Tip: If you're also a night owl driver, beware the wildlife at night!

We came across entire herds of deer on the side of the road on State Route 9 when leaving Zion after sunset and heading to Bryce for the night.
Where to Stay: Towns Between Zion and Bryce
Click the star to the right of the map title, and it will save this map to your Google Drive! To see the map legend, click the sliding bar icon to the left of the map title.
Towns are few and far between in the area between Zion and Bryce Canyon National Parks.
Don't let Google maps fool you! Most are nothing more than a few buildings and houses with one restaurant, if you're lucky.
There are also many campgrounds, RV parks, and one-off places to stay along US 89 that are not necessarily in a town per se.
The best way to discover these is to use a website like Booking.com and search by area.
Read reviews and make your own educated decision.
We are hotel travelers through and through, so we have no experience with and can't recommend any particular one-off spots like this.
If you're like us and looking for a quality hotel where you know what to expect, all of the following towns are worth looking into for a stay between Zion and Bryce Canyon.
If you have more than one day to spend in each park, Kanab is hands-down the best option if you can find a spot within your budget.
Kanab
The preferred home base for many a Utah/Arizona adventurer, Kanab is a great central option for exploring the southern Utah & northern Arizona region.
All of the following attractions are within reasonable driving distance from Kanab:
Zion National Park
Coral Pink Sand Dunes State Park
Vermilion Cliffs National Monument – The Wave hike
Lake Powell
Page, AZ – home of Horseshoe Bend and Antelope Canyon
Grand Canyon National Park's North Rim
If you are determined to stay in between Zion and Bryce, this is our recommended option.
It seems closer to Zion than Bryce, taking only 30 minutes to reach Zion's east entrance but 1.5 hours to reach Bryce's front door.
Note, though, that when traveling to Zion from Kanab it's 30 minutes to the east entrance, plus another 30 minutes to the visitor center by the south entrance to catch the mandatory shuttles in peak season.
Even in non-peak season when you can take your own car into the Zion Canyon, you have another 20 minutes or so of driving to get from Zion's east entrance to the beginning of the Zion Canyon Scenic Drive.
Kanab is a decent sized town with all major hotel chains and plenty of restaurants to choose from.
Because of Kanab's ideal central location for many regional attractions, prices can be high and will sell out fast ahead of peak season.
If you want to stay here, book early.
Panguitch
Closer to Bryce than Zion, Panguitch is a historic small town option with mostly boutique motels, inns, and bed and breakfasts.
This tiny spot is the county seat and just 30 minutes from Bryce's entrance and about 1.5 hours to Zion's visitor center at the south entrance.
The town hosts several festivals each year, including a Hot Air Balloon Rally & 5k and its famous Quilt Walk.
Origins of the Quilt Walk Festival

One winter shortly after the town was founded, they ran out of food. Starving, a group of men walked through the snow and across the mountains to a neighboring town to get flour.

They used quilts spread across the top of the deep snow to help make it easier for the men to cross the mountain pass without sinking into the snow.

They made it to another town, bought food, and returned to Panguitch, using their quilts to once again make it through the snow.
Today, the town still remembers this piece of pioneer history every year, thankfully in June rather than in the historically-correct winter!
Panguitch is a good option for a place to stay if you don't want to worry about crowds (unless it's a festival weekend) and are flexible with amenities.
Cedar City
This decent sized town is not really between Zion and Bryce Canyon, but it is similar driving times to each park.
Cedar City is north of Zion on I-15, about an hour from Zion's south entrance and 1.5 hours from Bryce's entrance.
Click the star to the right of the map title, and it will save this map to your Google Drive! To see the map legend, click the sliding bar icon to the left of the map title.
The town has most major hotel chains, plenty of fast food and restaurants, a grocery store, a pharmacy, and plenty of gas stations.
It's a more suburban-type stay, if you're used to that level of amenities.
This is our second recommendation if you can't find a place to stay in Kanab that fits your budget.
Where to Stay near Bryce Canyon National Park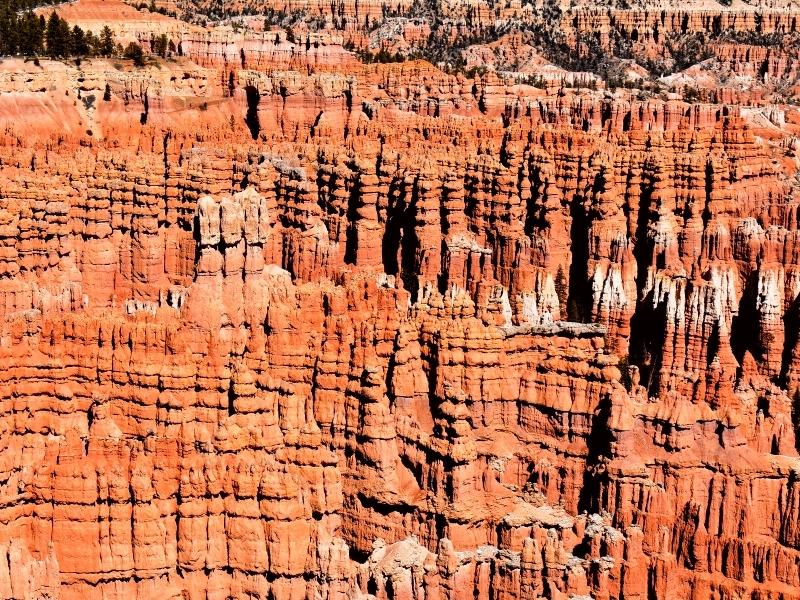 The tiny town of Bryce is right outside the entrance to the national park, and it essentially consists of 3 hotels, 3 restaurants, a gas station, and a handful of shops.
This is not a big place.
Your only hotel options are:
We stayed at the Grand Hotel for a decent price in off season.
Ruby's also has a campground and RV park nearby, just outside the park entrance.
Your options for staying in the park are The Lodge at Bryce Canyon or one of the park's two campgrounds.
>>> Looking for where to stay near Bryce only? Check out our detailed guide for Bryce Canyon-centered places to stay. <<<
Where to Stay near Zion National Park
Zion National Park was the second most visited national park in the US in 2021, and it thankfully has more options for places to stay.
Inside the park, your options are the Zion Lodge or one of three campgrounds.
Outside the park, your options increase considerably.
The town of Springdale is located literally right at Zion's south entrance. It exists entirely to serve the tourists that come to explore the park.
Every major hotel chain is represented, and many boutique hotels give them a run for their money.
Campgrounds and RV parks are seemingly everywhere along the route as you drive away from the park.
We stick with hotels we have loyalty points with, so we're fans of:
Several other towns, all within an hour's drive of Zion, provide options for striking a balance between distance from the park, amenities, and an affordable budget.
>>> Looking for where to stay near Zion only? Check out our detailed guide for Zion-centered places to stay. <<<
Which is Better: Bryce Canyon or Zion National Park?
This is the second most-often asked question we get about these parks, right after where to stay between them, but it's not really a fair question.
Both parks are spectacular in their own right.
The orange hoodoos of Bryce Amphitheater are so unique and mesmerizing, while there's nothing quite like standing at an overlook and looking down into Zion Canyon.
Two amazing views in two different parks that both deserve your time.
But sometimes tough choices have to be made to fit schedules, so here are a few differentiators between Bryce and Zion.
Bryce is more accessible for mobility-limited individuals.
If mobility is a concern, choose Bryce Canyon National Park.
The scenic drive provides spectacular views just a few steps from the car at most overlooks and down short paved paths at the rest.
There's also a paved path connecting Sunrise and Sunset Points for viewing the Bryce Amphitheater and the world's densest collection of hoodoos.
Most parks require a hike to get to good viewpoints, but at Bryce you can see many of the park's highlights without any hiking at all.
Zion is for hikers.
If your goal is to get out in nature, choose Zion National Park. The park has a variety of landscapes and elevations to choose from.
See the desert in the southwest corner, stroll along the Virgin River in Zion Canyon, or hike up to the canyon rims for some truly spectacular views.
There's a hike for most abilities here.
Adventurous types in particular will love Zion for its many wilderness trails and strenuous hikes.
Angel's Landing and The Narrows are two of the more difficult hikes in the US national parks, but the experiences and views are unrivaled.
---

---
Did you decide to stay between Zion and Bryce?
We hope this article helped you decide where to stay between Zion and Bryce, or helped you decide that perhaps staying at each park is a better fit for your trip itinerary.
These beautiful parks make for unforgettable memories. We hope you enjoy your trip!
Happy travels!
Share it!