If there's one thing that can make or break your vacation before it even starts, it's lodging. Finding the best place to stay in an area you're unfamiliar with can be a challenge, so we've created this local's guide to Charleston neighborhoods and beaches. With information on amenities, distance to attractions, and lodging recommendations, you'll easily identify where to stay in Charleston on your next trip that works best for you!
---
This post may contain affiliate links. As an Amazon Associate and associate of other programs, I earn from qualifying purchases. This means if you click a link and make a purchase, I may earn a small commission at no extra cost to you.
---
Where to Stay in Charleston Depends on What You Want to Do
Charleston, South Carolina is a beautiful and historic coastal city, older than the country itself. People flock here every year for different reasons.
Bachelor/ette parties and girls' trips are a huge draw for many. The spring flowers are breathtaking, and the sea turtle hatchlings in late summer are so cute!
Some just want to go to the beach and maybe tour an aircraft carrier while they're in town. Others simply want to escape the cold temperatures and snow in their home state.
Whatever your reason for visiting, there's a perfect place to stay in Charleston.
The ideal neighborhood for your visit, however, depends on how you're getting around town and what you want to see while you're here.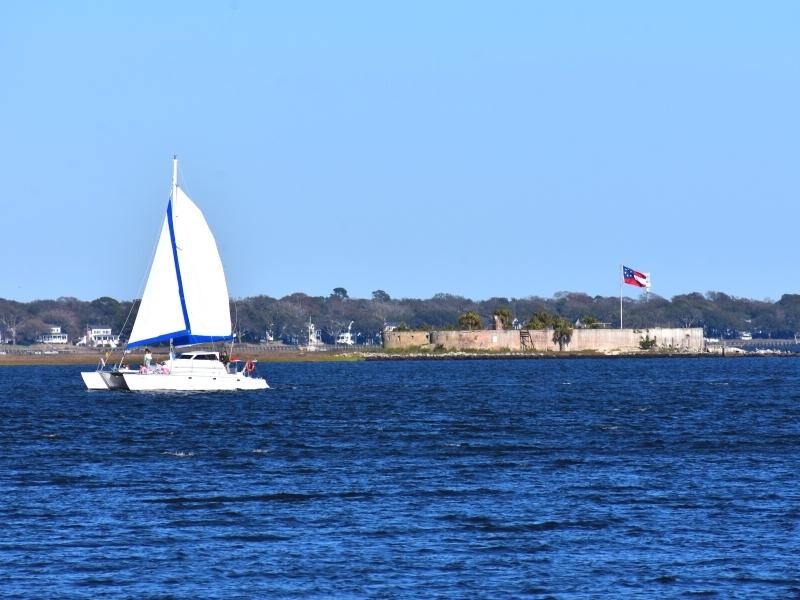 How are you Getting to and Around Charleston?
Everyone that visits Charleston is either flying or driving into town. If you're here longer than a few days, there's a good chance you'll want a car to get around.
The only exceptions we can think of for this are:
Resort guests that don't plan to leave the property.
Downtown visitors that intend to uber or take a tour to any outlying historic sites.
If you have a car at your disposal, you can basically stay anywhere you want and be fine, so long as you don't mind finding and paying for parking.
But there's always something to be said for the convenience of being able to walk out the front door of your accommodation and be within minutes of attractions, dining, and shopping.
That's why it matters where you stay.
What are You in Charleston to See?
The Charleston area's popular neighborhoods and suburbs, like the Downtown Historic District, Folly Beach, and Mount Pleasant, each have their own unique features that make them special.
Downtown Charleston's historic district radiates Southern charm while the outlying plantation districts grapple with the area's dark past.
Gorgeous sandy beaches line the coastal islands, and flowers bloom all year round. Fresh seafood appears around every corner, whether in a food truck or an upscale restaurant.
What you want to see the most can help you choose where to stay in Charleston.
Foodies will love downtown's wide variety of upscale restaurants and roof-top bars, but perhaps be disappointed by all the chain restaurants in the suburbs.
History buffs will love downtown's historic district and the outlying plantation districts, but be less impressed with the lack of history at the beach.
Beachgoers will love any of the Charleston area beaches but may be surprised to find there are no beaches on the downtown peninsula.
Let's look at the pros, cons, and types of accommodations available in each of Charleston's neighborhoods.
Best Areas to Stay in Charleston
Charleston, South Carolina invokes images of historic buildings like Rainbow Row, old charm, beaches, plantations, and giant oak trees covered in Spanish moss.
The Charleston area has all of that and more, but it's not all located within the downtown peninsula city limits.
Here are the three best neighborhoods to stay in Charleston for visitors. We'll look at the best beaches after that.
Downtown Charleston & the Historic District
If you're visiting Charleston for the food, the history, and the southern charm vibe, the best place to stay in Charleston is the downtown historic district.
The historic district is generally the southeastern corner of the downtown peninsula, lining the east waterfront along the Cooper River and adjacent to Charleston Harbor.
Pro Tip: There is no beach downtown! If you want to lay on the beach for a week and see the occasional historical site, stay at one of Charleston's beach communities (discussed below) and day trip to downtown Charleston.
Parks shaded by giant Southern live oaks, cobblestone alleys, and buildings older than the country itself dominate the neighborhood.
Award-winning restaurants and historical tours are around every corner, and, depending on the season, blooming jasmine or azaleas are everywhere.
However, Downtown is also one of the most expensive places to stay in Charleston. Most of the hotels in this area are small, boutique options in historic buildings with higher price tags.
A few chain hotels in the downtown area are a bit further from the historic center than the boutique hotels but offer similar convenience and the chance to use loyalty points to take the sting out of the cost of staying downtown.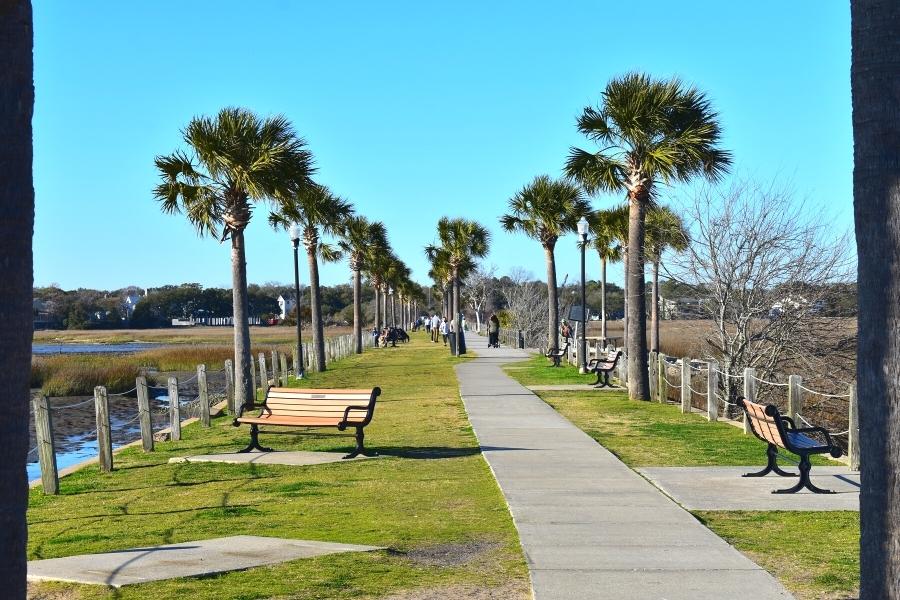 Mount Pleasant
The closest area to downtown Charleston without staying on the peninsula, Mount Pleasant is the second best option when looking for a place to stay in Charleston.
It's right across the Cooper River, on the other side of the impressive Arthur Ravenel Jr. bridge. You'll find plenty of affordable lodging options here, but it can get pricey at certain times of year.
It's especially popular with families that need to consider younger palates when it comes to dining. Mount Pleasant has plenty of chain and fast food restaurants that are sure to appeal to the kids.
Patriot's Point, Shem Creek, and Boone Hall Plantation are all located in this part of Charleston.
Staying on the riverfront is ideal for those that want to spend more time downtown.
Staying in Mount Pleasant's center is a good central suburban location for those that want to experience a little bit of everything in Charleston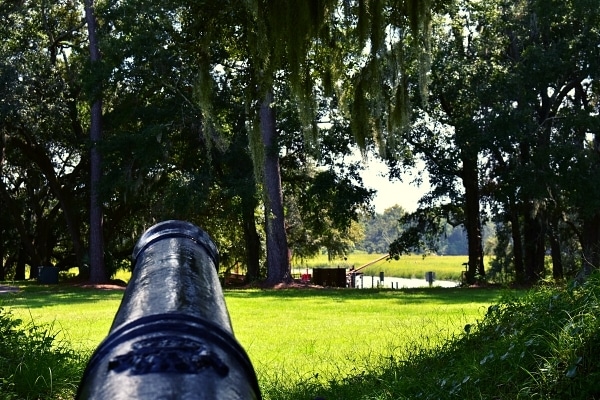 West Ashley
Appropriately named, the suburb of West Ashley is west of downtown, across the Ashley River. It's a mix of residential and strip malls with historic sites still standing here and there.
The original Charleston settlement is preserved in this area at the Charles Town Landing State Historic Site and just across Wappoo Creek is McLeod Plantation Historic Site and James Island County Park, home of the popular Festival of Lights in November & December.
This suburb has easy access to downtown, although a little further out than Mount Pleasant. Consequently, it tends to be a bit more affordable, depending on your lodging's proximity to the water.
The Ashley River Historic Plantation District is a short drive north of West Ashley and features Middleton Place, Magnolia Plantation and Gardens, and Drayton Hall.
We created a helpful checklist that discusses each plantation's amenities and vibe and compares the top 5 plantations in Charleston, four of which are in the West Ashley area.
It's a great tool to help you decide which plantations to visit on your Charleston trip. And you can even stay at The Inn at Middleton Place if you're looking for an exclusive experience!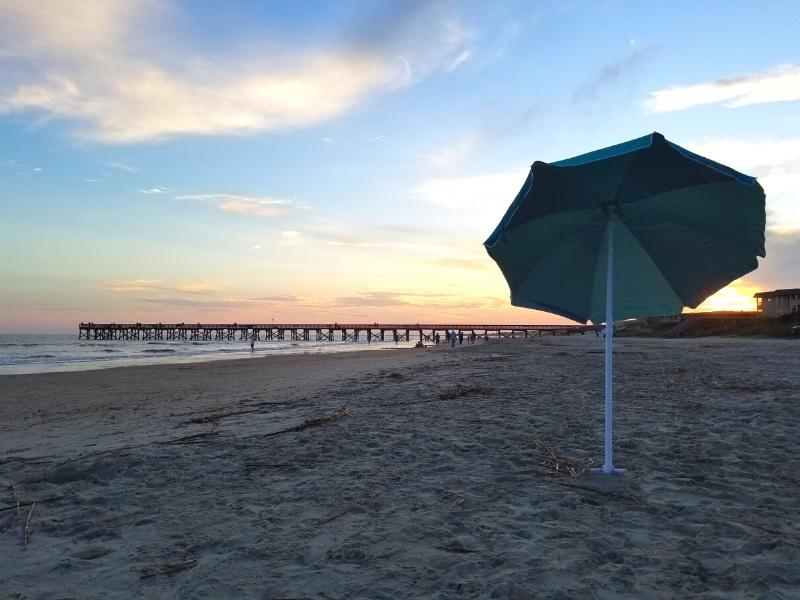 Best Beach Areas near Charleston
If your goal for visiting Charleston is a beach trip, then we recommend you stay at the beach, not downtown or in the suburbs.
There is no beach access from downtown's historic district. You'll have to drive to one of the following if you're looking for a day trip to the beach from Charleston.
Isle of Palms
Sometimes referred to simply as IOP, Isle of Palms is our personal favorite Charleston area beach. Soft white sand, amenities, and a pier provide all the fun you'd expect of a day at the beach.
The northern half of the island is gated, for residents and guests of the Wild Dunes Resort only, but the southern half is all public and the same great wide, sandy beach.
It's cheaper to stay in Mount Pleasant and drive out to the beach every day, but if you prefer being within walking distance, your best bet is a vacation rental.
We highly recommend looking around a site like Booking.com or your favorite vacation rentals site, but here are a couple of good options.
Sullivan's Island
The quiet, slow-paced, mostly residential island closest to Charleston Harbor's oceanside is Sullivan's Island. The tiny town is cute with good food options, but you won't find any hotels here!
Sullivan's Island is a great place to stay near Charleston for low-key travelers looking to keep to themselves for quiet time and relaxation.
But it will come with a higher price tag! A good option for families looking to stay together and willing to split the cost of a rental.
This island is also home to Fort Moultrie National Historical Park, a fascinating look into the harbor's coastal defenses dating all the way back to the American Revolutionary War and as recent as the 1950s.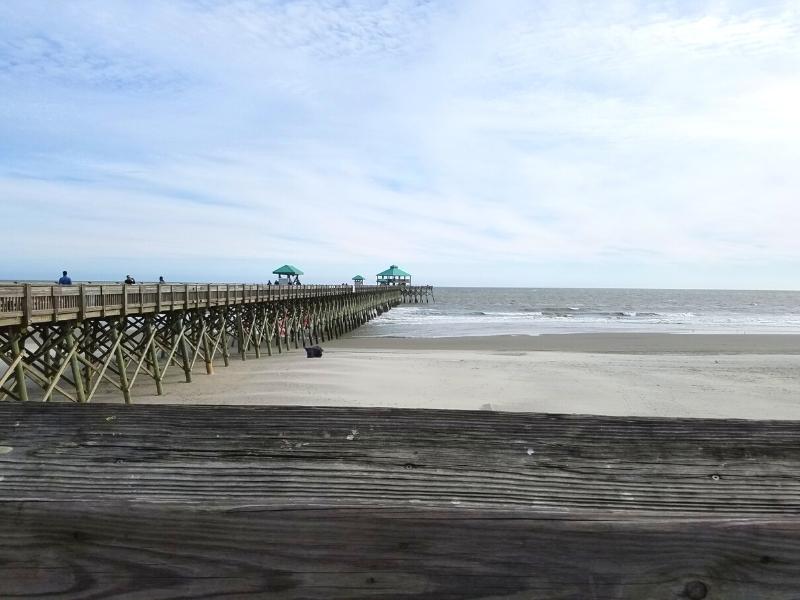 Folly Beach
Folly Beach is one of Charleston's most popular beaches and a common place to stay near Charleston for beach goers and families.
It can get crowded, but that's also because it's the most affordable of the Charleston beaches.
This community is famous for its pier (2nd longest on the east coast) and many restaurants on its entrance road, within walking distance of the beach and pier.
Folly also has a county park at the far southern end, offering more convenient parking to beach access as well as amenities like changing stalls and rinse-off showers.
At the northern end of Folly is the Lighthouse Inlet Heritage Preserve, a great place to see the Morris Island Lighthouse and enjoy birdwatching.
Kiawah Island
Moving southwest along the coastline away from Charleston, Kiawah Island is next after Folly Beach.
Kiawah Island is one of the best places to stay in Charleston for golf enthusiasts! It's famous for its top-tier golf courses, like the Ocean Course which hosted the 2021 PGA Championship.
Kiawah is a partially private island. We say partial because there's a county park on the southern end that is not behind the island entry gate. Anyone can visit the county park and enjoy Kiawah's beach for the day.
Otherwise, to access the island you must be a resident, have proof of reservation for a vacation home, resort, or restaurant on the island, or have a confirmed tee time at one of the golf courses.
Because of the entry gate, crowds tend to be smaller than at the public beaches like Folly or Isle of Palms.
You won't find chain hotels here, only high-end 4 and 5 star resorts and a ton of rental properties.
Seabrook Island
Seabrook Island is for the exclusivity seekers. A private island only accessible to residents, members of the country club, or their guests, Seabrook is probably the most upscale place to stay near Charleston.
The Seabrook Island Club offers championship-level golf courses, racquet ball, tennis courts, and an equestrian center.
This place just feels bougie, as it's meant to, offering guests and members a luxurious island experience. Not to mention the private beach devoid of any crowds. Only fellow residents and their guests here.
What does that mean for the average joe visitor? Plan to book a rental property rather than a hotel, and be prepared for pricey dining.
Rental sites like AirBnb and Vrbo are your best bet for finding a somewhat reasonably priced place to stay on the island.
As for dining, most of the nearby restaurants are actually off of Seabrook Island at the Freshfields Village center. This is an upscale outdoor mall with dining and boutique shopping for Kiawah and Seabrook Islands, or anyone that wants to drive out to it.
Pro Tip: Beware of rentals that claim to be oceanfront but are actually on the salt marsh and have no beach access. Check Google maps satellite view of the area. If you're still unsure, verify with the owner before putting down your deposit.
---
---
Where Not to Stay in Charleston
Sometimes knowing where to avoid is just as important as knowing where to stay in a new city.
To clarify, these aren't unsafe areas; they're merely less convenient for sightseeing compared to the other areas discussed above.
You could still find a pretty good deal at a hotel in one of these areas. Drive time will be a bit longer to the most popular things to do in Charleston, but the cost savings could be worth it for you.
>> North Charleston
Unless you're in town specifically for a concert at the North Charleston Coliseum or a conference at the Charleston Area Convention Center, we don't recommend staying in North Charleston for a vacation.
There are two areas in this suburb with hotel clusters:
the outlet mall/convention center/airport area at the intersection of I-526 and I-26
Ashley Phosphate Road exit on I-26
Neither is really that far from downtown, about 20 minutes, but both deal with significant traffic delays on the interstates during commuter hours, and sometimes on the weekends for no reason at all.
If you find a great deal on a hotel here, then by all means, book it! But if the price is about the same, we'd recommend staying closer to downtown and the beaches.
>> Summerville
Summerville is growing fast and doing its best to become a local's alternate to Charleston, adding secondary locations for popular downtown restaurants and stores.
It's the Charleston area suburb that's furthest north along I-26 and has plenty of chain hotels, stores, and restaurants.
However, it's a 45-60 minute drive to reach the beaches, downtown, or the historic plantations.
Combine that with the commuter traffic delays and you could spend 3 or more hours in the car just to get to the beach or downtown from Summerville.
You won't find such a good deal on a hotel in Summerville that justifies that additional drive time. Stay closer to the coast and save some time and hassle.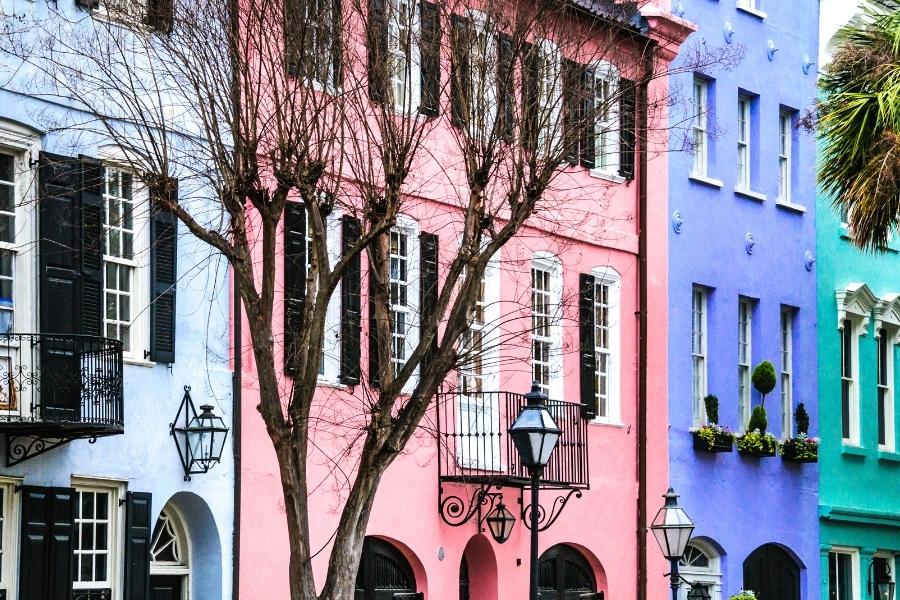 There's a Place to Stay in Charleston for Every Budget!
We hope this neighborhood guide to Charleston's best places to stay was helpful! You'll enjoy your Charleston vacation more when you're centrally located and have easy access to lodging, food, and attractions!
More Charleston area Travel Resources
Happy travels!
Share it!