Charleston, South Carolina is the USA's new favorite vacation destination, hosting everyone from bachelorette parties, couples, and families and catering to history buffs, foodies, and sun worshippers. There's so much to do in this laid-back Southern city that it can be overwhelming to plan a trip here.
So today, let's make your life easy.
All the research is done for you. Let's discover the top 5 best plantations to visit near Charleston and choose one or two to put on your Charleston vacation itinerary!
---
This post may contain affiliate links. As an Amazon Associate and associate of other programs, I earn from qualifying purchases. This means if you click a link and make a purchase, I may earn a small commission at no extra cost to you.
---
Charleston's History in a Nutshell: How Did the Plantations Get Here?
Charleston is one of America's colonial-era cities, dating back to the 1600's. The English lords that set up the South Carolina colony instituted similar systems from their Caribbean colonies that made them very wealthy men.
They wanted to replicate sugar cane plantations, but were surprised when the crop didn't fare well in the South Carolina climate.
It wasn't long before they discovered that rice flourished in the ever-saturated ground of the Charleston low country, and rice plantations popped up along all the major waterways of the area.
Charleston grew into the South's first great port city, and slavery became the backbone of the southern agricultural economy for the next 200 years.
Finally, in 1865 after 4 years of brother fighting brother, the American Civil War was won by the Union and slavery was abolished forever.
As for Charleston's plantation homes, the majority were looted or burned during the war, by both sides.
---
---
Should I Visit a Plantation?
You should absolutely visit a plantation. A lot of people struggle with this question, but these spaces have complex pasts and a lot to teach us.
History is often not pretty, and the unpleasant parts are the ones from which we can learn the most. It's only by educating ourselves and teaching new generations these hard-learned lessons that we can move forward.
The plantations that remain today give a peek into what life was like in South Carolina during colonial, early republic, and antebellum times.
These are not monuments to the South's glory days; these are history museums striving to teach a bit of history to visitors while sharing some beautiful trees and gardens in the process.
Each Charleston plantation has its own stories to share, and all of them remember and respect the enslaved people that lived here. The McLeod Plantation focuses entirely on the lives and legacy of the Black families once enslaved on the property.
If historical plantations aren't your speed, check out the Charleston Tea Plantation instead! This plantation wasn't established until the 1960's and has no ties to slavery.
Choosing the Best Plantation to Visit for Your Charleston Vacation
What makes these plantations "the best" in the Charleston area? Price and unique features are typically the most important factors. But I'm an avid planner who thoroughly researches destinations before I go anywhere, so we'll look at all of the following:
Cost: entrance fees

and

additional tour fees
Distance from downtown Charleston
Unique features
Dining options
Shopping options
All you have to do is read the description of each and pick your favorite that works with your budget, timeframe, and hotel location!
Grab the free cheat sheet printable to help you choose!
---
Get Your Bearings: Charleston and its Suburbs
In order for you to better appreciate the distance from downtown of each plantation, let's get to know the Charleston area a bit better. Choosing where to stay is an important part of making your vacation great.
The location of your hotel may sway your decision on which plantation to visit; then again, maybe the plantations you want to see will sway your choice of lodging!
Downtown Charleston & the Historic Center
Downtown Charleston sits on a peninsula between the Cooper and Ashley Rivers which meet at the Atlantic Ocean to form Charleston Harbor.
The historic Charleston area is on the Cooper River (east) side of the peninsula. Here you'll find The Battery, Rainbow Row, the Edmondston-Alston House, City Market, and much, much more.
These are the priciest hotels but the convenience may be worth it to you.
If you intend to spend most of your vacation on the beach, don't stay downtown in the historic district. There is no beach access there.
East: Mount Pleasant, Shem Creek, Sullivan's Island, & Isle of Palms
To the east across the Cooper River (and the magnificent Arthur Ravenel Bridge), is the town of Mount Pleasant. This is also how you access Isle of Palms and Sullivan's Island and beaches and the popular Shem Creek area.
Hotels in Mount Pleasant, just across the really cool bridge, are about the same price as downtown, maybe a bit cheaper, but have the added bonus of nearby fast food options for those discerning young eaters that are not yet true foodies like their parents.
West: West Ashley, James' Island & Folly Beach, John's Island, Kiawah Island, & Seabrook Island
West of downtown, across the Ashley River, is the town of West Ashley. (Creative, I know, lol) You can also access John's Island, Kiawah Island, Seabrook Island, and Folly Beach from here.
West Ashley is a good option for less expensive accommodations, also with fast food options for youngins, and it's only 10 minutes from downtown Charleston.
Folly Beach is a popular community for those seeking a beach vacation. Folly is generally more affordable than Isle of Palms but also more crowded.
Note that Kiawah Island and Seabrook Island are closed communities. Unless you rent accommodations, they'll turn you away at the gate.
North: Hanahan, North Charleston, Goose Creek, Summerville
Chances are you took I-26 into Charleston, whether driving from out of state or flying into the airport.
Instead of taking I-26 East into Charleston, take I-26 West to go inland and you'll pass exits for the suburbs of Hanahan, North Charleston, Goose Creek, and Summerville.
These all offer the cheapest accommodations with easy access to downtown if you have a car.
The Top 5 Best Plantations to Visit near Charleston, SC
The following five plantations are all within easy driving distance of downtown Charleston. The map below will also help you easily find which plantation is closest to your hotel.
Click the star to the right of the map title, and it will save this map to your Google Drive! To see the map legend, click the sliding bar icon to the left of the map title.
1. Middleton Place National Historic Landmark
Beautiful formal gardens are the focus of this Ashley River plantation, bursting with color almost all year round. A wing of the main house remains, as well as a working stableyard and Eliza's House, a slave cabin with a story.
General Admission & Cost:
$26 per adult (14+), $10 per kid (6-13) and per student 14+ with valid student ID, 5 and under free.
Note that adult tickets are $29 if purchased at the gate rather than online ahead of time.
General admission includes the following:
Self-guided tour of the Gardens and Grounds, including the Stableyard
Guided Garden Tours, discussing the history of the gardens and the flowers and plants you'll see across the property
Beyond the Fields: Enslavement at Middleton Place
Meet the Historic Livestock Breeds Tour, discussing the history of the original livestock breeds and why they were brought to the plantation
Additional Tours & Cost:
Self-guided tours of the Middleton Place House Museum are available for an additional $12 per person when purchased ahead online.
Combo tickets are available with the Edmondston-Alston House in downtown Charleston for $49 per adult, $30 for students with ID and kids (6-13). The two homes were owned by the same family and are now managed by the same Trust.
This combo ticket includes general admission to both Middleton Place and the Edmondston-Alston House, as well as the House Museum tour at Middleton Place.
VIP Tour Experiences are available for $300 for up to 4 guests. This premium experience includes a private 45 minute carriage ride around the property, general admission and House Museum entrance, a $50 credit for lunch at the Middleton Place Restaurant, and an itinerary planned by a personal host.
You must call ahead for this package. An unforgettable way to explore Middleton!
Distance from Downtown:
30 minute drive from Charleston, closest to West Ashley hotels. The Inn at Middleton Place is an on-site hotel that includes admission to Middleton Place for every day of your stay.
Unique features:
Gorgeous formal landscaped gardens along the banks of the Ashley River.
Dining options:
The Middleton Place Restaurant is a more upscale restaurant experience than you'll find at any of the other Charleston area plantations.
Serving lunch and dinner menus using seasonal, locally sourced ingredients, this usually means your choice between shrimp, catfish, pulled pork, and fried chicken. Vegetarian options available.
The Garden Market also has cheap eats and ice cream.
If you want to go old school romantic, order a personalized picnic basket 24 hours ahead of your visit. Middleton Place chefs will create a custom Lowcountry picnic basket for you and your sweetie to enjoy wherever you like on the property, utensils and picnic blanket included!
Shopping:
The Museum Shop is Middleton Place's gift shop, open to the public as well as paying visitors, and is located by the parking lot. Get all your souvenirs here!
The Garden Market and Nursery sells home and garden items, many made on-site, or perhaps you'd rather take home your own camellia plant for your garden!
---
2. Magnolia Plantation & Gardens
Not your typical plantation house, but plenty of areas to explore around the property to keep you busy on a day out. Magnolia boasts romantic gardens, rather than the formal gardens found at Middleton Place.
Magnolia not only has a guided house tour, acres of beautiful gardens, and those gorgeous Ashley River views, but it also has a petting zoo (with peacocks!), a conservatory for exotic plants blooming all year round, and the Audubon Swamp Garden, which is much prettier than it sounds.
General Admission & Cost:
$20 per adult, $10 per kids 6+, 5 and under free.
Admission is good for a return visit within 7 days! Handy if you miss a tour because you got lost in the gardens…
General admission includes the following:
Self-guided tour of the Gardens, including the Maze and the Children's Garden
Self-guided tour of the Conservatory
The Petting Zoo & Nature Center
Gilliard Garden Center
Additional Tours & Cost:
Additional $8 per person (adult and kids 6+) per tour listed below. Kids 5 and under are still free. The Bird Walk is a special, once monthly tour that costs $22 per person.
Guided tours of the House
Guided Nature Tram rides through the gardens, great for getting off your feet for a bit!
Guided Nature Boat tours on the Ashley River (closed in winter)
Guided From Slavery to Freedom: The Magnolia Cabin Project, tours through 5 preserved and restored historic slave dwellings
Self-guided Audubon Swamp Garden tour
Seasonal Bird Walks, $22 per person when available, special tours only on the first Sunday of the month, get there before 8:30AM
All-inclusive combo tickets are $52 per person ($8 savings versus buying each tour individually) for those ambitious visitors that want to do it all!
Note on guided tour timing: all guided tours use the same time slots and there are only 6 tour times throughout the day. If you're planning to do all 4 guided additional tours, bring a watch and be on time!
Distance from Downtown:
25 minute drive from Charleston, closest to West Ashley hotels
Unique features:
Peacocks roam the grounds freely! You'll usually find a few hanging out in the Zoo as well.
An Observation Tower on the far north end of the gardens has spectacular views of the Ashley River.
Dining options:
The Peacock Café is centrally located and serves quick eats for breakfast and lunch. Snacks and drinks are available in between meals. Nearby giant live oaks tower over and shade several tables, or bring a picnic blanket and go snack on the lawn in front of the house.
Shopping:
A gift shop is located in the bottom floor of the main house and is surprisingly large!
The Gilliard Garden Center is open to the public and does not require general admission to the plantation. Here you can purchase your own little piece of the Magnolia gardens to take home and grow.
---
3. Drayton Hall
This former plantation is full of surprises. Drayton Hall is the only Ashley River plantation main house that was not burned to the ground when the Union Army arrived during the Civil War, possibly because the home was being used as a hospital.
After the war, the land owners left for Texas but many of the former slaves stayed on the property, eventually becoming workers for the phosphorous mining company that was established here.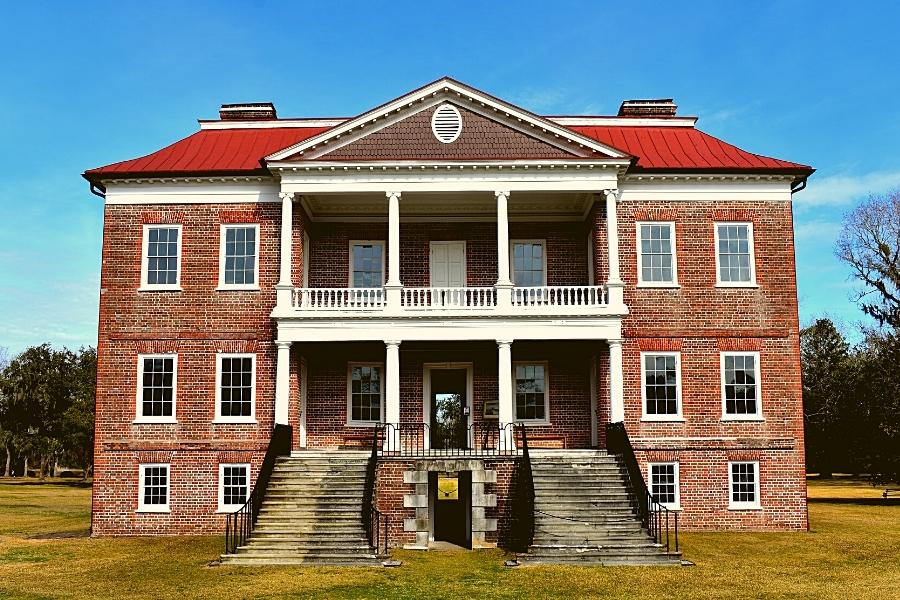 General Admission & Cost:
$22 per adult (16+), $10 per kid (7-15), ages 6 and under free.
Tours are self-guided audio tours, so bring earbuds and a fully charged cell phone! General admission includes the following:
Exhibits of historical artifacts on display in the visitor center gallery
The Lenhardt Garden, small garden with benches surrounding a large oak tree in the courtyard of the visitor center
Self-guided audio tour of the House and Grounds, with docents inside the house to answer questions
Self-guided tour of the Caretaker's House
A Sacred Place: African American Cemetery
Additional Tours & Cost:
No additional tours.
Distance from Downtown:
25 minute drive from Charleston, closest to West Ashley hotels
Unique features:
Drayton Hall is unique in that the Trust has not restored anything to a specific time period. The buildings and grounds are all stabilized and safe, but preserved in the state they were in when the Trust acquired the property.
So, you can still see where the Drayton family members marked the heights of their growing children on the doorframe. Unique details like this are hidden all over the property.
Dining options:
No dining on-site. The gift shop sells several food products but nothing that would constitute a full meal.
Shopping:
A gift shop is located in the visitor center by the parking lot, but you can also shop online if you see something you like but can't fit it in your luggage for the trip home!
---
4. Boone Hall Plantation & Gardens
A very popular Charleston destination, you're sure to have seen Boone Hall at the top of many a Charleston sight-seeing list. Festivals throughout the year means there's no bad time to visit, whether you're interested in oysters, strawberries, pumpkins, or Christmas trees!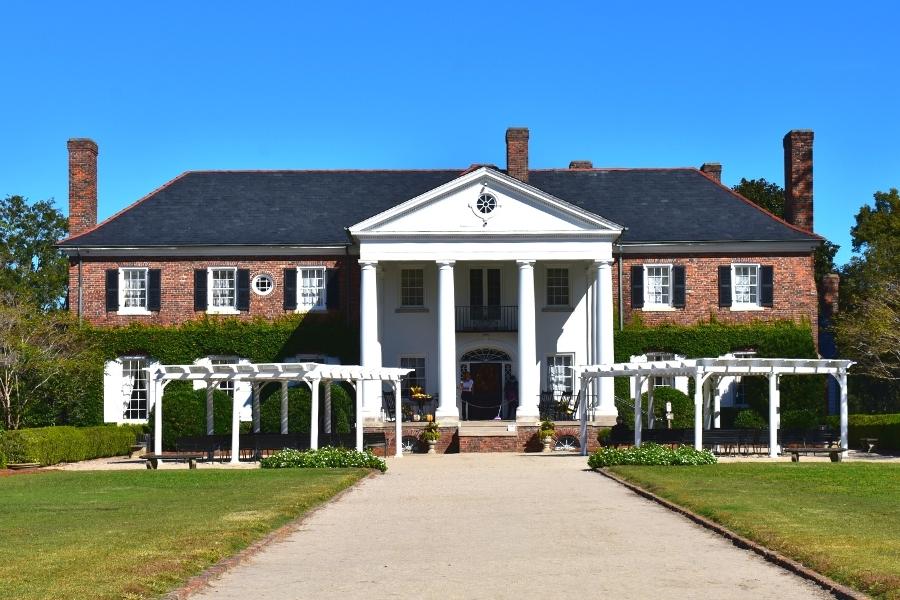 Don't miss a Gullah Culture presentation from descendants of the enslaved Gullah people. This isn't just a tour by a guide; these are living descendants!
General Admission & Cost:
$26 per adult (13-64); $23 per senior (65+), military, and AAA; $12 per kid (6-12); 5 and under free.
General admission includes the following:
Self-guided tour of the first floor of the House
Self-guided exploration of the formal gardens, grounds, and stable yard
Tractor Tours, 30-45min ride around the entire property, great for getting off your feet!
Gullah Culture presentations, learn about how the Gullah culture was adopted by slaves
Self-guided tour of the Black History in America exhibit, tour the original slave cabins
Additional Tours & Cost:
All tours are included in general admission for Boone Hall Plantation.
If you are interested in other Charleston attractions, Boone Hall offers combo tickets with the following:
Fort Sumter ($52 per adult (12+); $28 per kid (4-11))
Charleston Harbor Boat Tours ($52 per adult (12+); $32 per kid (4-11))
Spiritline Cruises Boat Tours ($50 per adult (12+); $30 per kid (4-11)).
Festivals also usually have their own separate fee. For example, purchasing admission to Boone Hall plantation does not give you admission to the Boone Hall pumpkin patch, and vice versa. The following are the annual festivals held at Boone Hall. Check the Boone Hall website for annual updates on hours and prices.
Lowcountry Oyster Festival
Lowcountry Strawberry Festival
Stars and Guitars
Boone Hall Pumpkin Patch
Boone Hall Fright Nights
Christmas at Boone Hall Plantation
Uncorked – The Ultimate Christmas Holiday event
Wine Under the Oaks
Distance from Downtown:
25 minute drive from Charleston, closest to Mount Pleasant hotels
Unique features:
Gullah Culture presentations by actual Gullah people descendants are unique to Boone Hall.
Often when people think of Charleston, they think of huge, dreamy oak trees covered in Spanish moss. Boone Hall is famous for its Avenue of Oaks, and rightly so. This is definitely a jaw-dropping spot that your IG followers will love!
Dining options:
The Butterfly Café and gift shop sells snacks and drinks, but no other food on-site. Feel free to bring your own food and use the picnic tables though!
Your ticket also allows you to leave the property for lunch and return same day to finish your visit. Nearby Mount Pleasant has many fast food chains and plenty of nicer sit-down restaurants.
Shopping:
A small gift shop offers a variety of items to commemorate your visit.
---
5. McLeod Plantation Historic Site
This historic site is maintained by the Charleston County Parks and is a member of the International Sites of Conscience. McLeod Plantation focuses on the lives of the enslaved men, women, and children that lived here, both before and after emancipation. The tour guides don't pull any punches here.
This plantation's main crop was sea island cotton, rather than the rice plantations along the Ashley River. The site is also smaller than the other plantations, making this a good option for a half-day activity.
General Admission & Cost:
$20 per adult (13+), $15 per adult (60+), $6 for kids 3-12, and kids 2 and under are free.
A guided interpretive tour is included in admission and offered 6 times a day on the half hour, first come first served. Tours last about 45 minutes.
The first floor of the main house and the remainder of the grounds are open for self-guided exploration before or after your guided tour time.
The historic site also has an app for iPhone users that prefer a little more information on their self-guided tours. If you don't have an Apple device, you can rent an iPad with the app from the ticket office.
Additional Tours & Cost:
No additional tours or costs.
Distance from Downtown:
10 minute drive from Charleston, close to both downtown and the West Ashley hotels
Unique features:
The McLeod Oak, sometimes called the Witness Oak, is estimated to be 500-600 years old! This enormous, gnarled live oak tree has witnessed a lot of history throughout its life.
Dining options:
No dining on site.
Shopping:
Small gift shop at the visitor center.
---
Don't forget Your FREE Cheat Sheet Guide to Charleston's Top 5 Plantations!
---
Which Charleston Plantation Will You Visit?
I hope this guide was helpful for choosing which plantation to visit in the Charleston area!
Even in post form this can be a bit much, so I've created a free printable checklist with all the stats for each of the top 5 plantations listed above! Use it to circle what you like the most and plan to visit the plantation with the most circles!
Remember, you can always go to more than one plantation while you're in Charleston. 😉
Looking for other things to do in Charleston?
More Charleston area Travel Resources
Happy travels!
Share it!