Giant live oak trees dripping with Spanish moss. Colorful rows of colonial houses. Azalea blooms and pineapple fountains.
These are just a few of the iconic photographs every Charleston, South Carolina visitor wants for their Instagram feed.
Now, it's important to remember that Instagram is not reality, in most cases, but I totally understand wanting to see those awesome places for yourself. This guide will locate all the best photography spots in Charleston for you to hit up on your next adventure to the Holy City.
---
This post may contain affiliate links. As an Amazon Associate and associate of other programs, I earn from qualifying purchases. This means if you click a link and make a purchase, I may earn a small commission at no extra cost to you.
---
Finding Charleston's Best Instagram Spots
Many of Charleston's Insta-worthy spots aren't hard to find. The problem is often people take their own photos and then compare them to others on Instagram and can't understand why they don't look as good.
Don't fall into Insta-envy. While I love scrolling through beautiful pictures of far-off places, it's important to remember that most of those shots on Instagram have been edited to look that beautiful.
It's amazing what you can do with the right photo editing app these days. Sky too cloudy? Edit it out for a beautiful orange sunset. Don't like the color of that shirt you wore? Edit it.
I love that it's so easy to do, but it's not real life.
Stop hating your pictures just because they haven't been through three rounds of editing to make the picture you wanted instead of the picture you took.
Find your own angle and perspective. The memory of the place is the important part anyway.
12 Best Photography Spots in Downtown Charleston
Many of the beautiful places you see on Instagram are in Charleston's downtown historic districts.
Rainbow Row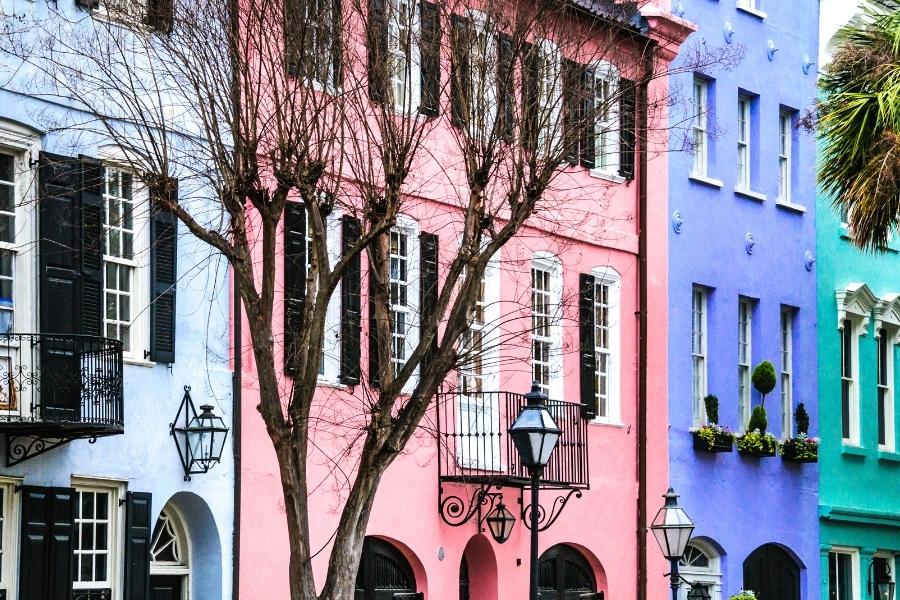 Probably the most photographed spot in the downtown peninsula, Rainbow Row is a set of colorful pastel-hued houses all in a row. Best to go in the morning for less people, but more importantly, for better lighting.
The Battery, aka White Point Gardens
The Battery describes the southern tip of the downtown peninsula, once used as an artillery battery in the city's early years. There are lots of instagrammable spots here:
White Point Gardens is a green space with rows of giant live oaks, a lovely gazebo, and war memorials scattered about.
The sea wall protects the area from the Charleston harbor tides and provides an elevated walkway along the harbor. Great views out to Fort Sumter and Castle Pinckney.
Sunsets are pretty here, but the sun itself will be obstructed pretty quickly as this faces south/southeast, not west. It's still one of the top romantic spots for sunset in Charleston.
The houses along the Battery, both the waterfront and along the park, are some of the most magnificent (and expensive) homes that Charleston has to offer. Some are boutique hotels, but most are private residences.
The Pineapple Fountain at Waterfront Park
Pineapples are an old symbol of wealth and hospitality. Charleston was the South's first great port city, and the pineapple became the city's symbol of its wealth.
You'll find pineapples everywhere: architectural details, décor, and fountains.
Kids play in this fountain almost year-round. Thanks to the wonderful weather here, there's really no bad time to visit Charleston.
St Philip's Church
Charleston is the Holy City, so nicknamed thanks to its overabundance of churches. St Philip's Church is not the only church on Church Street, but it is the oldest continuous congregation in Charleston.
Its graveyard is also the final resting place for some of South Carolina's most famous men, including John C. Calhoun, Charles Pinckney, and Edward Rutledge.
St Michael's Church
Located on one of the "four corners of law" at the intersection of Broad and Meeting Streets, St Michael's Church is the oldest church building in Charleston.
Funny how things work out: St Philip's Church was originally a wooden building on this site, but then moved to its present day location on Church Street after it was damaged during a hurricane. The rubble from the original St Philip's was cleared and St Michael's was built in the 1750's.
The more you know: George Washington worshipped at St Michael's when he came to Charleston in 1791. Robert E. Lee also stopped by for services when he was in town.
Dock Street Theatre
This theater reminds me of New Orleans with its beautiful wrought iron balcony and detailed woodwork below. A short walk down Church Street from the City Market, just past St Philip's Church.
If you have the time, get tickets to a show so you can enjoy one of Charleston's best indoor activities. The interior details are stunning as well!
King Street
Downtown Charleston's high-end shopping mecca. King Street retains much of its historic character by preserving the buildings, but the stores inside are all modern day luxury brands with restaurants sprinkled in between.
A few stand out sites remain, such as the American Theater used in the filming of the movie "The Notebook."
Broad Street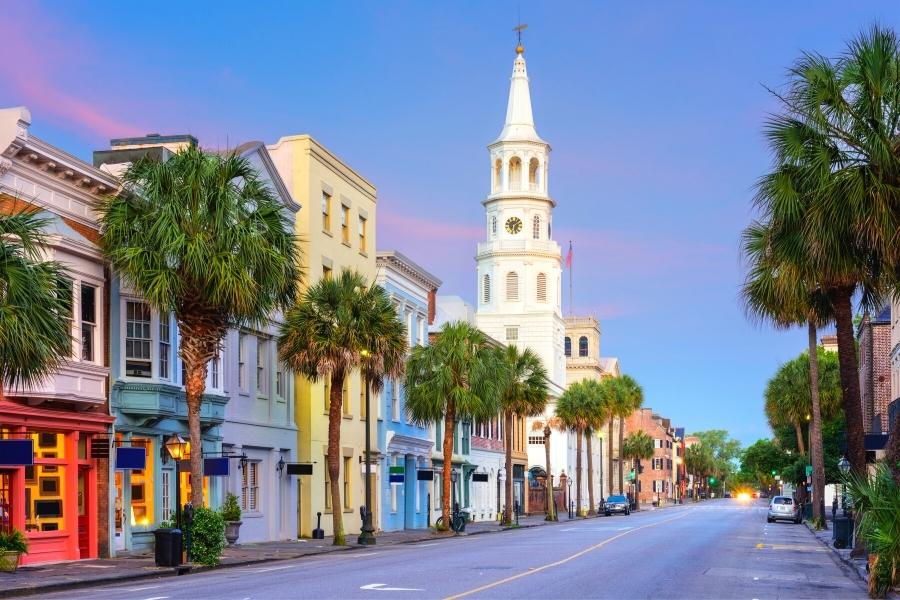 Do yourself a favor: start at the intersection of Broad Street and Bay Street, and just start walking west along Broad Street for about 5 blocks. Then you can turn around.
Many historical sites, restaurants, churches, and inns are on this street. It is a busy street, but it's one of the most photogenic streets if you catch it on a clear day, at sunset, or even at night.
John Rutledge House Inn
As if the gorgeous double staircase entrance and wrought iron scrollwork front façade wasn't enough, you can also stay in this historic home. The interior has even more beautiful and exclusive photo opportunities for your Instagram feed.
This beauty is on Broad Street, and this is about where we'd recommend turning around and heading back into town to find more Charleston Instagram spots.
A Beautiful Cobblestone Road or Alley
Not hard to find one of these in downtown Charleston's historic district, believe it or not.
Some favorites are Chalmers Street for palmettos and crepe myrtles or Longitude Lane (alley) for live oaks and blooms of one type or another almost year-round.
Catch an Alleys and Hidden Passages Walking Tour to get a lot of great pictures in a short amount of time.
Murals
Hidden in plain sight in unexpected locations throughout town, you're likely to accidentally happen upon a mural or two during your Charleston stay. Restaurants are the most likely culprits!
Hampton Park
A beautiful, large green park on The Citadel's campus, this is a favorite spot for locals to hang out. The park is known for its photogenic gazebo and camellias and roses blooming in the winter.
The small pond is a great place to spot ducks and geese. The fountain surrounded by crepe myrtles in bloom is worthy of your Instagram feed, too.
Even in winter, the giant live oak trees are a perfect backdrop for a picnic!
9 Best Instagram Spots in the Greater Charleston Area
When you think of Charleston, there's a good chance you also think of beaches and plantations. But neither of those are found on the downtown peninsula.
Hop in an uber or rental car and go explore the suburbs for more spectacular Charleston Instagram spots!
Folly Beach Area
Folly Beach Pier
**The Folly Beach Pier is currently being replaced. There is an observation deck during construction, but the new pier doesn't open until Spring 2023. Check here for the latest updates.**
Morris Island Lighthouse
You've already driven out to Folly Beach. Turn left at the pier and follow the road until it dead ends at the Lighthouse Inlet Heritage Preserve.
Park the car and head out on foot, preferably a bit before sunset, to set up for that iconic shot of the Morris Island Lighthouse. Bring your zoom lens.
Pro Tip: Parking can be hard to find. Obey all signs, don't park in somebody's driveway, and be prepared to walk a bit.
If you'd prefer, you can also get good views of the lighthouse from a boat tour, but be sure to verify it goes by the lighthouse. Many of the harbor cruises do not because it's outside of the harbor.
Mount Pleasant Area
Ravenel Cable-Stayed Bridge
There are so many great places to get a picture of the Ravenel Bridge: from the pier downtown, from a boat in the harbor, and from the flight deck of the USS Yorktown, to name a few.
But our all-time favorite (free!) spots are from the Mount Pleasant Memorial Waterfront Park and Pier and from the pedestrian walkway on the bridge itself.
These are not elevation view locations, but they provide fantastic angles and lighting and detail shots. Day or night, get an amazing view and photo to remember it!
Shem Creek Park
Shem Creek is a popular spot for dining and water activities like kayaking and paddleboarding, but did you know there's a small boardwalk park here, too?
The boardwalk starts at a small parking lot with restrooms and heads across the salt marsh to connect to the Shem Creek fishing pier. Gorgeous late afternoon or early morning views!
There's a very good chance you'll spot a dolphin or two in the water, especially if a fishing boat is coming back in with its catch for the day.
Pitt Street Bridge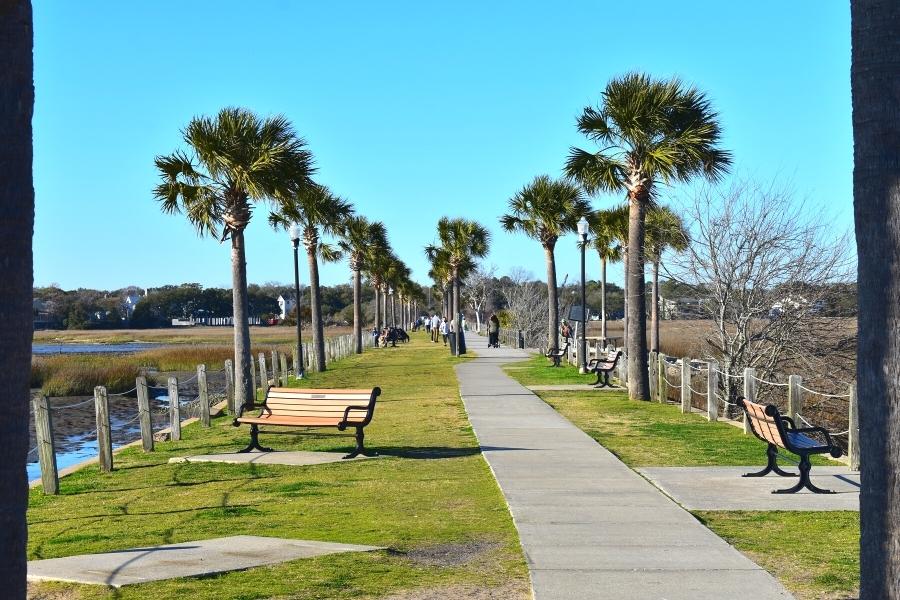 A favorite with locals, the Pitt Street Bridge is still somewhat a hidden gem in Mount Pleasant. Head into Old Mount Pleasant, on the harbor but past Patriot's Point and Shem Creek.
Pro Tip: There is zero shade here, so bring sun protection!
The Pitt Street Bridge used to connect to Sullivan's Island, but fell into disrepair and once the Ben Sawyer Bridge was built the idea of replacing the Pitt Street Bridge was abandoned.
Today, it's been converted into a park and you can walk out to the end and still see the old bridge pylons in the waterway.
And, oh yeah, marvelous views across the harbor to downtown Charleston. Recommend a sunset stroll!
Boone Hall Plantation's Avenue of Oaks
This is THE BEST avenue of oaks in Charleston. Nearly every tourist site claims an avenue of oaks, but most of them do not deliver like Boone Hall does.
Now, you can't see this amazing drive without purchasing admission to the plantation, but Boone Hall is definitely one of Charleston's top 5 best plantations to visit.
It's a win-win. Learn some important facts about early life in Charleston, experience a Gullah culture presentation, and get tons of photos of this beautiful live oak avenue.
West Ashley Area
Middleton Place Plantation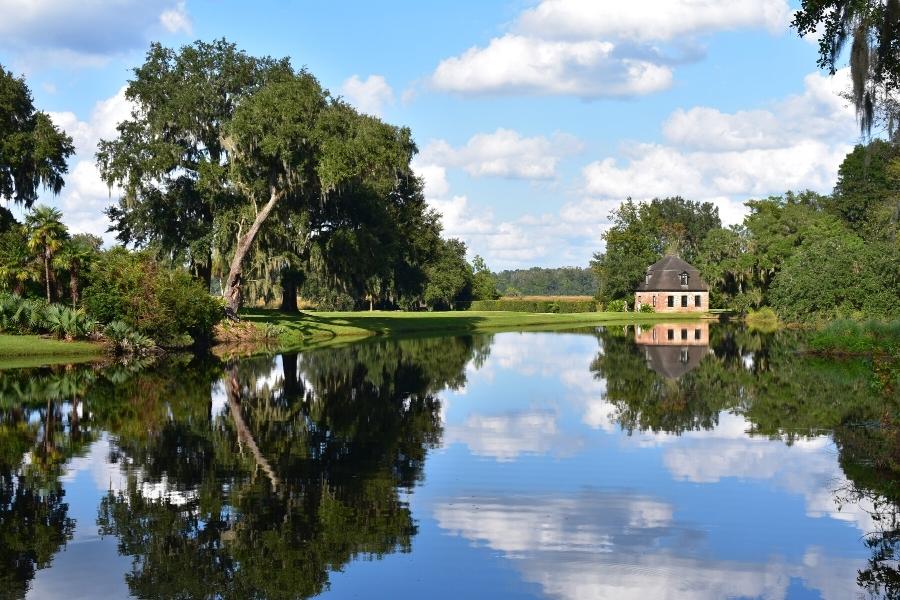 The reflections in the ponds in the back are why photographers come here. Middleton is also famous for having the oldest formal gardens and for introducing camellias to America.
Whether you come in spring for the azalea blooms or in winter for the camellias, Middleton is always a photographer's paradise and one of the best things to do in Charleston.
Magnolia Gardens & Plantation
Another Ashley River plantation, right down the road from Middleton Place, the Magnolia Plantation Gardens are worth a visit of their own.
These are romantic style gardens, less rigid than the manicured formal gardens at Middleton.
The white bridge when the azaleas are in bloom is the most popular photo spot in the entire place. It's not too shabby the rest of the year, either.
The Angel Oak on John's Island
A really cool, big, old, live oak tree; supposedly the largest live oak east of the Mississippi River. It even has its own gift shop!
The age of the tree is widely debated, ranging anywhere from 300 to 600 years old. Regardless of its age, it is a sprawling great beauty of a tree!
Free to visit, but note that it is a Charleston County Park and has operating hours. Closed Wednesdays and holidays.
Pro Tip: There is a tall barbed wired fence surrounding the area to ensure vandals don't harm the tree. You can get pictures through the fence if the park is closed but will get much better views inside during operating hours.
It's also incredibly popular and usually packed with tourists, especially on the weekends. Be prepared to walk a ways from your parking spot on a narrow dirt/gravel road.
The Parks Department also has a strict photography policy here. Photo shoots are not allowed without a permit which must be paid for and scheduled ahead of your visit.
No tripods, props (including a change of outfit), blankets, food, or drinks allowed. The change of outfit is most often what gets Instagrammers in trouble. Change at your car if you really feel you need a specific outfit.
If you're just taking a few quick photos with your phone or camera, you'll be fine. But they are pretty strict on the "no photo shoots without a permit" rule, so I suggest you don't go too over the top with your outfit unless you want to discuss it with the park employees.
>> Make a pit stop at the Angel Oak on your way to the Charleston Tea Garden or to Kiawah or Seabrook Islands. <<
---
---
What's your Favorite Charleston Photo Spot?
Follow me on Instagram for more Charleston content. I live here and find new spots as I explore my town!
More Charleston area Travel Resources
Happy travels!
---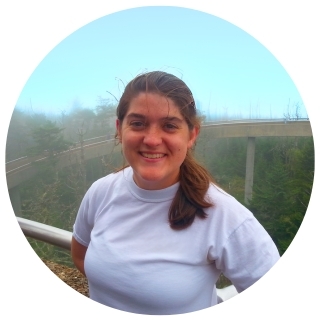 About the Author: Rachel Means
With six-figure student loan debt and only 10 PTO days per year, Rachel started traveling the world. A decade later, she's paid off her loans, changed careers, and been to 36 US states and 14 countries. She's an expert at planning and budgeting for travel and loves to help others do it, too! Read her full story here.
---
Share it!