Sometimes, it rains. Even on vacation. But that doesn't mean you can't still have fun! Charleston, SC is blessed with pleasant weather most of the time, but afternoon thunderstorms are just a Lowcountry fact of life in the summer.
Or, perhaps it's a blazing hot day and you need to get inside for a few hours to escape the sun. Here are 25 indoor activities in Charleston to beat the rain or the heat!
---
This post may contain affiliate links. As an Amazon Associate and associate of other programs, I earn from qualifying purchases. This means if you click a link and make a purchase, I may earn a small commission at no extra cost to you.
---
Things to Do in Charleston, SC When it Rains
There's really no bad time to visit Charleston, but every now and then a rainy day, chilly day, or super hot day drives everyone inside.
Most visitors aren't prepared for this. They brought flip flops and shorts and expected to walk everywhere.
While there are plenty of things to do in Charleston, what do you do on a rainy day? Head inside to one of these unique things to do in Charleston.
---

---
Indoor Activities in Charleston, SC
1. South Carolina Aquarium
A big hit with kids, come explore the aquarium. See the otters frolic, the fish swim, and the crustaceans scuttle! Or, visit a sea turtle in the sea turtle hospital.
A touch pool with rays and nurse sharks is also available on the harbor deck by the main entrance.
2. Charleston Museum
Quite the eclectic collection, the Charleston Museum began as a private collection donated to the city and has grown to include more and more artifacts relevant to Charleston herself.
A giant whale's skeleton hangs in the main lobby, and there's an exhibit on prehistoric animals. But you'll also find artifacts from colonial and antebellum Charleston, as well as walk through the impact that the Civil War had on the city.
The last exhibit hall is a hodge podge of wonders from around the world, including Mesopotamian stone sculptures and carvings from Africa.
One of the most interesting rainy day activities in Charleston!
3. City Market
The Charleston City Market is covered, although the majority is not air conditioned nor insulated. It will be packed with people at any time, but especially with pedestrians trying to avoid the rain.
Worth a stroll through twice, once for each side. Bring a rain jacket or umbrella for running between the gaps in the pavilions.
Pro Tip: Most vendors sell their own handmade wares, but beware. Some are selling cheap imports, and others jack up their prices specifically for the tourists at the city market.
4. Old Exchange & Provost Dungeon
Originally built in 1771, this building has overseen some of the most important events in South Carolina history.
The British used it as a Provost Dungeon to hold prisoners of war during the American Revolution. South Carolina delegates debated and ratified the US Constitution here in 1788. And a banquet was thrown for President George Washington here when he visited Charleston in 1791.
And that's just the first twenty years it was standing!
Like nearly everything in Charleston, it's also tainted by slavery. Serving as The Exchange building between the American Revolution and the Civil War, this building oversaw public slave auctions for decades.
A significantly historical building in a city full of history!
5. Old Slave Mart Museum
The awful truth behind Charleston's early wealth: slavery. As a leading colonial port, Charleston once saw as much as 40% of all slaves moved through its port.
The Old Slave Mart Museum is South Carolina's last standing slave auction gallery site.
This is a somber site with lots of historical information, but few artifacts. Not recommended for children.
6. Tour one of Charleston's Many Historical Homes
This Southern city is so old and well-preserved, it's hard to find a house that's not historical in some way.
There are historic Charleston homes from every era here, but the most frequently visited homes in downtown are listed below, in alphabetical order.
>> If you like historic homes, you'll love the Best Plantations near Charleston, when it's not raining. <<
7. Patriot's Point: Tour an Aircraft Carrier
Once you get inside the behemoth aircraft carrier that is the USS Yorktown, you can ignore the rain while you walk around for a few hours.
Who knows? Maybe you'll even catch the flight deck during a break in the rain.
The destroyer (USS Laffey) and the submarine (USS Clamagore) are also included in your ticket. It can be a slippery walk down the dock to get into the submarine or onto the destroyer.
8. Watch a play at the Dock Street Theater or a show at The Black Fedora
A good option for the evenings or sometimes a weekend afternoon. Catch a funny play or a comedy murder mystery show.
9. Catch a concert at the Gaillard Center
Home of the Charleston Symphony Orchestra, the Gaillard Center is your go-to for instrumental music.
But don't let that fool you; orchestral music isn't the only thing on stage at the Gaillard Center.
Check the schedule for other performances, such as comedy tours, movie musicals, and even zoo wildlife exhibitions!
10. See a piece of maritime history at the Friends of the Hunley Museum
The Hunley was a Civil War-era submarine that disappeared in Charleston Harbor shortly after sinking a Union ship.
After decades of searching, researchers finally located the sunken submarine in the mud of the harbor.
A team of experts carefully supported and raised the Hunley from its resting place and carefully preserved and restored it.
There is a replica outside of the Charleston Museum, but the original is at the Friends of the Hunley museum.
Come learn how the earliest submarines functioned and listen to theories of what happened that fateful night to sink the submarine after its successful mission.
11. Have a Spa Day at The Belmond Charleston
Stuck inside? Have a spa day.
A soothing massage is just the ticket, or splurge on a package and live the high life at The Belmond Charleston's Spa, a five star luxury resort in the heart of downtown.
Guys, spas are for you, too! Make your romantic Charleston weekend away complete with a couples massage.
12. Opt for a Bus Tour
It may be raining, but a bus tour could be the answer.
Especially on those annoying days when it keeps sprinkling on and off, a bus tour lets you get on with your sightseeing itinerary without getting drenched walking between locations.
Or, if it's a hot day, those buses are air conditioned!
The three most popular bus tours in Charleston are:
Pro Tip: Bus tours are popular even without inclement weather. Morning tours will sell out last, so call early if trying to book the day of the tour, especially in peak tourist season.
13. Gibbes Museum of Art
Charleston is full of private art galleries, but the Gibbes Museum of Art showcases both local and international artists.
Check their website for visiting exhibitions and admire the permanent collections while you're here.
14. Children's Museum of the Lowcountry
Loads of hands-on activities for the little ones!
Let them explore and play their way through the exhibits, the best way to learn. And a great way to pass some time with kids on a rainy day in Charleston!
15. The Alley – Bowling Alley, Arcade, Bar, and Simple Eats
This will fill up quickly on a rainy day, because it's in a downtown building and only has 8 lanes, but it's a good way to spend a few hours inside.
There's more than bowling here; The Alley is a top-rated sports bar/hang out space.
Play all the arcade games, grab a drink at one of the three bars, watch a game on one of the big screens, or get a bite to eat (salads, sandwiches, or basic appetizers like nachos and sliders).
16. Candlefish
Have you ever wanted to make your own candle, so it would smell just right? Well now you can.
Book a Candle Making Class at Candlefish and spend the next 90 minutes (BYOB!) making your own candle. Quite the unique experience!
Maybe you don't want to make a candle, but you wouldn't mind buying one. Come sniff and shop to your heart's content!
17. Try an Escape Room
Find out how well you and your family or friends can problem solve together. Try an escape room!
Escape in 60 currently offers four different story lines with varying difficulties. A fun way to pass an hour!
18. Laugh until You Cry at Improv Comedy at Theatre 99
Shows every Wednesday, Friday, and Saturday night. Come prepared to laugh your socks off!
Improv comedy is never the same show twice, and the Theatre 99 group delivers every time!
---
---
Indoor Activities Outside of the Downtown Area
19. Skyzone Trampoline Park
The best way to wear out kids (and adults) is to get them lots of exercise. Bounce out their energy at Skyzone in nearby Mount Pleasant.
20. Watch a movie
Sometimes you just wanna watch a good movie.
Unfortunately, there aren't any significant movie theaters in downtown Charleston. You have to leave the peninsula to find a real multiplex.
Here are the closest movie theaters to downtown Charleston, ordered from closest to furthest away:
Citadel Mall Stadium 16 (West Ashley)
Regal Palmetto Grande (Mt Pleasant)
Northwoods Stadium Cinema (North Charleston, near the Carolina Ice Palace)
Regal Azalea Square (Summerville)
21. Carolina Ice Palace
Ice skating…in Charleston?
Why, yes. Yes, you can.
The absolute perfect activity for a hot day, but also season appropriate for a chilly or rainy winter day.
Public skate times change from month to month, based on other events. The Carolina Ice Palace also caters to figure skating and hockey leagues.
Check the public skate schedule before heading over.
22. North Charleston Fire Museum
Explore the history of firefighting and the evolution of fire trucks, with over 20 completely restored historic firefighting apparatuses and fire trucks.
A huge hit with kids, the museum exhibits are interactive to let them touch and handle gear to learn more about fighting fire.
This museum is right next to the North Charleston Coliseum, the Charleston Convention Center, and the outlet mall. Plenty of places to shop and eat after you're done at the Fire Museum.
---
Day Trip Away from the Rain
Check the weather forecast. Sometimes driving a couple hours in a different direction is enough to escape the rain. Consider these day trips from Charleston.
23. Congaree National Park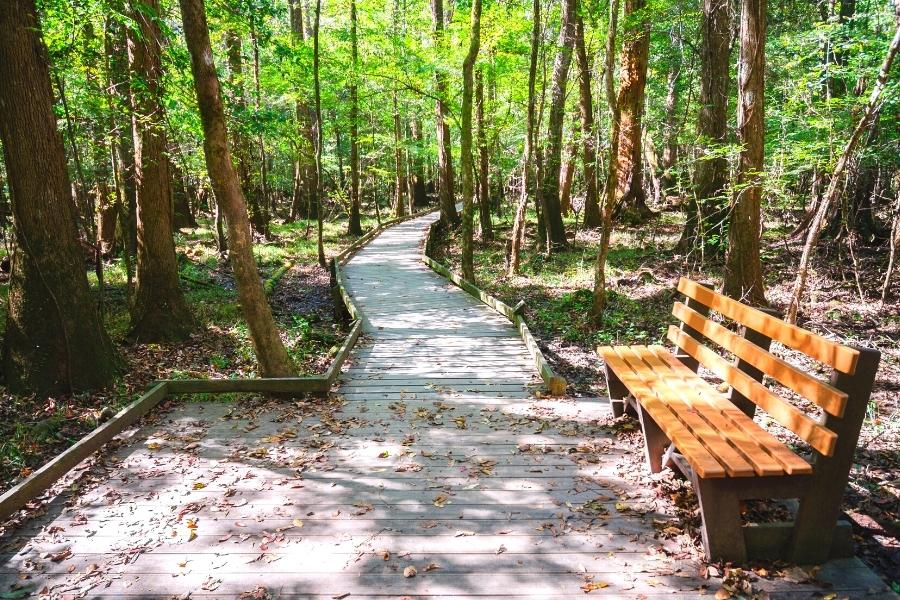 South Carolina's only national park, Congaree National Park is only a 2 hour drive from Charleston. Get away from the city and explore South Carolina's bottomland forest habitat with some of the state's tallest trees.
This is a rare national park where you can see it all, or most of it, in a single day trip. National park enthusiasts and collectors can check this off their bucket list without a problem.
Get an early start and you can hike and kayak all in one day. Congaree has good, mostly flat hiking trails. There's a hiking trail for all abilities, so give it a chance.
24. Columbia, SC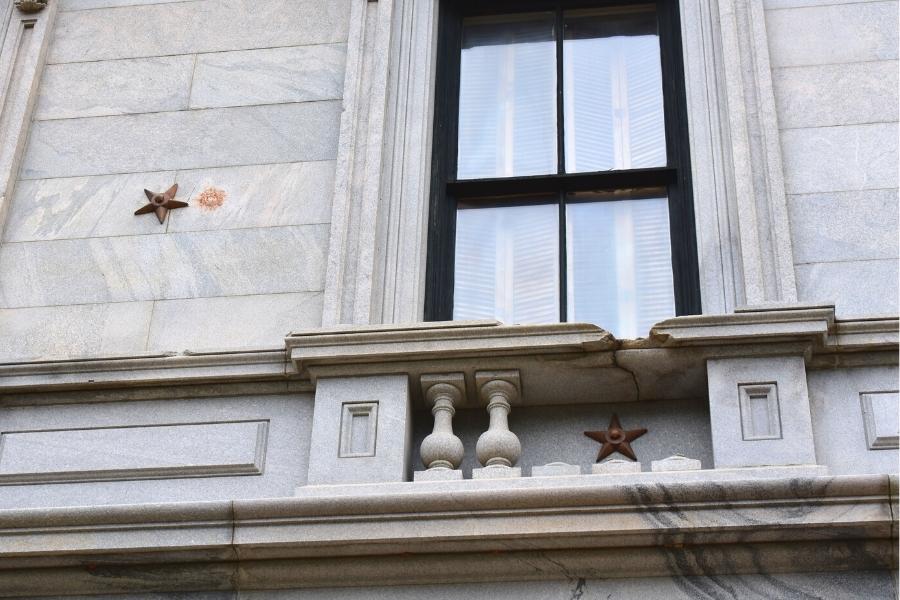 Head inland to South Carolina's capital city, Columbia. A straight shot north on I-26, it's a 2 hour drive from Charleston and can be easily combined with a trip to see Congaree National Park.
Spend a day with the kids at the Riverbanks Zoo & Garden or tour the State House and Grounds, complete with cannonball marks from the Civil War.
25. Savannah, GA
Savannah and Charleston are so similar, you'll drive 2 hours to the state line and wonder if you really moved at all.
Same awesome live oak trees, historic town, nearby beaches, and even a large bridge over a river with a nearby port.
Savannah definitely warrants its own trip altogether, but it's not a bad day trip if you get rained out of Charleston and it happens to not be raining in Savannah.
---
How to Get Around Charleston on a Rainy Day
Charleston is part of South Carolina's Lowcountry, and minor flooding during a hard rain just comes with the territory. Don't let it worry you too much.
A few pieces of advice, though, for getting around on a rainy day:
Leave your car at your hotel. Driving yourself to a downtown location will mean paying for parking and still having to walk a block or two in the rain to get to the entrance of wherever you're going.

This is not true for anything outside of the downtown area, like going to the movies, ice skating, etc. Feel free to take your car for those excursions.

Uber or Lyft are best for getting around downtown in the rain, but be prepared for that price surge due to demand skyrocketing.
Walking in the rain in Charleston really isn't that bad most of the year because it's so warm here. If you have a rain jacket or umbrella and rain boots, give it a shot!
It's OK to Visit Charleston during Hurricane Season
For people that don't live here, "hurricane season" is the easiest way to talk someone out of planning a trip to Charleston. While hurricanes are a consideration, they shouldn't stop you from planning a trip.
You can't predict months ahead of time when a hurricane will form and where it will land.
August and September are the most active months; that's true. But more often than not, there is no hurricane to worry about in Charleston.
Book the trip in August or September and get travel insurance if you're worried you may have to reschedule.
Nine times out of ten, you won't have to reschedule.
---

---
Beat the rain or the heat in Charleston with one of these 25 indoor activities!
With just as many indoor activities to do in Charleston as there are outdoors, don't let the weather dictate your travel plans! Enjoy a few days in Charleston, rain or shine!
More Charleston area Travel Resources
Happy travels!
Share it!