Congaree National Park, near Columbia, South Carolina, is a beautifully preserved old growth bottomland hardwood forest adjacent to the Congaree River. Not quite a swamp but also unlike any mountain forest you've ever seen, Congaree National Park is a unique park. Towering trees thrive in the river floodplain and support an incredibly diverse ecosystem.
See turtles at Weston Lake or river otters on Cedar Creek. Watch fireflies put on a lightshow in late spring. Learn how bald cypress and water tupelo trees thrive in a floodplain environment and marvel at champion loblolly pine trees, some of the tallest and oldest trees in the state as well as the eastern United States!
---
This post may contain affiliate links. As an Amazon Associate and associate of other programs, I earn from qualifying purchases. This means if you click a link and make a purchase, I may earn a small commission at no extra cost to you.
---
Is Visiting Congaree National Park Worth It?
Congaree isn't the biggest or the most popular national park, but it's still worth a visit. The wonderful thing about the US National Park system is the diversity.
There are so many unique ecosystems protected and preserved by the park system, so we can enjoy them today just as people did a century ago. But with better resolution cameras!
The west has the Rockies and deserts. Alaska has glaciers and beautifully untouched tundra. But you won't find another bottomland hardwood forest in either of those places. You gotta visit South Carolina for that!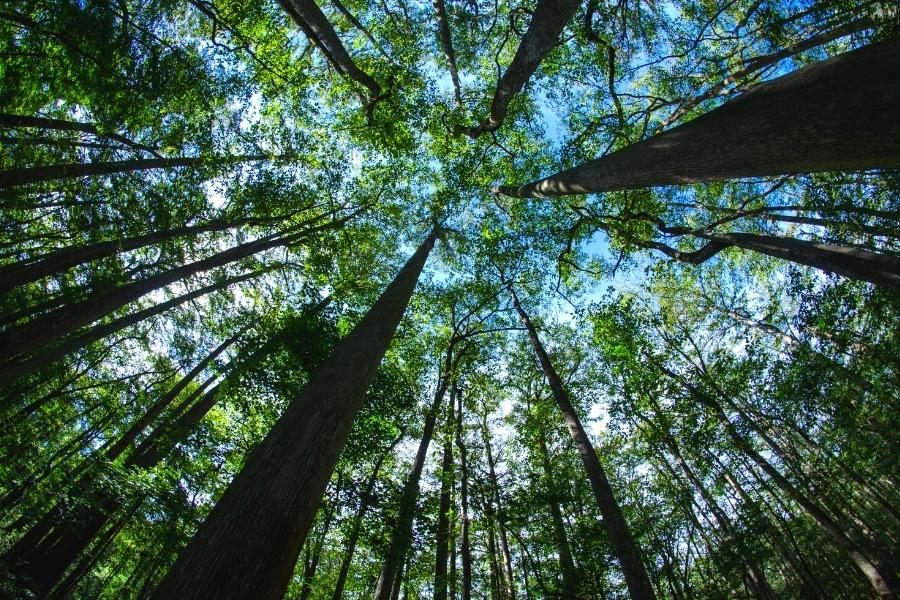 We moved from Indiana to South Carolina in 2019, so visiting Congaree National Park is an easy day trip from home for us. Always exciting to check off another national park from the bucket list, and so nice to have one within easy day trip distance for repeat visits!
So whether you're a South Carolinian just getting started on your national parks bucket list or if you're visiting from out of town to get your 63rd park, here is the Ultimate Guide to Congaree National Park!
Top 5 Know Before you Go Tips for Congaree National Park
FREE ENTRY: no charge per vehicle or reservations for entry time. Woohoo!
Bring all the bug spray!
Little to no cell signal in the park: print directions or download offline maps
Lunch or dinner is only 30 minutes away in Columbia!
Bring your own kayak or canoe, if you've got one.
How to get to Congaree National Park
National parks usually require several hours of driving from the closest airport, but not Congaree!
South Carolina is primarily a rural state, so even though Congaree National Park is only 30 minutes from downtown Columbia, you don't feel like you are anywhere near a state capital city.
The park is also a good day trip option from other cities further afield. Both Charleston, SC and Charlotte, NC are just under a 2 hour drive from Congaree National Park. Augusta, GA is only an hour and a half away from the park.
If you really want to catch this national park while you're already in the state, it's a 2hr 40min drive from Myrtle Beach, SC. Perhaps better taken as a side trip on the drive to or from Myrtle Beach, rather than take a day away in the middle of your beach vacation.
How much does it cost to go to Congaree National Park? Do I need a permit?
Congaree National Park is completely FREE to enter, hike, or attend a ranger-led event. Take advantage of this free resource for a no-spend day trip out of the house!
Tent camping is also available for a small reservation fee at the Longleaf and Bluff campgrounds. Backcountry camping is free but requires a backcountry permit (also free), available at the Harry Hampton Visitor Center.
---
Get notified when new guides are ready!
---
What to do in Congaree National Park
Hiking, canoeing, and watching wildlife are all popular activities in the park.
Hiking Trails: See Congaree by foot
Congaree has 10 hiking trails to choose from, including the boardwalk trail connected to the visitor center. The majority of trails are dirt paths through the floodplain.
Fair warning to all you arachnophobes (and tall people) out there: this park has spiders. Our first visit was the end of July and the off-path areas were covered in spider webs.
The boardwalk trail was clear, so it's not like you're swiping every time you walk forward, but my 6′-2″ tall husband did catch a few low lying webs.
Bring sturdy shoes, bug repellent, and lots of water to combat the southern summer heat and humidity!
Easy/Short on Time: Boardwalk Loop Trail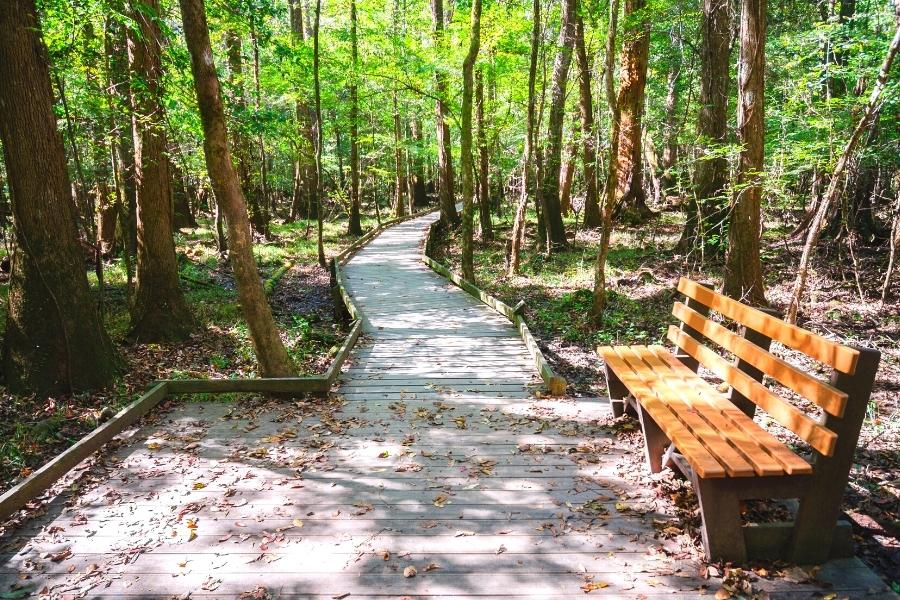 A 2.5 mile loop paired with a handy pamphlet from the visitor center is a great introduction to Congaree National Park and the bottomland forest.
From your pamphlet, learn about the trees and wildlife, and see the effects of floods, storms, and age on the forest. This path even makes it out to Weston Lake for guaranteed turtle sightings!
Easy: Bates Ferry Trail
Located on the park's east end, this 2.5 mile out-and-back trail is accessed from US Route 601 rather than via the park visitor center. The gravel road is circa 1920's but ferries have been in this area since colonial times.
One of only two trails that makes it out to the park's namesake river, you'll end up on a steep river bank overlooking the Congaree River before heading back to your car.
Moderate: Weston Lake Loop Trail
This trail follows Cedar Creek before looping back to Weston Lake and has the highest likelihood of seeing a river otter! The park rangers will warn you to not get your hopes too high, though. River otters are good at hiding.
Long: River Trail
Clocking in at 10.4 miles roundtrip, the River Trail is the other trail to visit the namesake river. The Congaree River is the southern border of the park, so it takes a while to reach from the visitor center, but has some rewarding views if you take the time.
Bring a lunch to enjoy on the trail, but leave no trace behind on your hike!
---
No matter your fitness level or abilities, there is a hiking trail for you at Congaree!
Canoeing and Kayaking in Congaree National Park
Despite the park's name, Cedar Creek is where you'll go canoeing or kayaking in Congaree National Park. The Congaree River is the southern park border and not accessible by vehicle from the park.
Cedar Creek runs through the middle of the park before joining the Congaree River a few miles upstream from the US 601 bridge landing, which is not on national park property. Deceiving, isn't it?
It is possible to kayak the Congaree River via its Blue Trail. The full Blue Trail would take several days, but there are some sections perfect for day trips. None of the Congaree River access points are on National Park property. Call a local outfitter for guided paddle and shuttle options.
Equipment
BYOK/C (Bring your own kayak/canoe.) Congaree National Park doesn't rent or sell canoes, kayaks, or any related equipment.
There are third party companies that can arrange for drop off or even a guided paddle. Check here on the NPS site for a list.
Access Points for Cedar Creek and the Congaree River
There are 3 access points: two on Cedar Creek and one on the Congaree River.
Bannister Bridge Landing is the westernmost point on Cedar Creek in the park, but the most commonly used access point is the Cedar Creek Landing. Neither of these are accessible from the main park road.
Download directions or offline maps before you leave home. Cell signal is pretty much nil in the park, and sometimes the GPS doesn't know where it's going. The park rangers at the visitor center can give you directions in a pinch.
The US 601 Bridge Landing is on the Congaree River, which actually has a current. This is not a put in point if you want to explore the park. You'll likely only use this access point if you took the long trip from Cedar Creek Landing and are looking to exit the water.
How to See Congaree National Park by Water
Bannister Bridge to Cedar Creek Landing is a little over 6 miles, but almost always requires a portage around fallen trees. If you're not familiar with that term, then don't take this stretch of the creek.
Cedar Creek landing is the most popular access point, for good reason. The creek has widened out by this point and has very little current, making it perfect for beginners.
Paddle upstream or downstream; then turn around and return to the Cedar Creek access point and your car. Because there's little to no current, either direction should be an easy paddle.
If you're more experienced and want to combine your love of the water with an overnight backcountry camping trip, put in at the Cedar Creek Landing and paddle all the way to the Congaree River and beyond to the US 601 Landing for your exit.
This section is about 20 miles long, and the NPS estimates it takes 12-14 hours to complete. Remember, there is very little current on Cedar Creek so you're really paddling, not just floating with the current.
Call the Harry Hampton Visitor Center to get your backcountry camping permit, and make it a weekend adventure!
Seasonal Activities at Congaree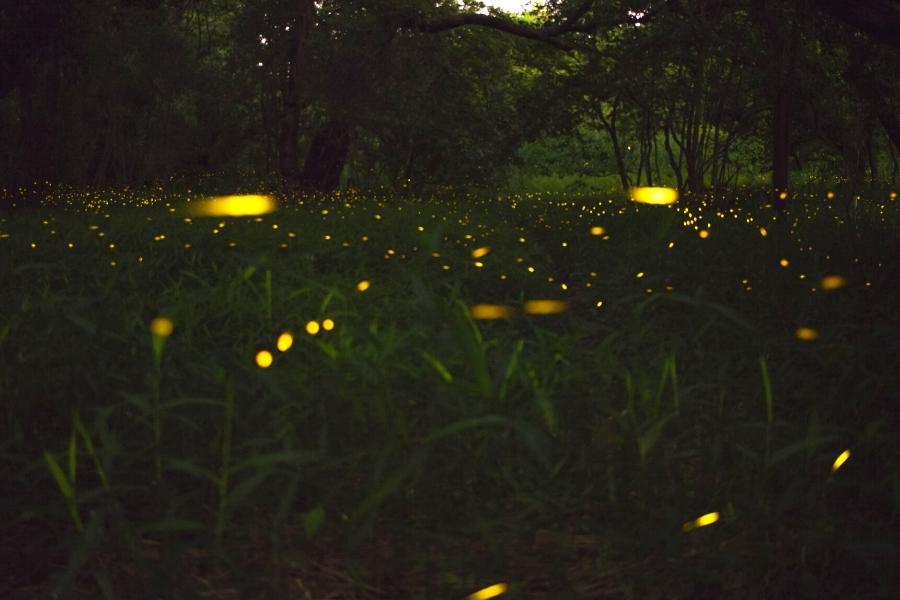 Every year in mid-May to mid-June, Congaree National Park plays host to synchronous fireflies! This amazing natural lightshow happens every year when fireflies are looking for their mates. The fireflies all synch up their flashing, and the forest puts on a show!
This has become more and more popular over the last 5 years, and Congaree National Park now hosts the Firefly Festival with appropriate viewing guidelines, traffic control, and emergency services available.
In 2019, the NPS set up shuttle buses from the Columbia State Fairgrounds to accommodate the more than 12,000 visitors that came to see the fireflies!
**UPDATE: In 2022, the park instituted a lottery system for tickets to see the synchronous fireflies. The festival has become so popular that the park's infrastructure can't support the crowds and there was concern for protecting the firefly habitat.
The 2022 lottery closed on April 6th. If you don't have a ticket, you won't be allowed inside the park after 4PM from May 15 through May 29.
Camping in Congaree National Park
Staying overnight? Congaree National Park has 2 campgrounds: Longleaf and Bluff. Both are tent-camping only.
There are no RV camp sites in Congaree, but there are RV camp sites in nearby state parks and campgrounds.
Remember, you're also only 30 minutes away from Columbia if you prefer a hotel but want to spend multiple days in the park.
Choosing a Campground
Longleaf Campground is right off the park entrance road and has a gravel parking lot. They are not pull-up sites. You have to park in the lot and transfer your items to your reserved campsite a few yards away. No big deal.
Bluff Campground is a little more isolated, located about a mile onto the Bluff Trail and accessible only by foot. You have to carry in all your equipment and supplies.
Longleaf has a couple vault toilets; Bluff has no restrooms period. Neither campground has running water, but both can get water 24/7 from the nearby Harry Hampton Visitor Center.
Choose your campground carefully. Bluff can be difficult for kids, or even for those of you with small bladders that are also not comfortable with using a camp toilet (aka, a bucket).
Backcountry Camping
Backcountry camping is a free option but not suggested for the novice hiker or camper. Backcountry means there are no designated spots; you set up camp wherever you think is good.
But there are some restrictions: no open fires (camp stoves only) and stay at least 100 ft away from any of the waterways.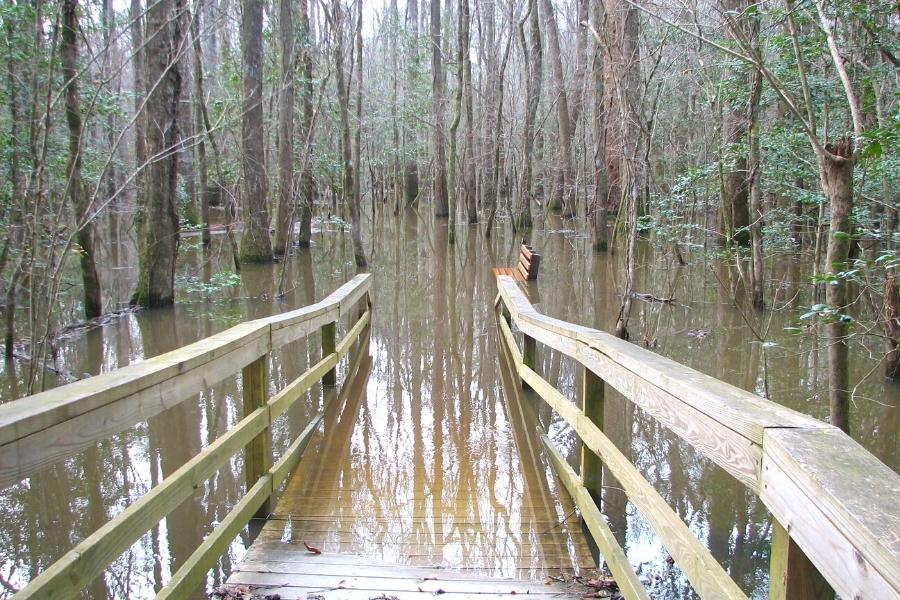 Check the river forecast before you go! Weather is important, but if you're backcountry camping you should be more concerned about the river.
If it rains upriver, the waterways in the park will swell and could drown your camp if you're not prepared. This is particularly dangerous at night. Don't chance it!
---
---
Day Tripping to Congaree National Park from Charleston?
There are plenty of things to do in Charleston, or in Mount Pleasant if that's where you found a cheaper hotel.
Congaree National Park is a great day trip from Charleston, but don't miss a day trip to see and learn about the historic plantations in the Charleston area.
Happy Travels!
Save it!