Hiking is the best way to see everything in Congaree National Park. Even though this park is just 30 minutes from downtown Columbia, South Carolina, it feels rural and isolated. The park protects 27,000 acres of hardwood bottomland forest and all the wildlife that call this area home.
What does that really mean?
It means state and national champion trees towering above you, floodplain forests at the mercy of the Congaree River, and a wide variety of wildlife that occasionally puts on a show. Come see it all while hiking in Congaree National Park!
---
This post may contain affiliate links. As an Amazon Associate, I earn from qualifying purchases. This means if you click a link and make a purchase, I may earn a small commission at no extra cost to you.
---
Congaree National Park: South Carolina's Only National Park
There are several national historic sites and even a national battlefield in South Carolina, but Congaree is the state's only national park.
If you are also working on your US national parks bucket list, this is a good park to add on as a day trip from another nearby city.
It's centrally located in South Carolina and 2 hours or less drive from Columbia, SC; Charleston, SC; Charlotte, NC; or Augusta, GA.
Congaree National Park enjoys FREE entry and no charge for parking. Start your visit at the Harry Hampton Visitor Center.
Pro Tip: Search for the Harry Hampton Visitor Center for driving directions. Searching just "Congaree National Park" will confuse some GPS systems.
>>This post focuses exclusively on the hiking trails in Congaree National Park.<<
Each trail at Congaree is discussed and compared for length and difficulty, what you'll see along the trail, and other tips and tricks.
If you're looking for more general information, like what's the closest airport to Congaree or a complete list of things to do in Congaree, check out my ultimate guide to Congaree National Park.
Top 5 Know-Before-You-Go: Hiking in Congaree National Park
1. BUG SPRAY!
Absolutely vital starting in April/May and lasting until September/October.
Check the mosquito meter at the visitor center before heading out. Anything above moderate and you'll want to wear long pants and long sleeves to protect yourself.
Spray the bug repellant over your clothes. They have no problem biting you through lightweight fabrics.
2. Extra water
South Carolina can be suffocatingly hot and humid in the summers. Drink water regularly to stay hydrated. Always bring more than you think you'll need.
And when I say "bring" I mean actually take it with you on the trail. Doesn't do you any good waiting in the car.
3. Shoes you don't mind getting dirty
Hiking boots are ideal but for the casual hiker who uses his/her tennis shoes, make sure it's a pair you don't mind getting dirty or muddy.
4. Watch your step, part I.
Tree roots, uneven ground, wetlands, and fallen trees are all things to watch out for while hiking trails in Congaree National Park.
Don't forget to look up during your visit, but it's a good policy to stop walking first. Nobody wants to faceplant into the ground, and it'd be doubly awful to fall into one of the wetlands.
5. Watch your step, part II.
Snakes are common in Congaree. Three venomous varieties call Congaree home: the cottonmouth (aka water moccasin), the copperhead, and the canebrake rattlesnake.
Keep one eye on the trail (and your dog, if applicable) so you don't accidentally step on one that's soaking up some sun in the middle of the trail. Snakes don't attack humans unless provoked or you get too close. Leave them be and they'll ignore you.
Frontcountry vs. Backcountry Hiking
There are two types of hiking trails in Congaree National Park: frontcountry and backcountry.
Frontcountry is for everyone. These trails are better maintained, wider paths, shorter distances, and easier terrain.
In central South Carolina, there's very little elevation change to worry about. This is not the same as hiking in the mountains; these are river floodplains, flattened and smoothed by yearly flooding.
Kids and seniors are equally likely to enjoy a stroll on these trails.
Backcountry is for prepared hikers. This doesn't mean professionals only; it just means you better bring some gear with you and know how to use it.
These trails are just the opposite of frontcountry: less maintained, narrower, longer distances, and more difficult terrain. Climbing over fallen trees on the path is typical, and sometimes crossing a small waterway without a bridge is required.
Don't let the backcountry label scare you.
I was one of those people that was cautious when I read about backcountry hiking and all the safety information that went with it. My fitness level is ok, but I'm not out hiking every weekend, either.
I can read a map and use a compass, but I didn't really want to have to do that if I could avoid it. It sounded like more trouble than it was worth.
But once I actually tried a backcountry hike, I realized all that caution is to make people take it seriously and know their limits. I was aware of all the things to watch out for, and I brought appropriate gear, so I was prepared.
It was a fun, all-day hiking adventure, and I didn't have to use a compass even once!
Ironically, the two snakes I've almost stepped on while hiking in Congaree National Park were both in the frontcountry! I did narrowly miss swiping a wolf spider with my head in the backcountry though… 😳😅
Do I need a backcountry permit?
If you are just hiking for the day, there is no permit needed.
Backcountry camping, however, requires a backcountry permit. Reserve a permit online via email, preferably 2 days before your visit, or check with a ranger at the Harry Hampton Visitor Center before heading out.
(Most) Trails Start at the Visitor Center
Eight of the 11 hiking trails in Congaree National Park begin at the Harry Hampton Visitor Center. If this is your first visit to Congaree, I recommend starting at the visitor center no matter which trail you plan to hike.
At the visitor center, have a quick chat with a ranger and ask if there are any closed bridges. The park floods often, a natural and necessary process to renew nutrients in the soil, and sometimes trail bridges are damaged.
One time I had planned to hike the Oakridge Trail, but came to find out from a ranger that Bridge J was out. With that bridge out, Oakridge no longer connects to the Weston Lake Loop trail and no longer creates a loop.
If I hadn't checked in with a ranger first, I would have been three-quarters of the way through my hike before figuring out I'd have to turn around and go back the way I came! That would not be fun so close to the end!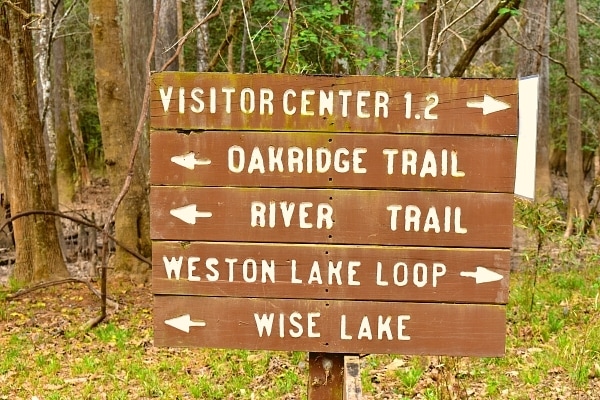 Hiking Trails in Congaree National Park
As of April 2021, there are 11 hiking trails in Congaree. This hiking guide follows the same numbering system used on the Congaree National Park official trail maps.
Trail Markers: How to Not Get Lost While Hiking in Congaree National Park
Trail markers, sometimes called trail blazes, or just blazes, are the guidance system to keep hikers on the trail without having a map or GPS open the entire hike.
Congaree National Park uses numbered trails. As you start down a trail, you'll notice small plaques attached to trees with the trail's number so you know you're on the correct path.
This is especially important to follow in the backcountry where side paths and animal paths can be confused with the narrow trail path. Always follow the markers and stay on the path!
The exception: the Boardwalk Loop Trail is not numbered and does not have trail markers. You can't get lost if you don't leave the boardwalk. It's a big loop that begins and ends at the Harry Hampton Visitor Center.
Congaree National Park Hiking Trail Map
Always grab a current map from the visitor center before going out on a hike. The website is updated frequently but sometimes lags behind the information the park rangers can give you in person at the visitor center concerning flooding or damaged bridges.
All distances noted below are round trip from the Harry Hampton Visitor Center unless noted otherwise.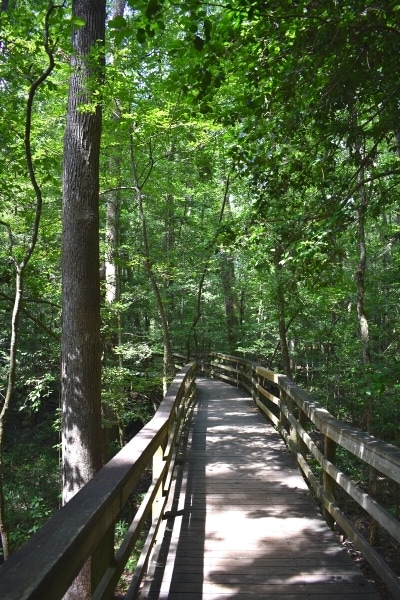 Boardwalk Loop Trail
Frontcountry / 2.6 miles / EASY
Easy loop trail with lower boardwalk and elevated boardwalk sections, ideal for almost everyone including partially handicap accessible.
Grab a self-guided boardwalk tour pamphlet from the visitor center for the complete experience. Read more about the bald cypress trees and their knees, admire a state champion tree towering 150 ft into the air, and even catch a glimpse of Weston Lake and its many turtles. This trail is the perfect introduction to Congaree!
Don't let the length put you off! Benches are available at intervals around the loop for anyone looking to take a breather and sip of water. (Remember, you read the top 5 know-before-go tips so you brought your water with you on your hike.)
#1: Bluff Trail
Frontcountry / 1.8 miles round trip / EASY
Easy loop trail circling through the loblolly pine forest north of the visitor center which also provides access to the Bluff Campground.
The Bluff Campground is not accessible by vehicle. Campers have to carry in all their gear to their campsites. The Spur Trail (#10) was constructed in 2020 to create a short cut from the parking lot to the north side of the Bluff Trail for campers trying to get to their campsite faster.
Check ahead for prescribed burns. The pine forests have struggled to survive here, fighting with faster growing trees for living space. However, pine trees are more resistant to fire, so the park service periodically schedules prescribed burns to clear out the underbrush without damaging the pines.
Interesting part of forestry, but not good for hiking. Plan your Bluff Trail hike for a different time.
#2: Sims Trail
Frontcountry / 3.2 miles round trip / EASY
This trail follows an old road that once led to a hunting club in the forest on the banks of Cedar Creek. The Sims Trail heads south into the forest, crossing the boardwalk loop twice, before ending at an intersection of several trails at Bridge B.
A wide gravel and dirt path, this is the most direct access to Cedar Creek and almost all of the backcountry trails in the western half of the park.
To get to the start faster: take the small trail down the steps to the left at the back of the visitor center. You don't have to go right, onto the Boardwalk Trail, and then head back left. The short connector trail, technically part of the Bluff Trail (#1), will drop you onto the Boardwalk Trail just a few yards from the gravel road of the Sims Trail.
#3: Weston Lake Loop Trail
Frontcountry / 4.8 miles round trip / MODERATE
The best way to see the frontcountry waterways in Congaree: Cedar Creek and Weston Lake. This is the furthest of the frontcountry hikes and has the most chances of catching a glimpse of wildlife. Park rangers will warn you to not get your hopes up about catching a peek of a river otter, but they do live here.
Although it is a frontcountry trail, it's not as wide as the Sims Trail (#2). More tree roots clutter the path, too. For these reasons, the trail is rated a moderate difficulty.
Both the Boardwalk Loop Trail and the Sims Trail (#2) connect to the Weston Lake Loop Trail, so you have your choice of hiking clockwise or counterclockwise.
The photo ops on this trail are some of the best in the park. Weston Lake has beautiful reflections, Cedar Creek is popular with kayakers in the summers, and the sloughs in between are full of those giant but picturesque water tupelo trees.
#4: Oakridge Trail
Backcountry / 7.1 miles round trip / DIFFICULT
This backcountry trail follows the Sims Trail (#2) out to Bridge B, crosses Bridges E and F, and then follows a ridge through the dense forest south of Cedar Creek.
It crosses small creeks, called guts, which feed and flood the forests as the Congaree River rises and floods. Bridges G and H cross guts, and then Bridge I connects Oakridge back to the Weston Lake Loop (#3) to complete the loop back to the visitor center.
Because of these many gut crossings and the length, this trail is considered difficult. Watch your step, follow the trail markers, and take your time to enjoy how the floodplain works.
Caution: Check with rangers for bridge outages before heading out. A few years ago flooding damaged Bridge I, so the Oakridge Trail had no way to connect back to the Weston Lake Loop Trail (#3) on its southeast corner. This meant the Oakridge Trail was no longer a 7 mile loop, but instead a 10 mile out-and-back trail, almost as long as the River Trail (#5).
Take your time, drink lots of water, and enjoy the wildlife on this beautiful trail that showcases the interior waterways.
#5: River Trail
Backcountry / 10.1 miles round trip / DIFFICULT
As its name suggests, this trail leads out to the park's namesake river. The Congaree River is the southern boundary of the national park and the furthest feature from the visitor center.
The River Trail follows the Sims Trail (#2) to Bridge B, splits from the Oakridge Trail (#4) near Bridge F, follows a small creek out to the river bluffs, and then follows the Congaree River bluff for a while before looping back inland through the forest and back the way you came.
The difficulty ranking here is mostly due to length, but I'm again encouraging you to give yourself some credit. The Sims Trail (#2) accounts for a third of the River Trail's round-trip distance and is easy-going.
The River Trail does get much narrower once you cross Bridge B to Wise Lake and then Bridges E and F to the start of the Oakridge (#4) and River Trails, but the number of hikers also drops. You won't be fighting for space and can take your time.
There are a couple of peaceful outlooks over the Congaree River, great opportunities for a stop to take a breather while munching on a snack and sipping some water.
Trees do block the path in several spots, most small enough that taller people can simply step over them. I'm 5'-3" and didn't have to scramble over any of these trees. There were only two downed trees that were large enough to warrant me using my hand to brace myself as I stepped up on top of and down the other side of the tree.
The secret to this trail: you can cut miles off the distance by walking out to the river and then turning back the way you came, rather than completing the loop along the bluff and through the forest.
For your consideration: if you're only considering this trail because you want to see the Congaree River, the Bates Ferry Trail (#7) is both shorter and easier and also yields views of the Congaree River.

The bluffs on the River Trail are higher and provide more expansive views. Up to you how much effort you are willing to put in versus how good of a view you want of the river.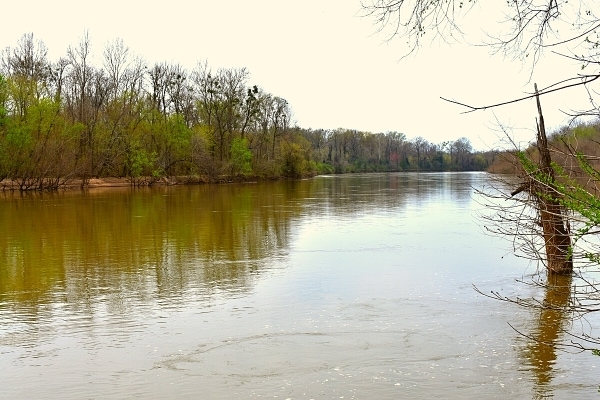 #6: Kingsnake Trail
Backcountry / 4 miles round trip from South Cedar Creek Canoe Landing / MODERATE
This trail does not connect to the visitor center, but rather is accessed from the South Cedar Creek Canoe Landing, where most canoes/kayaks are exiting Cedar Creek after floating down from Bannister Bridge Landing.
The Kingsnake Trail is arguably the most backcountry trail in the park and has the best opportunities for bird watching and sighting other wildlife.
Caution: make sure you have an updated trail map. At one time, this trail followed part of Cedar Creek and then connected to the Oakridge (#4) and Weston Lake Loop(#3) trails. With a couple of bridges damaged by flooding, the Kingsnake Trail became an out-and-back instead.
Pro Tip: The typical national park brochures, which most people pick up first and some people collect as souvenirs, still show the old path for the Kingsnake Trail. Be sure to also grab a current copy of the Congaree National Park Trail Guide to see the Kingsnake Trail's current configuration.
#7: Bates Ferry Trail
Backcountry / 2.2 miles out and back from parking area off US Route 601 / EASY
Another trail that follows an old road, this trail is uncommon in that it's an easy trail in the backcountry. US Route 601 crosses the Congaree River on the eastern edge of the national park, near the colonial era ferry crossing that the bridge eventually replaced.
Pro tip: Watch for the large brown national park roadside signs that warn the parking lot area is approaching. It's easy to cruise down US Route 601 and fly right past the parking lot entrance. There aren't many places to turn around here, either. Slow down when you see the sign.
The Bates Ferry Trail is wide and well-maintained grass in most places, with a few stretches of gravel, but is rather uneventful. The roadbed remains cleared, so the forest is not always successful in shading the path.
Congaree's signature water tupelo and bald cypress trees are seen in a few locations along the side of this trail, but not with the same regularity of the other trails in the western part of the park. Bug spray is still 100% necessary for this trail! So is sunscreen since it's not as shaded as the western park trails.
The trail ends at the Congaree River with a large open space at the riverbank for decent views of the river as it rounds the bend under the US Route 601 bridge.
For your consideration: In my opinion, this isn't a terribly exciting trail, but it is an easier and shorter way to see the Congaree River than taking the River Trail (#5).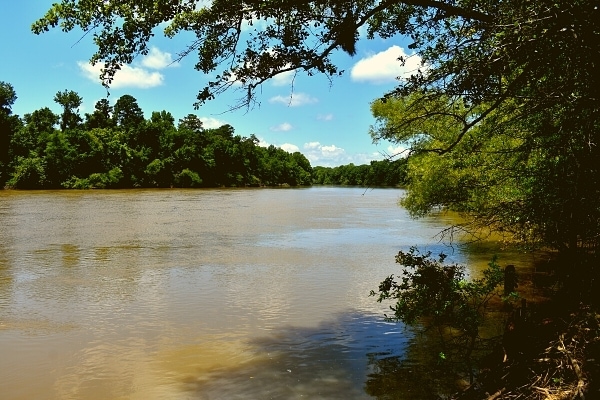 #8: Longleaf Trail
Frontcountry / 0.5 miles one-way / EASY
This short trail is not meant for day visitors for hiking. It's a connector trail for those camping at the Longleaf Campground to access the visitor center and nearby Bluff Trail (#1) which loops through the loblolly pine forests.
#9: Fork Swamp Trail
Backcountry / 0.6 miles round trip / MODERATE
A newer backcountry trail in the eastern part of the park, the Fork Swamp Trail follows a short section of Bates Old River, an oxbow lake created by a hurricane in the 1850's.
I personally have not hiked this trail yet so I cannot attest to the NPS's difficulty ranking. It's a short trail but still listed as moderate, so I anticipate some elevation change or possibly having to climb over a fallen tree.
This trail is so new that there's not even a sign on US Route 601 for it yet (as of March 2021). Wish I'd looked for it when I was already over here to hike the Bates Ferry Trail (#7) a year ago!
There is a pull off for a historical marker on the right side of US Route 601, across the road from an unmarked road which I believe is the parking area for the Fork Swamp Trail.
Based on current park trail maps and coming from the south on US Route 601, the Fox Swamp Trailhead is the second road on the left after crossing the Congaree River.
Coming from the north, it's approximately 1.5 miles south of the Bates Ferry Trailhead, which is marked with large brown national park signs.
#10: Firefly Trail
Frontcountry / 1.8 miles round trip / EASY
The park completed some trail reconfiguration and extensions in 2021. Trail #10 used to be a spur trail or short connector, an alternative route from the Boardwalk Loop or Sims Trail (#2) to the Bluff Campground.
It's been rebranded as the Firefly Trail in 2021. With the rise in popularity of the synchronous fireflies, this trail was reconfigured to provide a one-way loop and better experience for viewing the neat, natural phenomenon.
Particularly wonderful during late spring evenings when the synchronous fireflies are active. The rest of the year, it's similar to the Bluff Trail (#1).
---
The Complete Guide to Hiking in Congaree National Park
I hope this summary was helpful and a good compliment to the information available on the Congaree National Park website.
When I first visited Congaree, I felt the information online was overexaggerated and kept me off the backcountry trails for too long because I didn't know what to expect and didn't want to overextend myself.
I needn't have worried! I was prepared, and you can be too!
Happy Travels!
Share it!