Going to the beach is one of the best things to do in Charleston, SC, no matter what time of year you visit!
Its warm southern climate means you can enjoy a beach day soaking in the sun and 70°F weather in the middle of January. Trust us; we've done it!
But what some visitors don't know is that the beach isn't in downtown Charleston! Let's discover all the best beaches in Charleston, how to get to them from downtown, and where to park at each beach.
---
This post may contain affiliate links. As an Amazon Associate and associate of other programs, I earn from qualifying purchases. This means if you click a link and make a purchase, I may earn a small commission at no extra cost to you.
---
Is There a Beach in Charleston, SC?
No and yes!
There are no beaches in downtown Charleston. The historic district, and all of downtown, are on a peninsula between the Ashley and Cooper Rivers. This area has been built up so much over time that there is no bare land left.
The Charleston area has some really nice beaches on the Atlantic Ocean. This simple distinction means that the nearby beaches are not technically within the city limits but they are still a short drive from downtown and a favorite stop for many Charleston visitors.
---
---
The Best Beaches in Charleston: Easy Drive from Downtown
These beaches are considered Charleston's beaches, even though each has its own local government. They're all within easy driving distance of the downtown peninsula, an hour or less.
We've listed them in geographical order, starting from the north and working our way south.
Isle of Palms
Drive from Downtown: 30 minutes
Our favorite beach in Charleston: easy parking and access, good on-site amenities, soft sand, good waves, a pier, nearby food and rentals. It's got it all!
Isle of Palms County Park is the most convenient spot for parking at this beach and is the reason we buy a Charleston County Park Pass every year.
The park also offers a playground, volleyball, restrooms, changing stalls, outdoor showers, and rentals and retail.
The northern end of Isle of Palms is dominated by the Wild Dunes Resort. Unless you're a guest or have a tee time at the golf course, they'll turn you away at the gate.
Some free (for now…) street parking is available in the residential section between Wild Dunes and the county park. Use the small alley-like public beach access points in between houses.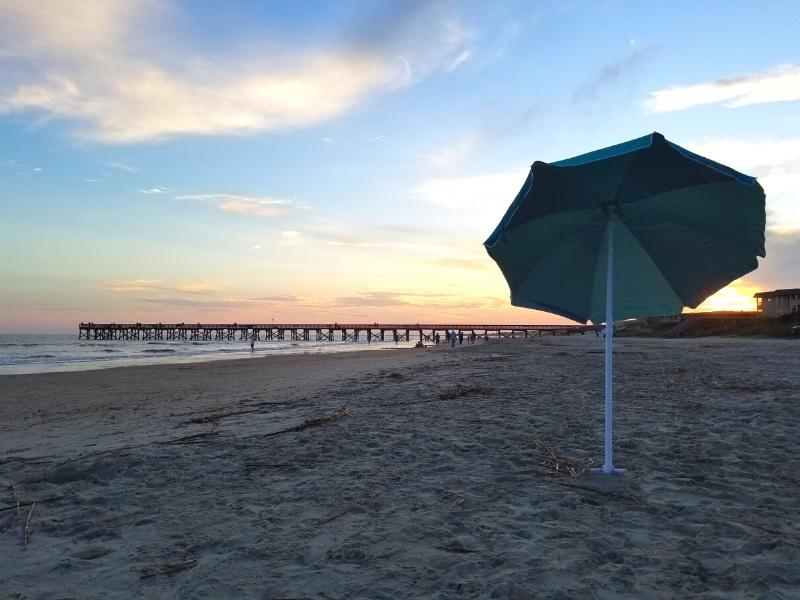 Sullivan's Island
Drive from Downtown: 20 minutes
A less crowded option because there are fewer on-beach amenities.
This is a laid-back community with a distinct people-actually-live-here feel. It's not all tourist traps and big restaurants, although there are some great eats on the island, too.
The beach access points are called stations, and on-street parking is free wherever you can find a spot. Just don't block driveways or businesses. Some private lots incur a fee.
Beware of strong currents on the southern end where the Atlantic Ocean meets Charleston Harbor. Signs will warn you swimming is not allowed in certain areas.
The southern end of Sullivan's Island was a military fort and installation from the Revolutionary War until the 1950s. Visit Fort Moultrie National Historical Park for the island's history and views of Fort Sumter across Charleston Harbor.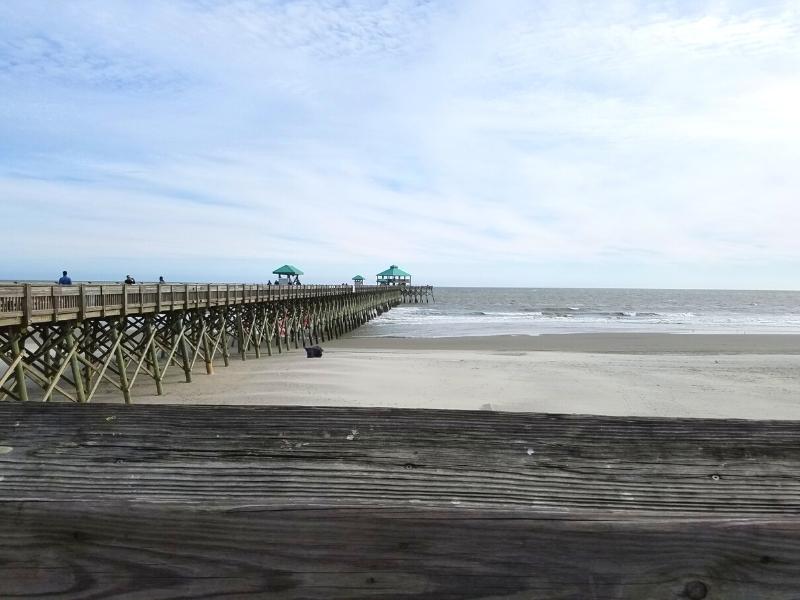 Folly Beach
Drive from Downtown: 25 minutes
One of Charleston's most popular beaches, Folly Beach is chock-full of all the touristy things you'd expect at a beach. Lots of retail and restaurants, and parking is either expensive or hard to find.
Free street parking can be found in residential areas, usually a few blocks inland from the beach. Any sort of parking lot will charge a fee, as much as $20 if you want to park right in town near all the shops and food.
Folly Beach Pier is in the middle of a reconstruction project, but it'll be back online by Spring 2023. In the meantime, the pier gift shop and observation deck are open.
Folly Beach County Park on the southern end of the island is our go-to for hassle-free parking, with an annual Charleston County parks pass.
Rentals, a gift shop, a picnic area, and a small snack bar (summer only) are also available at Dunes House at the end of the county park. Outdoor showers and changing stalls are also at each beach access point in the park.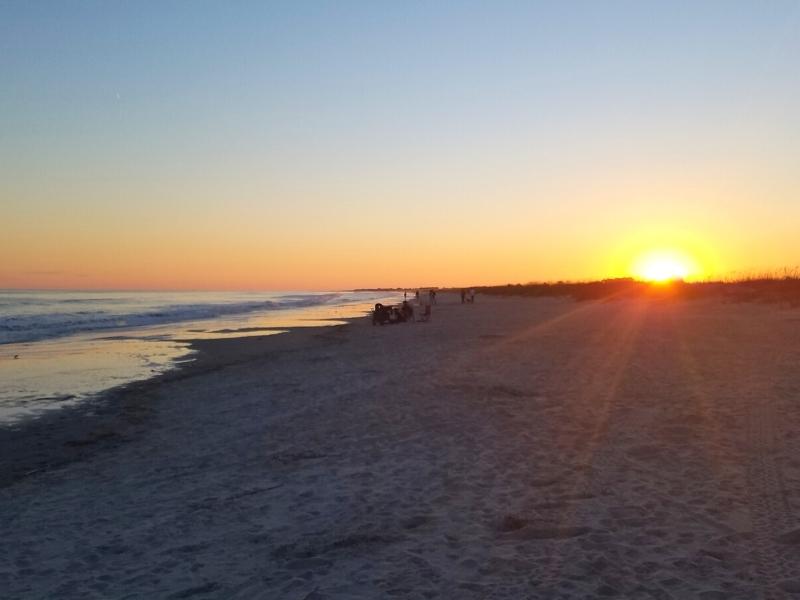 Kiawah Island
Drive from Downtown: 40 minutes
Kiawah (KEY-uh-wuh) Island is a semi-private island. What does that mean? The majority of the island is restricted access for residents and guests only, with one county park at the end giving the public access to the beach.
Because of this limited access, Kiawah always has smaller crowds than the previous three beaches, making it one of the best beaches in Charleston.
Kiawah Beachwalker County Park is located on the southern tip of the island and is the only public access point on the island. The rest of the island is behind a gate-controlled entry point when you first access the island.
The good news is you can park at the public park and walk or bike your way to the rest of the island.
If you rent a condo or stay at one of the hotels on Kiawah, you get access to the entirety of Kiawah Island and its beaches.
Kiawah is also home to no less than 5 world-class golf courses at the Kiawah Island Golf Resort. They are open to the public; a tee time is a guaranteed way to gain access to the island.
Seabrook Island
Drive from Downtown: 45 minutes
Seabrook is a private community island. You cannot access this island unless you're a resident, a country club member, or a guest with a confirmed reservation at a hotel or restaurant.
Crowds are pretty much nonexistent here. Most guests spend the majority of their time on the island and will day trip out to downtown Charleston or the plantations, and not the other way around.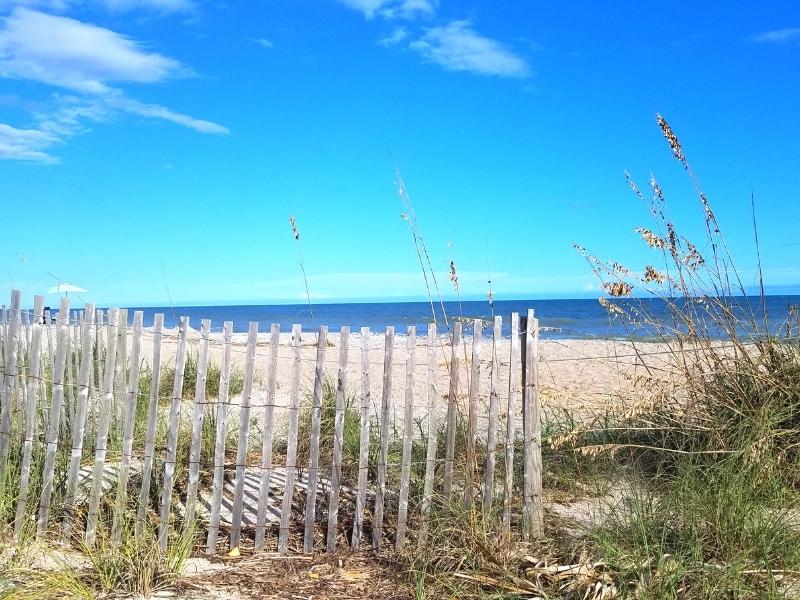 Edisto Island
Drive from Downtown: 1 hour
This beach is a bit of drive from Charleston, but that distance gives you breathing room from the crowds. While it'll still be busy in peak season, it won't be shoulder-to-shoulder like Folly or Isle of Palms.
It's also one of South Carolina's busiest beaches for nesting sea turtles! If you visit between June and August, you'll see dozens and dozens of sea turtle nests carefully roped off and protected from the birds until they hatch.
Edisto Beach State Park maintains the beach on the northern end of town, and the rest is maintained by the town itself.
Parking is pretty easy here. Public beach access points are tucked in between oceanfront homes at regular intervals and include small sand parking lots. On-street parking isn't available on the busy main roads.
Beaches near Charleston Only Accessible via Boat
There are a few beautiful beaches near Charleston on islands that are only accessible by boat.
One or two of these you could paddle your way out to if you're an experienced kayaker, but it's generally easier and safer to take a guided boating excursion to these islands.
Bulls Island (Boneyard Beach)
A truly pristine beach on an island protected as part of the Cape Romain National Wildlife Refuge. The island is left to nature, including the beauty and destruction.
This isn't a resort beach to relax on; it's a remote outdoor adventure with no amenities.
Storms and erosion have destroyed some of the island's coastal trees, earning it the name Boneyard Beach for all its sun-bleached bare trees. Usually when people mention Boneyard Beach, they're referring to Bulls Island.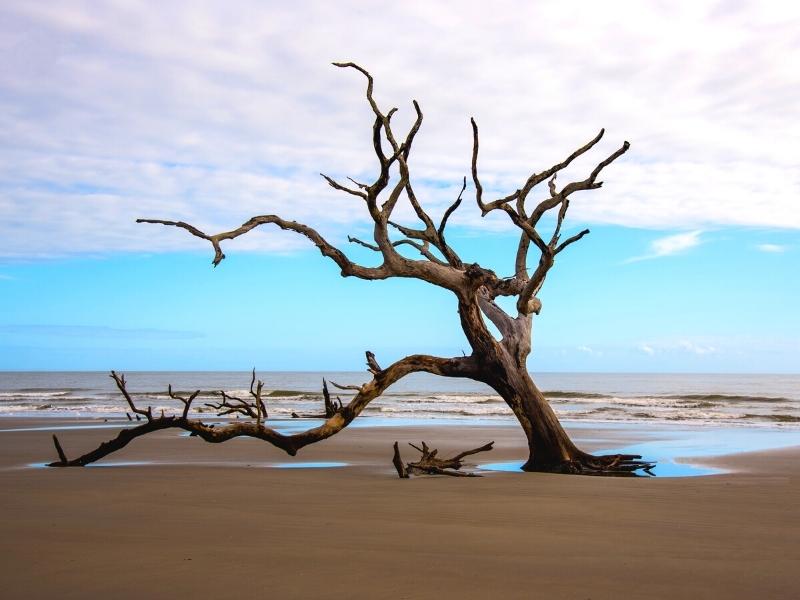 Bring water, snacks, and sun protection with you and enjoy a few hours wandering around the island and beach as you wish.
Coastal Expeditions runs a ferry service on select days as well as several different Bulls Island guided boat tours.
Take the sunrise tour for a phenomenal view you won't soon forget! Only available generally once a month, so plan ahead.
Capers Island
An undeveloped island north of Isle of Palms but south of Bulls Island, this is as close as you can get to a truly natural South Carolina barrier island.
Capers Island Heritage Preserve protects the island, making it a haven for coastal birds and animals. Book a tour with a naturalist guide, and they'll point out all the local wildlife during your excursion.
A popular way to see Capers Island is to kayak out to it, with a guide. Or, try a Barrier Island Eco Tours excursion which boats you out to the island where a naturalist guides you around the island.
Pro Tip: Capers Island also has bleached and storm-beaten trees on its coastline, which are often confused for Boneyard Beach on Bull's Island. They are products of the same storms and erosion, but know that a guided tour to Boneyard Beach is almost always referring to Bull's Island. Verify with your tour operator if you're unsure.
Morris Island
Known for its lighthouse, Morris Island is a popular destination for boat tours from downtown Charleston.
Try Adventure Harbor Tours for a 3 hour excursion that includes about 90 minutes walking around Morris Island itself. Your guide will fill you in on all the history you'll pass along the way as well as all the fun "beach treasures" you'll find on the beach.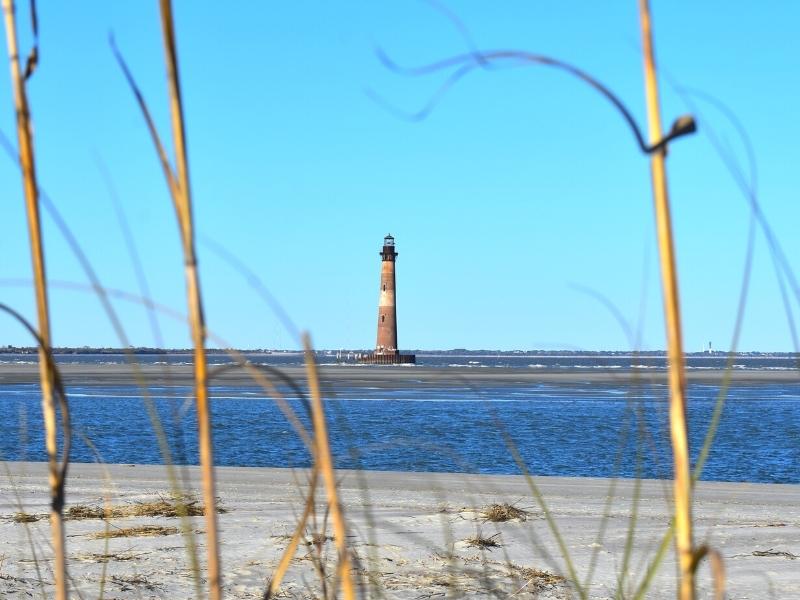 The Lighthouse Inlet Heritage Preserve on the northern end of Folly Island provides excellent views of the Morris Island Lighthouse.
If you just want to see the lighthouse for some photos, save your money, pass on the boat tour, and drive out to the preserve instead. It's free to enter, but you may have to pay for parking.
There is a beach at the preserve but the currents around this end are brutal. Swimming is not a good idea here.
Other Popular Beaches near Charleston
The South Carolina coast is one beautiful stretch of Atlantic Ocean coastline, and there's another beautiful seaside town every hour or so you drive along the coast.
Myrtle Beach and Hilton Head Island are popular destinations in their own right.
We don't recommend these as day trips from Charleston. They both deserve more time to explore their surroundings, and there are plenty of beautiful beaches closer to Charleston.
On the other hand, Huntington Beach State Park is a worthy day trip north of Charleston that includes a castle on the beach!
Go explore Atalaya Castle, discover coastal wildlife in the salt marsh, and then relax the rest of the day on the beach.
Charleston, SC Beaches FAQs
> What's the Closest Beach to Charleston?
Sullivan's Island is closest to downtown Charleston.
> What's the Most Popular Beach in Charleston?
Folly Beach is generally the most popular.
> Which Charleston Beach is Best for Families?
Isle of Palms is a favorite with families, especially with younger kids but also for family reunions.
> Which Charleston Beach is the Least Crowded?
Seabrook and Kiawah are the least crowded beaches in the Charleston area.
---
---
More Charleston area Travel Resources
Happy travels!
Share it!