Spend the day relaxing on one of South Carolina's finest protected beaches at Huntington Beach State Park. This beautiful park protects 3 miles of coastline, perfect for beach-goers, fishermen, or even history buffs looking for a day trip!
Relax on the sand, go bird watching along one of the trails, or wander through the historic remains of Atalaya Castle. Huntington Beach State Park is more than just a beach.
Come see the best things to do at Huntington Beach State Park, whether you have one day or two weeks!
---
This post may contain affiliate links. As an Amazon Associate and associate of other programs, I earn from qualifying purchases. This means if you click a link and make a purchase, I may earn a small commission at no extra cost to you.
---
Top 5 Tips to Know Before You Go to Huntington Beach State Park
Separate entrance fees for the park ($8 per adult 16+) and Atalaya ($2 per person 6+)
Dogs are welcome year-round (on a leash)!
The boat launch at Oyster Landing is a mile north of the main park entrance.
Atalaya Castle, the former beachfront home of Archer & Anna Huntington, is a National Historic Landmark open for self-guided tours!
The campgrounds and the visitor center have free wifi.
---
---
Where is the Ultimate Outsider Stamp at Huntington Beach?
The Ultimate Outsider stamp for Huntington Beach is in the gift shop.
Drive straight into the park, staying right and following signs for South Beach, until you see a large parking lot on the left and a tall building on the right with a colorful crossroads sign and Adirondack chairs out front.
The gift shop is the building on the right.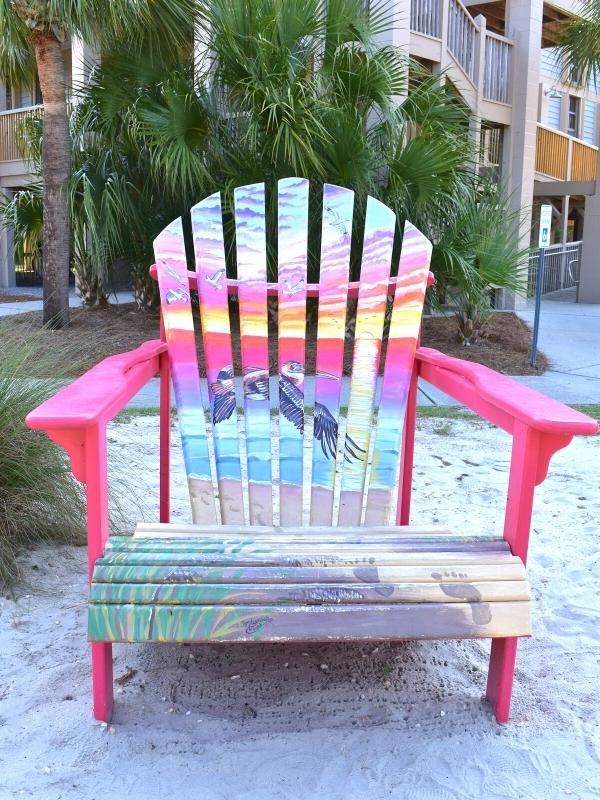 How to Get to Huntington Beach State Park
Huntington Beach is in Murrells Inlet, SC, right off of US 17. It's only 30 minutes south of Myrtle Beach or an hour and a half north of Charleston.
Pro Tip: Go explore Myrtle Beach in the afternoon/evening after spending the day at Huntington Beach. Get in a game of mini golf, explore the Boardwalk, and grab a nice dinner out.
Coming from Columbia, it's a 3 hour drive, give or take. This park is perfect for a long weekend away, with a campground on-site that can accommodate both RVs and tents.
If you're also working your way towards your Ultimate Outsider award and through your South Carolina State Parks bucket list, the following are within an hour's drive of Huntington Beach State Park:
Little Pee Dee State Park, Woods Bay State Park, and Charles Towne Landing State Historic Site are all within an hour and a half of Huntington Beach, but we wouldn't recommend trying to fit any of these in on the same day.
Honestly, Huntington Beach State Park is a good park to spend all day, or even all weekend, enjoying life for a minute.
We have fit the northern three coastal parks (Hampton Plantation, Huntington Beach, & Myrtle Beach) into a single day, but it was a long day with limited time at each park.
Having done both, we recommend you slow down and enjoy this park on its own, whether that's one full day trip or a long weekend.
How much does it cost? Do I need a permit?
Huntington Beach has an $8 per adult (16+) entry fee. Reduced fees are available for seniors and youths ages 6-15, $5 and $4 respectively. Children ages 5 and under are always free!
Atalaya Castle charges a separate entrance fee from the park, $2 per person ages 6+.
This National Historic Landmark requires a little extra maintenance due to its age and the harsh salt water environment, which that $2 fee helps to cover.
Pro Tip: A South Carolina All Parks Passport covers BOTH your park entry fee and the Atalaya Castle entry fee for up to 4 people.
Fishing is a popular thing to do at Huntington Beach State Park and is allowed from the beach and from the jetty. Just be cautious around people.
A saltwater fishing license is required. Prices vary based on residency. Learn more from the South Carolina DNR website.
Brief History of the Park
Huntington Beach State Park was originally a private estate that was later leased to the State (for free!) to share the beautiful spaces with the public.
Archer and Anna Huntington decided to build a winter home here along the South Carolina coast in the early 1930s. Anna was diagnosed with tuberculosis and her New York doctors prescribed time in warmer weather.
The Huntington's found an advertisement selling a collection of four old plantations, and they fell in love with the spot.
Archer conceptualized the design and imagined beautiful Moorish architecture for their new home, giving his contractor verbal instructions rather than actual building plans!
The house was named Atalaya (aah-tuh-LIE-uh) which means watchtower in Spanish.
The home was heavily influenced by Moorish architecture, Archer's specialty, and included a 40ft tall watchtower at the center of the otherwise single-story compound.
Anna, a professional sculptor, created the detailed wrought iron window grates, a hurricane protection measure.
Fun Fact: Anna Hyatt Huntington created a large statue for Andrew Jackson State Park, on the South Carolina side near Charlotte. Titled Boy of the Waxhaws, she created the bronze statue for free and donated it to the park.
The Huntington's were big supporters of the local economy, insisting that local labor be used when constructing the house and employing dozens of locals to help run and maintain it once it was built.
During World War II, the couple left the house and let the Air Force use it as a barracks and radio station for the war effort. They returned to their home in 1946, but began phasing out its use.
Anna moved her studios to Brookgreen Gardens, also created and owned by the Huntington's. A few years later, in 1955, Archer passed away.
Anna returned to the house just twice after Archer's death, and, in 1960, leased the house and land to the state of South Carolina for free. In 1984, Atalaya Castle was added to the National Register of Historic Places.
8 Fun Things to Do at Huntington Beach State Park
Enjoy a beach day on the South Carolina coast, explore a historic home, and go look for birds and other wildlife in the various ecosystems within the park.
Bring your camper and set up for a weekend away at the beach. There are plenty of things to do at Huntington Beach State Park!
Pro Tip: Summer time is prime visiting season. There are often long lines to get into the park but only so many parking spots. Come early or late (avoid 10AM to 4PM-ish), and don't expect to be able to leave for lunch and get back in easily.
Go to the Beach
The most obvious thing to do at Huntington Beach State Park: enjoy the Atlantic Ocean!
Spend a relaxed day at this Grand Strand, white-sand beach, playing in the waves or sunbathing on the sand. (Yes, this is still the Grand Strand, and it's a tad less busy than Myrtle Beach. Bonus!)
Lifeguards are on duty May through September in a designated area in the South Beach section of the park, but you can swim at your own risk all year round in either North or South Beach.
Murrells Inlet is NOT in Horry County and not subject to its ordinances. Therefore, dogs are allowed on the beach at any time all year round!
They still have to be leashed and polite, but it's nice to be able to bring your furry friend with you even at the height of summer tourist season.
The More You Know: If you've ever been to Myrtle Beach (including the state park), Surfside Beach, or Garden City in summer, you'll know that Horry County prohibits dogs and bicycles from being on the beach between 10AM and 5PM from May through Labor Day. Their beaches are ridiculously crowded though, so I guess we understand.
Shore Fishing from the Beach
Huntington Beach State Park has some of South Carolina's best shore fishing.
We've never shore fished so we can't confirm this first-hand, but there were quite a lot of fishermen here every time we've visitied.
With 3 miles of beach, there's plenty of room to set up your gear away from swimmers. The jetty at the far north end of the park is a popular spot. It's a bit of a walk for a bit of seclusion.
A saltwater fishing license is required, but the park itself doesn't charge a fishing fee.
Tour Atalaya Castle
Did you know there's a castle on the beach at Huntington Beach State Park? Atalaya Castle, and this entire park, was once the private residence for Anna and Archer Huntington.
Archer designed the house himself, supposedly creating designs as he went! Not sure I'd want to be that contractor!
Anna designed and created many of the details in the home, including all the beautiful wrought iron grates on the windows. (Hurricane protection, in case you were wondering.)
Walking through this space, you're struck by how open-air it is. No air conditioning here; just architectural details to help catch and direct ocean breezes to cool the home.
Learn how the house functioned in the 1930s and how the owners and staff lived. Archer had a large study, while Anna had indoor and outdoor art studios.
The staff had their own rooms with courtyard views as well as the coolest room in the house as their living room.
See the menagerie area where Anna kept the many animals she used as models for her sculptures. Admire the inner courtyard divided by a covered walkway with the famous watchtower center stage.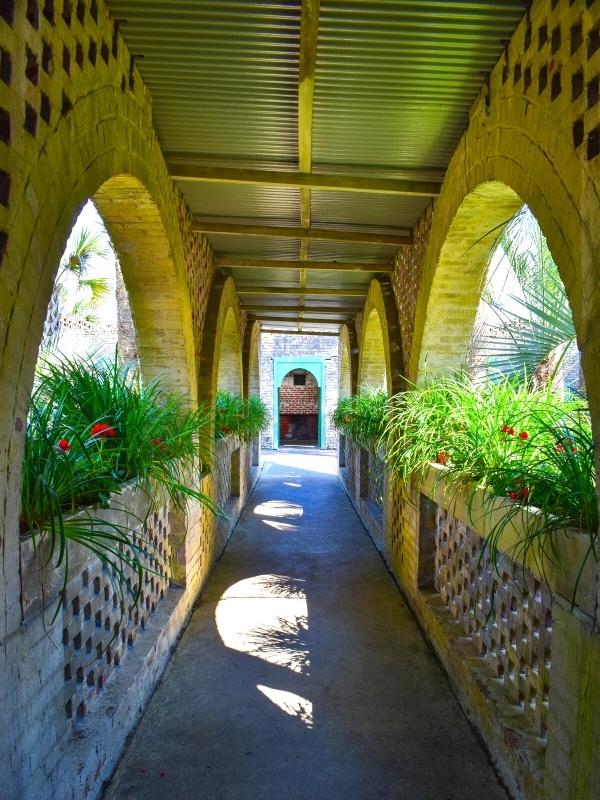 Exploring Atalaya takes about 1.5-2 hours, depending on how many pictures you take and if you get the audio tour.
Admission to tour the castle is in addition to the standard park entrance fee. The audio tour is definitely worth the extra $2!
Pro Tip: This is a popular venue for weddings and other events, so check the park's website or give them a call ahead of time to ensure the castle is open when you plan to visit.
Observe the Local Wildlife
The Atalaya Straight Road is a short, 0.5 mile paved path that connects Atalaya Castle to the Waccamaw Neck Bikeway (and originally to Brookgreen Gardens).
It also passes through the freshwater pond areas of Huntington Beach State Park, providing some of the best wildlife viewing in the park!
On our first visit on a May weekend, we walked a quarter mile from the front of Atalaya to the spot where the path divides Mallard Pond on the left from Mullet Pond on the right and saw 7 different animals within 10 minutes.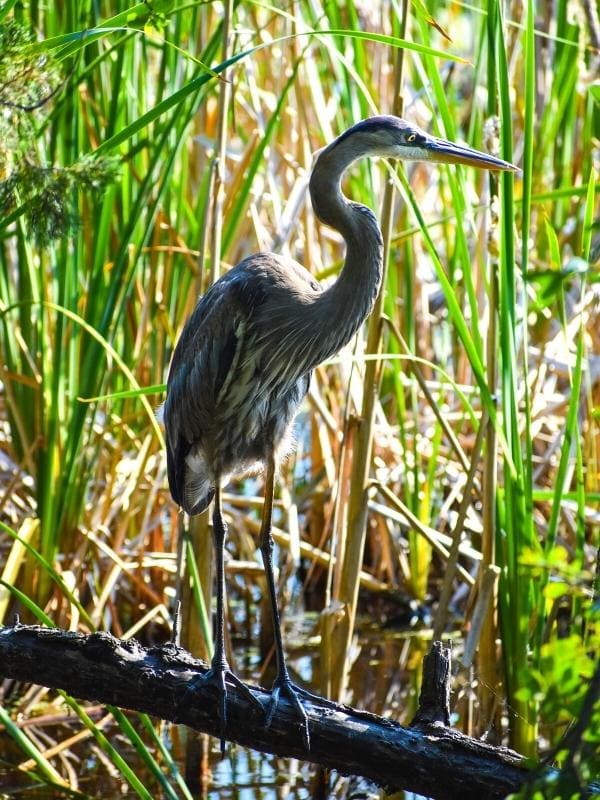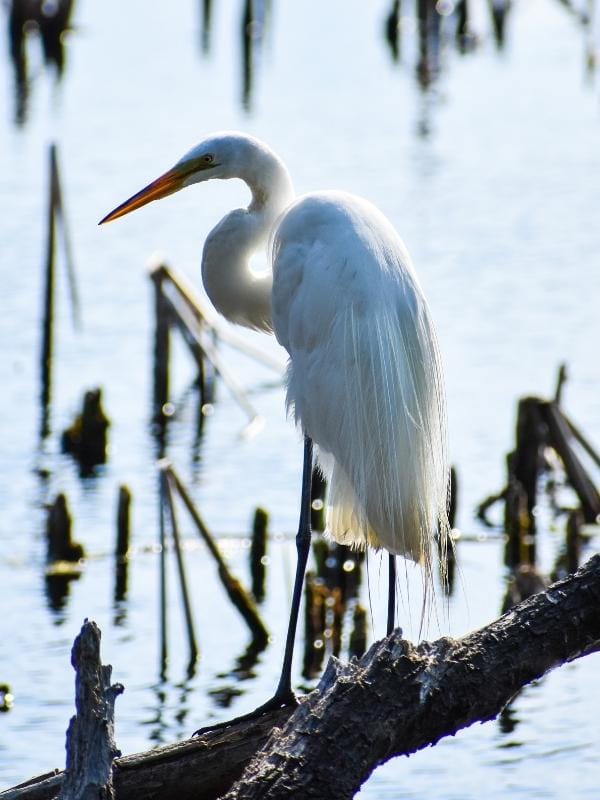 We saw a blue heron, turtles, sandpipers, alligators, ducks, several more types of birds, and even a snake! Bring a good zoom lens for your camera. You won't regret carrying it.
On your way back to Atalaya, look for the nature trail into the woods on the left. This is the Kerrigan Nature Trail, a 0.30 mile earth path that connects to the parking lot by the gift shop.
But it also connects to a boardwalk that leads out into Mullet Pond.
This vantage point has a covered gazebo at the end for awesome views into the center of the pond. Expect to see alligators and all manner of birds.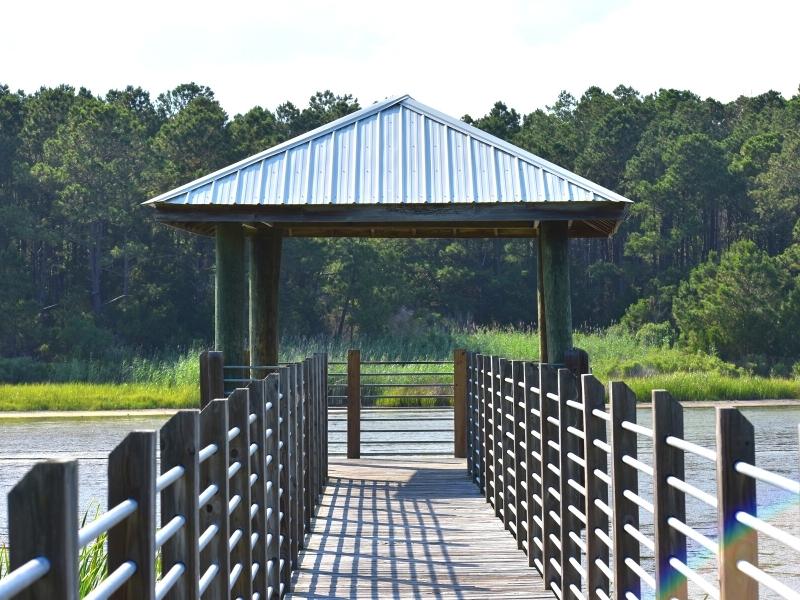 Camping at Huntington Beach
Bring your RV and stay the weekend, or up to two full weeks, at Huntington Beach!
There are two campgrounds at the park: North and South.
Combined, 107 campsites have standard water and electric hookup, with an additional 66 full hookup sites providing sewer, too. Alternatively, there are comfort stations in both campgrounds.
A handful of primitive tent sites are available at the very north end of the North Campground.
➡️ North Campground is a mix of standard and full hookup sites, all with 30 Amp power.
➡️ South Campground is exclusively 50 Amp full hookup sites.
Reserve your preferred spot ahead via the South Carolina Parks Reservation website.
Reserve a Picnic Shelter for a Party
Huntington Beach State Park has three, very large picnic shelters available for hosting your next event!
These picnic shelters are like the three bears from the fairy tale: small, medium, & large. They can accommodate 45, 75, or 100 guests, respectively.
Shelters will reliably book out a month or more ahead of time, so reservations are strongly recommended.
Reminder: the shelters are free first come, first served when there is no reservation. But like we said, those days are few and far between, especially in the summer.
If you're camping at Huntington Beach, though, the day trippers will all clear out (of the shelters) around dinner time, and you'll have these spaces to yourself.
Bird Watching
The pristine coastal habitats at Huntington Beach State Park make this one of the best places for bird watching on the eastern seaboard.
As we mentioned above, we walked just a quarter of a mile down the Atalaya Straight Road and found ample wildlife, more than half of which were birds.
Another amazing birding spot is along the Sandpiper Pond Boardwalk Trail in the North Beach section of the park.
The trail isn't a loop so it's a 2 mile walk, down the boardwalk and back to your car. An observation point at the north end of the boardwalk has great views for those that don't want to walk that far.
If you're up for a long walk on the beach, use the North Beach Access and walk north to the jetty and back, staying off the dunes. This entire area is a bird sanctuary (so no dogs allowed here, unfortunately).
Grab your binoculars, and come see what bird species you can find!
Special Event: Attend the Atalaya Festival in September
Every year, Atalaya Castle plays host to the Atalaya Arts & Crafts Festival, bringing in local and long-distance artists, musicians, and food vendors for three days of crafting awesomeness!
Find your new favorite painting, sketch, photo, sweetgrass basket, glassware, jewelry, décor, you name it! This festival has been delighting guests for 40 years, and it's still a wildly popular event.
The park fills both sides of the Atalaya Castle courtyard as well as most of its indoor rooms and spaces with vendors showcasing their crafts.
It's the most popular time of year to visit the park, so come early and pack your patience. The festival is worth it!
Entrance to the festival is separate from entrance to the park, but only charges for those ages 16+ to attend.
Dates vary every year but typically a Friday to Sunday weekend in late September. Check here for current information.
---
---
Enjoy Visiting Huntington Beach State Park!
Huntington Beach State Park is a good alternative to the crushing crowds of Myrtle Beach when you've still gotta have that beautiful Grand Strand beach vacation! Come explore a beach-side castle, make smores at your campsite, and while away a week on the beautiful South Carolina coast.
For more coastal South Carolina state parks, you may also like:
More SC State Parks We've Visited
Battle of Rivers Bridge
Croft
Goodale
Hunting Island
Kings Mountain
Lake Greenwood
Lee
Poinsett
Is an Annual South Carolina State Park Pass Worth It? In most cases, yes, but check out the full cost breakdown to find out if it's right for you!
Happy Travels!
Share it!