The Seattle area has no shortage of greenery. The Evergreen State lives up to its name, even in pockets in downtown urban areas. But if you live in the seemingly unending urban area that is Seattle, Tacoma, Olympia, and their suburbs, the evergreen trees are always just out of reach.
Take some time away from Seattle and enjoy a day trip to Whidbey Island to get back in touch with the beautiful Washington landscape. Enjoy beaches and bluffs, forests and art walks, and small towns and historic forts.
Not sure where to start? Use our Whidbey Island day trip itinerary as the perfect starting point for exploring Whidbey!
---
This post may contain affiliate links. As an Amazon Associate and associate of other programs, I earn from qualifying purchases. This means if you click a link and make a purchase, I may earn a small commission at no extra cost to you.
---
Why Visit Whidbey Island?
Whidbey Island is like a beautiful time capsule, preserving the Seattle area's first settlements, rich history, and natural landscapes.
Whidbey Island is Washington state's largest island, located where Puget Sound meets the Pacific Ocean. It's played a role in both settling the area and in protecting it.
You'll find original prairie farms in much the same shape as they were when the first settlers came in the 1800s. Federal protection and state parks ensure there are no huge developments taking over.
The small towns on the island have all adapted to modern needs but still remember their fishing town roots and get excited when whales are spotted just yards from shore.
Tall bluffs rise along the western shore of Whidbey Island, the perfect place for a hike nowadays but also the ideal spot for turn-of-the-century forts to defend the sound. Several remain today as state parks, waiting to be explored.
Experience the peace of the countryside, complete with small town charm and the quiet beauty of forests and prairies, on a Whidbey Island day trip just an hour from downtown Seattle.
---
---
How to Get to Whidbey Island
There are two ways to get to Whidbey Island from Seattle: take the ferry from Mukilteo or drive up to Deception Pass.
You can actually make a convenient loop back to Seattle if you do both, which is what we recommend for your day trip to Whidbey Island.
We've done both and have a detailed guide with specifics for how to get to Whidbey Island, including a few alternative options for those of you that can't stand boats or don't have a vehicle.
Whidbey Island Day Trip Itinerary
This Whidbey Island day trip itinerary is set up like a taster for all the fun things to do on Whidbey. You can't see and do everything on the island in one day, but you can see and experience quite a lot!
Here's how we'd spend a day on Whidbey Island.
1. Ferry from Mukilteo
The ferry is inexpensive and quick, even for bringing over your car, a no-brainer for starting your day on Whidbey Island.
Ferry schedules vary depending on the time of year, but in summer they start early and run late, on the hour and half hour. The journey is only about 15-20 minutes, including loading and unloading time.
Ferry tickets are not time-specific. Buy your ferry ticket ahead online and just get in line when you arrive at the ferry terminal.
2. Morning Stop in Langley
Learn everything you've ever wanted to know about the local whales at the Langley Whale Center. This small museum has lots of information and is a good starting place for visitors.
Langley has a pod of orcas that stick around most of the year, nicknamed The Residents. Gray whales and transient orcas also often visit, and occasionally humpback whales stop by for a visit, too.
Once you're done at the museum, stroll past the whale bell and out to the sea walk, then come back up into town and peruse the shops and restaurants on your way back to your car.
3. Pit Stop at Greenbank Farm for Delicious Eats!
When you're ready to move on, drive north to Greenbank Farm for a quick food stop. You won't need more than 30 minutes or so here, but this is almost mandatory on a Whidbey Island day trip.
Stop in the Greenbank Farm Café for a slice of pie, or get a whole pie to go. It doesn't matter if it's 10AM or 3PM; they know you're there for the pie! (Like we said: almost mandatory!)
We loved that they had unique flavors. Not just standard apple pie, although that's delicious, too, but also loganberry and marionberry. (We had to look that last one up!)
There's also a very good cheese shop here, perfect for picking up picnic supplies for a charcuterie spread. Take this with you to enjoy later from a seaside bluff!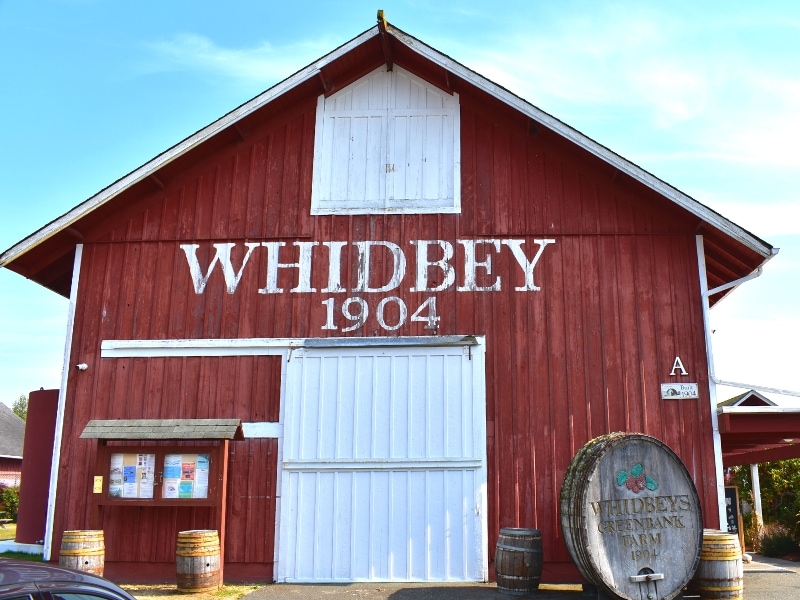 4. Explore Fort Casey State Park
Arrive around 11AM or noon at Fort Casey State Park, right on the water and very near the Port Townsend ferry terminal.
Discover the batteries of a World War I era coastal fort. Climbing around the battery and (unarmed) disappearing carriage guns will keep everyone occupied and entertained.
These types of forts were rendered obsolete after the invention of missiles, but the views from up here are awesome. The bluff is a perfect spot for that picnic lunch you picked up at Greenbank Farm.
If you'd rather have a table to eat at, head to the Admiralty Head Lighthouse for some outdoor picnic tables, and then a post-lunch tour of the lighthouse and lighthouse keeper's quarters.
5. Midday Stop in Coupeville
If you prefer restaurants to picnics, check out Coupeville for lunch and some historic exploration.
First, take a peek inside the historic Coupeville Wharf, a staple of any Whidbey Island day trip. An enclosed shopping area today, it dates back to the town's original fishing culture.
Then, stop in the Island County Historical Museum, right next to the wharf, and learn all about Whidbey Island's history.
Finally, take a walk along Front Street and check out all the shops and restaurants. In town, this stretch is only about 2 blocks long and manageable for most. (If you're here for lunch, start with this step!)
6. Visit Ebey's Landing National Historical Reserve
After lunch and a jaunt through Coupeville, head 5 minutes down the road to the Ebey's Landing National Historical Reserve.
You've already driven past the prairie on the way to Coupeville from Fort Casey, but the view from atop the ridge is better.
This area is where the first European settlers filed homestead claims and started agricultural development on Whidbey Island. The area was preserved in the 1970s so modern developers couldn't change the use of the land.
Stop by Jacob & Sarah Ebey's home for a quick tour and then continue on the Bluff Trail out to the ridge for some breathtaking views of the beach and waterways.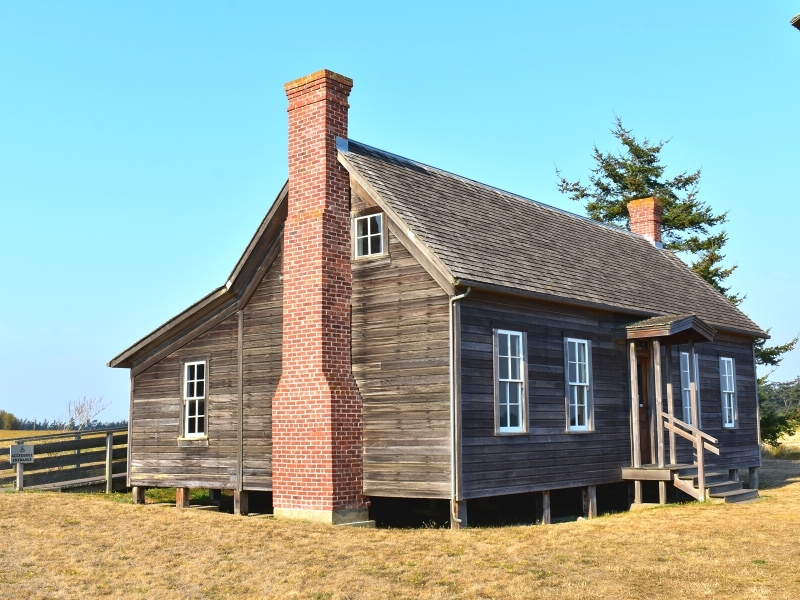 7. Cruise Through Oak Harbor
Oak Harbor is Whidbey Island's most developed town, a good option for where to stay if you were here for more than a day but also where you'll run into the most people on the island.
The Naval Air Museum is in town, while the actual air base is just north of town. You'll more than likely hear jets cruise around on training runs. Just a normal day in Oak Harbor on Whidbey Island!
If random, fun sights are your thing, stop by Flintstone Park on the water and snap a picture with a concrete replica of Fred and Wilma's car!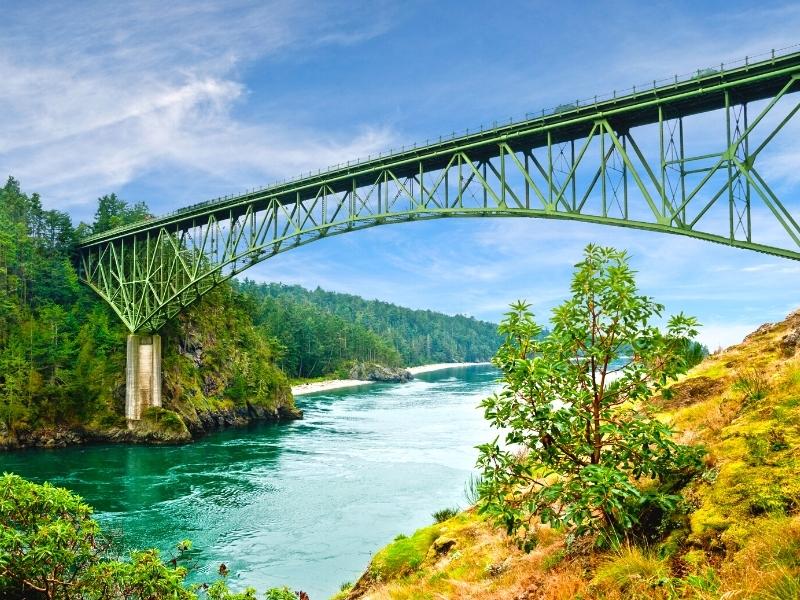 8. Deception Pass State Park & Bridge
End your day trip to Whidbey Island with a stop at Deception Pass State Park on the very northern tip of the island.
The biggest draw here is the Deception Pass bridge. If you have a park pass, turn left into the park (before you get to the bridge) and park at the North Beach lot.
From here, it's an easy walk down and out to a small, pebble beach with spectacular views of the Deception Pass Bridge from water level.
Then, drive up to the bridge and park in the lot on the left, before crossing the bridge to exit the island. This is also part of the state park and requires a pass, but it provides access to the top of the bridge.
Walk out onto the sidewalk on the top of the bridge and get stunning views from the middle!
Pro Tip: The roadside pullouts on the north side of the bridge (Fidalgo Island side) do not require a state park fee to park. You have access to the same protected sidewalk atop the bridge, and could technically walk all the way across and down to North Beach for pictures before returning to your car. Be safe though! These pullouts are not protected from traffic on the narrow roadway.
If you have more daylight, get out of the car before your drive back to Seattle and enjoy a hike or bird watching in the state park.
Whenever you're ready, or you run out of daylight, head north off the island and follow signs to I-5 to drive back to Seattle.
---
---
Looking for More Things to Do on Your Day Trip to Whidbey Island?
This itinerary is one very full but rewarding day on Whidbey Island! But we know you might want to tweak the schedule to better suit your preferences. No problem!
Here's our detailed list of the best things to do on Whidbey Island. Pick some new activities and substitute or add them to this one day itinerary.
Voila! A custom Whidbey Island day trip itinerary, perfect for you and your group! We hope you enjoy your time on Whidbey!
More Seattle Area Resources
Happy travels!
---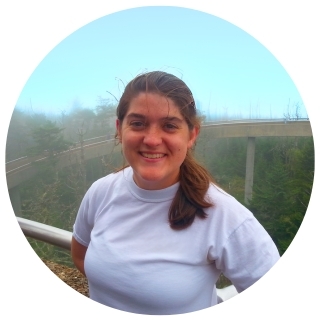 About the Author: Rachel Means
With six-figure student loan debt and only 10 PTO days per year, Rachel started traveling the world. A decade later, she's paid off her loans, changed careers, and been to 36 US states and 14 countries. She's an expert at planning and budgeting for travel and loves to help others do it, too! Read her full story here.
---
Share it!