Just 2 hours from the urban bustle of Seattle, WA, North Cascades National Park is an underrated gem waiting to be explored. The gorgeous blue waters of Diablo Lake are enough to convince most people to visit, but there's more to do in North Cascades than stare at beautiful scenery.
Visit the scenic overlooks, yes, but also delve into the park's history and the creation of the hydroelectric dams that first brought electric lights to Seattle. Learn about the first explorers to map these mountain ranges and then follow in their footsteps on a hiking trail or two.
Here's our perfect one day in North Cascades National Park itinerary!
---
This post may contain affiliate links. As an Amazon Associate and associate of other programs, I earn from qualifying purchases. This means if you click a link and make a purchase, I may earn a small commission at no extra cost to you.
---
Why Visit North Cascades National Park?
Chalky aqua-blue lakes are what first interested us about North Cascades National Park.
Pictures of Diablo Lake on a clear day are usually enough incentive to convince people to visit, but the North Cascades deserve more than a cursory drive through.
This underrated gem is a short drive from some big Pacific coast cities, almost as close to Vancouver, British Columbia, Canada as it is to Seattle, Washington.
It's also one of the least visited national parks in the country, despite having free entry. That's a shame, because this corner of the mountains is astonishingly beautiful.
Glaciers grace the tops of some of these mountains, and the hiking trails reveal truly spectacular alpine scenery which you'll often have all to yourself.
Having visited here twice in two months, we're at a loss as to why more people don't visit. It's too beautiful to miss!
Where is North Cascades National Park?
North Cascades National Park is about 2 hours northeast of Seattle. As long as you don't leave during afternoon rush hour, you won't have to battle extreme traffic to get away from the city in this direction.
Highway 20, sometimes called North Cascades Highway, follows the only pass through the mountains for miles around. The park is entirely mountains and mountain lakes.
Cities and cell service are hard to come by up here. You'll find a few small towns along the highway, but don't go looking for a chain restaurant, hotel, or grocery store. They don't exist up here.
Coming from Seattle, you'll enter the park via the western entrance near the small town of Marblemount. The eastern entrance is more difficult to pinpoint, as we'll explain below.
What's in a Name?
The North Cascades National Park complex is really three different protected sites that are treated as one park:
Ross Lake National Recreation Area (NRA),
Lake Chelan National Recreation Area, and
the north and south units of North Cascades National Park
The majority of day trippers to North Cascades are coming from the west and technically visiting Ross Lake NRA, but all the signs and maps and even the visitor center are dubbed North Cascades.
Visitors coming from the east aren't as common (because there's nothing nearby in that direction), but for those rare few that decide to road trip across the country, you'll pass through Okanogan-Wenatchee National Forest on Highway 20 before you reach North Cascades.
---
---
Honestly, the area labels matter only if you plan to hike. The national forest charges a small day-use fee for its hikes. The national park and all its trails are free.
The north and south units that comprise the official national park area are mostly wilderness, left untouched in all its glory but for a few backcountry hiking trails. Absolutely worthy of your time, but not what we'd suggest for your first day in the park.
One Day North Cascades National Park Itinerary
Here's how we'd spend one day in North Cascades National Park on our first visit to the park.
North Cascades park sign photo
Visitor Center
Sterling Munro Boardwalk
Ladder Creek Falls & Gardens
Gorge Lake Overlook
Diablo Lake Overlook
Ross Dam Trail
Blue Lake Trail
Washington Pass Overlook
What to Do in One Day in North Cascades
Visiting North Cascades National Park in just one day is ambitious but totally doable for the dedicated.
And no, you don't have to get up before dawn to do it. The more time you give yourself to explore, the better, but this North Cascades itinerary works just fine if you don't get to the park until 9 or 10AM.
North Cascades Sign Photo Op
On your way into the park there's a nice, wide, paved pull-off by the fancy stone and metal North Cascades National Park sign. Get your picture and continue on your way to the visitor center.
Don't leave this for on your way out. The light will be gone by the time you leave if you follow this itinerary!
North Cascades Visitor Center
15-20 minutes
Three reasons to stop at the visitor center before doing anything else at the park:
Park Map
Indoor Restrooms
Cell signal
A park map is a must have for any national park adventure, and stopping at the visitor center also offers you the chance to ask a park ranger any questions you may have.
We always ask what's their favorite hiking trail.
Also in the visitor center is a small exhibit hall with information on the wildlife in North Cascades and a small gift shop with trinkets and a few shirts.
Use the indoor restrooms while you can. There aren't a lot of other options once you get into the park, at least not indoor or flushable toilets.
This is also a great opportunity for you to download offline maps, if you forgot to do that before you left Seattle on this adventure.
It's pretty hard to get lost while driving in this park. There's pretty much just the one road, Highway 20, unless you're going to a more difficult hike or to an education center or resort.
But cell signal is pretty much gone for the first hour outside of the park until you get closer to I-5. You'll want the offline maps to get you back to the interstate when you leave at the end of the day.
Sterling Munro Boardwalk
10 minutes
A very short boardwalk at the back left corner behind the visitor center leads to a perfect view of the Picket Range.
This is a 10 minute pit stop at most to get some pictures and admire the view before moving on to explore the park.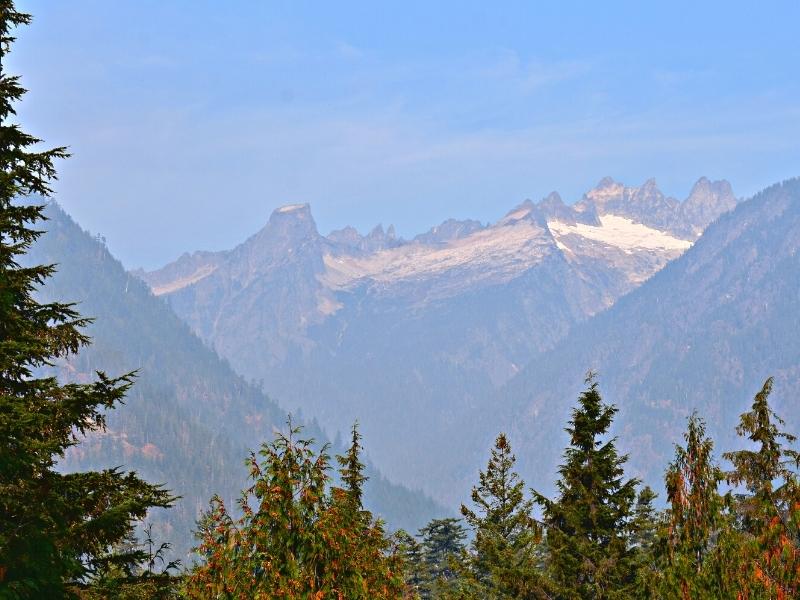 Most visitors to North Cascades aren't ever going to make it out to those peaks, and you don't have time either in this jam-packed one day itinerary for North Cascades.
So, this boardwalk is a great way to get a few pictures without driving or hiking all the way out there.
When you're ready, head back to your car and back out to Highway 20/North Cascades Highway.
Ladder Creek Falls & Gardens
30-45 minutes
Not 5 minutes down the road from the Visitor Center is the Gorge Powerhouse, and behind that, the Ladder Creek Falls & Gardens. (We're skipping the Newhalem area on this itinerary.)
Walk across the original (but renovated) pedestrian suspension bridge to the Ladder Creek Falls Garden behind the Gorge Powerhouse.
Stop halfway across that bridge and get gorgeous pictures of that beautiful tiled powerhouse building and the steel truss bridge (for employees only). Then move along to the gardens.
Back when electricity was new, one guy saw its potential for creating beautiful visuals. He and his wife created the Ladder Creek Falls Gardens area around the falls and installed lighting to highlight the falls and gardens at night.
It was a big success and brought many visitors. Today, the lighting has been updated but the ambiance is basically the same.
Come visit at twilight to see the gardens and waterfall glow with different colors.
Gorge Lake Overlook
15-30 minutes
Before you reach the lakes, pull off at this overlook for several cool views with little walking required. First, head up the paved trail that starts by the restrooms.
Pro Tip: There is a dirt trail that starts at the far end of the parking lot, near the entrance. This just loops through the trees and up to the end of the paved trail. It doesn't have any extra views. Skip it!
The first overlook is of a small waterfall on the side of the inlet with partially obscured views of Gorge Lake. Keep going down the paved path to the second overlook area. This is the best view of Gorge Lake!
There is one more overlook area here, very obscured views of the dam where the diversion tunnel sends water down to the Ladder Creek Powerhouse.
If the information about the dam doesn't interest you, turn around at the second overlook and head back to the parking lot.
Back at the parking lot, you're not done yet! Walk to the far end of the lot near the exit where you can walk out onto the small, metal bridge over the inlet.
It's metal grating, so this may not be for those afraid of heights, but you get great views looking down the inlet towards Gorge Lake.
Cross the road and walk out on the other side of the bridge and you'll see a waterfall in the very back of the inlet. Once you've taken all your pictures, head back to the car and continue east down Highway 20.
Diablo Lake Overlook
10 minutes, or as long as you want!
Jaw-dropping, gorgeous views await you at the Diablo Lake Overlook! This is the iconic photo most people associate with North Cascades.
Gorgeous chalky teal blue water is a result of "rock flour" runoff. The minerals and sediment from the mountain ridges get washed down into the water and form the milky teal Diablo Lake.
The sunlight shimmering off of the water is stunning.
In the summer, visitors are active on the lake. Swimmers stick to the Colonial Creek Campground area (to the left of your view), but canoes, kayaks, and paddleboards crisscross the lake's surface further out.
And they're tiny dots from your vantage point at the overlook!
We spent a lot of time here. Taking it all in, enjoying the breeze, taking a photo at every possible angle.
You probably won't spend as much time as me, and that's fine. Get your shot and move on!
Do not go beyond the barriers. I don't know why I need to say that, but plenty of people think it's totally fine to hop a low barrier and walk out to the cliff edge. Don't be one of those people.
>> Want to see more beautiful blue lakes? Try Berchtesgaden in Germany or Salzburg in Austria. <<
Ross Dam Trail
1.5-1.75 hours
This trail was advertised as a short walk to an overlook of the Ross Lake Dam, and that's true, but the unexpected surprise is you can continue down to the dam and walk out on top of the dam!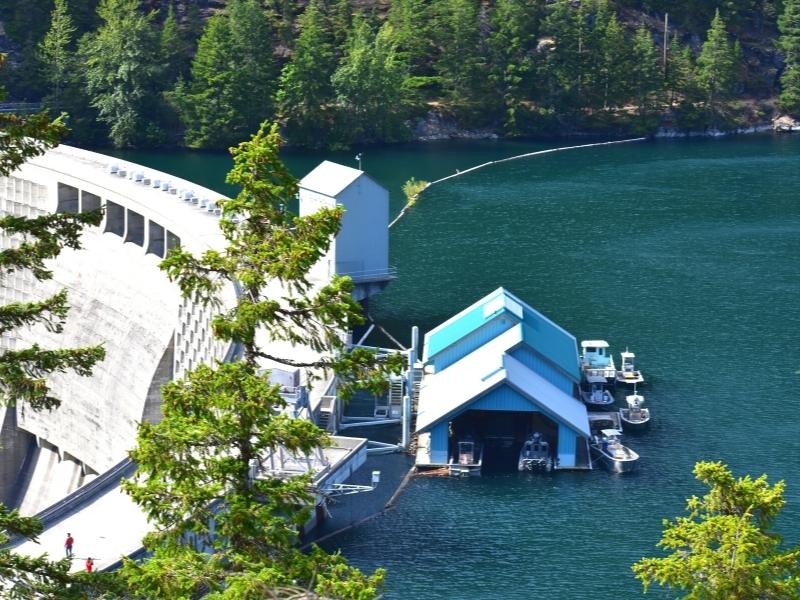 All told, the hike down to the dam and back is about 2.3 miles roundtrip. You'll pass through the forest and a small waterfall before eventually coming to a small vista with views of Ross Dam from above.
Keep going down the trail until you see the map marker. Go left from here and you'll intersect the road to Ross Dam. Follow the signs right and you'll walk out onto the top of the dam.
Those pictures are just so cool.
You're at lake level on one side with Ross Lake Resort's adorable lakeside cabins, and then the other side drops away as a concrete dam and the river continues down the gorge to Diablo Lake.
Fair warning: you hiked all downhill on the way out so you'll hike ALL uphill back to the car.
It will take longer on the return, and you might need to take a few breathers. That's fine. Think of those views…!
Scenic Drive
30-45 minutes, depending what traffic you get stuck behind
After that trudge back up the hillside to finish the Ross Dam Trail, your legs deserve a break. Good news! Our next stop is about a 30 minute drive down Highway 20.
As you keep driving east on Highway 20, Ross Lake NRA ends about 10 minutes into your drive. Leaving the North Cascades National Park territory, you pass into Okanogan-Wenatchee National Forest instead.
Pro Tip: If you want a picture with the traditional brown national park sign instead of the nicer stone & metal one at the western entrance, you'll pass the Ross Lake/North Cascades brown sign on your way to your next stop.

It'll be on the left as you drive out of the park. Catch it now or on your way back through to Seattle at the end of the day.
Enjoy your scenic drive through the forested mountains!
See where past rock slides have left a crust of trees hanging over bare rock. Admire the amazing evergreen trees of the Evergreen State. Stop as often as you like for photos.
Blue Lake Trail
2-2.5 hours
Discover an isolated alpine lake after only a 4.6mi (roundtrip) hike! We're big fans of short hikes to amazing views, and this hike delivers on that. It only took us about 2 hours and was a great ending to the day.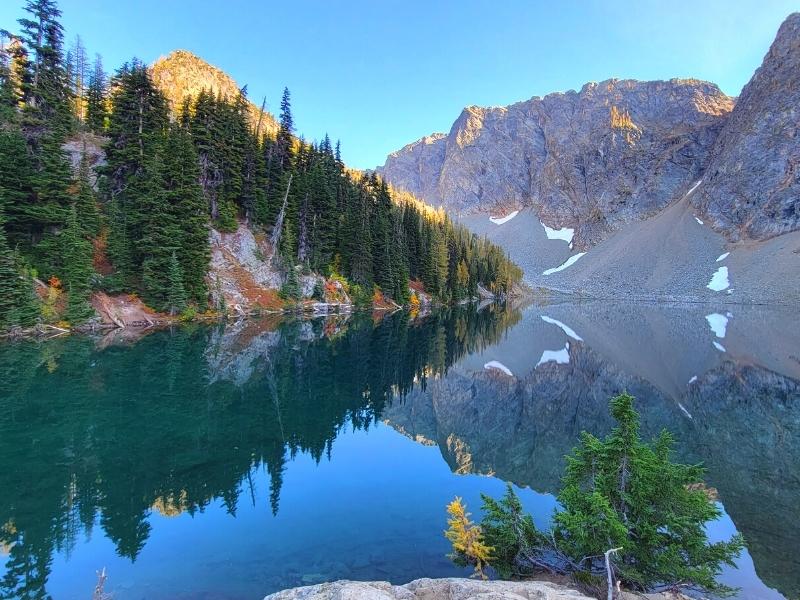 Blue Lake is an incredibly popular hike. The parking lot fills quickly in summer, and cars then line the extra wide shoulders on both sides of the highway for quite a distance.
Luckily, if you time this right, you'll start hiking around 3PM, and most of the other hikers will be passing you on their way back down.
There's a very good chance you'll have Blue Lake mostly to yourself, or at least devoid of huge crowds, when you arrive.
Remember: This is in the national forest and charges a day-use fee at its trailheads to help maintain popular trails.

Have exact cash on hand to pay the fee via envelope system at the trailhead or have a valid America the Beautiful annual pass to display on your car's dash.
If you're following our North Cascades National Park itinerary, be aware of the daylight before you start your hike here.
Blue Lake is tucked away up the side of the mountain, close to the sparse ridgeline. It being later in the afternoon, direct sunlight will drop behind the ridge well before sunset.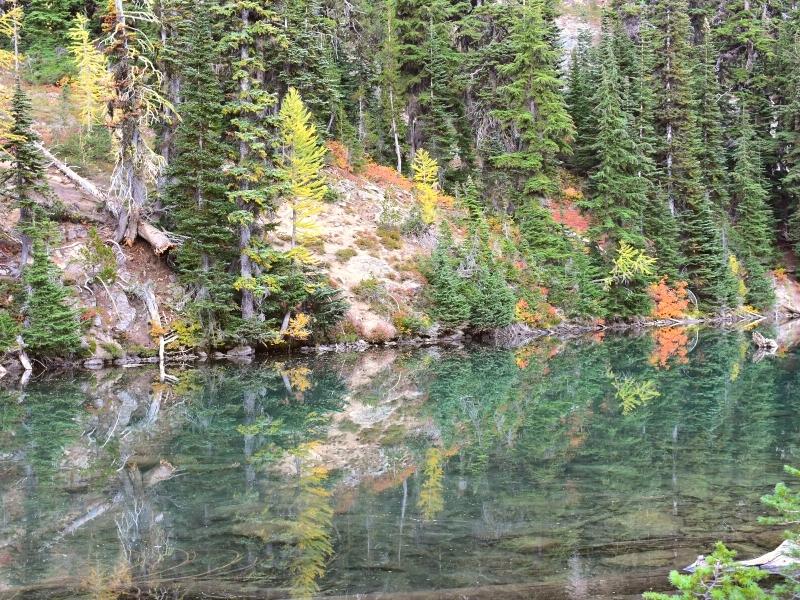 Some spots never see sun, as far as we could tell, because there were still snow patches from the previous winter when we hiked this in late September.
We missed the direct sun but still had awesome views of this alpine Blue Lake.
This hike is the opposite of the Ross Dam Trail: all uphill on the way out and all blessed downhill on the way back.
Trekking poles are a great tool to have on this hike once you get towards the end of the trail. The path traverses some rocky spots that poles will certainly help your knees handle better.
Washington Pass Overlook
15-30 minutes, or as long as you want
The last stop on our North Cascades day trip itinerary is a view worth driving for.
The Washington Pass Overlook is off of Highway 20 and the furthest east this one day North Cascades itinerary goes.
That's convenient because we recommend you visit either first thing in the morning or at the end of the day after the sun has set below the ridgeline.
Otherwise, if you visit in, say, the middle of the afternoon, the lighting here is pretty harsh for pictures. The views are still amazing; it's still worth visiting! Only photographers are going to care about that lighting.
Washington Pass Overlook is part of the Okanogan-Wenatchee National Forest, and only a 5 minute drive from the Blue Lake Trailhead. The road to the overlook will be on the left, and it has plenty of parking and restrooms.
The view here is humbling in person.
The enormous mountains create a semi-circle, the forest carpets the lower elevations, and Highway 20 snakes its way around and out, giving the view scale and perspective that'll make you feel like the tiny human you are.
Sit and take it in for a while. Just keep an eye out for too-friendly mountain goats.
Head Back to Seattle
3 hours
At this point in the day, you should be right at or just past sunset. Get comfortable and settle in for the 3 hour or so drive back to Seattle. We recommend having snacks handy for the drive.
If you don't stop in Marblemount for dinner, the next town with options is Arlington, about an hour away, just before you reach I-5.
---
---
What's Missing from This Itinerary? Purposeful Omissions
If you're familiar with North Cascades National Park, you'll notice we left some big attractions off of our one day itinerary. That was done on purpose!
You can't see it all with just one day. Longer hikes aren't a good use of your time in this instance. Hikes like the Maple Pass Loop or the Pacific Crest Trail are beautiful but too long for this itinerary.
Shorter hikes like Thunder Creek Falls or the Thunder Knob Trail could be substituted into the itinerary or added if you have more time. (We honestly weren't impressed with the Thunder Knob Trail. You get better views of Diablo Lake from the overlook.)
The town area in Newhalem is fun but not a key draw for the park, in our opinion, so we left it out of this North Cascades itinerary.
Stehekin is another biggie missing from the list. That's because Stehekin is a multi-day adventure on its own. Only accessible via a ferry across Lake Chelan or a multi-day hike, Stehekin is one of the most remote areas of the park.
There are certainly plenty more hikes and things to do in North Cascades National Park, but we purposefully restricted this itinerary to make it doable, with breathing room, in one day.
North Cascades Practical Info & FAQs
Entrance Fee: FREE entry to North Cascades National Park
Day-Use Fee: Okanogan-Wenatchee National Forest; be prepared to pay $5 cash for day-use fees for popular trails or have an America the Beautiful annual pass to cover the fee.
No cell service (except at the Visitor Center!)
Bring layers, especially if hiking.
Check the website before you leave Seattle for any alerts or warnings. Wildfires are unfortunately common in this part of the country, and smoke can obstruct your views and make hiking difficult.
>> Is North Cascades National Park a Good Day Trip from Seattle?
Yes, if you get an early enough start. It's only 2 hours away, it's gorgeous, and you can see and hike a good amount in one day.
>> When's the Best Time to Visit North Cascades National Park?
North Cascades is open year-round and each season has its own beauty and challenges.
Spring brings slowly warming temperatures, snow melt, and wildflowers.
Summer is peak season with warmest temperatures and access to most parts of the park. Note: higher peaks could still be under snow in June.
Fall temperatures are ideal for hiking and the few deciduous trees in the park change color
Winter sees lots of snow, and Highway 20 in the park usually closes November through April due to risk of avalanches. Check the park website before you leave to see what's accessible.
>> Is North Cascades National Park dangerous to visit?
No more dangerous than any other area in the Pacific Northwest. For most visitors, it's very safe because they don't stray far from the highway.
If you attempt backcountry hiking or camping in the higher elevations, check in at the ranger station before you leave and make sure someone at home has your trip itinerary.
We also recommend you follow standard hiking advice for the area:
Be wilderness aware.
Carry the 10 Essentials.
Bring bear spray.
Check for wildfires before you go.
Keep the elevation in mind when hiking.
Be prepared for snow/weather.
Enjoy Your First Day in North Cascades National Park!
This North Cascades National Park itinerary is the perfect one day intro to this amazing and underrated park. We hope you fall in love with the mountains and lakes like we did!
Ready for more North Cascades? Epic mountain hikes await!
More Seattle Area Resources
Happy travels!
Share it!