Harpers Ferry, West Virginia is a popular summer road trip stop, with easy access to several cities and surrounding states.
Hike the cliffs for an eagle's eye view over the rivers. Stroll through centuries of history in downtown Harpers Ferry and the Harpers Ferry National Historical Park. See Civil War era cannons, early America candy shops, and a supply stop for Lewis and Clark!
There are just enough things to do in Harpers Ferry to make it a perfect one day stop on your next road trip!
---
This post may contain affiliate links. As an Amazon Associate and associate of other programs, I earn from qualifying purchases. This means if you click a link and make a purchase, I may earn a small commission at no extra cost to you.
---
Where is Harpers Ferry?
The town of Harpers Ferry is uniquely situated at the confluence of the Potomac and Shenandoah Rivers, which also happens to be where three US states meet: Maryland, Virginia, and West Virginia.
Harpers Ferry is in West Virginia, but it's only an hour's drive from Baltimore or Washington. DC.
What is Harpers Ferry Known For?
The most infamous event that landed Harpers Ferry in the history books was the ill-fated John Brown Raid in 1859, an attempt to seize weapons and instigate a slave revolt in what was at that time pro-slavery Virginia.
But Harpers Ferry is a town rich in history, and there's more to it than the raid.
Thomas Jefferson stopped here and has a rock named after him where he admired the views of the river valley.
Meriwether Lewis of the famous Lewis & Clark Expedition had offices here while preparing for the epic trek west.
After the Civil War, Storer College was founded in Harpers Ferry, the first school available to educate Blacks in the new state of West Virginia.
For the outdoorsy types, rafting, hiking, and the halfway point of the Appalachian National Scenic Trail are all here, too!
A visit to Harpers Ferry, WV is a step into history surrounded by the beautiful Blue Ridge Mountains and its river valleys. There's something to do in Harpers Ferry for everyone!
---

---
15 Things to Do in Harpers Ferry, West Virginia
One day in Harpers Ferry is plenty of time to get a feel for the town. A day trip to Harpers Ferry is only an hour away from both Washington, DC and Baltimore.
If you have more time, spend a weekend and get in several hikes with excellent views from the river bluffs.
1. Harpers Ferry National Historical Park
This area is so steeped in history that a significant portion of the town and surrounding area are protected by the National Park Service (NPS) as Harpers Ferry National Historical Park.
The park preserves and maintains many buildings in Harpers Ferry, predominantly the Lower Town near the river confluence and the river bluffs used during the Civil War.
Several smaller exhibits throughout the Lower Town cover Harpers Ferry's industrial boom, its time as host to the US Army Arsenal, and the civil rights movement roots at Storer College through the Niagara Movement.
One exhibit reveals the inside of a building in mid-restoration, displaying all the layers of the building and discussing how historians can pinpoint timelines from construction methods, strengthen foundations with modern means, and preserve the buildings for visitors.
Another exhibit covers the rise of a premade clothing store in the 1800's. Before that time, everyone made their own clothes at home. Do you know how to sew your own clothes?
There's even a small exhibit for Meriwether Lewis, of Lewis & Clark fame, who had offices in Harpers Ferry while he gathered supplies before heading west to rendezvous with William Clark.
Take some time to walk around the Lower Town and find these one-off exhibits. They add depth and color to a town's history that is otherwise dominated by the Civil War.
2. John Brown's Fort
The John Brown Fort is why most people come to Harpers Ferry, or have even heard of it in the first place.
The fort was originally a fire engine store room on the US Army Arsenal's grounds. In October 1859, an abolitionist named John Brown attempted to seize weapons from the Federal Arsenal in Harpers Ferry and lead a slave revolt.
However, the revolt didn't go as planned. Brown's small advance group seized the Arsenal before they had sufficient reinforcements, the federal army was mobilized by President Buchanan to take back the Arsenal, and the revolt failed after a few days and a final showdown at this fort.
John Brown and his supporters that survived the raid were tried and executed.
Opinions about John Brown were mixed. Some thought him a traitor; others saw him as a martyr for his cause.
The event is often cited as a precursor for the Civil War, an inciting event that helped nudge the country closer to its inevitable war over slavery.
Today, the fort is preserved by the NPS as part of Harpers Ferry National Historical Park in the Lower Town by the river confluence at The Point.
3. Civil War Battlefield
The war that followed a few years after John Brown's failed raid was truly horrific. Harpers Ferry was a key logistical crossroads and saw direct fighting no less than 5 times at Bolivar Heights, Schoolhouse Ridge, and Maryland Heights.
These areas are all protected by the NPS today and surround the town of Harpers Ferry.
Confederate General Stonewall Jackson trained his infamous "stone wall" troops here. He is also responsible for setting the trap here that led to the single largest surrender of Union troops during the Civil War.
The area changed hands several times, and the Union learned their lesson well.
The last few skirmishes here saw the Federals basically abandon the harder to defend Bolivar Heights in favor of the Maryland Heights, from which they could mercilessly bombard the Confederate troops.
Schoolhouse Ridge and Bolivar Heights are west of town, and both have short and easy walking trails with exhibits describing the battles.
Maryland Heights and Loudon Heights are the river bluffs in Maryland and Virginia, respectively. See the Hiking section below for more information.
4. Storer College & the Niagara Movement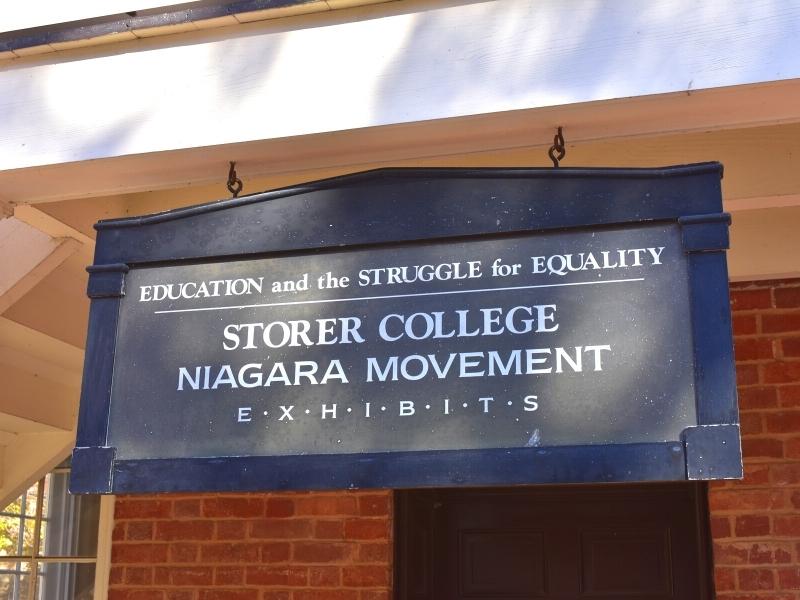 After the Civil War, Storer College was founded to educate the newly freed African Americans. The historically black college is unique in that it was always open to both men and women.
The Niagara Movement led by W.E.B. DuBois took off its first conference in America held here at Storer College. The Niagara Movement would evolve into what we know today as the NAACP.
From the Lower Town, find High Street. The Storer College exhibit is on the right.
When you're done there, walk a couple more houses up the street until you see the stone stairs behind the buildings on the left.
Use caution on the well-worn stone stairs and start climbing up to St Peter's Church, following signs for Jefferson Rock.
5. St Peter's Catholic Church
This Roman Catholic church was added to Harpers Ferry when an influx of Irish immigrants arrived to help build the railroads that were beginning to sweep across the country.
During the Civil War, St Peter's often flew a British Union Jack flag to declare its neutrality to avoid being bombarded during the many conflicts that impacted the town. It worked, for the most part.
St Peter's has been in continuous operation ever since.
The views out over the rivers are starting to get pretty good at this point up the hillside. Enjoy a breather and the views before continuing up the hill to Jefferson Rock.
6. St John's Episcopal Church ruins
There's just something about old buildings and ruins that's fascinating. Walking up the stairs to Jefferson Rock, the ruins of St John's Episcopal Church are on the right.
The church was one of the first in Harpers Ferry, used as a hospital in the Civil War, damaged and repaired after the war, only to be abandoned when a new building was built further up the hill.
Read the plaque, take some pictures, and continue on your way.
7. Jefferson Rock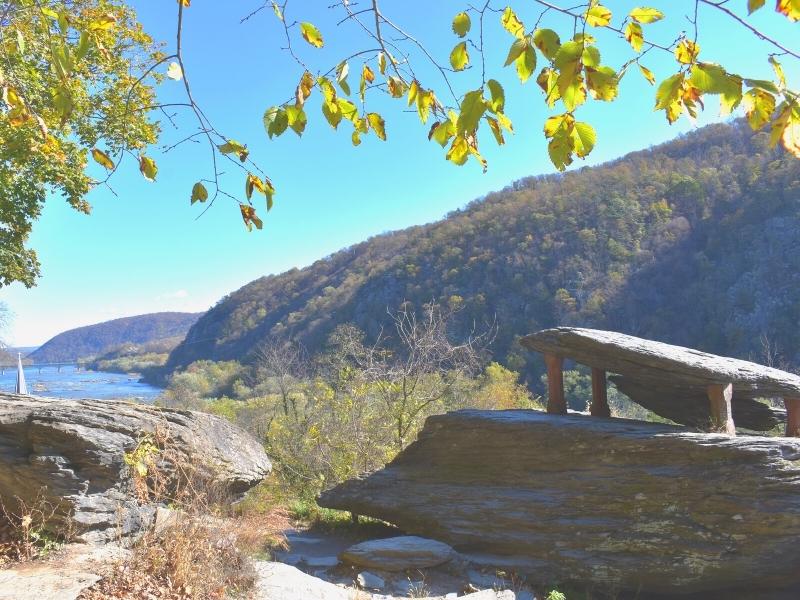 See the spot where Thomas Jefferson, Virginian statesman and 3rd President of the United States, stopped to take in the views of the Shenandoah and Potomac Rivers.
He recorded the views were "worth a voyage across the Atlantic." High praise in the 1700's!
This spot is also on the Appalachian Trail, so if you take the stairs up to the rock you can also claim you've hiked (a part of) the Appalachian Trail! 😏
Pro Tip: the pillars beneath Jefferson Rock were added later to stabilize the rock from all its tourist attention. You cannot stand on top of Jefferson Rock, but you can get a pretty similar view from just beside it.
When you're ready, take the stairs back down to the Lower Town and continue exploring Harpers Ferry.
8. Heyward Shepherd Memorial
This small memorial is an important artifact in understanding the mindset of the US after the Civil War. It is a perfect example of how the truth gets twisted to fit an agenda.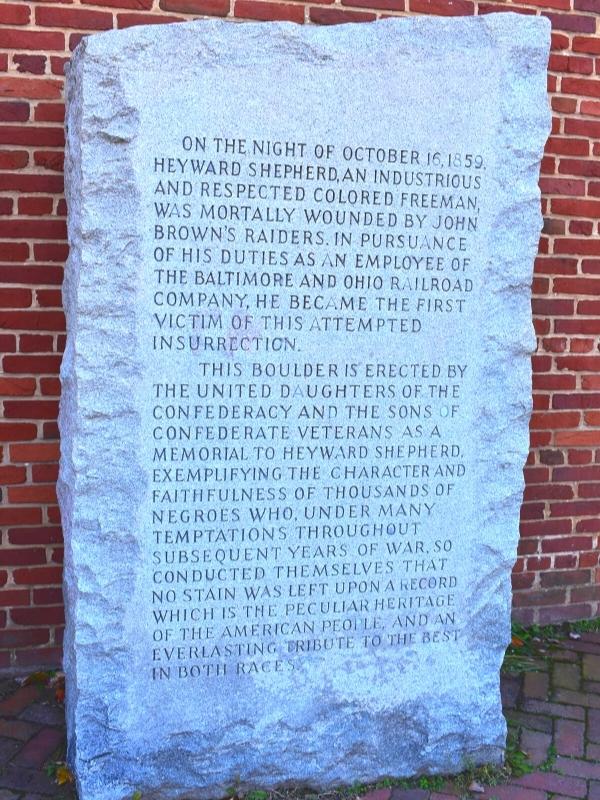 Heyward Shepherd was a Black man working at the nearby rail station when John Brown's raiders showed up in 1859 and killed Shepherd when he refused to surrender to them, the first casualty of John Brown's Raid.
Southerners latched onto this afterwards, citing it as proof that the abolitionists didn't even like Blacks and the slaves were happy as-is, loyal workers, and did not want or need freedom.
(Isn't that the most ridiculous thing you've ever heard?)
The South did not just let go of its pro-slavery views after the war, and groups like the Daughters of the Confederacy went on a memorial-dedicating campaign after the Civil War to try to rewrite history.
(Unfortunately, they were very successful.)
In Harpers Ferry, the Daughters of the Confederacy established the Heyward Shepherd Memorial, twisting the man's death to fit an image of loyal, hard-working Blacks that were victims of the abolitionists' views and war, and vilifying traitor John Brown in the process.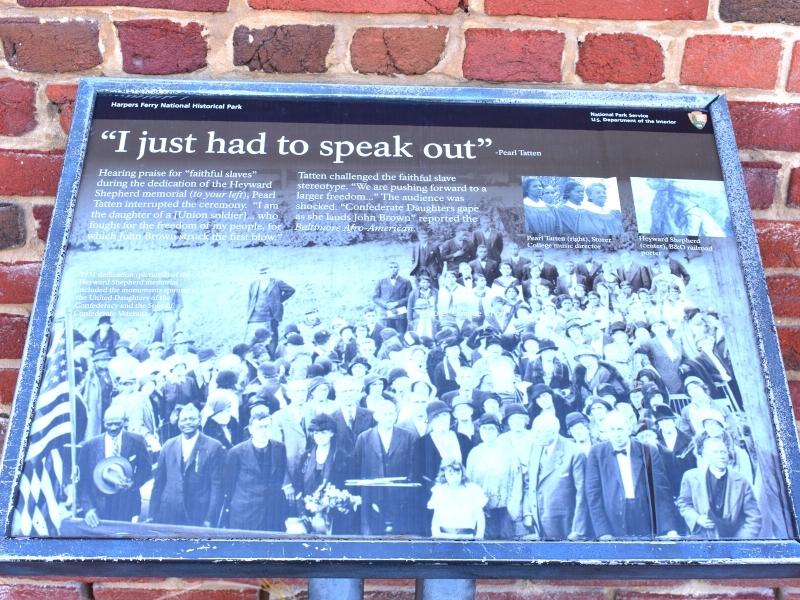 However, at the dedication of the memorial in 1931, the music director at Storer College, a Ms. Pearl Tatten, spoke out against this view, instead praising John Brown for starting the movement that would see all African-Americans freed.
Needless to say, it didn't go over well with the Daughters of the Confederacy.
The original memorial from the Daughters of the Confederacy still stands with an NPS exhibit plaque next to it with a modern day explanation.
9. The Point
See for yourself where the Potomac and Shenandoah Rivers meet and rush away to Washington, DC and the Atlantic Ocean beyond.
This spot has always been an important crossroads for the country. Piers from bridges long gone remain in the river, and other bridges remain in use today by both railroads and pedestrians.
Don't miss this quick stop for a moment of peace and beautiful picture of the rivers.
10. Hiking near Harpers Ferry
Hiking is one of the most popular things to do in Harpers Ferry. Miles of hiking trails with some truly stunning views from various points crisscross through and around town.
Discussed above, both Bolivar Heights and Schoolhouse Ridge have easy hiking trails with historical plaques about the battles held there.
The Appalachian Trail passes through town, the famous hiking trail that begins in Maine and continues through the entirety of the Appalachian Mountains to Georgia.
Harpers Ferry isn't exactly halfway but is the psychological halfway point of the trail, offering amenities like restaurants and hotels for hikers that need a break from roughing it out on the secluded trail.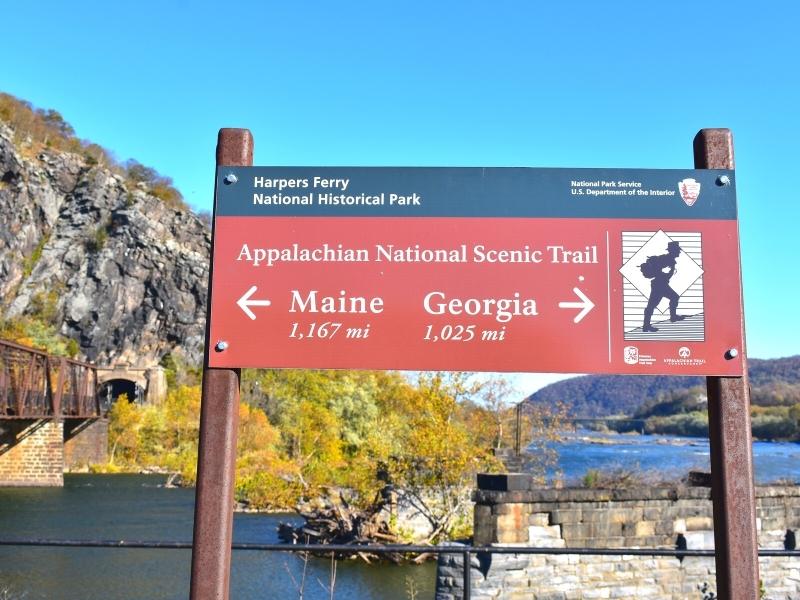 The Chesapeake & Ohio (C&O) Canal Towpath Trail is another National Historical Park that follows the Potomac River in the Harpers Ferry area. This paved trail is great for biking or can be accessed from Harpers Ferry via the pedestrian bridge in the Lower Town.
The Maryland Heights trail is the most popular trail for day trippers looking for bird's eye views of the town from the river bluff above. Oddly, it's also one of the more strenuous trails. Bring water and take your time!
The Loudon Heights trail offers a different view perspective on the Virginia side of the Shenandoah River bluffs. Another moderately strenuous hike. Don't forget the water.
11. Harpers Ferry Train Station
Day trippers from Washington, DC or Baltimore that arrive by train will arrive in the historic Harpers Ferry station. This building is still a working station and Amtrak trains stop here every day.
Even if you're not getting on a train, take a peek inside and read the NPS exhibits. The train station has always been an integral part of Harpers Ferry.
Pro Tip: The biggest parking lot in the Lower Town is at this train station, and it fills up fast. Don't count on getting a spot in peak summer season.
12. River Riders
Need a break from all the history? Want to cool off during the summer? River Riders has got you covered!
This adventure park has tons of different outdoor activities for Harpers Ferry, from the mild to the adventurous, perfect for solo explorers and families alike!
Gently float down a river on a tube or enjoy whitewater rafting down some rapids. Or, get the best of both with white water tubing!
Kayaking, canoeing, and stand-up paddleboarding (SUP) are all also available on the Potomac River.
Prefer to stay dry? Explore the River Riders Aerial Adventure Park, with courses for kids ages 4+. Or, take a few hours to zipline through the trees and over the Potomac River!
Check out River Riders to see everything they offer. They often add new activities each year!
13. Harpers Ferry Toy Train Museum and Joy Line Railroad
Little kids and train enthusiasts won't want to miss this hidden gem in Harpers Ferry. This small museum is jam-packed with toy train sets from every era, antiques to Thomas the Train!
Explore the museum and then take a ride on the Joy Line Railroad!
The Toy Train Museum is off of Bakerton Road, on the hill above town, close to the Schoolhouse Ridge and Bolivar Heights battlefields.
Pro Tip: The shop is a small, family-run business, cash only, and closes in the winter.
14. History Tours & Ghost Tours
If you don't want to read all those great plaques provided by the National Park Service, consider a guided history tour instead. Harpers Ferry has its share of ghostly happenings, too!
O Be Joyful Tours provides both history and ghost tours on a reservation basis only. Give Rick a call to schedule ahead.
Tours begin at St Peter's Catholic Church, which doesn't have parking of its own, so be sure you leave enough time before your tour to park elsewhere and walk up to St Peter's.
15. True Treats Historic Candy Shop
Get your candy fix at the True Treats Candy Shop on High Street! This unique store uses historical candy recipes to recreate sweet treats from centuries gone by.
Try some Turkish Delights, stained glass candy, or pomegranate hard candies. Choose by era, from ancient to modern, or get a sampler box and try several!
This cute shop also sells tea in every variety!
Located one building further up High Street from the Confectionary NPS exhibit and building, one building up the street from the Storer College exhibit.
How to Get to Harpers Ferry, WV
Harpers Ferry is a unique crossroads in a historically-rich countryside, and there are several ways to get there, but not all of them are convenient.
Drive to Harpers Ferry
Most people drive into town. Harpers Ferry is a perfect stop on an eastern US road trip.
It's very close to Antietam National Battlefield, the northern end of Shenandoah National Park, and just over an hour's drive from Washington, DC or Baltimore.
>> Where To Park in Harpers Ferry
The historic downtown district, Lower Town, in Harpers Ferry has narrow streets and very little parking, and it gets very crowded during the summer tourist season.
Find ample parking at the Harpers Ferry National Historical Park Visitor Center with complimentary shuttles to the downtown historic district (or you can hike a couple miles into town on a shaded trail).
The entrance fee to the national park is equivalent to paying to park downtown for several hours.
There are a few other small parking lots scattered about town, which you pay for from an app. It's purely luck of the draw to get a spot.
During the winter off season, limited parking is available at the train depot. It looks like a historic building, because it is, but this is also where the Amtrak trains stop in Harpers Ferry.
Lastly, on-street parking exists in the Lower Town on a very limited basis. Payment is via a phone app. Note that if you do luck out and find a spot here during the busy season, you'll have to be very patient with tourists walking down the middle of the road.
Flying to Harpers Ferry
This small West Virginia town doesn't have a major airport of its own. If you're visiting from afar, fly into Washington Dulles (IAD), Washington Reagan (DCA), or Baltimore (BWI) and rent a car.
A few regional airports are nearby, but flight options are few and far between. Flying to DC or Baltimore is almost always cheaper and easier.
Amtrak Train from Washington, DC
Train travel in the US is pretty lackluster compared to the train networks of Europe. Most Americans don't even realize train travel is an option.
However, in this area of the country it is possible to take the Amtrak from Washington, DC but it will require an overnight stay in Harpers Ferry.
The Amtrak train leaves DC at 4:00PM and arrives at 5:15PM in Harpers Ferry, but the return isn't until the next morning. The train leaves Harpers Ferry at 11:30AM and arrives in DC at 1:05PM.
Amtrak Train from Baltimore
Trains from Baltimore also connect to Harpers Ferry, but they all must go through Washington, DC first. This just adds time to your trip, for a total transit time of 2 hours. (Driving is only an hour, depending on traffic.)
If you're stuck without a car and want to get away for an overnight stay in Harpers Ferry, it's an option.

What will you do in Harpers Ferry?
With so many things to do in Harpers Ferry, enjoy a day or weekend away soaking in the views, nature, and history of this historical town!
Other Things to Do Near Harpers Ferry
Happy travels!
---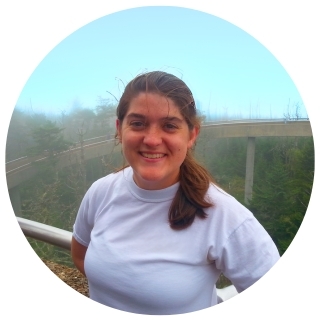 About the Author: Rachel Means
With six-figure student loan debt and only 10 PTO days per year, Rachel started traveling the world. A decade later, she's paid off her loans, changed careers, and been to 36 US states and 14 countries. She's an expert at planning and budgeting for travel and loves to help others do it, too! Read her full story here.
---
Share it!