Explore an integral part of American history with an easy day trip to Antietam National Battlefield in Maryland! We fit it in to our eastern US road trip, no problem.
The Battle of Antietam, an American Civil War conflict also known as the Battle of Sharpsburg, is still today the single bloodiest day in American military history.
A self-guided driving tour features 11 Antietam Battlefield tour stops for a complete picture of the battle unfolding before you.
---
This post may contain affiliate links. As an Amazon Associate, I earn from qualifying purchases. This means if you click a link and make a purchase, that I may earn a small commission, at no extra cost to you.
---
Explore Antietam Battlefield in One Day on a Self-guided Driving Tour
Over 22,000 casualties were inflicted in this one day of intense fighting in the Maryland countryside.
See where Confederate General Stonewall Jackson stood his ground in the West Woods, where Union troops stormed the lower bridge across Antietam Creek to route the Confederate flank, and where the last second appearance of reinforcements ultimately swayed the outcome of the battle.
Civilians fled as armies set up battle lines across their farms.
Clara Barton showed up during the fighting with a wagon full of badly-needed medical supplies and stayed to help, even taking fire and finding a bullet hole in her sleeve.
She would go on to later found the American Red Cross. A battlefield memorial to her is seen today in the Cornfields.
With a Union victory, President Lincoln releases his first draft of the Emancipation Proclamation. The Confederate loss and the proclamation to end slavery convinced Great Britain to stay out of the war, despite Confederate diplomacy efforts to secure their support.
This single day in September would have a profound effect on the country's future, and we can still learn a lot from those lessons today. The Antietam Battlefield self-guided driving tour tells all these stories and more!
Side Note: Why are there Two Names for the Same Battle?
Just a quick note on this because it confuses a lot of people.
You may not have even known there were two names for this battle. Don't feel bad if you didn't know that the Battle of Antietam = the Battle of Sharpsburg. You're not alone.
The Confederates named conflicts after nearby towns like Sharpsburg or Manassas. The Federals named them after nearby landmarks like Antietam Creek or Bull Run.
As is true around the world, history is written by the victors.
So, the Union won the Battle of Antietam (or Sharpsburg to the Confederates) and now we have Antietam National Battlefield.
The Confederates won both Battles of Manassas (or Bull Run to the Federals), and now today we have Manassas National Battlefield.
(Yes, the Union won the Civil War in the end. And yes, it would make sense that we should have Bull Run National Battlefield. But trust me, we don't have time to get into all the lingering aftermath and politics of the Civil War. Maybe some other time.)
How to Day Trip to Antietam Battlefield
The tiny town of Sharpsburg, Maryland is home to Antietam National Battlefield, and not much else.
Oh, it's a cute town, to be sure, but this isn't a booming metropolis or even medium-sized town. Only about 700 people live here. Visitors come to see the battlefield during the day and mostly all leave by sunset.
Support the locals and grab a bite for lunch at one of the eateries! Shop at a local store, or consider spending the night at one of the local inns.
As far as day trips go, this is an easy and affordable day trip option within reach of several nearby states. Antietam Battlefield makes a great one day stop on an eastern US road trip or can be squeezed into a half day adventure with Harpers Ferry, West Virginia.
Harpers Ferry, WV is only a 30 minute drive away and warrants its own day trip or weekend away.
Gettysburg, Pennsylvania is an hour's drive north of Antietam and the site of another deeply significant battle of the American Civil War. Gettysburg Battlefield needs its own day trip as a minimum; that battlefield is HUGE!
Washington, DC; Baltimore, Maryland; and Harrisburg, Pennsylvania are all only a 1.5 hour drive from Antietam Battlefield.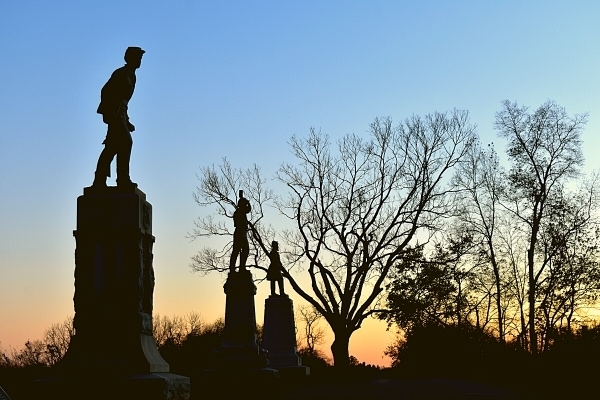 Is there an Entry Fee for Antietam Battlefield?
This National Park Service site has a modest $20 per vehicle entry fee, or $10 for one individual whether in a car or on foot. The entrance fee is good for three days, making this an affordable option for an overnight stay or a long weekend if you have the time.
How Long Does It Take to Tour Antietam Battlefield?
The entire Antietam Battlefield driving tour route can be done in about 3 hours.
This allows time for getting out of the car at a couple of stops, like climbing the Observation Tower at Bloody Lane and walking down to the Burnside Bridge, but does not include any time spent inside the visitor center or with park rangers.
Adding a stop at the visitor center to see the exhibits, adding a park ranger-led walk and talk, or adding a hike on one of the many trails in the park will round out your day trip. Check the park's website for special events or guided tour times.
Peak season may require more time for the driving tour as there are more visitors and some roads are one-way.
People are often courteous enough to move to the side and allow others to pass, but there's always that one car that will be oblivious, so it's a good idea to give yourself some buffer in your timetable.
Pro Tip: The only restrooms are at the visitor center. Antietam Battlefield Tour Stops 9, 10, and 11 are the furthest away but only a 5-10 minute drive from the visitor center, depending on how many cars are in front of you.
Where to Start the Antietam Battlefield Driving Tour
Everyone will start at the national park visitor center. Pay your entry fee and pick up a free map. Once back at your car follow the tour stops in chronological order, following the events of the battle from morning to afternoon.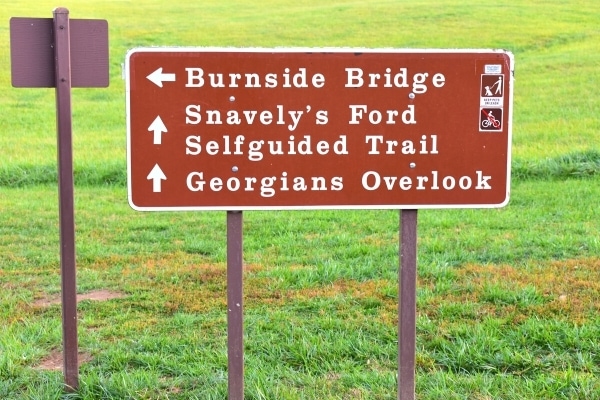 Are the Antietam Battlefield Tour Stops Easy to Follow?
Yes! You won't go astray with one of the visitor center free maps in hand. The tour route roadways are a mix of two-way and one-way traffic. Signs will guide you throughout and warn you before you enter a one-way road.
Antietam Battlefield is not a huge area, with two main sections, and it's easy to double back in a loop if you want to revisit a site you passed along a one-way road.
Antietam Battlefield Tour Stops
The Antietam driving tour begins at the visitor center and follows 11 stops around the battlefield, roughly following the timeline of the battle.
1. Dunker Church
Here Stonewall Jackson's Confederate troops lived up to his name, held their line, and repelled several Union attacks.
2. North Woods
Union troops camped out here the night before the battle. Before the sun had fully risen the next morning, the Union army began its first advance.
3. East Woods
Skirmishes in these woods happened throughout the night before and the morning of the Battle of Antietam. Fighting in the woods is confusing and deadly.
4. Cornfield
Casualties in the Cornfield were high on both sides. Artillery swept across this field unceasingly. One Louisiana regiment lost 60% of its men in just 30 minutes. The carnage of this battle was horrendous.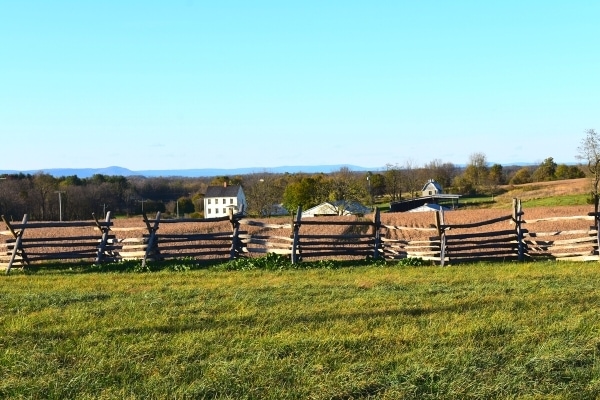 5. West Woods
Union forces advanced into Jackson's Confederate line, bombarded by artillery the entire time. Another half hour and another 2,200 men gone.
Fighting in the woods is chaotic. Cannons have been firing all morning, so smoke obscures sight lines. Friendly fire was common in these situations, when you couldn't tell who was friend or foe until it was too late.
6. Mumma Farm
Of all the farms and homes and other buildings in the area, the Mumma Farm buildings were the only ones purposefully destroyed. The Confederates didn't want to leave a spot for Union snipers to be protected.
Luckily, the property owners had fled before the battle and would return after to rebuild their home.
7. Union Advance
A force of 10,000 Union soldiers makes its big push against the Confederate center dug in on Sunken Road (Bloody Lane).
The Confederates hold their ground for a few hours before finally collapsing under the onslaught and retreating back a few hundred yards to the next farm over.
8. Sunken Road (Bloody Lane) & Observation Tower
The Confederate center was only about 2,200 men on Sunken Road with a few reinforcements. The 10,000-strong Union Advance eventually broke through here, at great loss of life on both sides, but was unable to pursue the retreating Confederates.
By the end of the day the Sunken Road was lined with dead soldiers, earning its nickname "Bloody Lane."
The Observation Tower was built after the war as part of the memorial for the park and provides amazing aerial views of Antietam Battlefield. The area is beautiful today. It's hard to imagine men struggling with rifles on foot over the rolling terrain while dodging cannon fire.
9. Lower Bridge (Burnside Bridge)
Three bridges were used by the Union Army to cross Antietam Creek and set up for battle outside of Sharpsburg. The Lower Bridge was hotly contested by Confederates on the hill above the bridge.
This beautiful, and strategically placed, three span stone arch bridge saw Union General Burnside's men fight their way across Antietam Creek and push back the Confederate line's right flank.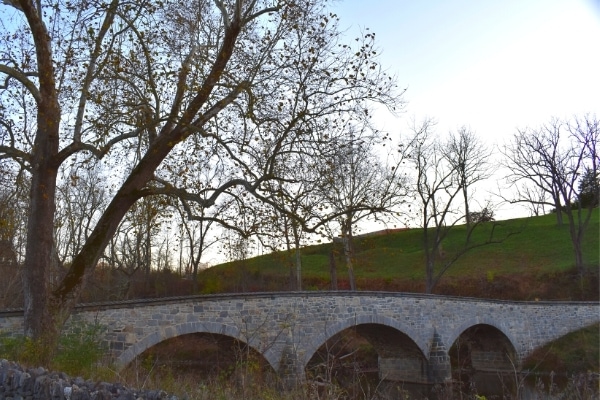 10. Final Attack
At the last second, Confederate troops arrived after marching all day from Harpers Ferry, WV and immediately joined the battle, stopping Burnside's flanking movement. Ultimately, this last-minute arrival of Confederate reinforcements is what ended this battle as essentially a stalemate.
After the fighting had stopped at nightfall, Lee withdrew the Confederate armies across the Potomac River and back into Virginia, and the battle went down in history as a Union victory.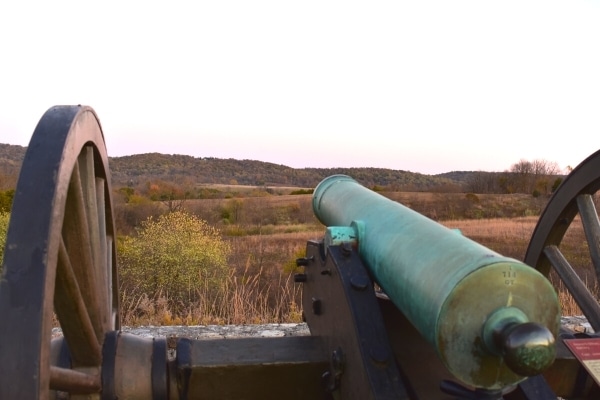 11. Antietam National Cemetery
The astonishing and gut-wrenching fact is after just one day of fighting, there were now 22,000 casualties to deal with. Bodies were often quickly buried where they fell in the farm fields around Sharpsburg. Thousands more became amputees and unfit for service.
A national cemetery was eventually established, on a hill that held artillery during the battle, but only Union troops were allowed to be reburied there. Confederate dead were sent to cemeteries in nearby towns instead, divided even in death.
Nothing speaks more to the absolute futility of war than 22,000 souls lost with nothing to show for it.
---
Other Things to Do at Antietam National Battlefield
Depending how much time you have to spare, Antietam National Battlefield and the town of Sharpsburg have a variety of activities and sights to complete your day trip to Antietam.
Hiking trails cross the park in both sections of the battlefield.
Visit the Pry House Field Hospital Museum for a look into 1860's medicine and the ghastly reality of battlefield medical procedures.
Stop for lunch in Sharpsburg and do some shopping
Take a park ranger-guided walk around the battlefield
Take your time at this important historical battlefield! The area is beautiful, and the lessons to be learned are important!
Happy Travels!
---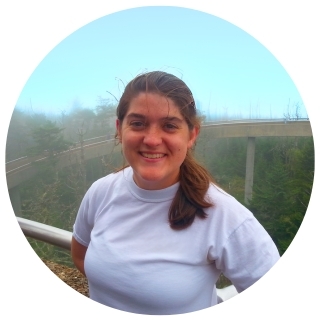 About the Author: Rachel Means
With six-figure student loan debt and only 10 PTO days per year, Rachel started traveling the world. A decade later, she's paid off her loans, changed careers, and been to 36 US states and 14 countries. She's an expert at planning and budgeting for travel and loves to help others do it, too! Read her full story here.
---
Share it!