Liechtenstein is a small gem of a country tucked into the mountains between Switzerland and Austria in Europe. For all you bucket list fans out there, it's so easy to plan a day trip to Liechtenstein from Switzerland, or even Austria. Most visitors stick with a simple day trip to Vaduz, the capital city, but we're going to explore more! Don't miss an easy opportunity to cross another country off your list!
---
This post may contain affiliate links. As an Amazon Associate and associate of other programs, I earn from qualifying purchases. This means if you click a link and make a purchase, I may earn a small commission at no extra cost to you.
---
Why Visit Liechtenstein?
Just 62 square miles, the Principality of Liechtenstein is the fourth smallest country in Europe. That's smaller than most major cities around the world, about half the size of the city of Atlanta with a little less than 10% as many people.
This is not a big place.
But Liechtenstein has museums, quaint mountain villages, great skiing, and beautiful mountains just like its larger neighbors. It's just as picturesque, and a perfect day trip!
It may be a doubly landlocked country (surrounded by countries which are also landlocked), but the beautiful Rhine River flows along its border.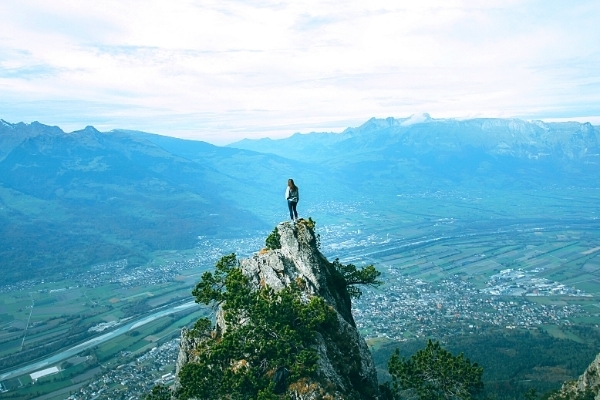 If you also have a bucket list for world travel, it's easy to add a day trip to Liechtenstein if you're already in northern Switzerland. Currency, language, and transportation are all the same or similar as Switzerland and require no extra planning.
Liechtenstein and Switzerland are both part of the Schengen area, even though neither is in the EU. This means their borders are more relaxed. Much less fuss than when you arrive at the airport and go through customs and passport control.
---

---
How Do I Get to Liechtenstein?
Biggest question on any trip: How do I get there?
Take a train from your origin city, and hop a bus to cross the border into Liechtenstein. Nothing to it! This is no different than taking a day trip to another city.
If you are using a Swiss Travel Pass, you don't need anything extra. Trains from anywhere in Switzerland and local transportation in Liechtenstein are covered by your pass.
If you're wingin' it and buying passes as you go: a Saver Pass also includes Swiss transportation and Liechtenstein local transport for a day.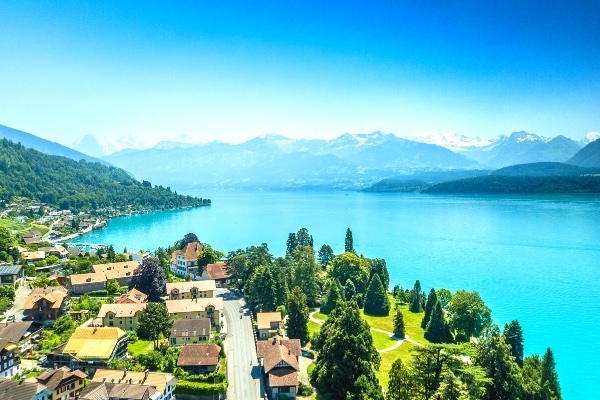 Buses around Liechtenstein are very affordable (and clean!), or rent a car and drive through the country yourself. Just check your rental policy to ensure you can take it out of the country you rented it from!
Weekends and holidays affect hours of operation. If you are traveling on a weekend or holiday, double check the transportation schedule ahead of time.
If you do miss the last bus back to Switzerland or Austria, a taxi can always speed you back to the train station.
Which Route Should I Take?
If traveling from Austria, head to Feldkirch for easy bus transportation into Liechtenstein. Your only other alternative from the Austrian side is to hike across the Alps.
From Switzerland there are two main gateway cities for a day trip in Liechtenstein: Buchs or Sargans.
Buchs, Switzerland is closest to Vaduz, the capital of Liechtenstein and arguably the city with the most cultural or touristy things to do. Think history and art museums, the tourism center, and the monarch's private castle on a hill above town.
Sargans, Switzerland is closest to Balzers, home of the Gutenberg Castle in a cozy mountain valley village.
Which entry point you choose is somewhat irrelevant. It's only a 10 minute drive or bus ride between the two cities.
Many take a day trip to Vaduz only and think they've seen it all. (They haven't, but it's a start.) Others bypass the capital entirely and head for the ski resorts in the mountains. Either way is a good introduction to this tiny but mighty country!
We did a long half day trip to Liechtenstein. We started in Balzers and finished in Vaduz, before bidding adieu to Liechtenstein and continuing to St Gallen, Switzerland before heading back to Zurich for the night.
A Day Trip to Liechtenstein in August – Example Itinerary
Train to Sargans, Switzerland
From your origin city in Switzerland, choose the most convenient train to Sargans, Switzerland.
From Zurich, we hopped the 9AM train to Sargans (Direction Chur) and arrived a little after 10AM. The train ride was pleasant and quiet in the morning. Bring a book or catch up your travel journal, play card games with your friends, or just watch the amazing Swiss countryside pass by.
Pro Tip: Pay attention to the direction (route) your train is taking. "Direction Chur" means the route passes through Chur on its way to Sargans, even if the train doesn't stop in Chur.

Trains from Zurich also go to Sargans via St Gallen, but that's the long way around and adds an hour to your trip.
Once in Sargans, catch bus line 11 to Balzers, Liechtenstein. You won't be the only one with this goal, particularly during peak tourist season. It's not overly crowded like some areas, but you won't be the only one either.
Remember: your Swiss Pass or Saver Day Pass includes public transport in Liechtenstein so you don't have to buy another pass. Find Bus Line 11's stop and board the next bus.
Explore Gutenberg Castle in Balzers, Liechtenstein
The bus ride over to Balzers is pretty quick and simple. There is no passport control when crossing the Rhine River and into Liechtenstein. No extra visas were required, thanks to the Schengen area.
Our main reason for including Balzers on our Liechtenstein visit was to see Castle Gutenberg. Free admission to the bailey and chapel (woot!) and it just looks cool perched on a hill in the middle of town, nestled by the mountains.
Castles are our favorites, and we make a point to see them whenever possible.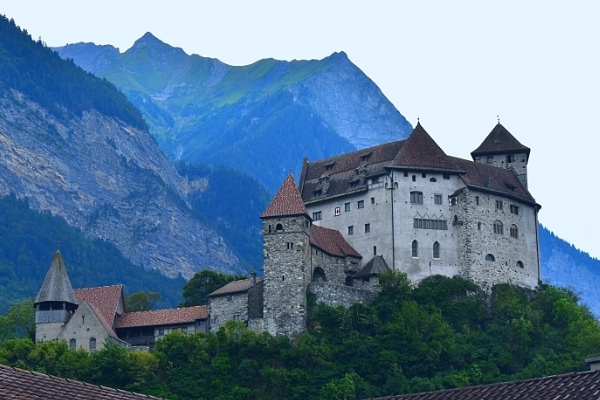 Get off the bus at the Balzers, Schlossweg stop and capture some cool pictures of the castle high on the hill above. It's a short 5 minute walk to the Burgweg, the path up to the castle.
The path winds through the castle's vineyard and up the hill at a pretty easy pace. We visited in mid-August and they were covering the vines so pesky birds wouldn't steal the grapes.
The bailey is a wide open area with great views of the nearby mountains. The castle chapel and rose garden are also open on Sundays and free to explore. Gorgeous views of the village from this high vantage point should not be wasted!
Pro Tip: As you're leaving back down the path, don't miss the photo spot off to the side!

As you come to the first curve on the way down from the castle, detour off into the grass a little ways for the photo spot. Fantastic views of the mountains, the town, the vineyard, and the castle!
Take the Bus to Vaduz, capital of Liechtenstein
Once you've had your fill of Balzers views, head for the closest bus stop at the bottom of the hill from the castle. We waited maybe 15 minutes for the next bus to roll up but got some pictures of friendly cows in the meantime. 😊
A 10 minute bus ride to Vaduz was short and pleasant.
Bus rides offer a glimpse into the local way of life as you drive through their towns. The buses are updated and clean, and plenty of room for tourists and locals alike.
What to See in Vaduz
Get off the bus at the Vaduz, Post stop. You're now a short block away from the tourist information center.
Start at the Liechtenstein Center
The tourist center is the perfect starting point for your Vaduz adventure. Pick up your free maps or purchase some souvenirs or post cards.
Pay the 3 euros to get your passport stamped! You won't regret it. The workers here are helpful and speak several languages. Ask for directions or a lunch recommendation.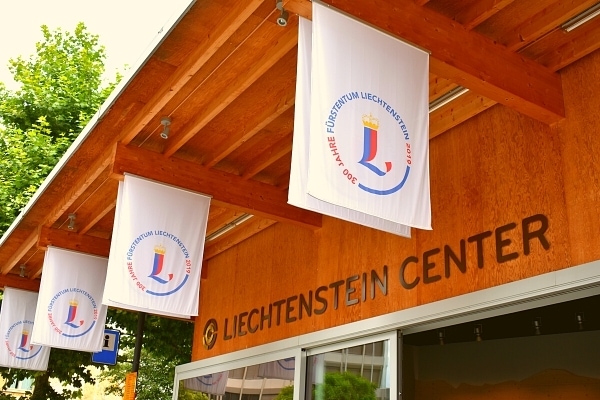 Liechtenstein National Museum, Postal Museum, and Treasure Chamber
Right next door to the south of the tourist center is the National Museum. Adjacent to the north is the Postal Museum and Treasure Chamber.
All three are under one umbrella of the National Museum. Get a combo ticket and see all three for a very reasonable price.
Learn about Lichtenstein's history in the National Museum, see some cool original stamps at the Postal Museum, and get a glimpse into some of the monarch's wealth at the Treasure Chamber.
Check out some stunning jewels and famous Fabergé Easter eggs.
Fun Fact: the Prince of Liechtenstein is one of the wealthiest monarchs in Europe, with a net worth in the billions of dollars.
St Florin Cathedral
Liechtenstein is primarily Roman Catholic, and they have the gorgeous churches to go with it. St Florin started as a nobleman's private chapel and has evolved over the centuries into its own cathedral. Step inside to enjoy the stained glass windows!
Kunstmuseum
Built in 2000, the Kunstmuseum is Liechtenstein's home of modern and contemporary art. Its black stone cubic exterior makes it hard to miss this new kid on the block in the heart of Vaduz.
Get in for free when visiting on National Day (August 15) or International Museum Day (3rd or 4th Sunday in May)!
Hike up to Vaduz Castle
From the Liechtenstein Center, look up to the east and you'll see Vaduz Castle. Liechtenstein's royal family still lives here, so the castle is closed to the public. But castles are cool, and it's perfectly acceptable to admire it from outside the walls.
Take the Schlossweg ('castle path' in German) and hike up the hill to see the castle and more of those wonderful views I keep mentioning.
If you're over the hiking, or have a longer hike planned for later in the day, you can drive up the hill and park by the castle while you snap some photos.
Vaduz Rote Haus (Red House)
Old, cool looking house. It's still privately owned. There's nothing to tour, but if you want the shot for the 'Gram, this is on the way to the castle, if you're driving.
Eat lunch and support the locals in Vaduz
There are restaurants of every kind in Vaduz. Ask the staff at the tourist center for a recommendation or browse while you walk around town.
We ended up at a lovely sidewalk café so we could people watch while we ate.
Bus to Buchs, Switzerland and Train back to Origin
Once you're done exploring Vaduz, head back to the main road 28 and catch the bus to Schaan. From Schaan, transfer to a connector bus which drives back across the Rhine and drops you at the Buchs, Switzerland train station.
From the Buchs train station, you can hitch a ride back to your point of origin or continue on to the next adventure on your itinerary.
We continued on to St Gallen to see the Abbey, a UNESCO World Heritage site, which we highly recommend for all the library nerds out there!
Visiting Liechtenstein in the Winter
Liechtenstein's eastern border is lined by the Alps. If winter sports are more your style, visit Triesenberg, Steg, or Malbun for skiing and snowboarding.
Even for someone like me who hates snow (snow is ok to visit but not live in), this looks like an idyllic place for some winter fun. I'm convinced these mountains are where the term "winter wonderland" originated.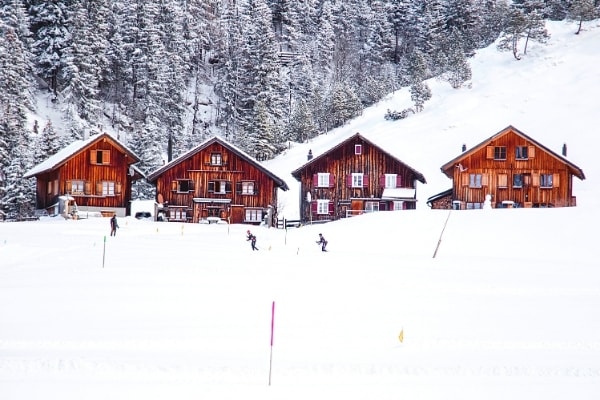 ---

---
So what do you think: Is a Day Trip to Liechtenstein on your bucket list?
If you're interested in day tripping to Liechtenstein, then you probably are already planning a trip to central Europe. Here's some more inspiration for you:
Happy Travels!
Save it!