Come experience white sand beaches, underwater snorkel trails, and perhaps even swim with sea turtles at the best beaches on the island of St John in the US Virgin Islands!
St John is the smallest and most laid back of the three main US Virgin Islands, and two thirds of the island is protected by a national park.
Whether you're looking for the best snorkeling beaches, beaches with amenities, or you just want to escape the crowds and find a secluded beach, we've rounded up the best beaches on St John.
---
This post may contain affiliate links. As an Amazon Associate and associate of other programs, I earn from qualifying purchases. This means if you click a link and make a purchase, I may earn a small commission at no extra cost to you.
---
Where is St John, US Virgin Islands?
The US Virgin Islands consist of three main islands and several smaller islets in the Caribbean Sea. This small American territory is sandwiched between Puerto Rico and the British Virgin Islands, right where the Greater Antilles transition into the Lesser Antilles.
The USVI's three main islands are St Thomas, St John, and St Croix, and each has its own atmosphere to enjoy. St Thomas is home to the capital of the US Virgin Islands, Charlotte Amalie, and St John is immediately adjacent to the east. St Croix is about 40 miles south of the other two islands, better visited on its own.
Why You Should Visit St John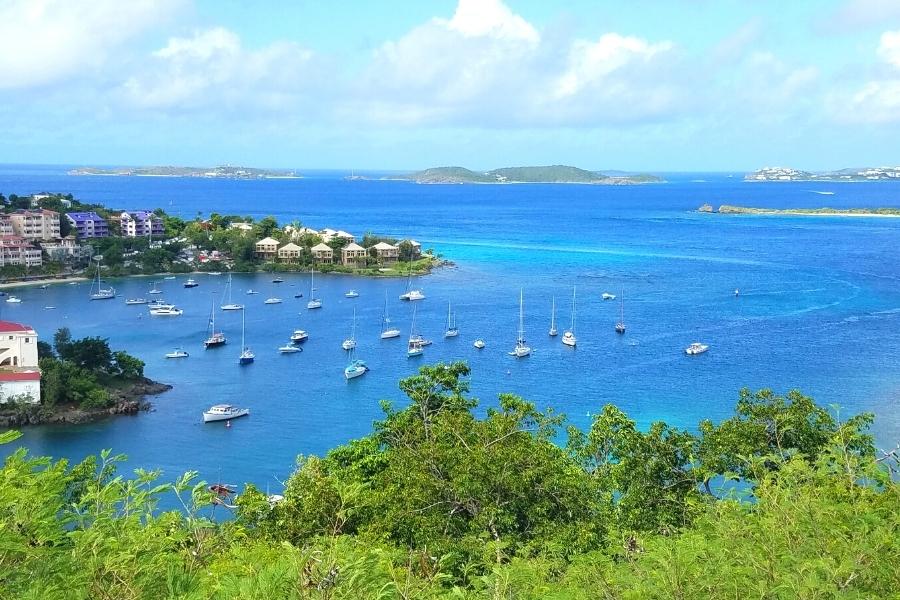 Each US Virgin Island has the same beautiful Caribbean blue waters, sandy beaches, and sunny, warm weather you'd expect for a Caribbean beach getaway. But each island also caters more to a certain group of travelers.
In general, St Thomas is the party island, St John is the relaxed island, and St Croix is the historical happy medium.
St John is a nature-lover's paradise with 67% of the island protected as Virgin Islands National Park. This means miles of beaches, acres of forest, and many square miles of protected ocean offshore.
A good portion of the central interior of the island doesn't even have roads. Explore this area by hiking! The National Park's Reef Bay Trail is the most popular way to explore this part of St John.
Whether you prefer to stay in a boutique hotel or all-inclusive resort, St John has plenty to choose from. Decide if you want easy access to the towns of Cruz Bay or Coral Bay, or prefer the seclusion of an all-inclusive with a few excursions sprinkled in.
How to Get to St John, USVI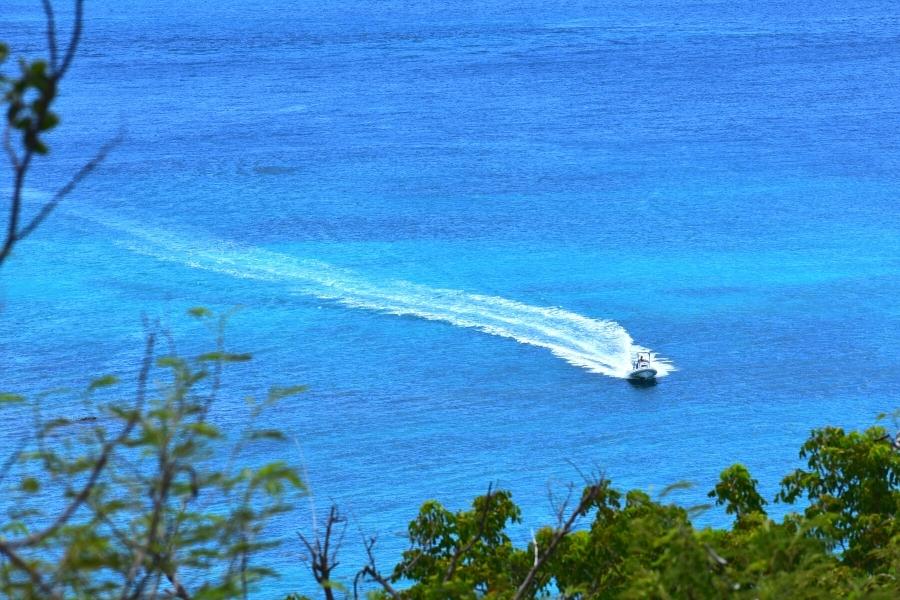 Before you can experience the amazing beaches of St John, you have to get here. Nearly everyone will fly into St Thomas' Cyril King International Airport and take a ferry over to St John.
St Thomas and St John are only a few miles apart. Ferries from Red Hook, on the east end of St Thomas, only take about 30 minutes to reach Cruz Bay on the southwest corner of St John.
The airport, however, is on the west side of St Thomas. The drive to Red Hook is about 25 minutes, much of that on narrow, steep, and curvy roads once outside of Charlotte Amalie.
Most St John visitors take a taxi to Red Hook from the St Thomas airport. Note that these are not private taxi cars. Rather, they are multi-passenger taxi vans which you will be divided into with other travelers and sent off once full.
If a shared experience doesn't appeal to you, book a private airport transfer. Some companies will also throw in a stop at a local grocery store.
If you wish to rent a car, it's much easier to rent one on St John than to rent it from St Thomas and then pay to ferry it over to St John. Take a taxi or private transfer to Red Hook, take the pedestrian ferry across to Cruz Bay, and pick up a rental car a few blocks from the dock.
For more detailed information, like carriers and prices, check out our complete guide for how to get to St John.
Best Beaches on St John – Northwest Shore
St John has many amazing beaches, all perfect for enjoying a sunny beach day.
Every beach can be accessed by boat. Just be sure to use approved anchorages so you don't harm precious reefs. The buoys are hard to miss.
If you're staying in or near Cruz Bay, the following beaches are closest and easiest to access.
Salomon Beach (sometimes called Solomon Beach)
Access: short hike
Fee: FREE
This small, sandy beach is not accessible by car. You either have to rent a boat and approach from the water or hike in from the Lind Point Trail.
The trail is fairly short, under 2 miles, but rocky in parts. You'll have to carry in everything, like beach chairs, umbrellas, and bags, but you'll have plenty of time to recuperate at the beach before hiking back to your car.
Because of this hike, Salomon Beach is pretty secluded even though it is closest to Cruz Bay. You probably won't be 100% alone but no more than a handful of people share the beach at any one time.
Snorkeling just off shore is pretty good, particularly in the rocky, coral section to the left when looking at the water. Just keep an eye out for boats wanting to anchor nearby.
This is an excellent hidden gem if you don't need amenities! If you want amenities and seclusion, spend your day at Salomon Beach and then continue hiking east on the Lind Point Trail to Honeymoon Beach to enjoy its amenities for lunch.
---
Honeymoon Beach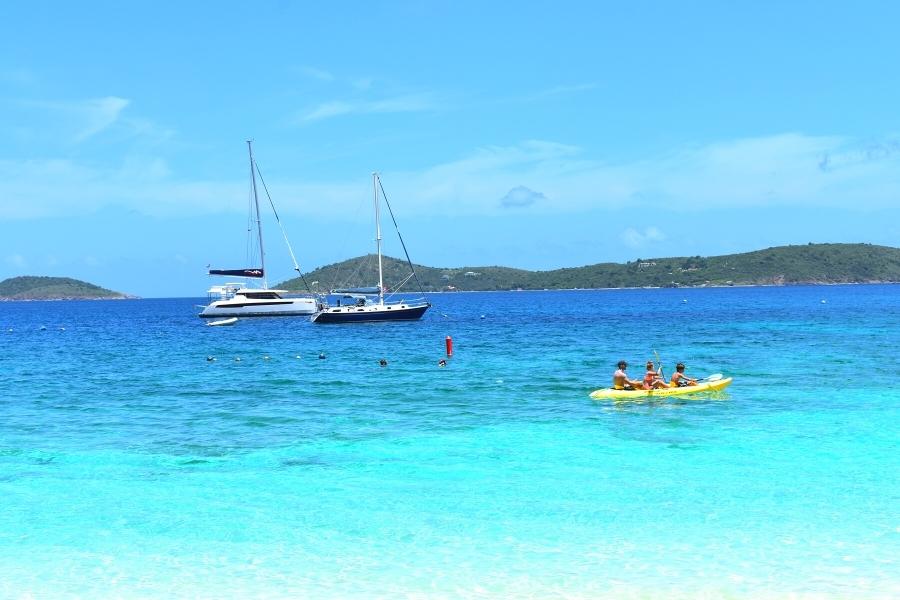 Access: short hike or vehicle
Fee: FREE, unless parking at Caneel Bay
Food: yes
Amenities: restrooms, retail, rentals
Moving clockwise around the coast, Honeymoon Beach is next, between Salomon Beach and Caneel Bay. This is another white sand beach, larger than Salomon Beach but with the same snorkeling opportunities.
To access the beach, there are two options: a free short hike or the paid parking and shuttle from Caneel Bay. The Lind Point Trail reaches the west side of the beach if you prefer to skip the parking fee at Caneel.
The difference here is amenities are available at Honeymoon Beach:
Restrooms
Beach eats at Bikini's Bar & Grill
Gift shop
VI Ecotour's rental center.
Rent a furnished beach tent/cabana area for your crew for the day, or grab a day pass for kayak or stand-up paddleboard (SUP) rentals.
With the amenities comes the crowds. There are far more people here than at Salomon Beach. Most people that visit Honeymoon Beach have no idea that Salomon Beach exists or how close it really is.
Honeymoon Beach fills up fast in the mornings, probably because it's the closest beach with amenities to Cruz Bay. If you want a good spot, go early.
---
Caneel Bay
Access: vehicle or stay at the resort*
Fee: $20 parking*
Food: yes*
Amenities: resort*
Caneel Bay was home to the Caneel Bay Resort prior to 2017.
This area was once owned by Laurance Rockefeller who donated the land to the National Park Service and built the first resort in the 1950's. The minimalist, mid-century modern architecture and décor became one of St John's most popular destinations.
**When Hurricanes Irma and Maria hit back-to-back in September 2017, they wiped out the resort (and much of St John's infrastructure). The resort buildings were badly damaged or destroyed outright, and as of Summer 2021 had not yet reopened.**
Current estimates for reopening the resort are possibly sometime in 2022. Zozo's Restaurant reopened in December 2021, and the VI Ecotours are operating out of Honeymoon Beach.
---
Hawksnest Bay Beach
Access: vehicle
Fee: FREE
Food: no
Amenities: restrooms
A skinny beach, depending on the tide, Hawksnest Bay Beach is good for relaxing and wading. You can't miss the parking lot on the left of North Shore Road.
There is a reef here but the water tends to be rougher than other beaches. Snorkeling is possible, but check the surf before heading in. You don't want to damage the fragile reef because you're fighting waves.
A popular beach, the parking lot will fill up quickly during peak season.
Gibney Beach & Oppenheimer Beach
Access: vehicle + short hike
Fee: FREE
To some, these beaches are one and the same. They are named after their private landowners who had disagreements about the properties. The Gibneys first bought the land in 1950, and upon some financial struggles in 1957, sold a portion to J. Robert Oppenheimer.
Oppenheimer was having a hard time coping with his claim to fame: the father of the atomic bomb. He built a small house on the beach and unsuccessfully tried to ignore the world that was turning against him.
Today, the Gibney descendants still maintain a private residence and two rental cabins on their property, to eventually be turned over to the national park. The Oppenheimer property was willed to the people of St John.
The Oppenheimer house fell into disrepair and was eventually restored by the US Virgin Islands government into a community center that's available for rent for events.
The small beach area is open to the public, as well as the beachfront to the first vegetation line in front of the Gibney property.
Very little parking is available here, outside of the fencing surrounding the Gibney property. If you're lucky enough to grab a parking spot, you'll enjoy a secluded day away on a virtually private beach.
---
Jumbie Beach
Access: vehicle + short hike
Fee: FREE
Jumbie Beach has a small parking pull-off on North Shore Road. There are speed bumps and pedestrian signs so you won't miss it. With only 4-5 parking spots, go early to ensure a spot at this hidden gem.
This is a small, sandy, quiet beach where you can escape the crowds at the more popular Trunk Bay Beach across the bay. Pack in a cooler with lunch and drinks, and enjoy a relaxing and private beach day.
Snorkeling is ok here. Waves can get rough, making it difficult to snorkel, but the views from the sand make this beach worthwhile.
---
Trunk Bay Beach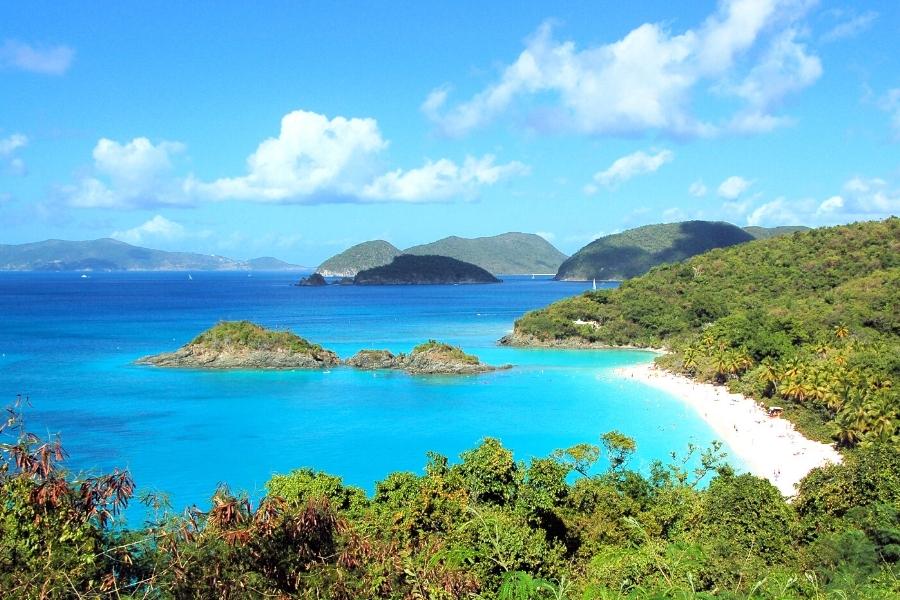 Access: vehicle
Fee: $5 per adult (ages 16+) per day, or annual passes available
Food: yes
Amenities: restrooms, showers, retail, rentals
Trunk Bay is the most photographed bay on St John. Everyone stops at the overlook and gets that iconic shot.
This white sand beach is long and wide, which is good because it sees a swarm of people every day, even despite the entry fee. Although, that entry fee allows the National Park Service to keep the beach and its amenities clean and maintained.
This is a crowded beach, but there will always be room for more. The lines for food, though, will get long come lunchtime, so plan accordingly.
Follow the underwater snorkel trail out to the cay right off the beach. The national park protects the cay as a site for nesting sea birds, so you cannot climb on the cay.
The trail is ok, but the coral and fish closer to the cay are more interesting. (Hurricanes Irma and Maria wreaked havoc even on the underwater landscape.)
You aren't able to climb on any of the rocks, but you can swim around to your heart's content. We saw numerous species of fish, small walnut jellyfish (no sting!), and even an eel!
I personally liked this beach for the amenities when you're done enjoying your beach day. Private changing stalls with locks allow you to rinse off and change in privacy, not often found at public beaches. The restrooms are a separate building but surprisingly moderately clean, at least when I was there.
---
Cinnamon Bay Beach
Access: vehicle
Fee: FREE beach access, a fee if camping or staying in a resort cottage*
Food: yes
Amenities: restrooms, showers*, rentals
The longest white sand beach on St John, Cinnamon Bay Beach is also home to the Cinnamon Bay Beach Resort and Campground. Imagine camping out just steps away from the water, watching the stars reflected in the ocean.
Sounds dreamy, doesn't it? If you answered yes, then you better reserve your campsite (or cottage!) well ahead of your travel dates. As one of the most affordable places to stay on St John, Cinnamon Bay campsites sell out fast.
This beach has great amenities: food, restrooms, showers, retail, and water sports rentals. Combine that with a larger parking lot, and this is one of St John's busier beaches.
*Unfortunately like the rest of St John, this resort was hit hard by Hurricanes Irma and Maria. The resort has not yet reopened as of Summer 2021, but the beach is open with limited amenities. Check the NPS website or the concessionaire website before your trip for the latest information.*
The Cinnamon Bay Archaeological Lab was the oldest building on the island and previously showcased the archaeological efforts being made to preserve the many historical ruins across St John.
Unfortunately, the double devastation of Hurricanes Irma and Maria in 2017 completely annihilated the building. The archaeological artifacts, however, were safely evacuated.
---
Maho Bay Beach
Access: vehicle
Fee: FREE
Food: yes
Amenities: restrooms, retail
Known as the sea turtle beach, Maho Bay is THE place to snorkel with turtles in St John.
This beach is enormously popular, because of said turtles, so it's best to go in the morning to avoid the crowds. The beach itself isn't very wide, and the shady spots go quickly, but it's a comfortable, sandy beach.
Snorkeling near the rocks on either side yields some cool views of coral and fish. The turtles stick to the sea grass beds in the middle of the bay. Rays can also be spotted in this area.
Remember it is illegal to touch sea turtles, but you can swim with them and observe them from a respectful distance. Sea turtles breathe air and have to surface every few minutes, so be mindful of this and don't crowd directly over them.
There is a restroom facility on the far west end of the beach (left end, looking at the water). Also at this end, across the street, are the retail, food trucks, and bar.
Best Beaches on St John – Northeast Shore
Generally, Maho Bay is the furthest north you can reliably find taxis for Cruz Bay. The beaches in this northeast section are all past Maho Beach and between Cruz Bay and Coral Bay. Highly recommend driving your own vehicle to these beaches.
Even if you get dropped off by a taxi, you'll spend a long time waiting for another taxi to come along the main road to take you back. It's better to pre-arrange a pick up at a certain time, or just drive yourself.
Francis Bay Beach
Access: vehicle + short hike
Fee: FREE
A less crowded beach, Francis Bay Beach is next along the coastline from Maho Beach. This is a quieter version of Maho Beach, complete with sea grass beds that attract sea turtles.
If you follow the road past the parking lot, onto the dirt road, you may be fortunate enough to find a parking spot right next to the beach.
If it's full, drive back out to the paved road parking, and then a short hike will deposit you on the long, white sand beach.
Snorkeling is good here, with corals on the rocky edges and turtles and rays in the sea grass beds in the center. A good place for new snorkelers to gain some confidence!
The Francis Bay Trail connects the north end of the beach to the parking area, first making a loop around a salt pond and passing Mary's Point Estate.
---
Leinster Bay Beach & Watermelon Cay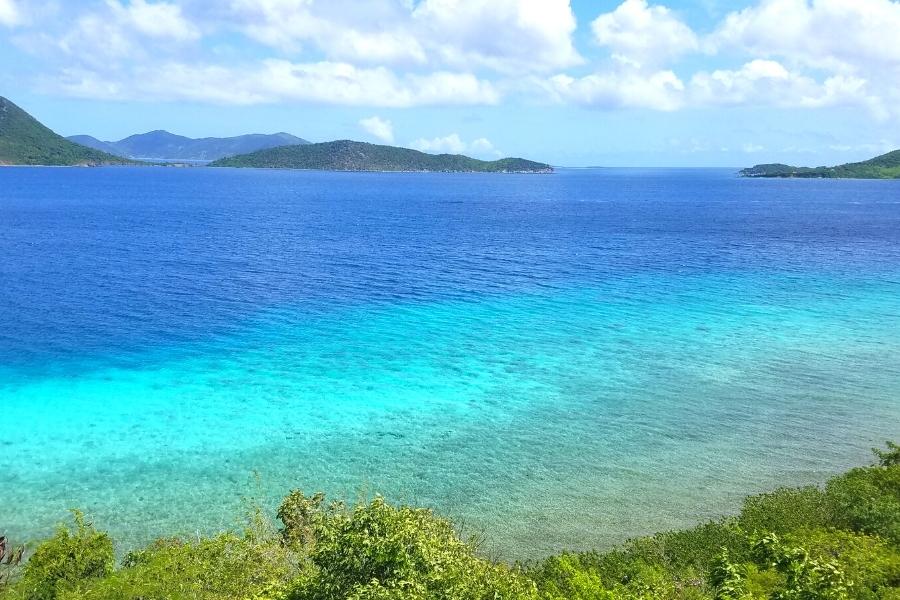 Access: vehicle + short hike
Fee: FREE
Food: no
Amenities: none at the beach, but a restroom at the Annaberg Parking Lot
Beautiful, blue Leinster Bay is home to Watermelon Cay and is the end of the line for North Shore Road. The Annaberg Sugar Cane Plantation Ruins are here as well, and the British Virgin Islands dominate the views to the north.
Watermelon Cay is St John's #1 snorkeling spot. Most snorkeling boat excursions will bring you here first, because it's the best. Corals, fish, rays, and urchins all make their homes here and put on a show for anyone that happens to stop by.
The beach doesn't see many people but the water by the cay will fill up with boats and snorkeling tours.
To access the beach, park at the Annaberg parking lot and follow the Leinster Bay Trail along the waterfront. Approximately 0.5 miles/10 minutes in is the first beach area.
If you want to see Watermelon Cay but don't want to swim all that way across the bay, continue walking along the waterfront for another 0.5 miles and enter the water closer to the cay.
Strongly recommend water shoes for this adventure! There isn't much sand to speak of on this beach, and sea urchins like to make their homes in the rocks near shore. Watch where you're putting your feet before entering the water.
Note that the currents are very strong on the north side of Watermelon Cay. Keep to the south side of the cay, and you'll be fine.
---
Brown Bay Beach
Brown Bay Beach is your secluded beach reward after an approximately 30 minute hike from Route 10 outside of Coral Bay.
Most people aren't willing to make the longer hike from Leinster Bay, and few choose to make the shorter one from Route 10. There's a great chance you'll have the bay entirely to yourself.
This is another beach that we recommend having your own vehicle rather than relying on a taxi to pick you up on the side of the road.
Brown Bay has that same Caribbean blue water and northeast shore views of the British Virgin Islands. Sea grass beds attract plenty of ocean life to make snorkeling worth your while.
A great hidden gem option for those that want a private beach, and are willing to walk for it.
Best Beaches on St John – Coral Bay Area and the South Shore
Haulover Bay Beaches (North & South)
Access: vehicle
Fee: FREE
Haulover Bay is technically on the north side of this isthmus strip of land, but beaches on both sides carry the Haulover Beach name. A parking area on the side of East End Road provides access for both beaches.
Haulover Beach South is the more popular of the two because it has some sand, making it more friendly for snorkelers and kayakers.
Haulover Beach North is an entirely rocky/coral beach that doesn't look great, accessed by a short trail from the East End Road parking area. This side can have tricky surf conditions but also has some surprisingly good snorkeling, likely due to the fact that humans have left it undiscovered for so long.
Suggest bringing water shoes for maneuvering around either beach, but absolutely required for Haulover North.
---
Saltpond Bay & Drunk Bay
Access: vehicle + short hike
Fee: FREE
Located on the southeast corner of St John, this is an option for those with their own vehicle. Cruz Bay taxis don't tend to go out this far, but you may find one from Coral Bay. It's about a 35 minute drive from Cruz Bay or 15 minute drive from Coral Bay.
Once parked, it's a 5-10 minute walk downhill to Saltpond Beach. Bring chairs and a cooler with lunch and drinks, and enjoy the day swimming and snorkeling in this beautiful bay.
Saltpond Bay Beach features a fairly wide, white sand beach with good snorkeling and swimming. The bay has both sea grass beds and reefs to support a healthy variety of ocean life.
The Salt Pond itself is accessed via a very short connector trail on the south end of the beach. Catch it at the right time, and you'll see sea salt forming along the edges of the pond.
The Ram Head Trail also starts at the south end of Saltpond Beach. Turn right and hike about a mile to the top of Ram Head at the point of the peninsula.
Bring water. The Ram Head hike is a little rough but boasts spectacular views of the bay from above. Plus, you can cool off in the water at the beach when you're done!
If you turn left at the trail on the south end of Saltpond Beach, about a 0.5 miles hike reveals rocky Drunk Bay Beach. This bay isn't as protected, but feel free to jump in if you feel comfortable with the surf level.
---
(Little) Lameshur Bay Beach & Great Lameshur Bay Beach
Access: 4WD vehicle and short hike
Fee: FREE
Food: no
Amenities: restrooms
A 4WD vehicle is best for navigating the rocky access road. If you rented a car on St John, you got a jeep, so this shouldn't be an issue. You'll find more locals than tourists at these beaches.
Driving in, you'll first pass Great Lameshur Bay. The beach is small and mostly rocks. Most visitors that make it out this far will skip rocky Great Lameshur in favor of sandy (Little) Lameshur Beach a little further down the road.
(Little) Lameshur Bay Beach is a sandy, uncrowded, snorkeler's paradise. Corals and rocks are home to many fish, conch, crabs, and even the occasional ray or octopus.
Also nearby, follow the Lameshur Bay Trail to its intersection with the Reef Bay Trail and find plantation and great house ruins for your exploration. Bring water! It's not a short hike.
An easier hiking option is the Yawzi Point Trail, on the east end of Little Lameshur Beach. See ruins, views, and side trails to the beach.
---
Reef Bay Beach
Unless you have a boat, Reef Bay Beach can only be accessed by the Reef Bay Trail. The trail is no joke, taking most visitors about 2-3 hours to complete with the uphill portion on the way back. Ugh.
If you're interested in the history of the island, this hike is worth it. Pass by several ruins and see the famous St John petroglyphs in real life! At the end of the trail at the sea, explore the well-preserved Reef Bay Sugar Mill ruins.
The Reef Bay Beach itself is sandy with good snorkeling. Most people make it to the Sugar Mill ruins, maybe sit on the beach to rest a bit, and then turn around to hike back to their car on Centerline Road.
If you've got the time, the beach is a nice respite for lunch.
---
St John Beaches FAQ
What is the Best Beach in St John for Snorkeling?
Popular beaches for snorkeling in St John are Trunk Bay, Leinster Bay/Watermelon Cay, Maho Bay, and Saltpond Bay. Most beaches on St John have something to look at while snorkeling, but these four are the powerhouses with the most to see.
Where to Find Sea Turtles while Snorkeling in St John?
Maho Bay is the best beach for seeing sea turtles in St John. Francis Bay will also get some, but Maho Bay rarely has a day when you won't see turtles, unless a storm is on its way.
Sure, but hidden beaches are by definition difficult to access. There are a few "hidden" beaches that can only be accessed by boat, but none of them are in calm, protected bays like you might find along the Hawaiian coast.
Several beaches on St John's southwest and east sides are surrounded by private residences or resorts, and public access is limited or requires a boat. These could be considered hidden beaches because of the lack of access but all beaches on St John are public beaches. You just can't trespass to get to them.
---
Happy travels!
---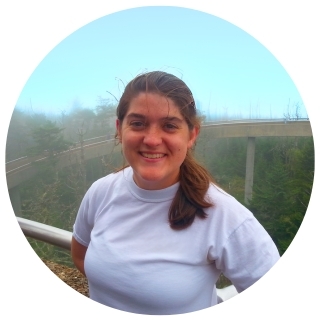 About the Author: Rachel Means
With six-figure student loan debt and only 10 PTO days per year, Rachel started traveling the world. A decade later, she's paid off her loans, changed careers, and been to 36 US states and 14 countries. She's an expert at planning and budgeting for travel and loves to help others do it, too! Read her full story here.
---
Share it!