Channel Islands National Park, just off the coast of southern California, is a fantastic way to spend a day exploring!
The five islands that make up Channel Islands NP each have their own unique ecosystems, including plant and animal species found nowhere else in the world.
It's basically the Galapagos of the US West Coast. Yes, that's a bold claim! While the temperatures and animal species are not identical, these islands are still special and worth a visit.
Here's how we spent a day in Channel Islands National Park in February!
---
This post may contain affiliate links. As an Amazon Associate and associate of other programs, I earn from qualifying purchases. This means if you click a link and make a purchase, I may earn a small commission at no extra cost to you.
---

---
Exploring Channel Islands National Park
I had to be in southern California for work one February, so I arranged to fly in the weekend before and get in some free LA sightseeing for my first-ever trip to the west coast!
Visiting all the US National Parks is one of my travel bucket lists, so I decided to knock out two parks in one trip: Channel Islands and Joshua Tree.
Most companies have flexible travel policies and will allow you to add on vacation days or weekends, provided you don't charge the company for expenses on personal days.
That's fine, since flights are often the most expensive part of travel. Just grateful for the opportunity.
So, on my second free weekend day, I headed for Ventura to see Channel Islands National Park!
Channel Islands National Park has free entry, kind of…
The National Park Service (NPS) doesn't provide access to the islands. No landing permits are required for the islands either, so sail on over if you have your own boat.
But keep in mind, depending on the time of year, certain trails or beaches are restricted to protect nesting birds or seals or other wildlife.
Most visitors, however, will need to book passage with a ferry company or private charter boat to access the islands. I chose Island Packers, the concessionaire recommended by the NPS website.
February happens to be prime whale watching season, but I opted for the all-day island adventure instead of a whale watching tour. I didn't have time for both.
Where would I be if we cruised the Santa Barbara channel for a couple hours and didn't see any whales?
Besides, to cross Channel Islands National Park off my list, I had to actually visit one of the islands or else it wouldn't count.
There is a National Park Visitors Center for the Channel Islands in Ventura Harbor, but I didn't have time to stop in.
My Island Packers ferry left before the Visitor Center opened, and my all-day adventure meant I would get back right as the Center was closing.
Keep that in mind if you're collecting the free stamps from each National Park.
You'll have to come back another time to get your official stamp. Luckily, the Island Packers office had official NPS maps, so I snagged one.
Since I was limited to one specific day in February, I went to the one island that had a ferry that day: Santa Cruz.
During peak season, ferries are more frequent and the choice of islands is more varied.
Anacapa and Santa Cruz are the most popular to visit because they're the closest to shore.
San Miguel and Santa Rosa are an hour or two further out.
Santa Barbara is much further south than the rest, closer to Catalina Island and Huntington Beach than Ventura and the other Channel Islands.
Santa Cruz Island is the largest of the Channel Islands and is co-owned by the Nature Conservancy.
The western 75% of the island owned by the Nature Conservancy is usually off-limits to the public, allowing the island plant and animal life to live undisturbed.
The eastern 25% of the island owned by the NPS has basic camp sites and an array of hiking trails ranging from easy to strenuous.
My point of arrival & departure was Scorpion Ranch Anchorage, the point closest to the mainland with the shortest transit time. It takes about an hour to get out to Santa Cruz Island.
We did get way-laid in the channel by an enormous pod of dolphins, but that was well worth the time spent circling. Only regret is there wasn't a whale, too!
Bring a watch.
There is only one way on and off that island, and that's the ferry. They make it very clear that the ferry will not wait for you.
Don't be late to the pier for your departure or else you're staying overnight.
Are you prepared to make friends with strangers and ask to bum a night's sleep in their tent with them? And oh yeah, can we share your dinner and breakfast, too? No, I didn't think so.
If you are, then kudos to you. I'd rather bring a watch.
Bring plenty of water and pack a smart lunch.
Scorpion Ranch campground has potable water available for campers, but it's better to bring your own. There is no camp store either, so bring your own lunch. Pack smart.
If you're hiking, you don't want a heavy pack. Choose non-perishables like granola bars, an apple, and beef jerky.
Alternatively, bring a refrigerated pack if you want a cool treat on a hot day. Bring a picnic blanket so you can enjoy lunch anywhere.
If you're planning to camp, this is not for the novice camper.
We're discussing how to spend a day on Santa Cruz island, but you can spend the night if you've got the time.
Just be warned: You have to pack EVERYTHING in and out of the park. All your gear, food, water, and trash.
This isn't like a mainland campground where you just back up the car, pull everything out one at a time, run to the camp store for more hotdogs, and if a monsoon shows up in the middle of the night and simultaneously floods and collapses your tent, you can always sleep in your car.
Yes, that happened to me one ill-fated summer.
Ferries limit the number of bags you can take aboard. Once your gear is unloaded on the dock, it's up to you to carry it to your campground.
None of the anchorage sites or campgrounds has a camp store. You can't just go buy something you forgot. You have to live without it, or ask a neighbor to share.
Not a problem for seasoned campers, but newbies have been warned.
Getting to know Santa Cruz's local wildlife.
Santa Cruz Island is home to adorable island foxes that have no fear of humans.
Once on the brink of extinction, the NPS has helped this animal fight its way back through a captive breeding program and introduction back into the wild after the non-native predators were removed from the island.
Learn more about the island's recovery under the NPS at the Scorpion Ranch visitor center, located in the old Ranch house adjacent to the campground.
Ever hear of bear boxes? (Lock boxes to keep bears out of your food and stuff.) Well, Santa Cruz Island has fox boxes.
NPS rangers warn you to watch your packs as well. The foxes know how to open zippers!
The sly creatures have no reservations about approaching humans eating lunch at picnic tables, but resist the urge to feed them. Help the wild animals remain wild!
Take a hike for amazing views.
After some photo ops with the foxes, we passed through the campground and found the Cavern Point trailhead to start our hike.
We were worried at first because the trail started out somewhat steep, but that doesn't last very long.
Once you make it to the top of the cliffs, you have gorgeous views to distract you while you rest a minute, and then the rest of the trail follows along the cliff tops.
Cavern Point Overlook trail heads to the right and is a short loop that takes you right back to the campground.
Instead, we turned left and followed the North Bluff Trail along the cliffs to the Potato Harbor Overlook.
You can get to this overlook via dirt roads from the campground, but highly recommend the cliff walk.
Bring sun protection, and instead enjoy the amazing views, the barks from the seals, and the refreshing breeze while you hike.
Potato Harbor is picturesque! There was a boat at anchor in the otherwise empty harbor, gently rocking in perfectly clear turquoise water.
I have this picture on my travel wall at home, and people are always amazed it's from the US. Could be a Greek isle!
We lunched at the overlook, enjoying the seals, and then once refreshed, hiked back the way we came.
Arriving back at the first junction, we continued on the Cavern Point Loop and ended our trip with fabulous views of the beach and bay area.
Snorkel or Kayak
If you are more water-inclined than hiking-inclined, the beautiful Santa Barbara Channel has plenty to offer.
Since we were visiting the Channel Islands in February and don't own wet suits, we weren't getting in the chilly water, but we saw many people enjoying the sunny day at the beach.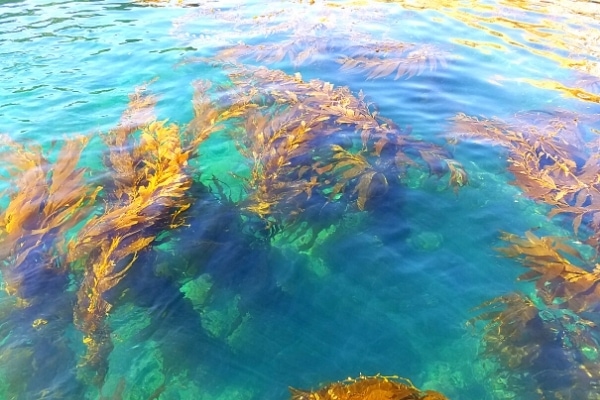 Up on the dock, watch the kelp swaying back and forth in the clear water. We noticed several kayakers along the cliffs and one woman snorkeling.
You can also rent snorkel equipment or kayaks from a small rental shop at the campground.
The return ferry service is efficient. They pack up the campers first to get all their gear in the cargo hold, and then everyone else is checked off against the passenger manifest.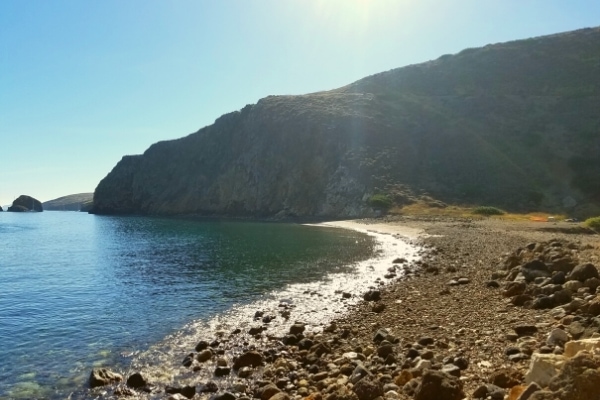 There's probably some leniency about the "don't be late policy", but I'm positive they won't wait forever. Don't be that guy. Just bring a watch, and don't be late.
We didn't have any stragglers, so we left a little early! Enjoyed watching the sun start to set as we sailed back to Ventura.
---

---
Have you been to Channel Islands National Park?
The Los Angeles area is a great home base for exploring southern California. Here's some more inspiration for things to do in the LA area:
More Southwest USA Ideas
Happy Travels!
---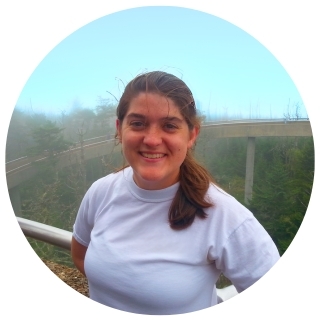 About the Author: Rachel Means
With six-figure student loan debt and only 10 PTO days per year, Rachel started traveling the world. A decade later, she's paid off her loans, changed careers, and been to 36 US states and 14 countries. She's an expert at planning and budgeting for travel and loves to help others do it, too! Read her full story here.
---
Save it!