Discover a land of fiery oranges, reds, and yellows in the sandstone rock formations of the Nevada desert. The Valley of Fire lives up to its name, both in imagery and temperature!
Escape the heat by visiting the Valley of Fire in the winter or shoulder seasons and hike out to the unforgettable Fire Wave.
Let's explore all the things to do in Valley of Fire State Park and find out how to visit via an easy day trip from Las Vegas!
---
This post may contain affiliate links. As an Amazon Associate and associate of other programs, I earn from qualifying purchases. This means if you click a link and make a purchase, I may earn a small commission at no extra cost to you.
---
What is the Valley of Fire?
An area of red sandstone mixed in with brown limestone creates one of nature's unique showcases in the Nevada desert. Just under an hour northeast of Las Vegas in the southern tip of Nevada lies the Valley of Fire.
Nevada is more than Sin City and Lake Tahoe. It's a huge state with many varied landscapes!
The Valley of Fire has been inhabited since well before the European settlers showed up. Ancient petroglyphs represent a bygone civilization over 2,000 years old.
Petrified trees hint at the area's natural past before time and erosion had a chance to warp the valley into its current spectacular state.
Rock has been exposed and shaped by water and wind over millennia, creating fascinating shapes and colorful statues for visitors to view and climb as they explore.
Experience the beautiful reds, oranges, and yellows of the Valley of Fire at Nevada's oldest and largest state park!
---
---
Where is Valley of Fire State Park?
Valley of Fire State Park is less than an hour's drive northeast of Las Vegas. It's easily accessible from I-15 or SR 169/167. The northernmost arm of Lake Mead is nearby to the east as well.
Top 5 Best Things to Do in Valley of Fire State Park
If you're in a hurry and/or unsure if visiting Valley of Fire will be worth it, here are the top 5 must-see spots in the park that we firmly believe make the Valley of Fire worthy of your time.
You can see/do all of these in 2 hours or less in the park.
1. Fire Wave
The most popular spot in the park, thanks to Instagram, is the Fire Wave rock formation. And, we feel it rightly deserves the top must-see spot in the Valley of Fire!
There are many amazing rock layers and formations to see in the park, but the Fire Wave is like walking into a painting, where layers of color stream together into ripples that harden into rock and freeze the movement.
The colors ripple across the rock face but the rocks also undulate up and down, making this one very cool spot to walk around and take pictures. The rock layers look like flaky biscuit layers, but they're quite safe to walk across.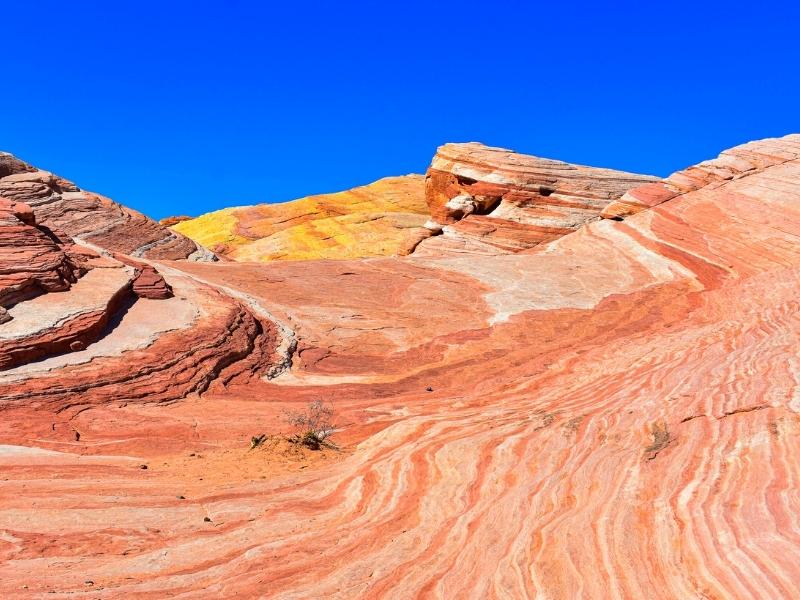 To get to the Fire Wave, drive to the back of the park, almost to the end of White Domes Road. A short 1.5 mile out and back hike, mostly on rock but some sand at the beginning, reveals the Fire Wave.
You're free to wander around this area, but bring lots of water! It's completely exposed all day long and the risk of heat stroke is high.
In the summer (June 1 through September 30), they close this trail completely because the risk of heat stroke is just too high in the desert temperatures.
If you want to see the Fire Wave, don't visit in the summer.
This is a fairly new trail; it doesn't show up on older versions of the park map. The map you'll receive at the park entrance, however, has the Fire Wave included.
2. White Domes Road
Sometimes you don't even have to get out of the car to appreciate the beauty of a place. Driving up and down White Domes Road in Valley of Fire State Park is one of those opportunities.
This is another Insta-famous spot, but I can assure you that the entire road has beautiful views and you don't have to stop and get this exact shot. Be your own original self instead.
While you drive, admire the colorful rocks, the shadows the high cliffs create, and hopefully spot some wildlife!
We were fortunate enough to see bighorn sheep in several areas around the park.
White Domes Road begins near the Visitor Center and dead ends at the White Domes Loop trailhead.
It's a total of 11 miles out and back, but the speed limit is only 25mph. Take it slow and keep an eye out for wildlife and hikers.
Pro Tip: If you want to stop and get pictures of wildlife or landscapes, pull completely off the road first. Don't stop in the middle of the road.

Also, only pull over in approved lots or turnouts. You risk damaging your vehicle and the environment if you pull off the road wherever you please, and you could get stuck and have no cell signal to call for help.
3. Elephant Rock
One of the most accurately named and complex rock formations in the park.
This pile of rocks has eroded away over time to somehow uncannily resemble a grown adult elephant!
This is a quick stop that requires a "hike" to reach.
It's really a 10 minute walk from the parking lot, and then you can return the way you came rather than walking the entire 1.25 mile loop.
4. The Beehives
These appropriately named rock formations can be seen from the road, or, better yet, you can park and get an up-close view as you walk and carefully climb around them.
We had to share the area with the local (bighorn sheep) families, so we didn't get to explore as much as we would've liked, but this is usually a good spot to get out and stretch your legs when you first arrive in the park from Vegas.
(You'll reach the Beehives before you reach the Visitor Center.)
5. White Domes Loop Hike
See an abandoned old movie set and get a taste for hiking through a slot canyon on this fairly easy 1.1 mile loop trail!
It's more protected from the sun than the Fire Wave but in a similar area of the park, so you still get those unique geological layer colors.
The slot canyon portion of the hike is pretty short, so it's a good introduction for those that might be a tad claustrophobic and unsure if they're going to like a slot canyon hike.
Day Trip Itinerary: Las Vegas to Valley of Fire State Park
We highly recommend a full day trip to Valley of Fire from Las Vegas! There's plenty to see and hike in this park to keep you busy.
Depending on what time of year you visit, you'll want to hide indoors at the Visitor Center (or in your car's AC) in the middle of the day when it's hottest outside.
This is the perfect opportunity to rest up from a morning hike or two and refuel for an afternoon hike or two.
What to Do in Valley of Fire State Park in the Morning
Aim to get to the park by 8AM to give you time to get a few hikes in before the heat of midday.
If you're an early riser and want to get an earlier start, that's fine. The park opens at sunrise.
Here's how we'd spend the morning in Valley of Fire:
Explore The Beehives, Atlatl Rock, and Arch Rock. All roadside stops with no hiking required. Don't miss the petroglyphs at Atlatl Rock!
Drive White Domes Road and get lots of pictures.
Hike the Fire Wave trail.
Hike the White Domes Loop.
Alternate Hike: Do the full Seven Wonders Loop, which includes Fire Wave and Pink Canyon
We recommend hiking Fire Wave first and then White Domes because Fire Wave is completely exposed but White Domes has a slot canyon section.
You'll have some shade to help keep you cooler as the temperatures rise as it gets closer to noon.
Alternatively, the Seven Wonders Loop combines the Fire Wave with Pink Canyon and loops back to the parking lot.
It's a worthy hike, just 1.8 miles roundtrip, if you've got the time.
Where to Eat near Valley of Fire
Bring a lunch! There aren't any restaurants in the park.
The nearby town of Overton, 15-20 minutes north of the park, has a McDonald's, a Subway, and a Mexican restaurant, if any of that appeals to you more than a picnic in the park. There aren't many other options in this isolated area.
Picnic tables are found at many trailheads and parking lots. We also don't blame you if you prefer to eat in your car.
However, be aware of your surroundings. Don't idle your car right next to a picnic area. People don't want to breathe car fumes while they eat.
Things to Do in Valley of Fire in the Afternoon
Your lunch plans will dictate what order you do these afternoon activities. If you left for lunch in Overton, you'll re-enter the park from its eastern entrance.
Here's how we'd spend an afternoon in Valley of Fire.
Visit the Elephant Rock formation.
Stop and admire the Seven Sisters from the roadside.
Check out the Visitor Center and see the Balancing Rock up-close.
Hike the Rainbow Vista trail. Don't miss climbing the rock near the beginning. It has the best views!
Walk the Petrified Logs Loop.
After a busy day in the park, head back to Vegas for dinner!
Have More Time? More Things to Do in Valley of Fire
For the serious go-getters, or simply the faster hikers, you might get through the full day Valley of Fire itinerary and find yourself with more time before sunset or before you want to head back to Vegas.
Don't worry! Valley of Fire State Park has plenty of longer hikes that can be substituted for one of the shorter hikes above or added on to the itinerary wherever you have the time.
Pro Tip: Almost every hike in Valley of Fire is through sand. It makes hiking more difficult, so give yourself plenty of breaks and plenty of water while hiking.
Mouse's Tank Trail, 0.75mi out and back trail
Seven Wonders Loop, 1.8mi moderate hike (includes Fire Wave and Pink Canyon)
Natural Arches trail, 2.5mi out and back trail
Charlie's Spring Trail, 4.7mi out and back trail
Prospect Trail, 4.6mi point to point hike
Pinnacles Loop, 4.5mi loop trail
Where to Stay near Valley of Fire State Park
If you're a fan of creature comforts, like AC and indoor plumbing, we recommend staying in Las Vegas and driving out to Valley of Fire.
We'd even recommend staying in Vegas if you want to visit Valley of Fire more than one day so you can do all the hikes.
It's less than an hour's drive between the park and the city. Worth it for AC in the desert!
Pro Tip: Did you know The Palazzo at The Venetian accepts IHG loyalty points? Worth the splurge if you can make it affordable with points!
If you're a camper, Valley of Fire State Park has 2 campgrounds and can accommodate RVs as well as tents. Alternatively, nearby Lake Mead National Recreation Area has plenty of campground options.
Valley of Fire Quick Facts & FAQs
Entry fee: $15 per vehicle for Non-NV residents ($10 for resident vehicles)
Hours: Sunrise to sunset (24/7 for campers)
Closest gas station: Chevron at I-15 Exit 75 (10-15 minutes from the park)
Pets allowed on leashes. Protect their feet from the hot ground. Their paws can burn!
No cell service in the park! Download offline maps before you arrive.
Valley of Fire is a state park. America the Beautiful (National Park) Passes don't work here.
>> When to Visit the Valley of Fire
Winter is best for comfortable temperatures, but it's also the busiest for crowds. Spring and fall shoulder seasons offer a compromise: higher temps with somewhat fewer crowds. Temperatures soar in the summer, and the park closes down some trails like the Fire Wave for safety reasons.
>> How Much Time Do You Need in Valley of Fire?
One full day in Valley of Fire is best to not feel rushed but also to see the must-see sights and fit in a few hikes.
A half day works for hitting the roadside highlights and a couple of short hikes. Don't expect to see everything though.
>> How to Get to Valley of Fire from Las Vegas
Drive northeast from Las Vegas on I-15 for 37 miles, about 40 minutes. Take Exit 75 and turn right onto Valley of Fire Highway. The park entrance is about 10-15 minutes away on this road.
Do not try to take an Uber/Lyft to Valley of Fire! You're likely to get stranded. There's little to no cell service to order a return trip and rarely anyone willing to drive out that far to pick you up.
>> Should I Take a Tour of Valley of Fire?
If you are visiting Las Vegas without a rental car, then hiring a guided tour is a convenient option for you to day trip from Vegas to Valley of Fire. If you plan to do other day trips away from Las Vegas, rent a car and drive yourself. It's much more cost efficient.
---
---
Add the Valley of Fire to a Las Vegas-based Road Trip
There are so many cool places to see within easy driving distance of Las Vegas, and of course Vegas itself is worthy of your time, even if you're not a drinker or gambler.
We highly recommend a Las Vegas/Southwest USA Road Trip to see the Valley of Fire and many other nearby must-sees!
More Southwest USA Ideas
More Arizona Ideas
Happy travels!
Share it!