If you're looking for an unforgettable day trip from Munich, look no further than Neuschwanstein Castle.
This fairytale castle is one of the most popular tourist destinations in all of Germany, and for good reason. It's absolutely stunning!
But where is Neuschwanstein Castle and how do you get there? We've got you covered with our guide on how to get to Neuschwanstein Castle on a day trip from Munich.
---
This post may contain affiliate links. As an Amazon Associate and associate of other programs, I earn from qualifying purchases. This means if you click a link and make a purchase, I may earn a small commission at no extra cost to you.
---
Visiting Neuschwanstein Castle in Germany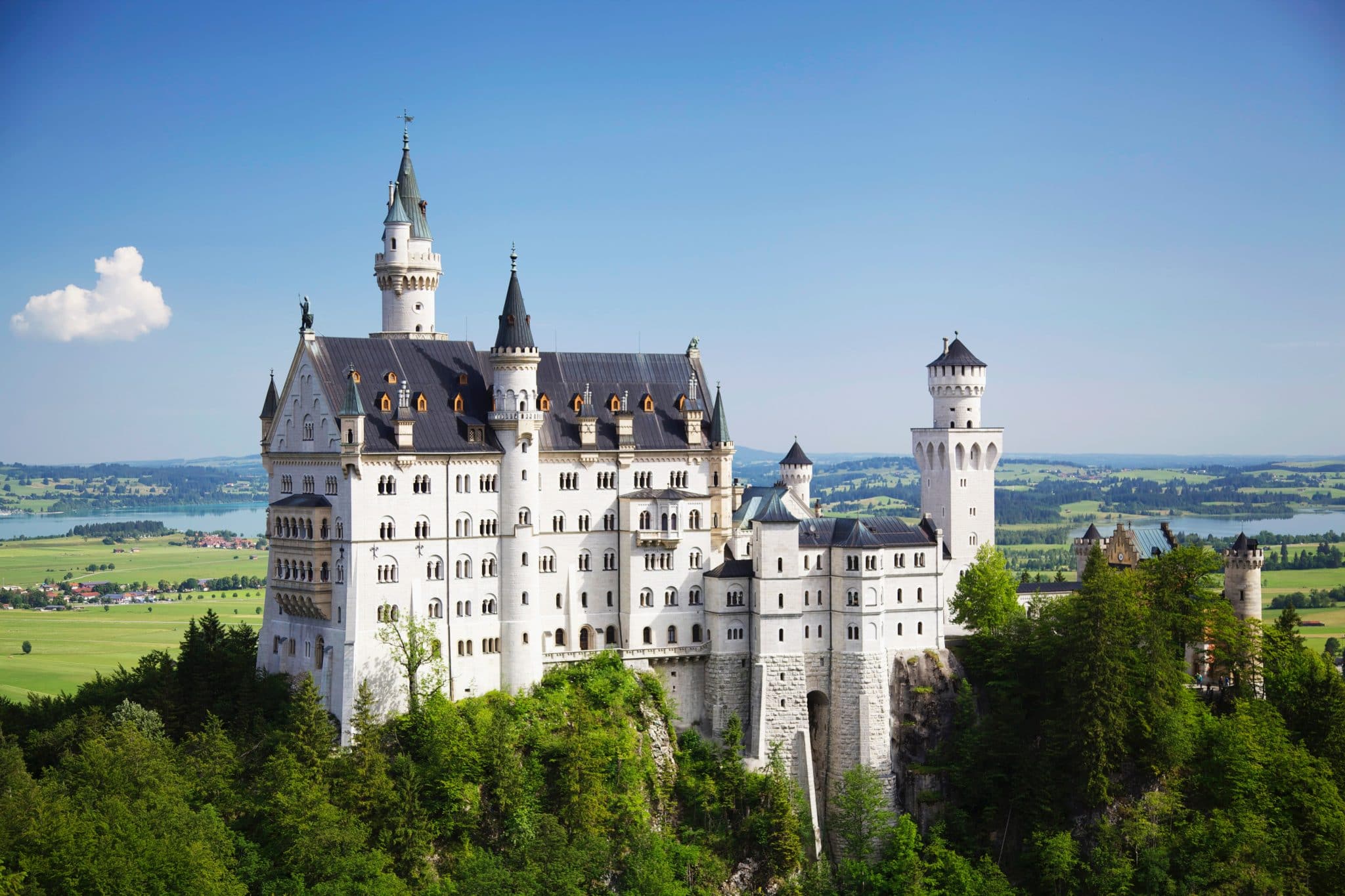 Neuschwanstein Castle is the epitome of all fairytale castles. Turrets and towers, ballrooms and throne rooms, soaring ceilings and detailed mosaics: it's got it all.
This is, after all, the castle that inspired Walt Disney and became the now famous Disney castle logo.
If you're in the southern half of Germany, you can't pass up an opportunity to visit Neuschwanstein Castle.
All you have to do is decide how to get there.
---

---
Where is Neuschwanstein Castle?
Neuschwanstein Castle is located in the small village of Hohenschwangau, just outside of the small town of Füssen, southwest of Munich on the Austrian-German border.
The best part: it's only a 2 hour train ride or drive from Munich. Perfect distance for a day trip!
How to Get to Neuschwanstein Castle from Munich by Train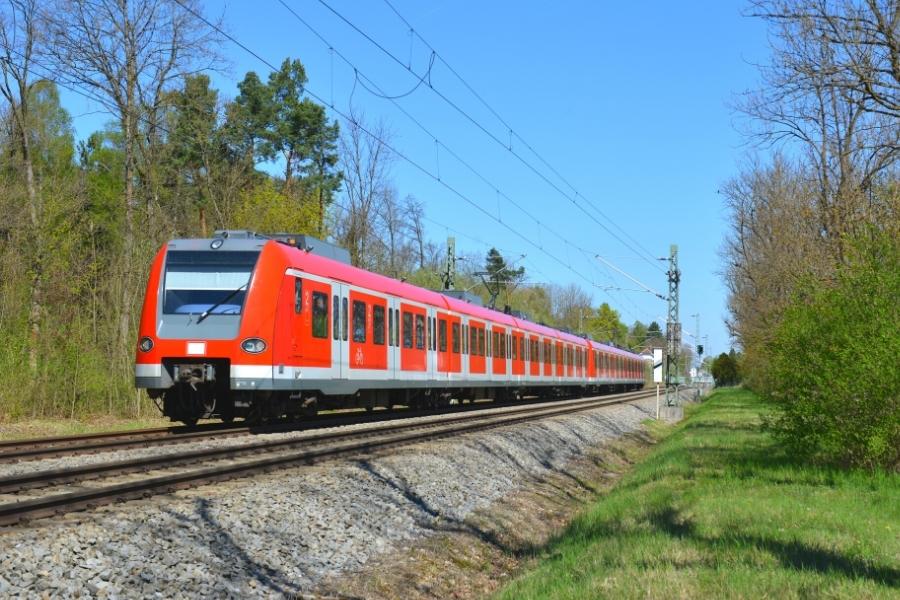 Getting to this beautiful castle from Munich is a breeze by train, and that's how many do-it-yourself tourists choose to travel.
It's three simple steps:
Train to Füssen – 2 hours
Bus to the castle ticketing area – 10 minutes
Walk up to Neuschwanstein Castle – 30-45 minutes
Step #1: Train to Füssen
One of the wonderful things about traveling in Germany is the ease and efficiency of the German train network. The Bavarian region is no exception.
The cheapest, fastest, and easiest way to get around southeastern Germany is using a Bayern Regional ticket. (Bayern = Bavaria in German)
The base rate is €26 for one person and an additional €8 for each additional adult on the ticket.
So, for example, a group of three adults will pay €42 for the ticket. This is a good deal when day tripping between cities!
Perks of a Bayern Regional Ticket
Unlimited trips within Bavaria for the day of use
Covers up to 5 adults and 3 kids (ages 6-14) on a single ticket
Kids under 6 are always free
Includes regional and local transportation
Bayern tickets are valid weekdays from 9AM until 3AM the next day, or from midnight on day 1 until 3AM the next day on weekends and holidays.
The ticket itself has 5 blank lines where you MUST write down the names of the adults that are using the ticket.
They will check the ticket on the train, and you are supposed to have the names filled in as soon as you purchase the ticket. Sometimes they even check ID to ensure names match, but not always.
Note that this regional ticket includes all public transportation: regional trains between cities, local S-bahn and U-bahn routes, trams, and buses. This is the reason these tickets are so great.
You don't have to keep buying tickets to get around in different cities all day; this one ticket is good pretty much everywhere in Bavaria. It's an affordable way to see A LOT without breaking the bank.
Is a Bayern ticket the only way to get to Füssen by train?
No. You can purchase standalone roundtrip train tickets from Munich to Füssen, but then you will also have to purchase bus tickets when you arrive in Füssen and any other transportation tickets you'll need when you arrive back in Munich.
Everyone's situation is slightly different, but most people will save money by using the Bayern Regional ticket for the day.
Pro Tip: Get your tickets the night before. One less thing to do in the morning.
Boarding the Train
Now that you've got your Bayern ticket in hand and your passengers' names written on the ticket, board the 9:36AM Deutsche Bahn BRB train from Munich to Füssen.
This is the earliest train the Bayern ticket is valid for during the week, and it's a direct route with no transfers.
On a weekend or holiday, catch as early of a train as you like, but we'd still recommend one that doesn't require a transfer.
If you miss the direct train, it's not the end of the world, just an inconvenience.
The next direct route train is usually several hours later, but there are trains to Füssen every hour, around the half hour mark. Just be aware that you have to get off of your first train and transfer to a different train at a station along the way.
There will be a lot of others taking this same journey, so the morning direct route train is usually pretty full. Neuschwanstein is an incredibly popular day trip from Munich.
German trains are punctual, so arrive early and board as soon as you can to ensure you get seats together with your group.
Pro Tip: Get in the train cars as close to the front of the train as possible, not the ones at the end of the track closest to the station in Munich. The furthest cars will be closest to the train station exit when you arrive in Füssen.
Step #2: Bus to Ticketing Area
Once the train arrives in the small town of Füssen, nearly everyone on that train will then attempt to crowd onto the nearby buses at the same time.
Your Bayern ticket gets you onto the bus as well. No need to buy a bus ticket in Füssen.
The bus ride is only 10 minutes, depending on traffic in town. There are also several buses to accommodate the influx of tourists during peak season, and they time it to coincide with the train arrivals.
Waiting for this bus is not what's going to make you late to your tour.
Once on the bus, enjoy the views in Füssen and your short jaunt on the Romantic Road as you head over to Hohenschwangau, the home of Hohenschwangau Castle and Neuschwanstein Castle.
>> Did you know there are TWO castles in this tiny village? Neuschwanstein Castle and its neighbor, Hohenschwangau Castle. <<
The castles will be on the right side of the bus as you approach, for those that want to watch them come into view.
The bus unloads at the base of the small village of Hohenschwangau, right outside of a small tourist information center and several kitschy souvenir shops.
Exit the bus and walk up the hill on the right, towards the ticketing center.
Everyone has to stop at the ticketing center, even if you reserve tickets ahead online. Your online reservation holds your ticket at will call. You have to pick up a physical ticket when you arrive.
Luckily, the will call line is SO MUCH SHORTER than the standard ticketing line. Walk right up, collect your tickets, and note the entry time.
If visiting both amazing castles, your entry time for Hohenschwangau Castle is always first. Your Neuschwanstein Castle entry time will be two hours later.
Pro Tip: Leave yourself plenty of time to get from the main street up to Neuschwanstein Castle.
Step #3: Walk or Carriage or Shuttle up to Neuschwanstein Castle
No matter which option you choose to get up to Neuschwanstein Castle, give yourself plenty of time.
Walking
The best option for photography is walking. Stop and take as many pictures as you want! But be sure to factor in time for that.
Walking takes a solid 30-45 minutes, with no stops for pictures and walking at a good clip. It is all uphill, partly open to the elements and partly shaded by the forest.
Leave yourself enough time, and this is a gorgeous walk with plenty of viewpoints of Hohenschwangau Castle, the lakes and forest, and Neuschwanstein Castle as you gradually climb the mountainside.
Shuttles and Carriages
If walking doesn't appeal to you, pay for the shuttle bus.
There are also horse-drawn carriages if you want a more fairytale-esque ride up the side of the mountain.
Both the shuttles and the carriages are subject to availability and may be closed due to inclement weather. You cannot reserve these ahead of time.
Important Note: The shuttles and carriages still involve a walk to the castle.
Both the motorized shuttles and the horse-drawn carriages drop off at the top of the hill, slightly above the castle.
Exit the shuttle and walk downhill, following the prominently placed signs, to the castle courtyard. This walk takes about 10 minutes, longer if you stop to take pictures along the way.
The Marienbrücke (Mary's Bridge) viewpoint is also right next to the shuttle drop off point.
DO NOT MISS THIS VIEW! It takes time to stand in line, so we recommend you come back for this after your castle tour.
Both the walking path and the path from the shuttle drop off wind through the trees and then around the base of the enormous Neuschwanstein Castle, leading into the entry courtyard.
Inside the castle courtyard are the entry gates and official timer clocks. When your entry time shows on the clocks, your ticket will let you through the electronic gates and into the queue to go inside the castle.
If you miss your entry time, there is no guarantee of an accommodation. However, there is a small help desk/information kiosk in the courtyard. It's tucked into the corner, to the right after you enter through the main gate.
---
How to Get to Neuschwanstein Castle from Munich by Car
Driving to Neuschwanstein Castle from Munich is our second recommended transportation option and the option with the most flexibility.
We only recommend renting a car to visit Neuschwanstein if you're done sightseeing in Munich and were going to rent a car for another reason anyway.
Maybe you've got a bucket list desire to drive on the Autobahn, or perhaps you intend to road trip along Germany's famous Romantic Road.
Both are worthy reasons to rent a car, and visiting Neuschwanstein is a good complementary activity.
How long does it take to drive to Neuschwanstein Castle from Munich?
It takes a little less than 2 hours to drive from Munich to Neuschwanstein Castle.
The Bavarian countryside is gorgeous as are the Bavarian Alps that rise to the south along the border with Austria. Enjoy this scenic drive!
Where to park at Neuschwanstein Castle?
There are several parking lots in Hohenschwangau, the small village where Neuschwanstein Castle and Hohenschwangau Castle are located. They cost €8 per day.
These parking lots are not at the castle itself. Everyone has to walk up the hill to the castle or take the shuttle or a carriage and walk the rest of the way from the drop off.
If the Hohenschwangau parking lots are full, park in Füssen and take the 10 minute local bus ride to Hohenschwangau with everyone that arrived by train.
Pro Tip: Mind your time. Once you are parked in Hohenschwangau, you still have to pick up your tickets from will call and then walk 30-45 minutes up the hill to the castle.
Maximum Flexibility to See it All
Having a car provides the maximum amount of flexibility for your trip.
You're not at the mercy of the train schedule or on a guided tour timeline. Arrive as early or as late as you like to get photos with fewer crowds.
Tour both Hohenschwangau Castle and Neuschwanstein Castle.
Take as much or as little time as you like in Hohenschwangau, exploring the castles, the lake, Marienbrücke, and the Pollat Gorge and Waterfall.
A personal car also makes it easier to stop wherever you want. Linger at Linderhof Palace, peruse the shops in Oberammergau, experience the Passion Play in Oberammergau, or enjoy a drink at Ettal Abbey.
Stay the night in Füssen and wake up with a view of Neuschwanstein Castle! Start a road trip up the Romantic Road.
A car makes any of these possible.
---
Take a Guided Tour to Neuschwanstein and Other Area Attractions
The last option for getting to Neuschwanstein Castle from Munich is to take a guided tour. These are often via air conditioned buses but sometimes they use the trains.
Guided tours are perfect for nervous travelers that prefer to let someone else plan, drive, and keep to a schedule. The downside, as with any tour, is limited flexibility.
Know Before You Book
Before booking, be sure you understand what is and is not included in the tour. There are tours out there that don't include admission to the castle…🤦‍♀️
You have to book that on your own, which is just another step you probably don't want to take if you're looking for a guide to handle the details for you.
Be cautious and read all the information before booking a guided tour from Munich.
Another common practice with guided tours from Munich is they do not include Hohenschwangau Castle, only Neuschwanstein Castle.
If you're going to be here, we strongly recommend visiting BOTH, but most guided tours don't leave enough time to tour both castles.
How to Choose a Tour
If you do opt for a guided tour, we'd recommend one that's exclusive to Neuschwanstein Castle and possibly one other stop along the way.
Very few will include Hohenschwangau Castle, but that may be a trade off you're willing to make for the convenience of a guided tour.
However, many tours will combine Neuschwanstein Castle with several other sites in the area between Munich and Füssen, such as Linderhof Palace, Oberammergau, or Ettal Abbey.
That all sounds amazing on the face of it, but they are long, jam-packed days with limited time at each site. The more stops that are included, the less time spent at each stop.
Some tours even include stops at sites after they've closed, so you can get pictures from the outside but can't take a tour or see the interiors.
It's up to you if that's worth it. For us, it's not worth the extra stop if we can't go inside.
Here are a couple options, but please note we have not personally taken these tours.
---

---
10 Quick Tips for Visiting Neuschwanstein Castle
Rules change frequently due to the pandemic. Check the website frequently in the days coming up to your trip to ensure you have all the proper paperwork and mask type to get in.
All tours are guided. There are no self-guided tours inside the castles.
No photography allowed inside the castles.
No big bags allowed inside.
Tours are quick, just 30 minutes.
Ongoing renovations anticipated until 2023: expect scaffolding inside and out, but all the regular rooms are still open for tours.
Give yourself plenty of time if you're walking up the mountainside to Neuschwanstein. You'll want to stop for pictures and to catch your breath and to get out of the way of the horse carriages.
Even if you shuttle up, you still have to walk down to the castle from the shuttle drop off.
There is a small help desk near the ticket entrance queues inside the inner courtyard.
Marienbrücke gets crowded. You'll likely have to wait in line, but it is so worth it for that epic photo!
How Will You Travel to Neuschwanstein Castle from Munich?
We've covered three options for how to get to Neuschwanstein Castle from Munich, and I bet you already picked your favorite.
Now that you've decided the best way for you to get to Neuschwanstein from Munich, get excited for your adventure!
Looking for more things to do around Munich?
More Travel Logistics Resources
Happy travels!
Share it!