How do you get from BWI to DC, or between the DC area airports? It's simple, once you know what to expect and hacks for getting around seamlessly.
Washington, DC, the capital of the United States, is so busy with the comings and goings of world leaders, politicians, and tourists that it's served by no less than three major airports.
This is actually an advantage for savvy travelers trying to find the best deal. Often, you can save hundreds of dollars on flights by flying into one airport and out of another in the DC area. Let's dig in!
---
This post may contain affiliate links. As an Amazon Associate and associate of other programs, I earn from qualifying purchases. This means if you click a link and make a purchase, I may earn a small commission at no extra cost to you.
---
Quick Answers: How to Get from BWI to DC
Are you standing in the Baltimore airport right now, trying to figure out where to go?
Here are the quick answers to get you moving in the right direction.
| | | | |
| --- | --- | --- | --- |
| | Cost | Duration to Downtown DC | Ideal for… |
| MARC train | Starting at $7/adult | 30-45 minutes | Cheapest, Fast |
| Amtrak train | Starting at $15/adult | 20-40 minutes | Fastest, Cheap |
| Shuttle bus* | Varies, starting at $75/adult | 1 hour | Less hassle: Groups, Families, Reduced mobility |
| Taxi | Starting at $90 one way | 1 hour | Flexibility, Privacy, Very late/early hour arrivals |
| Rideshare | Varies, $65-$140 one way | 1 hour | Flexibility, Privacy, Very late/early hour arrivals |
| Private Transfer* | Varies by group size | 1 hour | Privacy, Business, Large Groups |
| *May require a reservation | | | |
To get to the train station from the BWI baggage claim area, look for the signs for the free shuttle bus to the train station. Shuttles run every 10 minutes, so you won't have long to wait if you just missed one.
Pro Tip: Don't confuse the airport transfer shuttle buses with the free shuttle buses to the BWI train station. They shouldn't let you on a transfer shuttle without first confirming a reservation or requesting payment. If they're asking for payment, that is not the shuttle to the train station. When in doubt, ask the driver.
What are the DC area Airports and their Codes?
Washington, DC is served by three major airports that form a triangle around the city: Reagan to the south, Dulles to the west, and Baltimore to the northeast.
Ronald Reagan Washington National Airport, aka DCA
Washington Dulles International Airport, aka IAD
Baltimore/Washington International Thurgood Marshall Airport, aka BWI
Often, travel hackers will fly into one airport and out of another to save on flight cost.
Just be sure to take into account transit time between the airports if you're trying to catch another same day flight. (And, be sure you're going to the correct airport!)
Our first trip to Europe, we flew into DCA in the morning and out of BWI in the evening, giving us a long layover to explore Washington, DC while also saving a few hundred dollars on flights.
Where is BWI in Relation to Washington, DC?
BWI airport is about an hour's drive northeast of Washington, DC, but that's highly dependent on traffic.
It's often faster to hop a MARC train to Union Station in downtown DC and take the DC metro or a cab to your final DC destination from there.
Transportation Options from BWI to Washington, DC
There's no lack of options for transportation between BWI airport and Washington, DC.
This high-density urban area has commuter trains, national trains, a subway system, buses, and dedicated airport shuttles as well as taxis, rideshares, and private vehicle transfers.
Below we've listed them all in our order of preference, with pros, cons, and an approximate cost noted for each.
1. MARC train (cheapest)
The MARC (Maryland Area Regional Commuter) train is fast and efficient, with a station at BWI airport.
This is our recommended way to get from BWI to DC.
Trains run every 30 minutes-ish, but check the schedule for exact times. Schedules can vary for any number of reasons.
We wish the US had more trains; we'd take them all the time if we lived somewhere that had them.
PROS: Cheapest option, usually second fastest option
CONS: Busy during commuter hours and weekends, no hotel drop off
COST: Starting at less than $10 per adult
2. Amtrak train (fastest)
Another train option that runs on the same tracks as the MARC train and uses the same station at BWI. Amtrak is the only passenger rail company to operate in almost every state in the US.
These aren't commuter/regional only trains. They're faster because they leave out the small, local stops and stick to point-to-point travel for larger cities and airports.
The Amtrak schedule fluctuates.
PROS: Quickest option with nonstop options and more availability than MARC trains
CONS: More expensive than MARC tickets, no hotel drop off
COST: Varies by time of day, starting at $15 per adult
Pro Tip: We recommend trying for a MARC train first. If you just missed one of those and don't want to wait a half hour or more, check the Amtrak schedule for any trains arriving sooner.
3. Shuttles (good for groups)
If you're traveling with a group, a shuttle bus may be your easiest option for keeping track of children, seniors, and all the luggage.
Shuttles provide a direct connection from BWI to DC at various points, like to a hotel or to another DC area airport.
This is a good option for those that'd rather not deal with switching trains in DC, but beware DC area traffic. It often can take over an hour to drive the 32 miles from BWI to DC.
Also, make sure you leave enough time beforehand if you're catching a flight.
Unless you reserved the entire shuttle, it probably has to stop at other locations to pick up more people before continuing on to the airport.
PROS: Easier for those with little kids, mobility-restricted individuals, or groups; some provide hotel drop off
CONS: DC area traffic can be awful and slow you down, more expensive than taking the train
COST: Varies widely by company and destination; BWI to DCA airport transfer is around $130 for 3 people with Go Shuttle.
4. Taxi/Rideshare (flexibility and privacy)
The OG transportation to an airport: get a taxi. In our day and age, though, this also includes rideshares like Uber or Lyft.
These options provide direct transfers with maximum flexibility; they can drop you off almost anywhere.
They also have a bit of privacy, if you need to keep working in the back on the drive to/from BWI.
PROS: Most flexible for drop-off location; more private than public transport
CONS: Can get pricey, sometimes cheaper than shuttles but often more expensive; subject to DC traffic
COST: Taxis are about $90 one-way from BWI to DC. Rideshares fluctuate with demand, but Uber reports an average ride from BWI to DC is between $65 and $140 one-way.
5. Private Transfer (best for groups and privacy)
Sometimes, paying a premium for hassle-free transportation is just worth it. We've all been there.
Private transfers are most often used by business travelers, still trying to close the deal or impress a client on the way to or from the airport.
But these are also super convenient when traveling with big groups or several rambunctious kids. Think Home Alone-style family trip. Exactly.
PROS: Privacy, least stressful (assuming you have enough time to get through traffic)
CONS: Most expensive option, at the whim of DC traffic
COST: Varies widely (Think, a private sedan for 2 adults vs. a 16 passenger van for a family group)
---
---
Using DC Metro Once You Get to Union Station from BWI
If you took the train in to DC and you've arrived in Union Station, maybe you're thinking, "Now what?"
You're probably only part of the way to your final destination, either a hotel in the city or to DCA or IAD airports.
We recommend you purchase a one-way ticket (or a multi-day pass, if you're in DC for a few days) and transfer to a DC Metro train.
The DC Metro is easy to navigate and allows luggage.
>> If you're transferring to DCA, take the red line (Shady Grove direction) to the Metro Center stop, transfer to the blue line (Franconia-Springfield direction), and get off at the DCA stop.
This usually takes around 30 minutes.
>> If you're transferring to IAD, take the red line (Shady Grove direction) to the Metro Center stop, transfer to the silver line (Ashburn direction), and get off at the IAD stop.
This trip usually takes about 1.25 hours. Driving would be faster but certainly not cheaper.
However, it's important to consider when you'll be using the metro.
Commuter hours combined with the huge influx of visitors in the warmer months creates some seriously packed-full trains. If you're dragging big bags, it might take you a few trains to find space to board.
It may be less hassle to pay more for a taxi or rideshare, in that case. If that's you, follow Union Station's signs for rideshare/taxi pick up points.
Also, if you're arriving very early or late, it's often safer and easier to use a rideshare/taxi.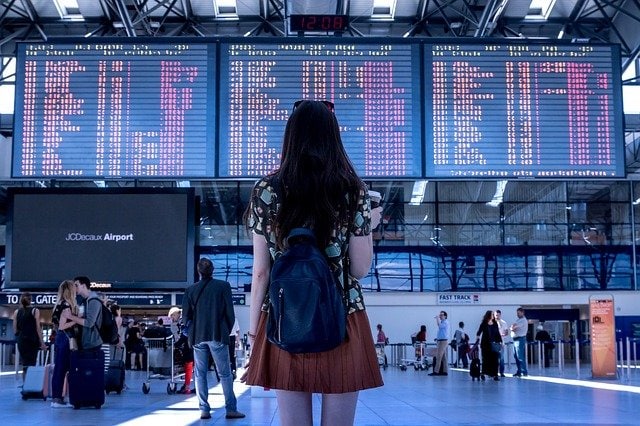 Luggage Storage in DC
Luggage storage is slowly making its comeback in the United States.
For those that are doing a long layover in DC and switching between airports, a reputable luggage storage service is worth its weight in gold.
Washington, DC hosts so many international visitors that some hotels, but not all, will hold your luggage pre-check in or post-check out.
Other options include:
finding a public locker at a train station or airport (good luck with that if you have a big bag)
using Amtrak's temporary bag storage
using a luggage storage app, like LuggageHero or Vertoe, to find a random local shop near you that will store your bags while you run around town
The apps have cheaper rates, but make sure you read that fine print. Most include insurance for your bag, but the fine print may note that the insurance won't cover jewelry or electronics.
The apps also use certified local shops to store your luggage, not a dedicated storefront of their own, meaning it might be a burrito shop or a deli that's putting your bags behind the counter or in a back closet.
More power to them for diversifying their income streams! Just be sure to read reviews and make sure you're comfortable leaving your bags.
At DC's Union Station, Amtrak has a temporary luggage storage service that's easy to use and gives you peace of mind because you see the storage room where your bags will stay with a monitor right outside the door.
We've used the Amtrak luggage storage service on a long layover before, and it was a life saver!
We were able to explore the many free museums and monuments along the National Mall while our luggage was safely secured and out of the way.
Transportation between DC Airports and the City: FAQs
>> Does the DC Area Metro run to BWI airport?
No. Amtrak and the MARC train (Maryland Area Regional Commuter) connect Baltimore's BWI airport with downtown Washington, DC. Ride Amtrak or MARC to Union Station in DC and transfer to the DC Metro there.
>> Which Transportation is Cheapest to get from BWI to DC?
The MARC train is cheapest to get from BWI to DC, starting at $7 per adult.
>> Which is Fastest to get from BWI to DC?
The Amtrak train is the fastest option between BWI airport and Washington, DC. It has fewer stops than the MARC train.
>> What's Best for Families or Groups to get from BWI to DC?
This depends largely on your group size and mobility needs. Trains are always faster and cheaper, but shuttles or private transfers may be a less stressful way for families or groups to travel.
>> What's Easiest to get from BWI to DC with Luggage?
Taxi, rideshare, or private transfer is easiest to get from BWI to DC if you have multiple bags per person or large luggage.
You can take luggage on both Amtrak and MARC trains, but keep in mind you have to get it on and off the train yourself.
We've done it with one medium suitcase and a backpack each, but it is a hassle if the train is packed during commuter hours.
---
---
Getting from BWI to DC is Simple & Quick When You Know What to Expect!
Now that you know what to expect, you can easily and quickly travel from BWI to Washington, DC or one of its other airports!
We've used the DC airport hack to save hundreds on flights and now you can, too!
More Resources for Travel in and near Washington, DC
More Travel Logistics Resources
Happy travels!
Share it!