St John is the US Virgin Islands' peaceful, natural gem, and that's partially due to its isolation. Two thirds of the island is protected by Virgin Islands National Park, and the island doesn't have an airport. So, how do you make your home here for a week on vacation? How do you get to St John?
The punchline: basically everyone arrives via the St Thomas to St John ferry. But getting to the ferry from the airport isn't exactly what you'd expect. Been there. Here are step-by-step directions and tips for what to expect so you can avoid surprises on your way to St John, USVI!
---
This post may contain affiliate links. As an Amazon Associate and associate of other programs, I earn from qualifying purchases. This means if you click a link and make a purchase, I may earn a small commission at no extra cost to you.
---
How to Get to St John, US Virgin Islands
St John is the smallest island of the three that comprise the US Virgin Islands, one of the United States' two Caribbean gems. (The other being Puerto Rico.)
Picking which US Virgin Island to visit is the hardest part of planning a trip to the USVI, and St John is an excellent choice.
Gorgeous green tropical forests. Aqua blue waters. White sand beaches. The island of St John is two-thirds protected national park, undeveloped and pristine.
Some of the best beaches and snorkeling in the entire world! St John really is a tropical paradise.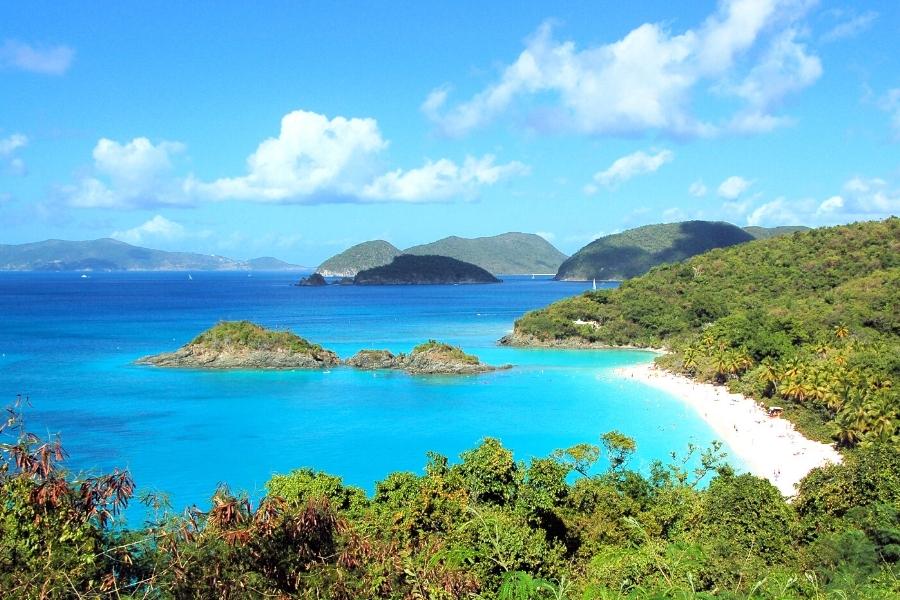 All that beauty and secluded bliss comes with a very small catch.
St John does not have an airport.
The closest airport is on nearby St Thomas in the USVI capital city of Charlotte Amalie. And then, the ferry dock to get to St John is on the other side of St Thomas from the airport.
But don't worry. It's easy when you know how to do it and what to expect. St John is absolutely worth it!
---

---
Warning: Don't Confuse St John, USVI with St John's, Antigua
A point of clarification before we go any further:
St John is an island in the US Virgin Islands.
St John's is the capital city of Antigua and Barbuda, a different Caribbean nation in the Lesser Antilles.
That -'s makes a big difference! Don't book a flight to VC Bird International Airport (code ANU); otherwise, you're on your way to Antigua by mistake!
Another one to watch out for: St John's International Airport (code YYT) is in Canada. If you booked a flight to YYT then you are in for a very different type of vacation!
So which airport should you fly into?
How to Get to St John from St Thomas: You've got options, but they all involve a boat
Getting to St John from St Thomas is actually straightforward.
Fly into the US Virgin Islands via the St Thomas airport.
Transfer to the other end of the island to the Red Hook Ferry Terminal.
Ferry across to St John.
That's it. Not hard.
Fly into St Thomas
Everyone will first fly into Charlotte Amalie, St Thomas to get to St John.
Charlotte Amalie's Cyril King International Airport (airport code STT) is on the west side of St Thomas.
US citizens will sail through security and customs pretty easily since they don't need a passport to enter the USVI. A driver's license is sufficient identification.
>> But it's not a bad idea to bring your passport in case you want to day trip over to the British Virgin Islands. Read more useful Tips for Visiting the USVI here! <<
After the Airport: Getting from St Thomas to St John
Once you've landed on St Thomas, you've got options for how to get the rest of the way to St John.
Taxi to Red Hook, Ferry to St John
Private Transfer to Red Hook, Ferry to St John
Water Taxi Private Transfer
Rental Car from STT, drive to Red Hook, Car Barge to St John
Alternative Option: Charlotte Amalie to Cruz Bay Ferry
You'll notice, every option involves getting on a boat. I know that makes some of you cringe.
The good news is the ferry ride from Red Hook to Cruz Bay is short and calm.
The bad news is its pretty much unavoidable. Take some Dramamine as soon as your airplane lands so it has time to kick in before the ferry ride and rest for a bit when you get to your hotel on St John.
Now let's discuss airport transfer and ferry options in a little more detail so you can choose the right one for you and your group's traveling style.
Cheapest Way to Get to St John: Taxi to Red Hook and Ferry to St John
The cheapest option to get to St John from STT airport is to taxi over to Red Hook and take the pedestrian ferry to Cruz Bay, St John.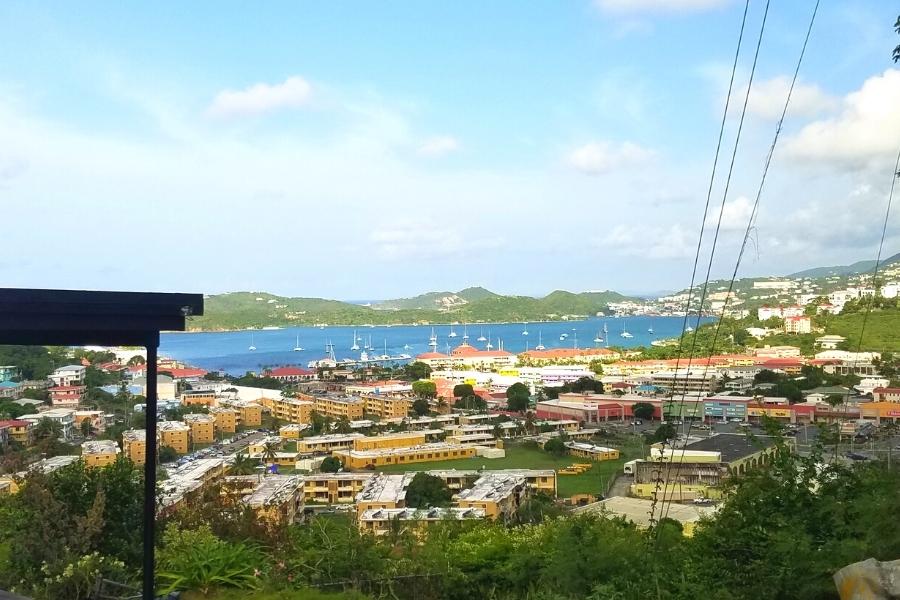 Taxi to Red Hook Ferry Terminal
An important fact to keep in mind: taxis are not private on St Thomas. They don't take just one group at a time.
Exiting the airport after picking up your luggage, an attendant will ask where you're going and direct you to a specific taxi. The taxis are large, red, multi-passenger vans with three rows and the front passenger seat, and they fill them up with multiple groups.
You will spend the next 35 minutes, depending on traffic, either making some new friends or politely ignoring whoever you're sitting next to. Pray that the AC is working.
Pro Tip: Bring cash. The taxi ride from STT to Red Hook is $20 per person, and they don't take credit cards.
Some taxi drivers, but not all, like to narrate the drive. They'll provide a mini-guided tour of sorts, as you pass through Charlotte Amalie and over the hilly terrain of the island interior on the way to Red Hook.
There are occasional good views as the taxi slowly climbs those hills. But don't be surprised if a local passes your taxi in a curve.
If you prefer, book a private transfer to the Red Hook Ferry Terminal. More details on that below.
Take the St Thomas to St John Ferry
Taxis will drop off at the entrance to the Red Hook ferry dock. Everyone jumps out, the driver unpacks the luggage from the back, and you pay him as you retrieve your luggage.
Forgot cash? There's an ATM inside the building.
For the ferry, buy tickets online ahead for peace of mind, and to save your cash. Tickets at the counter are cash only.
Each piece of luggage requires its own ticket unless you can hold it on your lap. Backpacks and duffle bags are fine, but there's a good chance they won't let you hold your rolling carry-on size suitcase in your lap.
There are two companies that operate ferries: Varlack Ventures and Transportation Services, Inc.
Book online at either company's website or through the St John Ticketing site. It's the same $12 roundtrip price per adult on all three websites (as of the time of writing).
Ferries run often so jump in line as soon as you get there.
The frequent time slots are another reason this is such an attractive transfer option. If you miss your time slot, it's not a long wait for the next ferry.
The first ones on the ferry will be some of the last to get their luggage back upon arrival in Cruz Bay. But if you're the last one on the ferry, you will have limited seating options. It's not a big deal either way; just something to consider.
Enjoy the views up top on your 20 minute ferry ride over to Cruz Bay, St John. Have your sunglasses and camera ready! There is a lower enclosed deck for inclement weather or those that prefer to sit in the shade.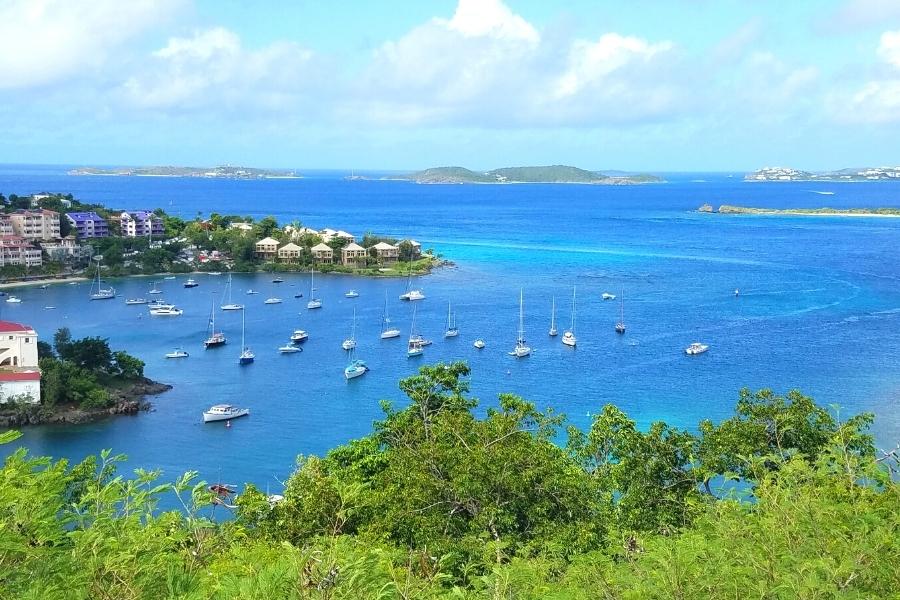 Private Airport Transfers from STT to Red Hook: Paying for Convenience
Some of us are not social travelers. The idea of sharing a taxi and having to sit in such close proximity to strangers is anxiety-inducing.
Maybe a private airport transfer is more your speed. Note that these are (usually) not faster than taking a taxi. You're paying for the convenience of a private ride.
Some companies also allow a stop at a grocery store on the way over to Red Hook. Just keep in mind, that's another bag to hold in your lap on the ferry.
---
---
Private Water Taxis from St Thomas to St John: Pricey but Private
Looking for a private transfer the entire way from the St Thomas airport to St John? A water taxi is your best bet, but it will cost you.
Reservations prior to landing in St Thomas are required. Book before you leave home.
Some companies include a private car transfer from the airport to the Red Hook dock as well as the private water taxi from Red Hook to Cruz Bay, St John.
Others don't.
Check with each company before you pay to make sure you know what you're getting. Here are two of the most popular water taxis to St John from St Thomas.
Looking for Dohm's? Sadly, they went out of business after Hurricanes Maria and Irma devastated the islands in 2017.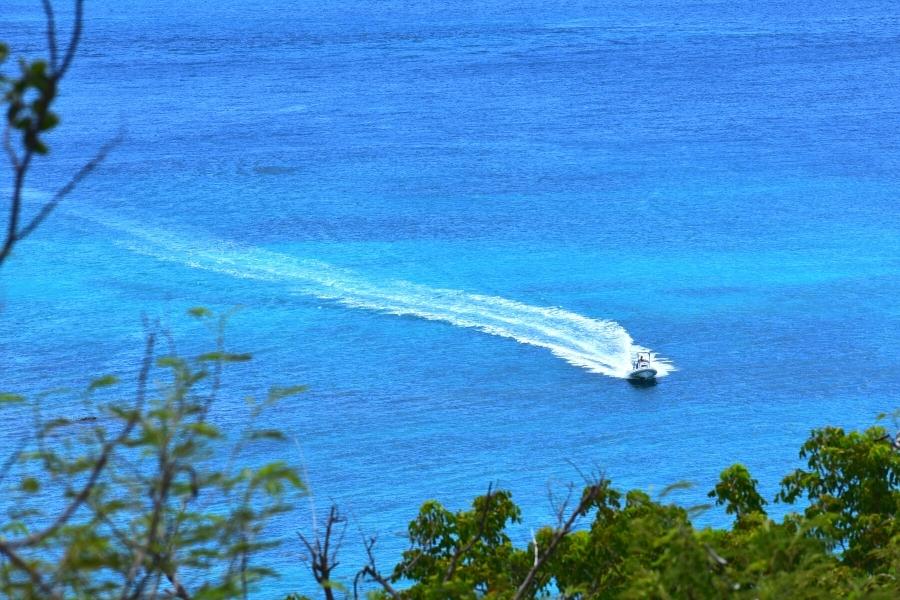 How to Get a Rental Car from St Thomas to St John
Normally, I don't recommend renting a car from St Thomas and ferrying it over to St John. This only makes sense if you are intending to spend a few days on St John and then a few days on St Thomas.
If you're spending an entire vacation on St John, it's just easier and cheaper to transfer to St John on foot and then rent a car from a St John company right there in Cruz Bay.
If you're day tripping to St John then you don't need a rental car at all. Use taxis instead.
However, the pandemic has made rental car inventory scarce. Availability on St John is even tighter than on St Thomas. So, renting a car from St Thomas and ferrying it over to St John may be your only option during these lean times.
Do your research and make sure that's the case before spending the extra money to ferry a rental car to St John.
Book a rental car several months before your trip, especially if your trip is during peak season.
Boarding the Red Hook Car Ferry
The car barges to St John also leave from Red Hook. Pick up your rental car at the STT airport and drive to Red Hook. Check in at the gate at the Red Hook Ferry Terminal, and they'll direct you where to go for the car ferry.
Recommend reserving ferry tickets online before your trip. The car ferries take a while to load and unload, and they don't offer as many time slots as the pedestrian ferry.
When reserving your ferry time slot, remember to give yourself time to disembark the plane, collect luggage, check in at the rental car desk, and then drive from Charlotte Amalie to Red Hook.
Don't reserve a time slot 30 minutes after your airplane lands in STT. You won't make it.
Keep an eye on the time. It takes about 35 minutes to drive to Red Hook from Charlotte Amalie, and you must arrive at the car ferry 30 minutes before your scheduled ticket time.
If you don't, you'll be bumped to the next ferry, if there's space. There's usually a bit of a buffer for this, but per the ticket terms they don't have to be understanding and let you through.
St John Car Ferry Companies
There are two companies operating car ferries to St John. They use the same schedule and charge the same fee: roundtrip $50 per car.
Note that the car ferries land on St John at the Enighed Bay Moorehead Marine Facility, NOT in Cruz Bay like the pedestrian ferries and water taxis.
This is only 3 minutes south of Cruz Bay, not a big deal, but it does confuse A LOT of people.
Uninformed visitors have missed the car ferry back to St Thomas because they drove to Cruz Bay instead of to Enighed Bay.
Pro Tip: If you need groceries to stock up your AirBnb's fridge, stop in St Thomas for groceries before ferrying over to St John. St Thomas has more grocery stores and better selection than the smaller shops on St John.
Limited Alternative: Charlotte Amalie to Cruz Bay Ferry
**NOTE: These haven't been running for most of the pandemic.**
It is possible to catch a ferry from Charlotte Amalie to Cruz Bay. These are slightly more expensive, but they are also pretty scenic! You get an excellent view of the St Thomas coastline as you sail for Cruz Bay.
The catch: there are limited time slots. This ferry only stops at St Thomas three times a day: 10AM, 1PM, and 5:30PM. Transit time to St John is about 45 minutes.
Don't forget: you'll still have to catch a taxi from the airport to the Charlotte Amalie dock.
Because of the seriously limited time slots, this is not a very flexible option and not recommended unless you KNOW you will make it.
---

---
Now that you arrived on St John, where do you go from here?
Congratulations! You've successfully navigated your way to St John!
>> If you're on foot, you're in Cruz Bay and your next step is to get to your lodgings/hotel.
There are a few ways to get around St John, all of which are discussed in more detail here: St John Transportation Guide: How to Easily Get Around Without a Car
>> If you brought a rental car over on the car ferry, you're in the Enighed Bay area just south of Cruz Bay and can head for your accommodations right away.
It's highly recommended to have maps downloaded offline. There aren't a lot of roads on St John, but cell service is weak and you can still get lost.
If you haven't already, check out these amazingly helpful tips for visiting the US Virgin Islands. It covers everything from required documents to driving to local customs.
More Helpful St John Resources:
More Travel Logistics Resources
Happy travels!
Share it!