There're so many fun things to do in Helen, Georgia, no matter if you're traveling as a couple, a family, or on a friends weekend away. This cute mountain town reinvented itself in the 1960s and is now known across the region for its authentic German cuisine and aesthetic!
Of course, it's also smack in the middle of the North Georgia mountains and perfect as home base while exploring the area's hikes and waterfalls. Whether you're here to eat or hike or both, there are plenty of fun things to do in Helen, GA!
---
This post may contain affiliate links. As an Amazon Associate and associate of other programs, I earn from qualifying purchases. This means if you click a link and make a purchase, I may earn a small commission at no extra cost to you.
---
Why Visit Helen, GA?
Helen, GA is one of those regional towns that flies under the radar for national attention but practically everyone in the region knows about it and has visited at some point.
It's a small town that'll blow you away with its hospitality and dedication to its theme.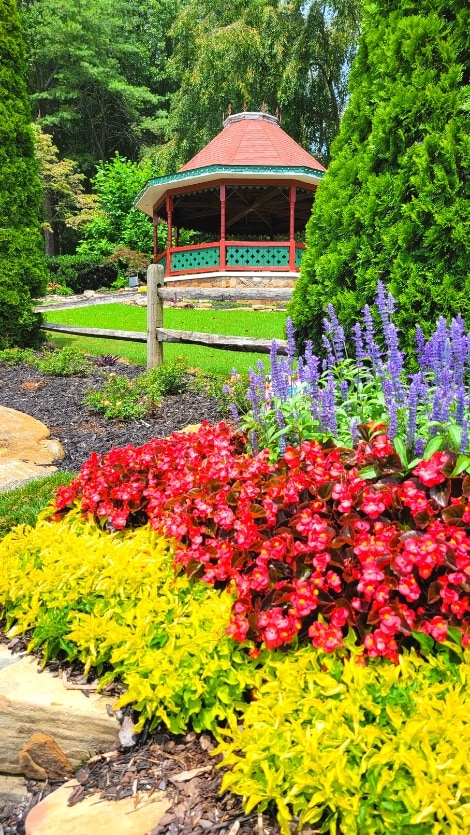 Beautiful Helen, however, has not always been so beautiful.
It was beautiful forested mountains before gold miners and commercial logging companies came to town in the 1800s.
The gold rush didn't last long, but the logging companies cut down basically every tree on every mountain in the North Georgia mountains.
For a while, Helen was sustained by this business as a company town.
But once all the good trees were depleted, the logging companies left, abandoning the town and its people.
Fortunately, the US Forest Service stepped in and bought up most of the unwanted land in the early 1900s.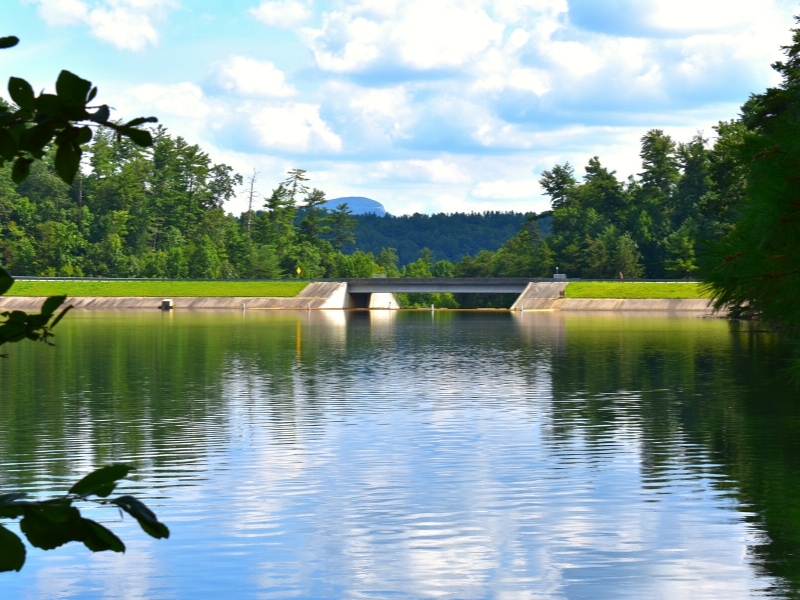 In 1936, much of the area around Helen was declared Chattahoochee National Forest and gave the decimated forests a chance to regrow and regain their former glory.
Today, that's what you see: gorgeous forests everywhere.
Helen sits in the middle of this greenery, a successful reincarnation itself.
The city council decided to go all-in on the "German alpine tourist town" style, and it worked! Visitors came to see the buildings, eat the food, and revel in Oktoberfest.
It's been a successful small town ever since, hosting the country's longest running Oktoberfest festival.
Visiting Helen is worth it if you're looking for good food, fun shops, and plenty of outdoor activities in a beautiful setting.
3 Useful Tips for Visiting Helen, GA
Depending on what time of year you visit Helen, it can be a madhouse.
This cute North Georgia mountain town isn't on a major highway, so traffic into town can back up for miles on busy weekends in peak season.
Fall is especially popular, particularly around Oktoberfest in September and October.
The masses of people clogging the streets, restaurants, and hotels can be overwhelming for the uninitiated.
Here are our top 3 tips for visiting Helen, GA and saving your sanity in the process.
Pack your patience. A lot of people on small roads and not a lot of parking downtown.
Sunday morning (on a non-peak weekend) is the time to get your pictures of downtown without people in them.
Hotels that are walkable to town are ideal so you can leave your car at the hotel lot.
With those tips in mind, let's dive in to what to do in Helen!
---
---
21 Fun Things to Do in Helen, GA
1. Eat All the German Food.
THIS is the number one reason to visit Helen, GA, in our food-driven opinion.
This little alpine town had no prior connection or claim as a "German" town, but it reinvented itself in the 1960s and, buddy, they committed to their new aesthetic. It worked!
The restaurants serve authentic German food, many of them flying in ingredients and beers from Germany.
Of course, there are a few places/dishes that are American imitations, but we were pleasantly surprised to find that most were the real deal.
We've been to Germany, and we can vouch. The käse spätzle and apfel strudel taste just as good in Helen as they did in Munich!
Here are some of our favorite restaurants in Helen:
Restaurants
The Heidelberg, for sausages
King Ludwig's Biergarten, for the biergarten experience
Bodensee Restaurant, for spätzle!
Hofbrauhaus, for the outdoor patio by the river
Desserts
Hofer's of Helen, tortes and cakes and pastries
Hansel & Gretel Candy Kitchen, candy and fudge and caramel apples (2 locations)
Kopper's Kettle Fudge Shop, fudge
Stores
Betty's Country Store. We stopped here nearly every day for craft sodas, snacks, and made to order breakfast sandwiches.
Chattahoochee Cheese Market, for creating your own charcuterie to go
Fred's Famous Peanuts. Don't let this roadside stop deceive you. I'm told the boiled peanuts are amazing, although I don't eat them myself, but more than a few people have gushed about them.
2. Tube the Chattahoochee River
"Shoot the Hooch" yourself, or just watch from the bridge or riverfront restaurant in town as hundreds of waders float by on their colorful inflatable tubes.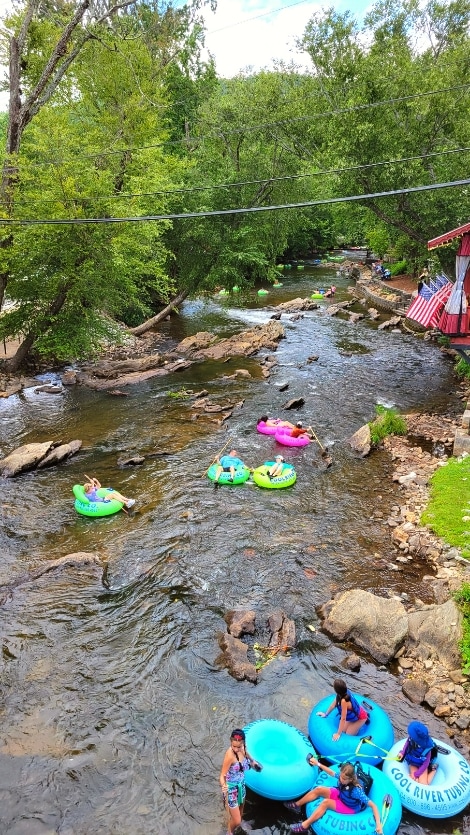 Helen Tubing with the pink tubes and Cool River Tubing with the green tubes are the two companies with rights to float the river.
Pricing is about the same, so it just depends on who has more availability. The adventure is the same no matter which you pick.
3. Helen Tubing and Water Park
How about a waterpark to cool off? The Helen Water Park is perfect for spending the day in the water, rather than just an hour or two floating down the river.
Enjoy waterslides, a children's splash area, and a lazy river with on-site food and drinks, changing rooms, and lockers.
This is the same company that runs the pink tubes on the river.
Tickets for tubing and the water park are separate. Purchasing one doesn't get you into the other.
4. Experience Oktoberfest
The biggest event in any German town, even pseudo-German towns, is Oktoberfest!
Contrary to popular belief, there are things to do besides drinking during Oktoberfest, and kids are welcome to join in the festivities.
Dressing up in traditional German attire and eating traditional German cuisine are both big components of the festival.
Good to Know: Oktoberfest actually starts the second weekend in September and ends just before Halloween in October.
Don't miss the parade on opening weekend and the tapping of the first keg shortly thereafter. German polka bands play live every weekend, and the festival is FREE to enter on Sundays.
Just be prepared for crowds. The tiny two-lane roads leading into town will back up for miles, and then you have to find a place to park once you arrive.
5. Shop Main Street
The tiny village of Helen caters to the two things tourists want to do most: eating and shopping.
The biggest concentration of shops is west of the river in downtown Helen, but you'll find shops tucked all over. Note that some shops are only open seasonally.
The Christmas Shoppe, for example, closes for the slow season from January through May.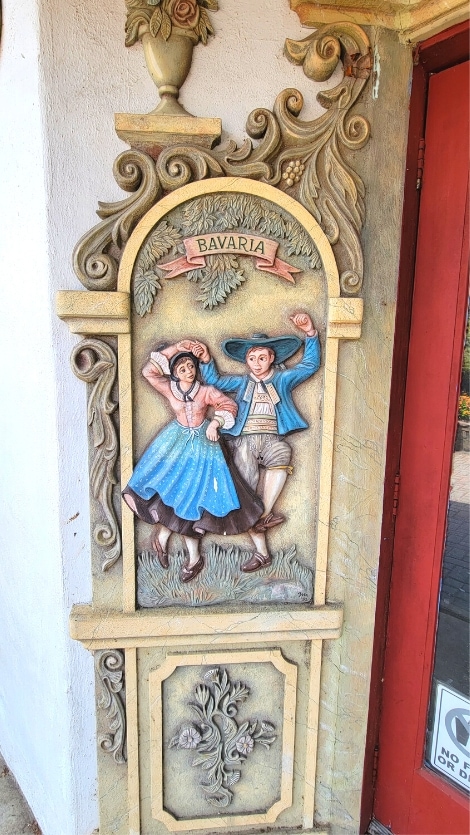 There are plenty of tourist souvenir stores, too, to get your hands on a Helen, GA t-shirt, sweater, magnet, or shot glass.
Everything from toy stores to direct German imported wooden cuckoo clocks from the Black Forest can be found in the dozens of little shops on Helen's Main Street.
It's amazing what you can find for such a small place.
6. Georgia Mountain Coaster
Ever heard of a mountain luge coaster? They're pretty popular in Europe. That's what this is!
It's a single track, open car, gravity-powered alpine coaster with a manual hand brake so you can fly down the mountainside as fast (or as slow) as you'd like.
It's located right on the main strip in town, so it's easy to walk to once you've found a place to park in Helen.
Be warned that lines get long, but the alpine coaster stays open into the evenings.
There's also age and weight limits to familiarize yourself with before you get in line.
It depends if you're a single rider or two, as drivers have to be taller than riders, and you have to be at least 16 years old to drive. Weight limits depend on whether the track is dry or wet.
7. Go Ziplining
Cruise through the trees on a ziplining adventure in the woods!
Cool River Adventures and Nacoochee Adventures are the two big operations near town, and both recommend advanced reservations.
Each has several different zipline packages to choose from, as well as combo packages if you want to try everything on offer.
Check out both before you pick one.
You could spend as little as an hour or as much as a full day ziplining and navigating aerial obstacle courses and other adventures.
8. Chase Waterfalls
Besides the German food, chasing waterfalls is one of the most popular things to do near Helen.
There are plenty of them to choose from, too, depending how far you want to drive and/or hike.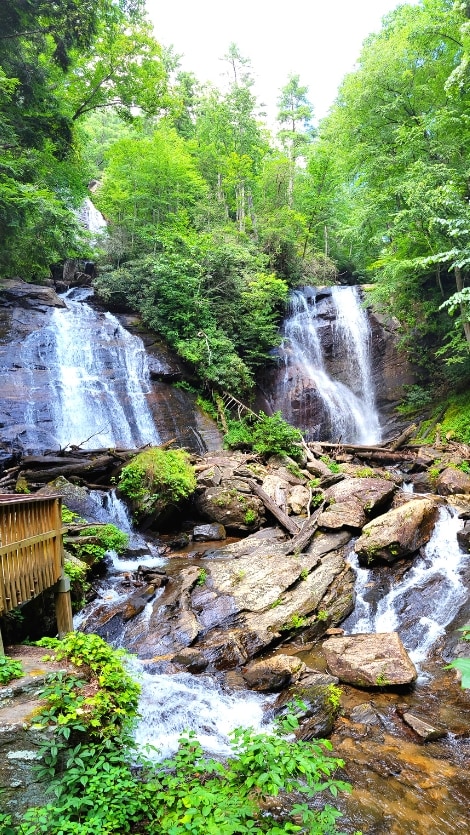 Some of our favorite nearby waterfall hikes are:
Alana Falls, view from the sidewalk, in Unicoi Hill Park in downtown Helen
Anna Ruby Falls, 1mi roundtrip hike, drive through Unicoi State Park and into a National Recreation Area
Duke's Creek Falls, 2mi roundtrip hike in Chattahoochee National Forest
Raven Cliffs Falls, 4mi roundtrip hike in Chattahoochee National Forest
Keep in mind that 3 of the 4 waterfalls listed above require a day-use fee, unless you have an America the Beautiful Annual Pass.
9. Go for a Hike
Another obvious thing to do in Helen, in the middle of the North Georgia mountains, is to go for a hike.
The area is surrounded by opportunities for moderate hikes that yield fantastic views.
A few of the most popular hikes and places to hike near Helen, include:
Yonah Mountain Trail
Unicoi State Park
Smithgall Woods State Park
You can even hike from the middle of Helen, up through Unicoi State Park, and reach Anna Ruby Falls.
Unless you like nature's Stairmaster and hiking uphill, we suggest you find a ride up to the Falls parking lot and hike downhill back to town instead.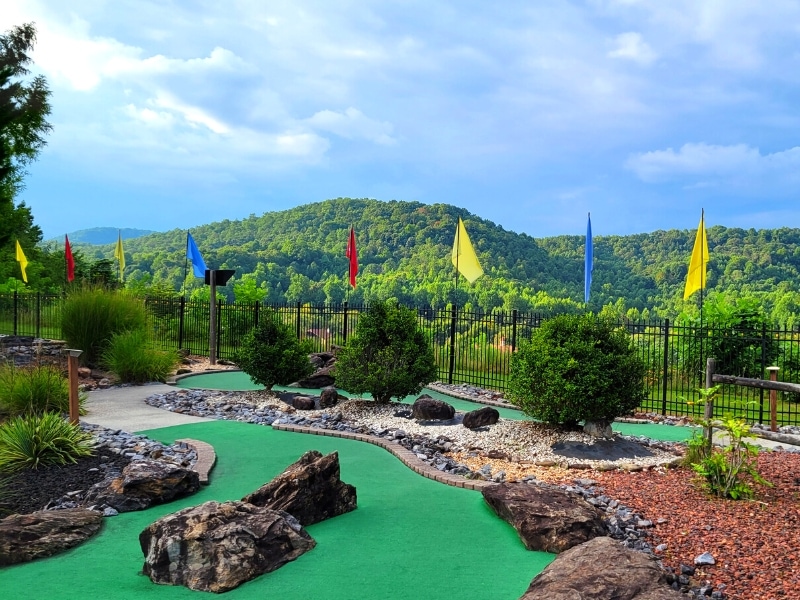 10. Enjoy some Mini Golf!
There are 3 miniature golf establishments in Helen, and each one has its own merits.
We are semi-professional putt-putters, in our humble opinion, and always make a point to try out mini golf places when we stumble upon them.
Pirates Cove Mini Golf. Our favorite! Shaded, fun theme, and no repetitive holes.
Bavarian Mountain Mini Golf. Maddeningly frustrating but 2 courses to choose from.
Alpine Mini Golf. Some impossible shots here, but enjoy the ice cream afterwards.
11. Tour Hardman Farm State Historic Site
Named for a former Georgia governor, Hardman Farm State Historic Site preserves a corner of the valley as it looked during its original settlement days.
The farm, dairy, house, heritage trail, a portion of Old Unicoi Turnpike, and the Sautee Nacoochee Indian Mound are all maintained by the state park.
Before it was known as Hardman Farm, Captain James Nichols lived here, including his now-famous daughter, Anna Ruby.
OK, Anna Ruby isn't necessarily famous herself, but the nearby waterfalls her father named after her sure are.
Take a guided tour of the Hardman home which features artifacts and furniture from all three previous owners of the property.
You can also browse the property at your own pace, if you prefer, but you cannot go inside the house without a guide.
12. See the Sautee Nacoochee Indian Mound
There's a legend that this mound is the burial site of two star-crossed Native American lovers from warring tribes who chose death rather than to be separated.
Very Romeo and Juliet-esque.
The trouble is, this same legend is very popular across the Appalachian Mountains. Ever heard of The Blowing Rock in North Carolina?
Basically, the same legend.
This is a quick stop on the side of the road for a picture and to read an informational plaque.
You can't actually walk up to the mound because it's on private land, but also you shouldn't walk on top of a burial mound in the first place.
The gazebo on top of the mound was built in the mid-1800s by the then-owner of the farm, hopefully before they understood that this was a burial mound. It's not used for events.
In 1915, the Smithsonian Institute performed an archaeological dig and discovered 75 bodies in the mound from a group predating the Cherokee tribe's time in the area.
For more information about this site, stop by Hardman Farms State Historic Site.
13. Habersham Vineyards & Winery
If you're more of a wine drinker than beer drinker, head 5 minutes east of Helen to the Habersham Winery for a tasting!
Tastings don't require a reservation, but it can't hurt to call ahead if you have a big group.
Try up to 5 flights and purchase a bottle or two to take home or back to your cabin in Helen!
14. Nora Mill Granary & General Store
The Nora Mill Granary is a still-operational gristmill on the Chattahoochee River, just east of Helen on the side of the main road.
It's been operating since 1876 and still produces all sorts of tasty meals for the country cooking-loving person in your life.
The attached General Store sells everything they make as well as other local foods. Get your hands on some real Georgia grits, biscuit mixes, or flour.
15. Nacoochee Village Antique Mall
Housed in a historic home across the road from the Nora Mill Granary is the Nacoochee Village Antique Mall.
It may look like just an oversized house on the outside, but it's 7,000sft of nostalgic items on the inside.
Careful! You could lose half a day wandering around this place and marveling at all the treasures of the past that are novelties today.
For a good time, bring your favorite senior citizen and see how many times they gleefully exclaim, "I remember those!"
16. Brasstown Bald & the Russell-Brasstown Scenic Byway
Generally, one takes this scenic byway specifically to get to Brasstown Bald. A bald is a terrain term for a rocky outcropping atop a mountain.
It's no Blue Ridge Parkway, but it's still gorgeous in the fall.
The rest of the year the byway passes through some beautiful scenery on the way to Brasstown Bald, but it's not significantly different from the scenery you'd see on any other roadway out here in the mountains.
Brasstown Bald, however, happens to be the highest point in Georgia and has some stellar views.
It's a bit of a drive from Helen, though, so be prepared to dedicate a half day to this adventure, at least.
17. Old Sautee Store
The Old Sautee Store on the eastern edge of town is one of the best places to eat in Helen.
It's part deli, part museum, part café, serving tasty breakfast and lunch sandwiches using the same delicious bread and cheeses sold in the store.
Worth a stop on your first day, in case you need to come back for seconds!
18. Christmas in Helen
Visit between November and January and be treated to Helen all dressed up for the Christmas season!
The European Christmas markets are legendary tourist attractions, and Helen does a good imitation.
See the streets and village lit up every night, strolling through a winter wonderland.
Occasionally, north Georgia even gets snow!
19. Support the Helen Arts & Heritage Center
In the middle of town, up on a hill, is the non-profit Helen Arts and Heritage Center. It's part art gallery, part history museum, and even part pottery studio.
It's only open weekend afternoons, but it's worth a stop in to support the locals and learn a bit more about Helen.
Or, get involved and take a class while you're in town! Pottery classes are a fun and unique thing to do in Helen with friends or your partner.
20. Sautee Nacoochee Center
The Sautee Nacoochee Center supports local arts, culture, and history of the Sautee and Nacoochee Valleys.
The center is about a 10 minute drive east of Helen, in Sautee Nacoochee (the town).
It maintains several museums and historic sites, hosts local musicians and theatrical performances, and holds a wide variety of community classes throughout the year.
Want to make your own face jug or learn how to work with leather? How about take a martial arts or yoga class? All have been offered at the SNC campus.
21. Flashback to the 80s at Babyland General Hospital
Do you remember the cabbage patch kids craze in the 80s?
Then Babyland General Hospital in nearby Cleveland, GA might be a fun stop for you!
See where every cabbage patch kid doll is "born" and learn all about the history of the cabbage patch kids.
Personally, I was stunned they still exist.
We haven't been to this spot ourselves yet, but if you were ever super attached to your cabbage patch kid, then maybe you'll make a bee line here.
---
---
Find Your New Favorite Things to Do in Helen, GA
From exploring the North Georgia mountains and waterfalls to indulging in delicious German food and drink, this charming alpine village has it all.
Whether you're looking for adventure, relaxation, or a bit of both, Helen's unique atmosphere is sure to make your visit a memorable one.
Our favorite things to do in Helen are to eat our way through town and then to hike off the calories. What's your favorite thing to do in Helen?
More Helpful Resources for the Southeast
Happy travels!
Share it!