Driving Blue Ridge Parkway through the mountains of North Carolina and Virginia is one of the Southeast USA's best experiences.
There's a reason it's called "America's Favorite Drive."
This epic parkway is so much more than just a connector road between two national parks. It's a national park site in its own right, with the magnificent landscapes to prove it.
But because of its treasured status as a national park service asset, this popular road trip isn't like other routes.
There are things you need to know before you go so you can be prepared. Let's look at what to expect while driving Blue Ridge Parkway!
---
This post may contain affiliate links. As an Amazon Associate and associate of other programs, I earn from qualifying purchases. This means if you click a link and make a purchase, I may earn a small commission at no extra cost to you.
---
Where is Blue Ridge Parkway?
Blue Ridge Parkway is 469 miles of continuous paved roadway that connects Shenandoah National Park in Virginia to Great Smoky Mountains National Park in North Carolina.
The two largest cities near the parkway are Roanoke, VA and Asheville, NC. Both are good home bases for exploring the parkway.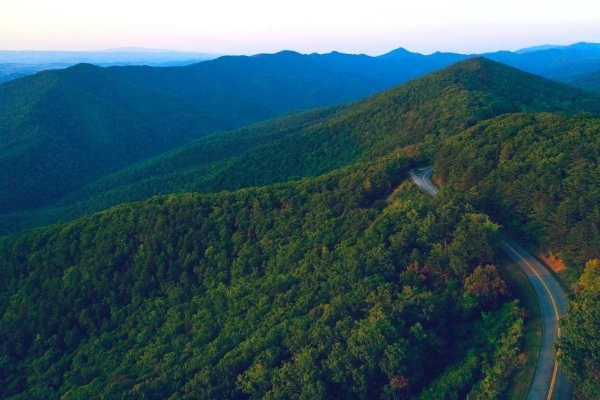 Charlottesville, VA isn't far from the northern end of the parkway and makes for a good begin or end point.
Several smaller towns that are popular stops on a Blue Ridge Parkway road trip include:
Buchanan, VA
Galax, VA
Boone, NC
Linville Falls, NC
Cherokee, NC
---
Prefer the video? Here's 5 of our top need-to-know tips before driving Blue Ridge Parkway!
---
Blue Ridge Parkway: A Park Built with a Purpose
Blue Ridge Parkway was planned and built to be a "linear park", unlike most other national park sites which protect environments first and tend to add infrastructure later.
In the 1930's, national parks were still a pretty new concept.
President Franklin Roosevelt was touring Shenandoah National Park, which had just opened, and it was suggested that a roadway be built to connect Virginia's Shenandoah to North Carolina's Great Smoky Mountains National Park.
The idea suited Roosevelt, who was in the midst of trying to pull the US out of the Great Depression by creating jobs wherever possible.
The proposed route for the parkway was hotly contested, with struggling towns all vying to be included on the route, to create jobs to help build it and to receive tourism dollars after it opened.
Construction began in 1935, but progress was slow. The end of the Great Depression saw the beginning of World War II, and building parks fell to the wayside.
By the early 1950's, only about half of the parkway was complete.
The National Park Service pushed to get the remaining miles completed before its 50th anniversary in 1966, and they were successful, with one big exception.
The missing link in the Blue Ridge Parkway was a few miles around Grandfather Mountain in North Carolina. The owner of the land didn't want the new parkway to destroy the fragile mountain ecosystem.
After years of negotiations and advancement in construction techniques, engineers came up with the innovative Linn Cove Viaduct design.
The viaduct (basically a bridge) wraps around the mountain, rather than blasting through it or dumping earth on top of it. Bridge supports on the mountainside had a minimal environmental impact, and the deck (the road portion of the bridge) was built segmentally from the top.
Congress approved funds and all 469 miles of continuous Blue Ridge Parkway were finally completed in 1987.
9 Useful Tips for Driving Blue Ridge Parkway that will Save your Sanity
Our #1 tip is to take your time. This is meant to be a leisurely drive through picturesque mountains; not a speed run!
Speaking from experience, ahem, planning a crowded & ambitious schedule is a one-way road to disappointment. You'll either sprint through all your activities, or you'll miss some and not have time to come back.
Leave room in your day for unscheduled stops, like spotting a black bear or a rainbow and stopping to get a photo.
Besides taking your time, here are some important logistical tips to know before driving Blue Ridge Parkway.
1. No Gas Stations on the Parkway
Fill up before you head out for the day. Most cars won't need more than that for a single day's leisurely drive, but you know your vehicle better than we do.
Gas stations are scarce in some areas, and a quick detour off of the parkway in others.
You're unlikely to get truly stranded out here, so don't stress about this. Just be prepared with a full tank so you don't have to worry about it.
Blue Ridge Parkway is popular with plenty of passersby if you do run out of gas.
There are a few gas stations in small mountain towns on side roads off of the parkway, but they're usually more expensive than you'll find in more populated areas. Still, they're an option if you get worried.
2. Spotty Cell Service
The best you can expect along most of Blue Ridge Parkway is spotty cell service. Those mountains make for great views and even better stoppers of cell signal.
Download offline maps and put your phone into airplane mode to save your battery.
The good news is, once you get on the parkway, it's almost impossible to get off the parkway without a sign telling you where you're at. And you can always turn around and retrace your steps.
We highly recommend picking up a Blue Ridge Parkway map from a visitor center the first chance you get.
While it doesn't have every single overlook marked, it has enough information for you to figure out your location based on milepost markers. Speaking of those…
3. Milepost Markers Increase as You Drive South
The NPS uses unobtrusive (read: sometimes hard to see) milepost (MP) markers for navigating Blue Ridge Parkway.
These short concrete pillars with blue numbers can help you find an overlook or trailhead on the NPS map you got at a visitor center.
The parkway begins at MP 0 in Virginia at the southern end of Shenandoah National Park's Skyline Drive and ends at MP 469 in North Carolina at the southern entrance to Great Smoky Mountains National Park.
If you're ever confused which direction you're traveling, remember that milepost markers increase as you drive south.
If you discover you're driving the wrong direction, turn around at the next overlook. No problem!
4. Check Current Road Conditions Before You Leave
Blue Ridge Parkway is technically open all year round, but there are some circumstances that cause road closures. Check the park's road closures list before you head out each day to verify your route is clear and open.
Winter visitors are most susceptible to this, as the parkway is not plowed or salted for snow or ice.
Temporary closures also occur for severe weather, emergency situations, or general road maintenance.
---
---
5. Pack a Lunch & Drinks. And Snacks!
Who could forget snacks? This is technically a road trip, after all, even if you're only going for a hike. However, food establishments are few and far between on the parkway.
Lodges usually have one restaurant. Campgrounds might have a camp store with prepackaged basics. Towns are a detour off of the parkway.
Rather than trying to schedule your activities around finding a place to eat, bring your food with you and eat wherever you are when you get hungry, be that an overlook, a picnic area, or at the top of a mountain.
Always bring water with you if you plan to hike, and it's a good idea to have drinks and snacks in the car anyway.
6. If You Like Campgrounds or Rustic Park Lodges, You're in Luck.
Finding a place to stay directly on Blue Ridge Parkway can be a challenge, unless you're a fan of campgrounds and/or park lodges. But even those are spaced out quite a bit.
If you prefer AirBnbs or chain hotels, you'll need to plan to overnight in towns near, but not on, Blue Ridge Parkway.
This hotel in Asheville is minutes from both the main Blue Ridge Parkway Visitor Center and the entrance to the Biltmore Estate. Win-win! We stay here quite often.
Keep in mind that if you use a city like Asheville or Roanoke as home base while you explore Blue Ridge Parkway, the fastest way back to the city and your hotel at the end of the day is most likely not via back the way you came on the parkway.
This is where offline maps come in handy.
Example: Driving north on the parkway away from Asheville, you can see and hike Craggy Gardens, Mt Mitchell, Little Switzerland, Linville Falls, and the Linn Cove Viaduct all in one day.

When it's time to drive back to Asheville after sunset, it's only 1.5 hours back to Asheville via state routes and interstates versus a 2+ hour drive back on the parkway in the dark.
7. Slow Speed Limit with Few Passing Zones
Blue Ridge Parkway winds its way through national forests and along mountain ridges for some truly spectacular views. But to provide those views, the roads curve a lot.
The speed limit on Blue Ridge Parkway never exceeds 45mph. In many sections it drops even lower for steep grades and tight curves.
Don't worry. This isn't vomit-inducing tight curves, like The Tail of the Dragon or The Diamondback, infamous routes near Great Smoky Mountains National Park and Little Switzerland, respectively. But those that get car sick easily may want to be prepared, just in case.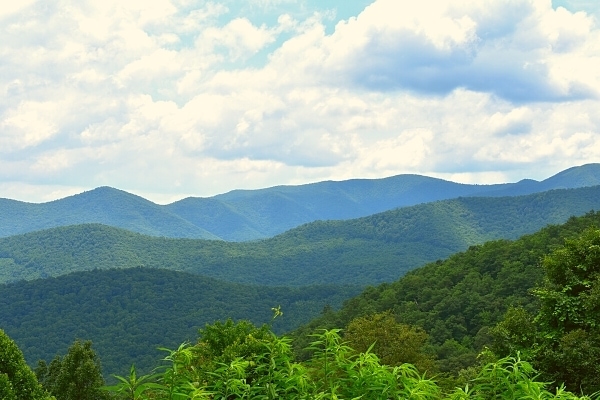 Curvy roads through the mountains don't offer a lot of straight aways for passing, either.
This will inevitably be painful the first time you get stuck behind an RV chugging its way up and down the parkway, but don't worry. Most RVs will pull over at an overlook if they notice a line of cars forming behind them.
Don't be the moron that tries to pass someone in a no passing zone. You have no idea if another car is about to come around that curve, and emergency services take time to get into the mountains. Don't risk it.
8. Be Ready for Tunnels
If you're driving the North Carolina end of the Blue Ridge Parkway, be prepared to drive through a few tunnels. There is only one tunnel on the Virginia end of the parkway at MP 53.1 Bluff Mountain.
The NPS website has a list of all 25 tunnels, their location on the parkway, and the clearance at centerline and edgeline.
If you have a tall vehicle, check your route before you leave. It would behoove you to take a detour around a tunnel that you cannot fit through safely.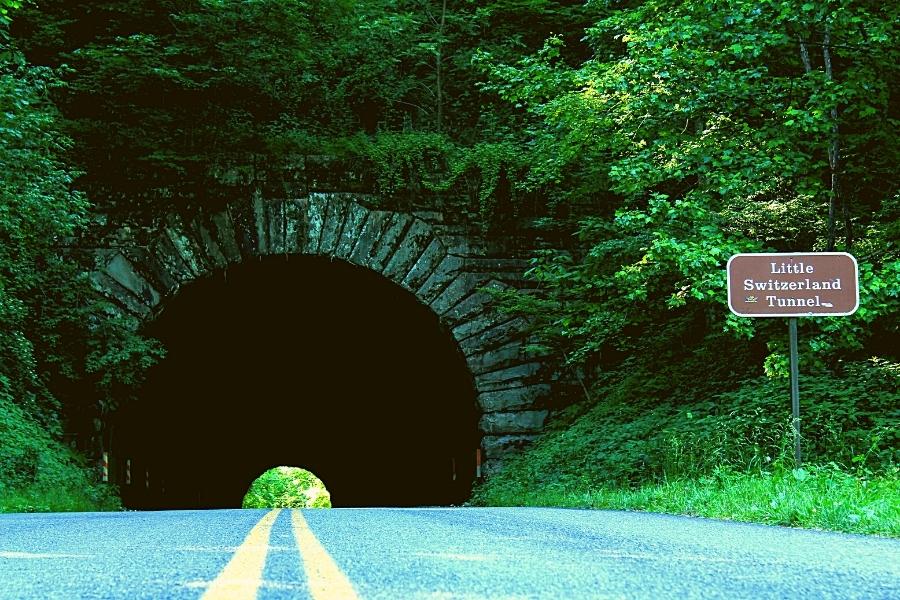 9. Dogs are Allowed on Hiking Trails!
Bring your well-behaved and leashed furry friend! Some parks don't allow pets on the trails, but that's not the case along Blue Ridge Parkway.
Be responsible for your pet so they don't change their minds about this rule! Here are a few quick reminders for bringing your dog to the parkway.
Dogs must remain on a 6ft leash under your control at all times.
Bring poo bags and pack out your dog's waste. Do not leave it by the trailside, packaged or not.
You and your pet must remain on the trail at all times. There are some steep drop-offs!
When to Visit Blue Ridge Parkway
Now that we've discussed the logistics of driving Blue Ridge Parkway, let's talk about when is the best time to visit.
Blue Ridge Parkway is the most visited site within the national park system. It hosted nearly 16 million visitors in 2021.
Fun Fact: Great Smoky Mountains National Park, at the southern end of Blue Ridge Parkway, is the most visited national park in the national park system.
The parkway is a beautiful place to visit any time of year! There are advantages and disadvantages to each season, which we'll discuss in a minute.
That being said, these are the busiest times to visit:
Weekends are always busier than weekdays, no matter the season.
Spring & summer holiday weekends get extra crowded.
Fall foliage peak color make October especially busy.
Weather & Seasonal Considerations for Visiting Blue Ridge Parkway
Check the weather before you go. Fog is cool but blocks all the epic long views. Heavy rainstorms can cause flooding or damage roads. Summer requires a hat, sunscreen, and bug spray.
Temperatures at elevation are always cooler. This is especially noticeable on the North Carolina end of the parkway where you'll find the highest elevations.
Spring on Blue Ridge Parkway
Experience the rhododendron and many wildflowers in bloom! Spring has perfect hiking temperatures: comfortably warm during the day but still a bit of a chill before or after the sun.
Visitors in March will not see the same views that visitors in May see. The forests and their residents slowly come back to life, so you'll still see quite a few bare trees in March that will be completely filled out by May.
Craggy Gardens gets busy when the flowers are in bloom.
>> Advantages: ideal hiking temps, blooming flowers
>> Disadvantages: too early and you could still see snow and/or bare trees
Summer on Blue Ridge Parkway
Popular and crowded, summer sees the most visitors to the parkway. (Well, October may be tied.) Summer, though, is hands-down the most crowded time for hiking and camping.
There are hundreds of miles of hiking trails along Blue Ridge Parkway, ranging from accessible/easy to very strenuous. The views are always worth the hike here.
If you want to camp, reserve your spot as far ahead as possible. Most campgrounds don't have day-of availability.
Activities are a big part of summer on the parkway. All the visitor centers and museums will have reopened, and many will host special event activities.
Temperatures are reliably cooler at elevation, but don't be surprised if they hit the 90s F in summer. Heat stroke is possible here. Bring lots of water!
>> Advantages: comfortable hiking temps, most activities & amenities available
>> Disadvantages: crowded, temperatures can get uncomfortably hot
Fall on Blue Ridge Parkway
Fall is an especially busy time to drive Blue Ridge Parkway. Leaf peepers show up in droves to catch the forests at peak color.
Many of them never get further off the parkway than an overlook. Hiking trails will be less crowded; although easier short trails will still be busy.
Elevation is a key player in hunting for fall colors. Higher elevations will change color before lower elevations. If you're lucky, or flexible on dates, you might catch peak color when everything is changing at once.
More likely, you'll arrive for peak color at a certain elevation but other elevations are either past peak or haven't changed yet.
Bring warm layers! The temperature difference is felt more drastically at this time of year.
At least it felt that way to us. You may be fine in jeans and a T-shirt in Asheville, but you'll want a warm jacket once you reach Graveyard Fields to see the trees.
>> Advantages: beautiful fall leaves, crisp temps, less crowded hikes
>> Disadvantages: crowded roads & parking, hard to anticipate peak fall color timing
Winter on Blue Ridge Parkway
The least crowded time to visit Blue Ridge Parkway is, of course, winter. But we recommend not writing it off completely. The mountains and forests under a blanket of snow is something you won't forget!
Portions of the parkway may close in winter due to snow and ice. The roadways are not necessarily maintained (usually no salt and/or not plowed). Check the website before you go out for the day.
Visitor centers are closed except for the one in Asheville. Most of the museums and side attractions and activities all close as well.
Hiking can be dangerous at this time of year if you're not prepared or equipped for snow, ice, and cold temperatures.
>> Advantages: smallest crowds
>> Disadvantages: inclement weather closes roads, little to no amenities available
What to Pack for a Blue Ridge Parkway Adventure
Maps: Download offline maps to your phone and grab a brochure map from a visitor center. Even when the visitor centers are closed, there are usually maps in a kiosk outside somewhere.
Food & Drinks: Always keep water in the car for every person in the car. If you're planning to be out all day on the parkway, pack a lunch and snacks so you can eat whenever you're ready.
Layers: The elevation difference, particularly on the North Carolina end of the parkway, means the parkway is always cooler than wherever you started from. In fall/winter, you'll want a warm jacket. In spring, you'll only need a light jacket. In summer, you'll want a hat and hiking shirt to escape the sun.
Tunes/Audiobooks/Podcasts: Spotty cell signal means you can't rely on streaming, or even the radio. Download your own music, audiobook, or podcast to have some background noise whilst driving from one epic place to the next.
Camera: Bring your best camera with all your lenses. It doesn't matter what time of year you visit; this is an incredibly photogenic park! You might see bears, so bring a zoom lens. You might want to capture that mountain ridge that goes on forever, so bring your wide-angle lens. The best camera is the one in your hands, so by all means, whip out that cell phone and get some epic shots you'll save as your background for the next year.
Blue Ridge Parkway FAQs
Didn't find your answer above? Here are more frequently asked questions about visiting and driving Blue Ridge Parkway.
Where does Blue Ridge Parkway start and end?
Blue Ridge Parkway starts in Virginia at Shenandoah National Park's southern entrance, just outside of Waynesboro and Charlottesville.
The parkway ends in North Carolina just outside of Great Smoky Mountains National Park's southern entrance at its Oconaluftee Visitor Center.
How long does it take to drive Blue Ridge Parkway?
Blue Ridge Parkway is 469 miles of 45mph winding roads through Virginia and North Carolina. If you drove nonstop from end to end, it takes about 12-13 hours.
If you'd actually like to enjoy the parkway, stopping at attractions and getting in a few hikes, we recommend a 7 day road trip itinerary.
Is there an entrance fee, since this is a national park?
No, Blue Ridge Parkway is free to use. There is no entry fee required for this national park site!
Where is the best view on Blue Ridge Parkway?
Cowee Mountains Overlook is our personal favorite view from an overlook on the North Carolina end of Blue Ridge Parkway. Ravens Roost Overlook is a great view on the Virginia end.
There are so many great views from Blue Ridge Parkway, though! We have an entire article on the best overlooks on Blue Ridge Parkway, separated by state and with mile markers to help you find them.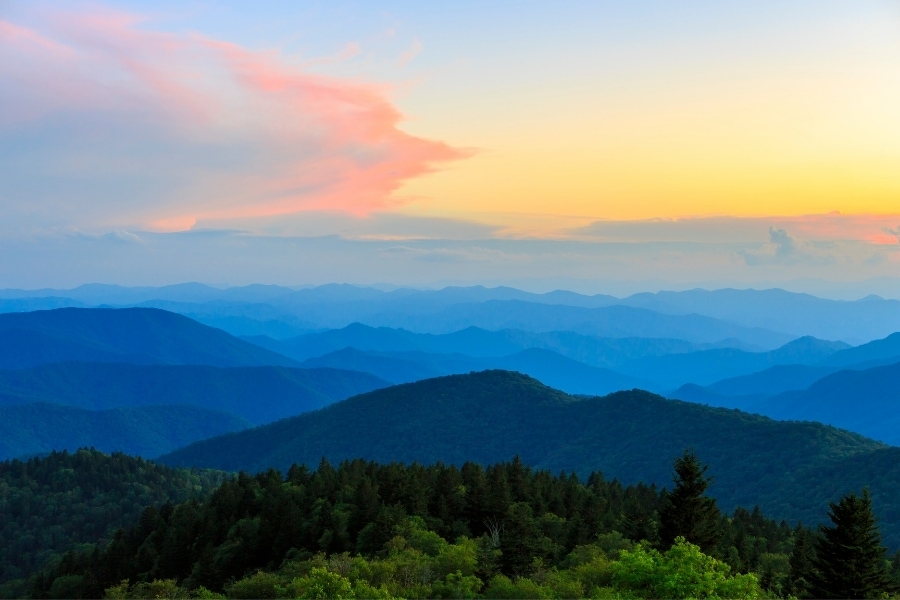 What is the best hike on Blue Ridge Parkway?
Depends how far you want to hike, hike difficulty, and what you want to see.
Our favorite waterfall hike is Linville Falls. There are several trails here to different views of the falls. A mix of easy and moderate difficulties, some routes have more elevation than others.
An easy-to-moderate hike for almost 360° views is the Craggy Pinnacle Trail. Bonus if you go in spring when the rhododendron are in bloom.
---
---
Enjoy Driving Blue Ridge Parkway now that you know what to expect!
There's no bad time for a peaceful drive on Blue Ridge Parkway. Grab your friends, pack a cooler, and go spend the day on the beautiful Blue Ridge Parkway!
More Western North Carolina Travel Ideas
More Biltmore Travel Resources
Happy travels!
Share it!