It's easy to lose track of time and forget to eat when exploring the Biltmore Estate. There's just so much to see here that food can fall to the back of your mind.
The estate has quite a few places to eat, from small shops and quick eats to sit down restaurants and luxury dining experiences.
We'll help you navigate all the Biltmore restaurants, determine which is right for you and your budget, and provide some insider tips for each site.
Let's look at where to eat on the Biltmore Estate!
---
This post may contain affiliate links. As an Amazon Associate and associate of other programs, I earn from qualifying purchases. This means if you click a link and make a purchase, I may earn a small commission at no extra cost to you.
---
Dining at the Biltmore
George Vanderbilt's original intentions were for the Biltmore Estate to be agriculturally self-sustaining. In that spirit today, the estate is all about farm-to-table cuisine.
Every menu at all the Biltmore restaurants focuses on using ingredients either raised on the estate or purchased from local North Carolina vendors.
This is also why Biltmore dining menus are seasonal. They use ingredients as they come into season.
Dietary restrictions are also considered. Most restaurants have vegetarian and gluten-free options available.
You can always preview menus online ahead of your trip or simply ask a waiter when you arrive.

Where's the Best Place to Eat at the Biltmore?
For all the non-foodies out there that just need a quick recommendation, here are our personal favorite restaurants at Biltmore and recommendations for each meal.
For more detailed information on each Biltmore restaurant, like cost and location, keep reading below.
Best Place to Dine like a Vanderbilt at the Biltmore
The Dining Room at The Inn.
A fine dining experience with a strict dress code to match. Prepare to splurge on this dinner and enjoy a meal as the Vanderbilts would have, with fine china, linen tablecloths, and crystal glassware!
Alternatively, they also serve breakfast. But, there is still a dress code: resort casual, as opposed to the resort elegant required for dinner.
Reservations are required but only available for overnight guests of The Inn, the Village Hotel, or The Cottages.
Best Place for Dinner at the Biltmore
Village Social on the weekends or Cedric's Tavern during the week, both in Antler Hill Village area.
We prefer casual whenever possible, and both of these options are good places to just sit and enjoy a meal with no rush.
Reservations recommended for both.
Best Place for Lunch at the Biltmore
Stable Café in the Stable Courtyard at the House or The Smokehouse Food Truck in Antler Hill Village.
The Stable Café is convenient to the Biltmore House and Gardens, and reasonably priced, by Biltmore restaurant standards. The menu changes seasonally and will always fill you up.
Reservations recommended for Stable Café if you're on a schedule.
For those in Antler Hill Village at lunch time on a weekend, the Smokehouse Food Truck is fast and easy with delicious food. You'll be back to exploring in no time.
Best Place for a Snack at the Biltmore
The Bake Shop in the Stable Courtyard or The Kitchen Café in the Village Hotel at Antler Hill Village.
Both have pastries and coffee, or lemonade for hot days. The perfect pick-me-up before continuing your exploration of the Biltmore Estate.
Honorable mention: The Conservatory Café. Wandering around the gardens can get hot, and this is the closest spot for a quick bite.
We like the snacks at the Bake Shop better, but understandable if you don't want to leave the gardens completely if you just need a short break.
Best Place for Ice Cream at the Biltmore
The Biltmore Dairy Bar in the Stable Courtyard or The Creamery in Antler Hill Village.
Both serve up delicious ice cream! The Creamery also has sweet treats and pastries.
>> Don't stop there! Keep reading for helpful tips and tricks for dining at the Biltmore Estate! <<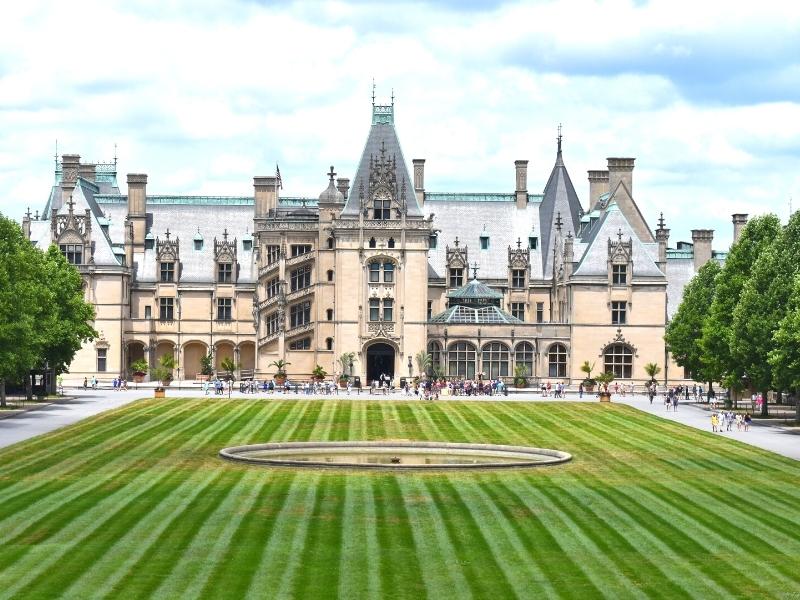 Navigating around the Biltmore Estate, And Why It's Related to Food
The Biltmore Estate is big. Edith Vanderbilt may have sold off almost 87,000 acres to the US Government in 1914, which then became Pisgah National Forest, but the estate that remains is still over 8,000 acres.
The first thing to understand about getting around the estate is that the roads were originally developed for a single lane of horse-drawn carriage traffic. They're narrow roads and require slow speeds.
The second thing to understand is visitors are here to admire, gawk at, and appreciate the scenery. Most drivers take it slow so they can look at the colorful landscape and probably allow a passenger to get a few photos.
We've had to brake for deer and turkeys before, too. You just never know!
Approach Road has always been the main approach to the Biltmore House for visitors. It meanders up and down beautifully landscaped hills and around purpose-built water features.
The only people speeding through here are the ones that are late.
Even today with a paved road and modern vehicles, it can take 30-45 minutes to drive from the front gate to the parking lots by the house and then walk up to the house.
Similarly, it takes about 30 minutes to get from Antler Hill Village and its hotels to the House or vice versa, although those are two different routes as many estate roads are one-way only.
Before you whip out your phone to prove us wrong, directions don't take into account the walk time from the parking lots nor the slower-paced driving of estate visitors.
Trust us! Give yourself a driving time buffer.
And because someone will ask: No, parking in lot C and taking the shuttle to the house is not faster than parking in lots A or B and walking to the house.
The shuttle is great for those that need the lift, but it's not faster unless you catch it right as you park.
>> Why am I telling you this? You just wanted to know where to eat at the Biltmore.

Because if you don't plan for drive time in between sections of the estate, there's a good chance you'll miss a dining reservation or a tour, or both.
If you book a Rooftop Tour at the House at 1:30PM, do not book a lunch reservation at an Antler Hill Village restaurant at noon. You will not make it back to the House in time for your tour without scarfing down your food and then later sprinting from the parking lots to the House.
Where to Eat on the Biltmore Estate
There are two main areas for food on the Biltmore Estate and a couple of secondary options off by themselves. Each has pros and cons and serves a different purpose and budget.
The Stable Courtyard
Located at the Biltmore House, the Stable Courtyard is ideal for lunch and snacks and cold drinks.
The stables, of course, actually housed horses and the single men dormitory for servants that worked in the house once upon a time, but now this area has been converted into a shopping and dining area.
This area of the estate is particularly busy at lunchtime. Long lines are typical for the eateries, and it may be difficult to find a free table at peak lunch hour.
The Stable Café, the area's only true sit-down restaurant, can sometimes accommodate walk-ins, but if you want to guarantee a meal here, get a reservation.
Antler Hill Village
Away from the main house, Antler Hill Village was first opened in 2010 to serve the shopping and dining needs of the new hotels on the property.
The Inn sits high atop a hill above Antler Hill Village, connected to the Village Hotel and the rest of Antler Hill Village via paved walking paths. Inn guests can also drive down the hill, if preferred.
Antler Hill Village is exactly as its name suggests: a small pedestrian-only area with dining and shopping to cater to guests. There are more restaurants here than at the House, some in the hotels and some in the village adjacent.
The Biltmore Winery is also here, and complimentary wine tastings are included in your estate admission.
Antler Hill is busy at meal times, but especially so in the evenings when the rest of the estate has closed for the day.
Annual passholders are able to bring guests to Antler Hill Village after 5PM, free of charge. This adds to the crowds, particularly during the holidays.
Note that the restaurants at The Inn have a dress code, but everywhere else is pretty laid back.
Deerpark
Deerpark is a small area of the estate that's focused on special events.
There's an event center, a ballroom, and a restaurant, as well as the Carriage and Trail Ride Barn across the street.
**The Deerpark Restaurant has been closed since the beginning of the pandemic in 2020 and has not reopened since, unlike the rest of the estate.**
The Conservatory Café
This small kiosk with a few shaded tables is behind the Conservatory building in the Biltmore Gardens. It's really just a spot to get off your feet and cool down after walking through the gardens in the sun.
It doesn't serve substantial food, but it's got you covered with cold drinks and light snacks.
Can I Bring my own Food and Picnic at the Biltmore?
Yes, you can bring your own picnic, but this is restricted to certain areas on the estate, none of which have picnic tables. Bring a good picnic blanket!
Picnics are allowed in only three places:
The sloped lawn with the Diana statue above the House (NOT the front lawn with the fountain)
The Bass Pond and its trails
The Lagoon and its trails
Tailgating in the parking lots is forbidden, as is any outside alcohol.
They are pretty strict on where you may picnic, so familiarize yourself with the estate's dining policy.
You may not bring outside food to the House, Front Lawn, Antler Hill Village, or any Biltmore dining area, including the Stable Courtyard or South Terrace.
Where to Eat at Biltmore: Quick Eats and Drinks
Now that we've covered where the Biltmore restaurants are located, let's look at specific places to eat.
We'll start with where to find quick bites and drinks, but it's important to know that nothing comes particularly cheap at the Biltmore. You're on a resort, and you'll face resort prices.
To help you plan your food budget for your Biltmore trip, we've used a simple scale as follows:
$ is less than $20 per person
$$ is $20-$40 per person
$$$ is anything over $40 per person
Price / Location / Meal Time are noted for each restaurant below. Hours are subject to change without notice or for special events.
While all of the quick bites are less than $20 per person, realize that something like a pretzel dog goes for $10 and drinks range from $3 for bottled water up to $10 for a beer or glass of wine.
None of the following accept reservations. Everyone stands in line, passholders included.
The Conservatory Café
$ / Biltmore Gardens, behind the Conservatory / Daily for Lunch, Closes in Winter
A small food kiosk for cold drinks and small snacks, located behind the Conservatory.
Several tables with umbrellas line the back terrace. If you can snag one, it's a great place to give your feet a break and people watch visitors coming in and out of the gardens.
Note that this spot's hours are weather-dependent. If bad weather is expected, they'll close.
The Biltmore Dairy Bar
$ / Stable Courtyard at the House / Daily 9:30AM to 5PM, Closes in Winter
Get your ice cream fix! The Dairy Bar sells ice cream cones, scoops, sundaes, and shakes.
It also sells bottled waters and drinks from the window to the right of the doors in summer, so you don't have to wait in the long ice cream line just for water.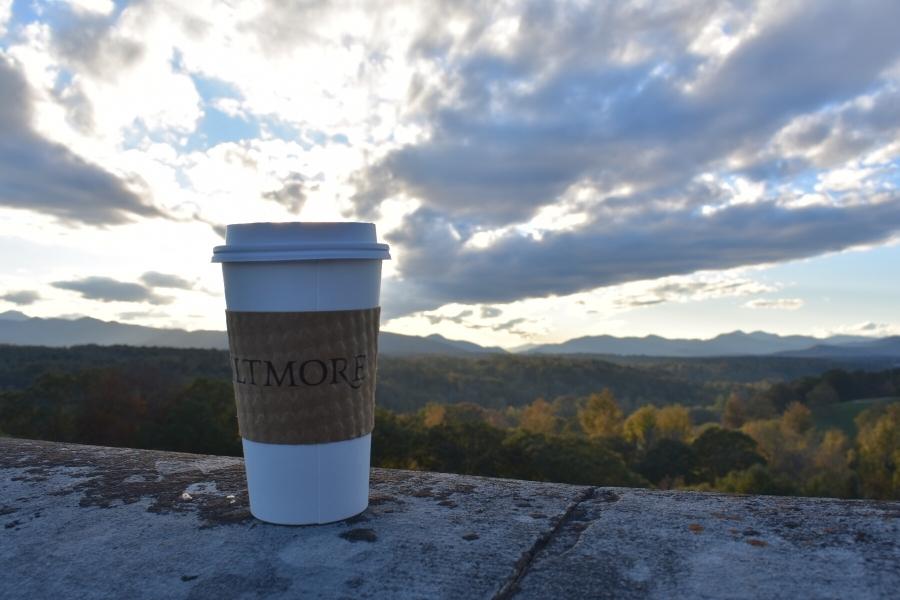 The Bake Shop
$ / Stable Courtyard at the House / Varies by Season
Get a coffee, or hot apple cider in winter! The shop also sells bakery treats for a little extra boost.
This is basically a Biltmore Starbucks. It's also our favorite spot for a snack when we're near the house.
The Courtyard Market
$ / Stable Courtyard at the House / Daily for Lunch, Closes in Winter
Perfect for those that don't need anything fancy for lunch, or those that didn't realize how busy Biltmore could get and failed to make a reservation somewhere else.
This takeaway counter usually serves a "gourmet hot dog" or sausage option, basic salads, and good sandwich or two. Beer & wine are sold here, too.
Tables can be hard to come by in the courtyard, especially ones in the shade or with umbrellas, but be patient and a spot will open up.
The Wine Bar
$-$$ / Behind the Winery, in Antler Hill Village / Daily 11AM to 7PM
Munch on a cheese plate or chocolate truffles as you enjoy a glass or bottle of one of Biltmore's award-winning wines, or continue to sample them all to your heart's desire!
A perfect way to extend the fun after your complimentary wine tasting in the adjacent Winery building, which is limited to 5 tastes.
Price depends on how much you drink. Must be 21 years old to attend.
The Kitchen Café
$ / in Village Hotel at Antler Hill Village / Daily 8AM to 5PM
A convenient takeaway spot for snacks, drinks, and small breakfast and lunch sandwiches.
This spot is inside the Village Hotel. You won't find it wandering around the shops outside in the main village area.
Lines can get long at breakfast as this is where most guests grab a quick bite before heading out for the day.
The Smokehouse Food Truck
$ / Antler Hill Village / Fri-Mon, Lunch Only
A BBQ food truck inside the Biltmore! Granted, it doesn't really ever move. But the food is tasty and served fast. Also serves beer and wine!
Choose between pulled pork, pulled chicken, or brisket and whether you want it as a sandwich or platter. Pick a side and a sauce, and you're on your way.
Snag a shaded table in the Village circle and enjoy a laid-back, outdoor meal.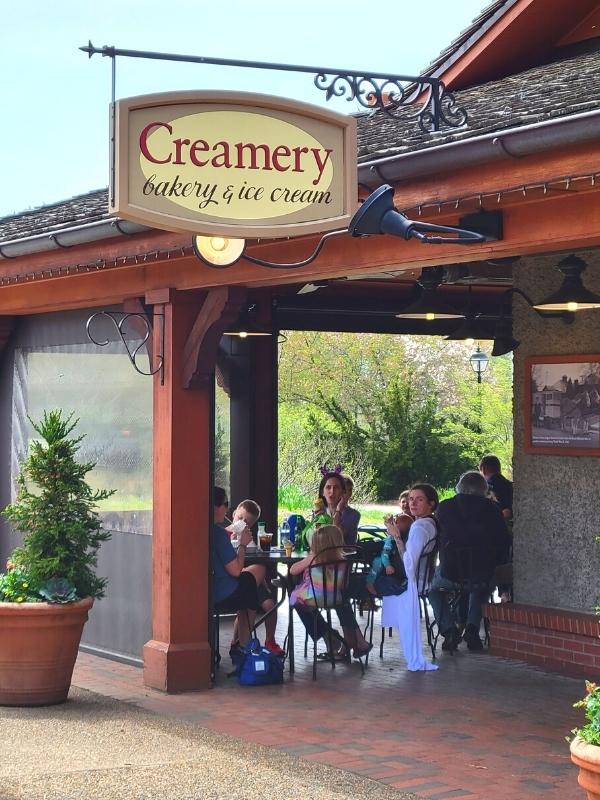 The Creamery
$ / Antler Hill Village / Daily 11AM to 8PM, open til 9PM Fri & Sat
Two parts ice cream shop and one part bakery, this shop serves up delicious ice cream, sundaes, and shakes with the occasional cupcake, coffee, or baked good.
A dedicated eating area under the roofline is good for very sunny or rainy days, or take your cone on the go!
Restaurants at the Biltmore: Sit & Enjoy!
Reservations are recommended, if not required, for all of the following restaurants on the Biltmore Estate.
Price / Location / Meal Time are noted for each.
Here's that pricing scale again:
$ is less than $20 per person
$$ is $20-$40 per person
$$$ is anything over $40 per person
Keep location in mind when making your reservations. Remember to leave yourself plenty of time between tour times and dining reservations so you don't have to sprint to make it back in time for a tour.
Stable Café
$-$$ / Stable Courtyard at the House / Daily for Lunch
The best lunch option after touring the Biltmore House in the morning!
The Stable Café incorporates the building's history into its décor, with booths set up in old horse stalls and a second floor available in the hay loft above. It's a very bright and welcoming spot.
Described as Appalachia Comfort Food, the menu offers seasonal salads, sandwiches, and burgers as well as heavier fare like meatloaf or a barbecue chicken platter.
Reservations recommended.
Cedric's Tavern
$-$$ / Antler Hill Village / Daily 11:30AM to 8PM, Closed Su-M
Typical pub fare, but with a Biltmore twist. Find pub favorites like fish and chips and shepherd's pie but also salads and shrimp rolls.
Even though this is a laid-back spot, it takes reservations. Reservations recommended if you are on a schedule.
Deerpark Restaurant
$$ / Deerpark / Temporarily Closed
**This restaurant has been closed since the beginning of the pandemic in 2020 and has not yet reopened, unlike the rest of the estate.**
This unique spot is home to the only buffets at the Biltmore Estate. Friday and Saturday lunch buffets and Sunday brunch buffet are in high-demand.
Reservations strongly recommended.
Village Social
$-$$ / Behind the Village Hotel, in Antler Hill Village / Daily for Breakfast, but Lunch & Dinner are Fri-Mon Only
A relaxed option for any meal, Village Social is casual and self-proclaimed "southern-style food." Depending on the season, you'll find burgers, tacos, steaks, pastas, and even seafood on the menu.
Hearty breakfasts for under $20 per person, but Lunch and Dinner are squarely in the $20-$40 per person range.
Reservations recommended.
Bistro
$$-$$$ / Behind the Village Hotel, in Antler Hill Village / Dinner Only Thurs-Mon
Kick up the fancy a notch with a dinner at Bistro. Watch the open kitchen prepare European-inspired dishes that are sure to fill you up!
This is the place to go if you want a delicious steak or lamb shank without a strict "resort elegant" dress code. The appetizers are usually amazing, too.
Reservations strongly recommended.
The Library Lounge
$-$$ / in the Inn, above Antler Hill Village / Daily Afternoon & Evening Drinks & Desserts
**Not currently serving meals.**
Enjoy a fun cocktail or a small dessert in this lounge, regardless if you are an overnight guest or not. The views of the estate and Antler Hill Village from the Inn are pretty great.
A peaceful place to enjoy a quiet drink and an amazing view!
Resort Casual dress code enforced. No shorts, tank tops, flip flops, or faded/light denim allowed. Dark denim is permitted.
The Dining Room
$$-$$$ / in the Inn, above Antler Hill Village / Daily Breakfast and Dinner
Fine dining as the Vanderbilts would have enjoyed it! The atmosphere and décor are as important as the food.
Breakfast is a sumptuous buffet (and the only reason this restaurant qualifies for a $$ rating). There is something for everyone to eat here.
Dinner is a formal affair, as close as you can get to an early 1900s dinner party at Biltmore. Enjoy classics like rack of lamb, filet mignon, and salmon as well as seasonal dishes.
Only available to overnight guests at The Inn, the Village Hotel, or The Cottages.
Reservations required. Resort Elegant dress code strictly enforced for dinner; Resort Casual acceptable for breakfast.

Need More Tips for Visiting the Biltmore? We've Got You Covered.
Visiting the Biltmore can be overwhelming the first time. We get it.
Our first trip was full of underestimating drive times, not knowing where to eat, and not having enough sun protection.
Here are some more resources to help you plan your first trip to Biltmore or have more success with your next one.
More Biltmore Travel Resources
Happy travels!
Share it!