Zion National Park is a marvel of nature that you just have to see and experience for yourself to really understand how big and grand it is. There's nothing quite like standing at the bottom of the inner canyon next to the Virgin River and just looking up and up and up at the sheer canyon walls and the peaks that top them. It's good for the soul to appreciate how tiny and insignificant humans are in the face of nature.
There's a reason Zion is Utah's most-visited national park and the second most-visited national park in the country in 2021. Planning a trip to Zion is well-worth your time!
Which brings us to the first problem you face when planning a trip to Zion: where to stay. It's the $1000 question, and can, in fact, cost you more than that if you stay at a hotel in Springdale in peak season for a week. But, never fear! There are other, more affordable options! Let's look at where to stay when visiting Zion National Park and find a place that fits your travel budget.
---
This post may contain affiliate links. As an Amazon Associate and associate of other programs, I earn from qualifying purchases. This means if you click a link and make a purchase, I may earn a small commission at no extra cost to you.
---
Where is Zion National Park?
Tucked away into the southwestern corner of the state, Zion National Park is the most popular of Utah's Mighty 5 National Parks. The closest big city and airport is Las Vegas, Nevada at just over 2.5 hours away to the southwest. In comparison, Salt Lake City is 4.5 hours away to the north.
Click the star to the right of the map title, and it will save this map to your Google Drive! To see the map legend, click the sliding bar icon to the left of the map title.
We have visited Zion in winter (early March) and it is a wondrous place to behold, even in the "off" season. We can confidently recommend this as worthy of a minimum full day's stop on a Southwest USA road trip or plan a full vacation around Zion and do all the epic hikes here.
>> Bryce Canyon National Park is just shy of 2 hours to the east. If you're going to see Zion, it's a good idea to see Bryce Canyon, too. Find out where to stay near Bryce. <<
Planning Your Trip to Zion National Park: Things to Consider
Deciding where to stay near Zion National Park depends on your desired budget and amenities, and a bit on what else is on your trip itinerary.
In peak season, generally April through October, hotel rates soar and campgrounds book out weeks ahead as thousands flock to the park. Amenities and proximity to the park come at a premium.
Staying further out could be a better option for your budget if you have several days to spend in Zion.
---

---
Another important factor to consider in peak season is the Zion park shuttle.
The inner canyon and its scenic drive close to personal vehicles and everyone is required to ride the shuttles to access that portion of the park.
Spoiler: the majority of the things you want to do in Zion are in the inner canyon.
The shuttles have stops in Springdale, outside of the park, and this is a big reason why accommodations in Springdale go so fast. It's easy to walk out of your hotel and hop on a shuttle.
If your trip itinerary focuses on Zion National Park, staying in or near the park is obviously ideal, but what if you're planning a road trip with only one day in Zion?
Perhaps the cost of a hotel in Springdale the night before is worth it, so you can maximize time spent in the park the following day.
Or perhaps you want to split time between Zion and Bryce Canyon. Are you better off switching hotels halfway through your trip or staying somewhere between Zion and Bryce Canyon?
This one really depends on your budget and how much time you have.
In conclusion, our general guidelines:
On a road trip and spending only one day in each park? Stay at each park.
Have at least two days for each park? Staying in between the parks may be cheaper.
Towns near Zion National Park
The following towns are all within an hour of the park and are noted on the map at the beginning of this post. Most Zion visitors will stay in one of these locations.
Springdale, literally at the park's south entrance
La Verkin, 30 minutes
Hurricane, 30 minutes
St George, 1 hour
Cedar City, 1 hour
Kanab, 1 hour (to east entrance, 1.5 hours to south entrance)
Each town has its own pros and cons.
Springdale, St George, and Kanab have the most hotels, restaurants, and other amenities. These tend to cater to higher budgets, but deals can be found, especially when combined with rewards points.
The other towns are smaller and usually offer cheaper options in exchange for fewer amenities and an inconvenient drive.
There's a good fit for most budgets and amenities. Let's look at each town individually.
Springdale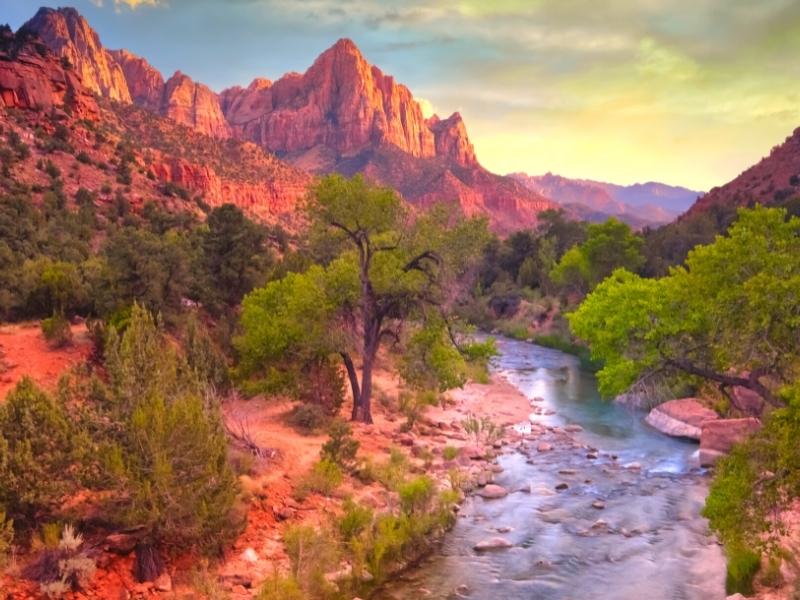 Abutting the park's south entrance, Springdale is everyone's first pick for where to stay near Zion because of the convenience.
The town is entirely hotels, shops, and restaurants that exist purely for the tourism industry generated by the park.
This is good news in the busy season, but can be a downside in the slow season when most restaurants close by 8PM and some shops and restaurants close down completely.
Still, all the major hotel chains are here, so you can use those rewards points, and most have amazing views of Zion, some from hot tubs!
Springdale is also fortunate enough to have the Zion park shuttle stop at a few spots in town to pick up visitors, so you can leave your car at your hotel instead of battling for parking at the visitor center or a public lot in town.
If you can make it work in your budget, Springdale is the best option to stay near Zion without actually being in the park.
Book as early as you can. Rooms sell out fast and several months ahead in the busy season.
La Verkin & Hurricane
West of the park, these two smaller towns are so close to each other, they're basically the same place. La Verkin is slightly closer to Zion, but it's a negligible time savings.
Accommodations are not as plentiful as Springdale or St George but there are a few more affordable options, like a LaQuinta and a Wingate by Wyndham.
These towns are a good compromise between distance from the park and budget.
Hurricane is a bit bigger and nicer, home to a grocery store, a pharmacy, and a few fast food joints as well as some local restaurants.
Driving into the park each day isn't too much of a hassle in low season. In high season make sure you leave early so you don't get stuck in traffic for the morning rush into the park.
St George
The biggest town on this list, St George has the most hotels, restaurants, and amenities, but it's also the furthest from Zion.
St George is a good option for those that prioritize amenities but don't have the budget for Springdale.
If you're staying several days to explore Zion National Park, then the drive in and out every day isn't as big of a deal, since you have more breathing room in your schedule.
You will still need to get up early to find a parking spot during peak season, though.
This is not a great option if you have only one day in Zion, but it is possible if you're willing to get going extra early.
Cedar City
This is a bit of a Hail Mary for those wanting to explore the inner canyon of Zion, but a good spot for those exploring backcountry Zion, like the Kolob Terrace and Kolob Canyons areas of the park.
>> It's also right next to Cedar Breaks National Monument. There's more to public lands than just the national parks. <<
Most people come to Zion to hike The Narrows and Angel's Landing, both of which are usually accessed from below in the Zion Canyon.
But Zion does have a few wilderness trails that start up top in these back sections. (Note that wilderness hiking means no water, pit toilets if you're lucky, and are likely not well-marked or maintained. It's not a family-friendly hiking area.)
Cedar City is right off of I-15, decent size with decent amenities: fast food places, local restaurants, grocery stores, pharmacies, and most major hotel chains.
It's another more budget-friendly option for amenities that requires a long drive to the park each day, similar to St George.
Not great if you only have one day in Zion, but an option if you've got a few days here.
Kanab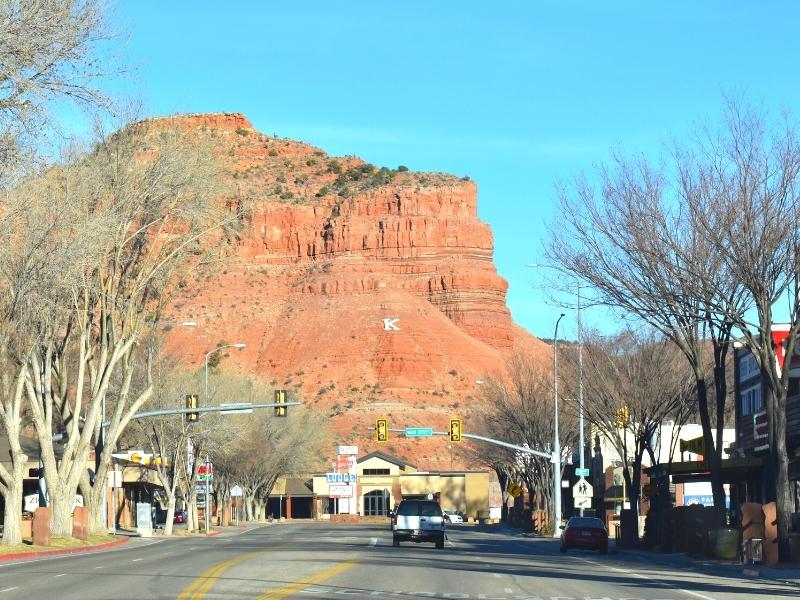 The only option we're discussing here that's east of Zion National Park, Kanab is the preferred home base for many a southern Utah/northern Arizona adventurer.
The town itself isn't huge, but it's a perfect central location for many of the region's most popular attractions, such as:
Zion National Park
Coral Pink Sand Dunes State Park
Vermilion Cliffs National Monument – The Wave hike
Lake Powell
Page, AZ – home of Horseshoe Bend and Antelope Canyon
Grand Canyon National Park's North Rim
We could keep going, but you get the point.
Kanab has all the major hotel chains and plenty of local restaurants. Because of its central location, it gets expensive and sells out fast in peak season.
The drive to Zion National Park from Kanab is similar time-wise to that from St George or Cedar City.
It's about 35 minutes to Zion's east entrance and then another 30-45 minutes, depending on traffic, through the park to the south entrance and the visitor center parking to catch a shuttle.
If you are coming in from Arizona or approaching Zion National Park from the east, then Kanab makes sense.
If you are coming in from the west, like from Las Vegas, then you'd have to drive through Zion to get to Kanab, and back track later to visit the park. Logistically, it doesn't make sense.
Where to Stay when Visiting Zion National Park
Let's break down where to stay near Zion by accommodation type.
Staying in the park at the Zion Lodge
Pricey, but you can't beat the location. The Zion Lodge is in the middle of the inner canyon.
Bonus: guests at the lodge get a special pass to allow their cars onto Zion Canyon Scenic Drive while everyone else has to wait for the shuttle.
The Zion Lodge is also a stop on the shuttle line so you don't have to take your car to get around the park.
Starting your day in the park gives you an advantage to beat the crowds to the trails. This is the second busiest national park in the USA, after all, and the popular trails get crowded.
The lodge has its own restaurants, too, so you don't even have to leave the park to eat, if you don't want to.
A good splurge option for those that want to be in the middle of the park.
Camping in Zion
There are three campgrounds in Zion National Park: Watchman, South, and Lava Point. Most campers stay in either Watchman or South.
All three require a fee, though it varies by campground.
None of the campgrounds have showers. They have restrooms, and Watchman and South both have water and dump stations, but showers and laundry are not available in the park.
These services are available in Springdale for an additional fee.
Alternatively, you can solar shower at your campsite.
Pro Tip: Make sure your RV or camper trailer will fit through the Zion-Mt Carmel Tunnel before you leave, if your route requires you to take Route 9 through the park. There is a procedure and fee for oversized vehicles that have to pass through by themselves. Check the NPS website for more information.
Watchman Campground
The Watchman campground is at the south entrance of the park, right next to the visitor center. It's the only campground in the park that is open all year-round.
It's also close enough to Springdale that you will have somewhat reliable cell service from your campsite. A rarity when camping, particularly in a canyon!
Its location adjacent to the visitor center is advantageous in peak season when the shuttles are running. The shuttles begin leaving from the visitor center a full hour before the shuttles from Springdale.
This large campground has 176 spots, 95 of which have electric hookups, and can accommodate both RVs and tents. A handful of sites are held for day-of walk-up tent campers, but they are often gone by noon each day in peak season.
Note that since electric hookups are available in this campground, generators are not allowed at any time. There are dump stations and potable water stations as well.
Reservations are required, up to 6 months in advance, and they go quick. Did we mention Zion is popular? This campground is sold out practically every night from May through November.
South Campground
The South campground is also located at the south entrance of the park near the visitor center, although not connected to it by direct road, and has a few differences from the Watchman campground.
South Campground closes in the winter. It opens March through October and accepts reservations only 14 days in advance. You will need the reservation as it usually sells out each night.
There are 117 campsites in total that can accommodate both tents and RVs with no electric hookups. Because of this, generators are allowed for two hours each morning and each evening.
This campground also enjoys cell service from Springdale!
Lava Point Campground
The Lava Point campground is off of Kolob Terrace Road on Lava Point Road, an hour from the south entrance of the park.
Note that it is not in the Kolob Canyons section of the park, but in the Kolob Terrace section. It takes 1.25 hours to get to the Kolob Canyons Visitor Center, just about as long as it takes to get to the Zion South Entrance Visitor Center.
Because of its high elevation, this campground doesn't usually open until after the snow melts in May and closes at the end of September.
The Lava Point Campground is just 6 primitive sites with pit toilets and no water. Lava Point will require reservations starting in 2022, available 14 days in advance.
Private Campgrounds near Zion
If you weren't able to score a spot at one of the Zion National Park campgrounds, don't worry. Campgrounds practically line the river and the road on the way in to Zion.
The Zion Canyon Campground is the only campground in Springdale-proper, the closest private campground to the park. It's mostly for RVs but does have 15 tent sites.
The Zion River Resort RV Park & Campground is a well-maintained spot for RVs and those that want to rent a cabin. No tent camping here, and it's about 20 minutes from the Zion south entrance.
Glamping near Zion
This comfortable camping craze is in full swing and new sites are popping up all across the country, in the Southwest in particular.
Glamping is camping for those that can't quite give up electricity, or those that can't sleep on the ground without needing help getting up in the morning! For those of us that cannot sleep without a fan going (or AC), this is a million-dollar idea.
Prices vary a lot by site and depending on what amenities are included. Zion Wildflower Resort offers bungalows, large canvas tents, and covered wagons, all just 20 minutes from Zion's south entrance.
Yes, the covered wagons and tents have AC! And did I mention the smores kit you get at check in?
A quick Google search is the best way to find these types of sites, as new ones are opening all the time.
Hotels near Zion National Park
Every city listed above has at least some hotels. Most chains have hotels in all the bigger nearby towns, generally cheaper price points the further you get from the park entrance.
If you have loyalty rewards with a particular chain, start there and see if it can get you closer to the park without breaking your budget.
We are loyal Hilton and IHG members, typically staying in a Hampton Inn or a Holiday Inn Express for their free breakfasts and reliably clean rooms.
Both chains have hotels in Springdale, St George, Cedar City, and Kanab.
---

---
There's a place to stay near Zion for every budget!
The earlier you start looking for accommodations near Zion, the better. There's a place to stay near Zion for every budget if you know where to look. We hope this guide was helpful!
Happy travels!
---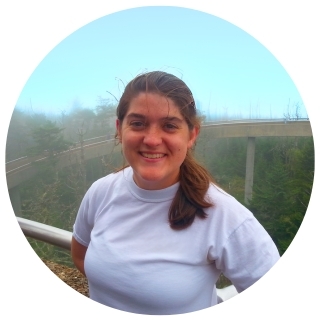 About the Author: Rachel Means
With six-figure student loan debt and only 10 PTO days per year, Rachel started traveling the world. A decade later, she's paid off her loans, changed careers, and been to 36 US states and 14 countries. She's an expert at planning and budgeting for travel and loves to help others do it, too! Read her full story here.
---
Share it!