The name "Death Valley" is a bit off-putting to some, but don't let the name fool you. Death Valley National Park is full of interesting landscapes with several must-see sights you won't find anywhere else in the country.
You'd be surprised how much life flourishes in Death Valley!
Most visitors come on a day trip, so we'll identify the best things to do in Death Valley, which are must-see sights and which could be put off until a later trip, as well as how much time you'll need at each attraction. Let's go!
---
This post may contain affiliate links. As an Amazon Associate and associate of other programs, I earn from qualifying purchases. This means if you click a link and make a purchase, I may earn a small commission at no extra cost to you.
---
A Few Quick Facts You Need to Know About Death Valley
Before we get into all the cool things to see in Death Valley National Park, it's important to know a few crucial facts about visiting this remote area.
1. Keep a gallon of water per person in your car.
Never go into the desert without (a lot of) water. Death Valley is the hottest spot on Earth & the driest location in North America. Dehydration happens quickly here.
While we don't recommend you lug a gallon jug with you while hiking, you will use those gallon jugs to refill your hiking water bottles throughout the day.
Always take water with you when you get out of the car for a hike, even just walking around Badwater Basin or the Mesquite Sand Dunes.
Drink water frequently while you're out exploring. A hydration bladder, like a Camelback, is easier to carry and much larger capacity than a single bottle.
You don't have to keep the emergency water ice cold in a cooler, but you should keep it in a shady spot in the back. You will never regret having it, but you will definitely regret NOT having it.
Pro Tip: The Furnace Creek Visitor Center has cold water bottles for purchase or they can fill up your 5 gallon water tank if you're camping in the park.
2. No cell service in the park.
This shouldn't be a surprise. Death Valley is surrounded by mountains (that's what makes it a valley…). It's also home to the lowest elevation in the US.
There is no signal in the park, and you're just gonna kill your phone looking for it. Put your phone into airplane mode when you arrive to save your battery.
3. Download offline maps before you arrive.
Following up on no cell service, this means you should download offline maps BEFORE you get to the park and lose signal.
You don't necessarily need maps of the park itself, since you can get a park map at the visitor center or kiosk.
What you do need is offline maps of your route back home at the end of the day. At least enough info to get you out of the park and back to cell signal range so you can pick up GPS again.
Alternatively, the safe bet is to keep an atlas in your car and navigate your way back to civilization like it's the 1990s and Google Maps doesn't exist.
4. Fill your gas tank outside of the park.
Death Valley is BIG. You'll do a lot of driving to see all the must-see sights. Fill up your gas tank before you get to the park.
There is a gas station or two in the park, near the visitor centers and in a couple of "town" areas, but the price of gas is always higher in the park than outside of it.
If you're getting low on gas while you're in the park, bite the bullet and get some gas in the park. You'll have a much worse day if you run out of gas.
Pro Tip: If you have car trouble of any kind (run out of gas, overheating, etc.), STAY WITH YOUR CAR. Walking off into the desert to get gas or help is not a smart idea here; the heat is life-threatening.

Someone will drive by eventually and find you. If the NPS find an abandoned car, they have to search the park until they find the owner.

If someone else happens along to help you, leave a note on your dash explaining where you went and when you hope to be back.
5. Park Entrance Fee
Death Valley National Park has a $30 per non-commercial vehicle entrance fee, valid for 7 days. Motorcycles get a small discount and are $25.
There are self-serve payment kiosks in pull-offs by all entrances in the park. Alternatively, you can pay your fee at the visitor center in Furnace Creek.
If you're an America the Beautiful Annual Passholder, you get free entry, of course!
But stop by the visitor center anyway. They'll give you a paper hang tag to use while you're in Death Valley.
The plastic hang tag you get when you buy your pass can warp and melt, along with your pass, if you leave it in the windshield in the heat too long. Welcome to the hottest place in the USA!
6. Check Current Conditions Before You Go
Sometimes Mother Nature has other plans, and a flash flood will make certain roads impassable.
The heat is always a factor in Death Valley, but especially so in the summer. Fire restrictions are common.
Check the Death Valley National Park website before you leave for the day, and see if there are any warnings or closures in the park.
What We Don't Cover Here: Backcountry Sights
Death Valley National Park is huge, and there are a lot of cool things to see here. However, a lot of the park is considered backcountry and not easily accessible.
Some of the coolest sights in Death Valley are in the backcountry, like Racetrack Playa, home of the famous sailing stones.
For the majority of these backcountry sights, you need a high clearance and/or four-wheel drive vehicle.
And, we can't stress this enough, experience driving through deep sand and sharp rocks with the knowledge and ability to change a flat tire.
A rental car isn't gonna cut it, and you should be ashamed for even thinking about trying it in an RV.
So, while we agree you should see as many of these cool sights as you can, when you can, we cover backcountry sights separately.
17 Best Things to Do in Death Valley National Park
What you do first at Death Valley usually depends on which direction you're coming from. The best must-see sights are scattered across this large park, so there's no bad spot to start your Death Valley adventure.
If you're driving from Las Vegas, you'll enter via Death Valley Junction and end up at Furnace Creek.
If you're driving from southern California, you'll probably enter from Panamint Springs.
And lastly, if you're driving from Yosemite National Park or any points north or west of there, you might have entered via Scotty's Castle.
**Note that Scotty's Castle and Bonnie Claire Road are closed due to flood damage. Current estimated reopening is Spring 2023.**
We have noted "Overlook or Hiking Distance | Difficulty Level | Time to Spend Here" for each site to help you plan your Death Valley itinerary.
Don't miss these top rated sights in Death Valley National Park!
Dante's View
Overlook | Easy | 15min or less (+20min drive from main road)
A bit of a long detour for an unparalleled aerial view of Death Valley. Good during the day, great at sunrise or sunset!
The side road to Dante's View is on the left, less than a quarter-mile from the pay station pull off at the entrance coming from Las Vegas.
It takes about 20 minutes to drive up to the overlook and another 20 minutes to drive back down, but you literally step out of your car and right to the overlook at the top. Stunning view!
A good middle of the day activity to keep you out of the sun and in the air conditioned car, or a good end of the day and you're tired of walking activity.
Father Crowley Point
Overlook | Easy | 10 minutes
A beautiful overlook on the way into the park from the California/west entrance. It's named for the beloved chaplain that loved this canyon view.
This is a step out of your car and see the view type of overlook, but there are several short footpaths nearby if you want a different perspective for your photo.
Zabriskie Point
Overlook | Easy-ish | 20min or less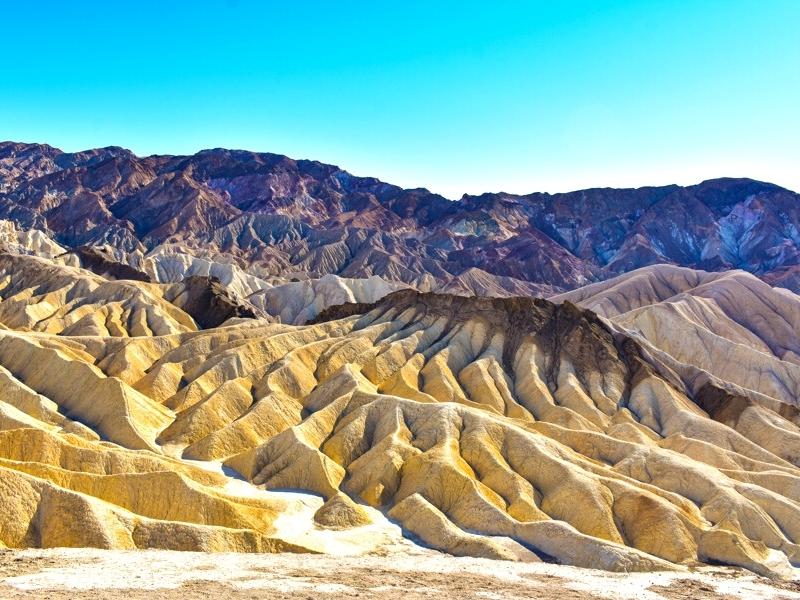 This viewpoint is one of the first stops in the park for visitors coming in from Las Vegas. You'll pass Zabriskie before you even reach the Furnace Creek visitor center.
The parking lot is right off of the main road, so it's hard to miss. The overlook requires a short walk up an accessible paved path, but it is a moderately steep climb.
Beautifully colored rocks are visible the entire walk up to the overlook, and, once up top, you can see into Death Valley.
If you skip Dante's View because you're short on time, don't skip this one!
Badwater Basin
Viewpoint + Hike 1mi to 10mi | Easy to very Strenuous | 30min to ??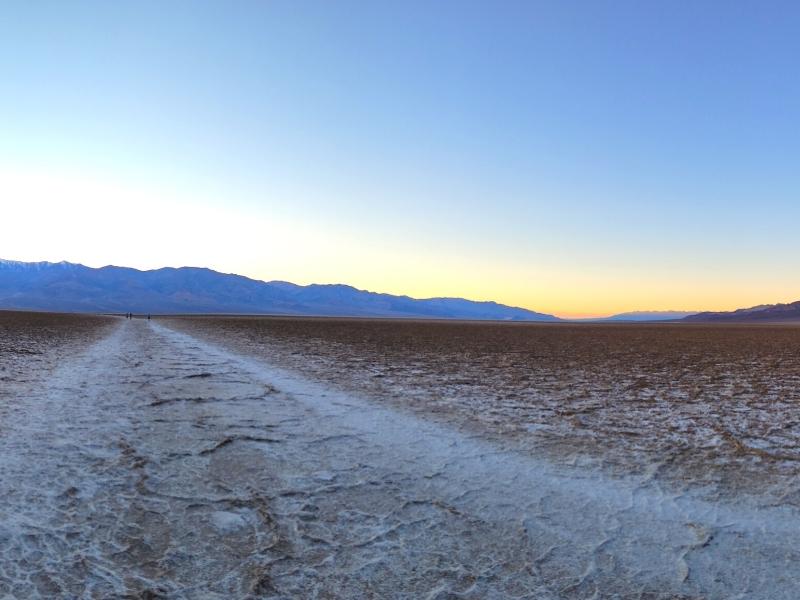 The famous salt flats and lowest point in North America. A small pond, often looking more like a large puddle, is right next to the parking area at Badwater Basin.
Stay on the boardwalk area so you don't crush the crust around the water. A very unique ecosystem survives here, and exhibit plaques will tell you all about it.
Walk out as far as you'd like into the salt flats. (It's 5 miles all the way across.) An obvious trail leads straight ahead.
You can walk as little or as far as you want, which is why this is rated easy to very strenuous.
The really good hexagonal shapes that everyone wants a photo of start showing up about a mile out into the salt flats. You won't see these if you don't leave the area by the parking lot.
On your way back to the car, notice the small, white sign about halfway up the cliff behind the parking lot. That sign marks sea level.
Most visitors spend about an hour here, if you do the 1 mile walk out and back. If you don't leave the boardwalk area near the parking lot, you can be out of here in 15-30 minutes.
Harmony Borax Works
Historic Ruins + 0.5mi loop | Easy & Accessible | 30min
A paved loop with exhibit plaques next to many historic artifacts tells the story of the Harmony Borax Works in Death Valley.
There for a minute, people found a way to make Death Valley profitable by mining borax. The trick was getting it out of this desolate spot and to the markets to sell.
They used teams of twenty mules to haul the final product out to towns in California. The image stuck, and now you'll find "Twenty-Mule" in names all over this area.
Devil's Golf Course
Viewpoint | Easy | 10min
A wide, open space in the middle of the valley floor with rough and sometimes sharp rocks everywhere, Devil's Golf Course is the most inhospitable terrain you've ever seen in a flat space.
Rest assured, you are allowed to be here. There's a small sign for the dirt road turn-off of the main road, and there's a small parking lot at the end with an exhibit plaque.
If you choose to try to walk out into the field, be very careful. There's not much space for your feet, and if you fall over, you are very likely to cut yourself.
There's not much to do here, other than see it for yourself so you can appreciate the funny name.
Artists Drive & Artists Palette
Scenic Route + Viewpoints | Easy | 30min – 1hr
Nature shows off her minerals, and the beautiful colors give this space its name: Artists Drive.
The rocky cliffs are primarily tan, yellow, and brown, with flashes of orange, pink, and green.
Artists Drive is a one-way only route because it's a narrow, paved road with several sharp curves. You'll actually pass the exit-end of the loop before you get to the entrance-end of the loop.
Artists Palette has become Instagram-famous and is about three-quarters of the way down the one-way only road. A small dirt parking area lets you get out of your car for the photo.
The scenic loop drive only takes about 30 minutes but add 15 minutes or so for every pull-off you take.
Golden Canyon (& Gower Gulch & Badlands Loop)
3mi out and back (up to 7.75mi loop) | Easy to Moderate (to Hard) | 1.5hrs (to 4.5hrs)
Golden Canyon is one of the most popular hikes in Death Valley. Accessed from inside the valley, not far from Furnace Creek, it's a relatively easy out and back trail that ends at Red Cathedral.
Some minor 4ft drops qualify as "rock scrambles" so the park rates this moderate difficulty, but it's not that bad for most visitors.
Fun Fact: Any Star Wars fans in the house? Golden Canyon was a filming location for scenes on Tatooine in A New Hope. See our full list of Star Wars filming locations below!
The nice thing about the Golden Canyon trail is that it also connects to the Gower Gulch loop trail, which can also connect to the Badlands Loop trail that starts at Zabriskie Point.
If you do a full loop of all three, you get that 7.75mile loop and a hard difficulty (for length alone).
This is a good spot for a make-your-own adventure. Start with the Golden Canyon, see Red Cathedral, and then reevaluate how you/your group feels.
Decide to either extend your hike and continue on to the Gower Gulch loop or end your hike and head back to your car.
Desolation Canyon
3.5mi out and back | Moderate to Hard | 2.5hr
Get up close and personal with some of the colorful minerals in the mountainside.
Once you get into the canyon, there's shade from the high canyon walls, assuming you're not hiking at midday, which is pretty much always a bad idea in this park.
Two rock scrambles, one 8ft and one 6ft, are what make this a potentially hard hike.
You could hike up to the first rock scramble and turnaround, but the really good coloring in the cliffs is mostly after the scrambles, as well as the viewpoint at the end of the hike overlooking the Valley and Artists Drive.
This is a convenient option if you want to get out of the car for a bit and would like some shade, but you can see all the cool features (colorful walls, view of the valley) from easier to reach spots in the park.
Mesquite Flat Sand Dunes
2mi out and back to tallest dune peak | Easy to Moderate | 30min to 1.5hr
Come play on large sand dunes! This is what most people think of when they think of a desert.
Either large sand dunes or dry areas with lots of cacti. But you can roll down dunes, so there's that.
The Mesquite Flat dunes are the easiest to reach of all the sand dunes in the park. The parking area for the dunes is near Stovepipe Wells Village in the center of the park.
You pretty much have free rein here. You can't hurt a sand dune by walking on it. Just watch for critters.
Hiking out to the top of the tallest sand dune is about a mile, but it is harder to walk in sand. Expect a good calf burn and about 1-1.5 hours to hike out and back.
Ubehebe Crater
Overlook + 1.5mi loop | Easy to Moderate | 10min to 1hr (+1hr drive from Furnace Creek)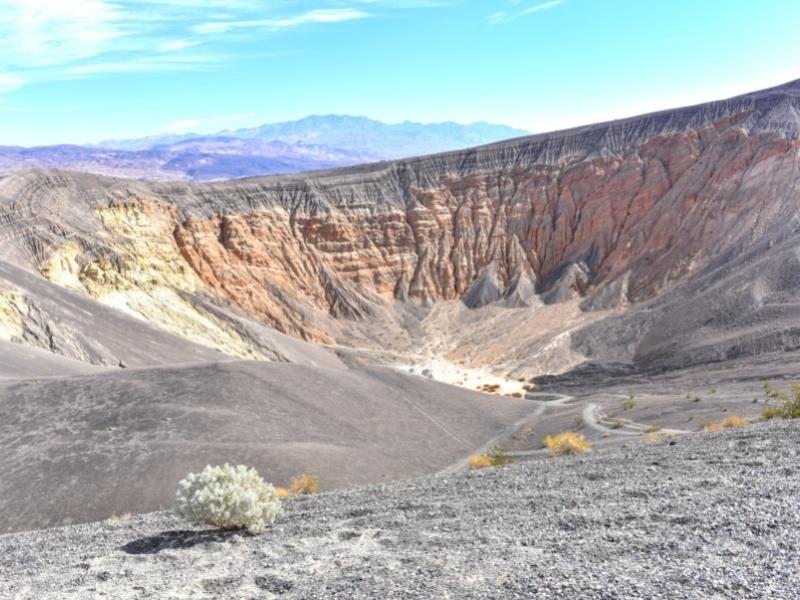 Hike into or around a volcanic crater! Or, if that sounds like too much effort, admire it from above at the parking lot overlook.
The Ubehebe Rim Trail is 1.5 miles around the unprotected rim of the crater (watch for sliding sand/rock), but rewards hikers with views into other craters nearby, like Little Hebe Crater.
If you want a challenge, hike into the middle of the crater. Just remember you have to hike back out uphill!
This is a maar volcano, meaning molten lava met groundwater, built up steam, and blasted a crater through the Earth's crust. There is no lava here today, so it's safe to explore the crater.
Ubehebe Crater is an hour's drive from Furnace Creek Visitor Center, one way, so keep that in mind if you're visiting from Las Vegas or have limited time available in the park.
Scotty's Castle and Bonnie Claire Road are still closed from flood damage several years ago, so there's not much else to do out here, unless you have a high clearance 4WD vehicle.
Keane Wonder Mine
Historic Ruins | Easy to Hard | 30min to 1.5hr
Explore what's left of a gold mine in Death Valley.
Obviously, you're not going inside this abandoned mine, but much of the equipment, buckets, and aerial tram remain in place, slowly rusting away.
The lower terminal of the tram and a lot of the equipment is right next to the parking lot off of a dirt road, easy to access.
If you're interested in seeing the (outside of the) mine, walk 1.5 miles up the old mining road to the entrance. (There's a lot of elevation gain, so it's considered Hard difficulty even though a short length.) But again, you can't go inside the mine.
Mosaic Canyon
4mi out and back | Moderate to Hard | 2.5-3hrs
Down a dirt road not far from Stovepipe Wells Campground, Mosaic Canyon gets its name from the breccia rock formations found here.
Several colorful small rocks conglomerated with natural cement to create the breccia rock, which looks like a natural mosaic.
A lot of people make it to the Boulder Jam (1.3mi in to the hike) and turn around, but if you're willing to climb around a few boulders, there's plenty more to see in this canyon.
Rated hard due to the climbing/crawling necessary to get around the boulders and through some tight spots later in the hike.
A nice-to-see spot near the Mesquite Flat Sand Dunes, but not an absolute must-see if you run out of time.
Natural Bridge
1mi out and back | Easy | 45min to 1hr
A quick but rocky hike into this canyon reveals Death Valley's own natural rock bridge.
It's got nothing on the natural bridges or arches you'd see in, say, Arches National Park in Utah, but it's still cool to see if you have the time.
With limited time, we wouldn't call this a must-see but a nice-to-see.
Twenty-Mule Team Canyon
Scenic Drive | Easy | 15 minutes
A one-way dirt road loop near Zabriskie Point on the east entrance road, Twenty-Mule Team Canyon gives you an idea of what the terrain was like before modern amenities and roadways arrived.
Can you imagine crossing this landscape in a mule-drawn wagon? Hard pass, thanks.
Wildrose Charcoal Kilns
Historic Ruins | Easy | 15 minutes (+1.5hr drive from Furnace Creek)
Off of a dirt road on the west side of the park are the Wildrose Charcoal Kilns. Remarkably well-preserved and very photogenic!
Ten beehive-shaped masonry charcoal kilns were built in the 1870s by one of the nearby mining companies. They didn't see action for very long, which also probably explains their good condition.
If you're visiting from Vegas for the day, you probably won't make it out here. If you do, the Telescope Peak trail isn't far from here.
Telescope Peak
14mi out and back | Strenuous | 7hr
A full day, strenuous hike that yields some pretty amazing views of Death Valley from the west side, looking east into the valley.
This hike is strenuous for its length, 7 miles to the summit and 7 miles back to the car, but also for the elevation gain, about 3000ft.
Beware altitude sickness! You need to acclimate before attempting this hike. If you've spent all your time on the valley floor (below sea level, remember?), and then try to hike this, you'll likely have a bad day.
The trail starts at the Mahogany Flat Campground, which requires a high clearance, 4WD vehicle to reach. Consider staying the night here to acclimate and then hiking the next day.
Alternatively, park your regular car at the Charcoal Kilns and hike the 1.5 miles down the dirt road to start your hike. Then navigate through pine forests, alpine meadows, switchbacks, and finally a narrow ridge to the summit.
This is a full day adventure in the backcountry for prepared hikers. Not recommended for day trippers or novice hikers.
We've included it on this list because you could reach it without a high clearance or 4WD vehicle if you add the extra walk from the Charcoal Kilns, but this definitely qualifies as a remote, backcountry adventure.
Star Wars Filming Locations in Death Valley National Park
Some of y'all just want to see all the spots where George Lucas and company came to film Star Wars. That's cool. Here's that list of spots:
Artists Palette
Dante's View
Desolation Canyon
Golden Canyon
Mesquite Flat Sand Dunes
Twenty-Mule Team Canyon
Commercial filming like that is generally not allowed in the national parks anymore, so you won't have your breakthrough movie the way George did.
But it's still fun to sit atop the ridge at Dante's View and imagine Mos Eisley in the distance.
Death Valley National Park FAQs
How Much Time Do You Need in Death Valley?
Hit the highlights with just one day in Death Valley, any time of year. You'll do more driving than hiking, but you'll get out of the car at each stop to walk around a bit.
If you want to do multiple hikes, come in the early spring or late fall when it's cooler so you have the full day to hike.
The higher elevations get snow in the winter and some backcountry roads may close, but overall, winter is a popular time to visit Death Valley.
Pro Tip: It's not advised to hike in Death Valley in the middle of the day in summer. In this context, middle of the day is around 10AM to 4PM.
When's the Best Time to Visit Death Valley?
Hands down: winter is the best time to visit Death Valley.
Cooler days let you explore the lower elevations without getting heat stroke, and the higher elevations will probably have snow or ice. Bring your crampons if you plan to hike.
Winter is high season, though, so you'll have the most fellow visitors to contend with, but this isn't anywhere near as bad as crowds you'd see at Zion or Yellowstone.
It can still get uncomfortably hot in spring and fall, but there will be less snow/higher temperatures in the higher elevations in the park.
Summer is the hottest, driest time to visit and sees the least visitors.
Where to Stay in Death Valley?
A few options:
The Oasis at Death Valley (The Inn & The Ranch)
Stovepipe Wells
Panamint Springs Resort
Death Valley Inn & RV Park
Campgrounds
Where to Eat in Death Valley?
Not a lot of options in the park. You're better off packing in your own food.
Restaurant at The Inn
Date Grove Diner at the Ranch
Panamint Springs Resort
Toll Road Restaurant (Stovepipe Wells)
---
---
Enjoy these 17 Best Things to Do in Death Valley National Park!
If you're planning a trip to Death Valley National Park, here are some other awesome things to do nearby or on your way to Death Valley.
More Southwest USA Ideas
Happy travels!
Share it!