One of Michigan's Upper Peninsula's largest cities, Sault Ste Marie is an international border city and destination in a unique corner of Michigan. Visiting Sault Ste Marie isn't on most bucket lists, but it's well-worth your time if you're planning a trip to the UP. Here are 10 fun and unique things to do in Sault Ste Marie, MI!
---
This post may contain affiliate links. As an Amazon Associate and associate of other programs, I earn from qualifying purchases. This means if you click a link and make a purchase, I may earn a small commission at no extra cost to you.
---
Why Visit Sault Ste Marie, Michigan?
You're unlikely to find Sault Ste Marie on a list of popular bucket list sites, but it's a true hidden gem, as is much of Michigan's Upper Peninsula.
Pro Tip: Sault Ste Marie is pronounced "Sue Saint Marie" and known as "The Soo" to locals.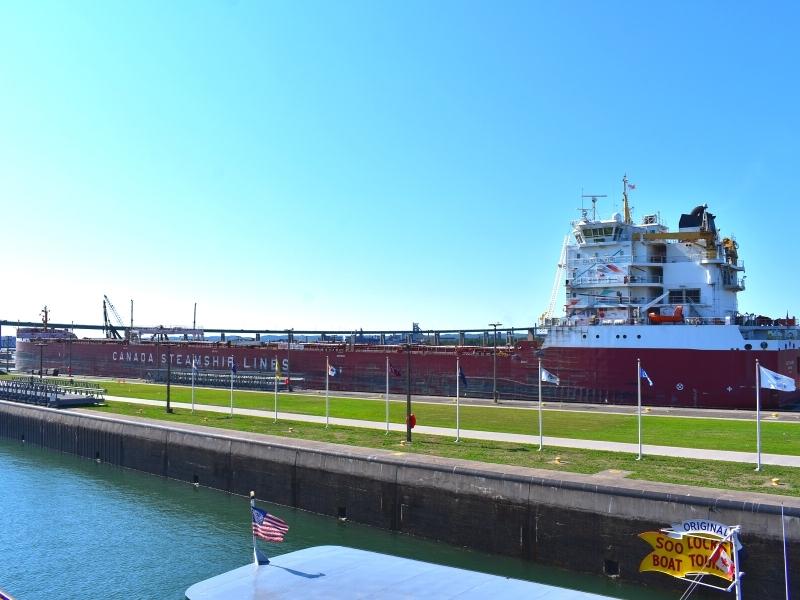 Sault Ste Marie is on the border with Canada, divided by the St Mary's River. A city of the same name resides on the Ontario, Canada side, but we're discussing the Michigan, USA city here.
Sault Ste Marie, or just "The Soo" to locals, is a crucial point in the Great Lakes maritime freighter industry. A series of locks allows ships to safely cross from the lakes into the St Mary's River.
The locks and the river connect Lake Superior with Lake Huron, enabling billions of dollars of commerce to flow up and down the lakes.
Should You Visit Sault Ste Marie in the Winter?
Honestly, there's not much to do in town during the winter. The weather on the lakes is notoriously cold and windy. The lakes will freeze and the locks will cease to operate for a few months. If you want to see the locks in operation, come when it's warmer.
The majority of tourist things to do in Sault Ste Marie are seasonal.
Most attractions in Sault Ste Marie don't reopen until late spring/early summer. End of season hours vary by activity, some closing as early as Labor Day weekend and others staying open until later in fall.
If you're planning a trip during shoulder season (spring or fall), we recommend you check each attraction before you go to confirm their operating hours.
---
---
10 Fun Things to Do in Sault Ste Marie
Free things to do are always a nice bonus when exploring a new place, and there are a few included on this list of attractions for visiting Sault Ste Marie.
Several of these things to do in Sault Ste Marie are owned by the Sault Historic Sites. Combo tickets are available in some cases and are noted below when applicable.
1. Soo Locks Visitor Center & Observation Deck
This awesome FREE visitor center provides the perfect place to watch the enormous freighter ships move through the Soo Locks.
It is fascinating to watch these mega ships rise or fall 21 feet in a matter of minutes with no pumps as the locks and gravity work their magic.
The observation deck behind the visitor center has two different levels, including one protected from the wind, that overlook the MacArthur Lock, the smaller of the two locks still in operation.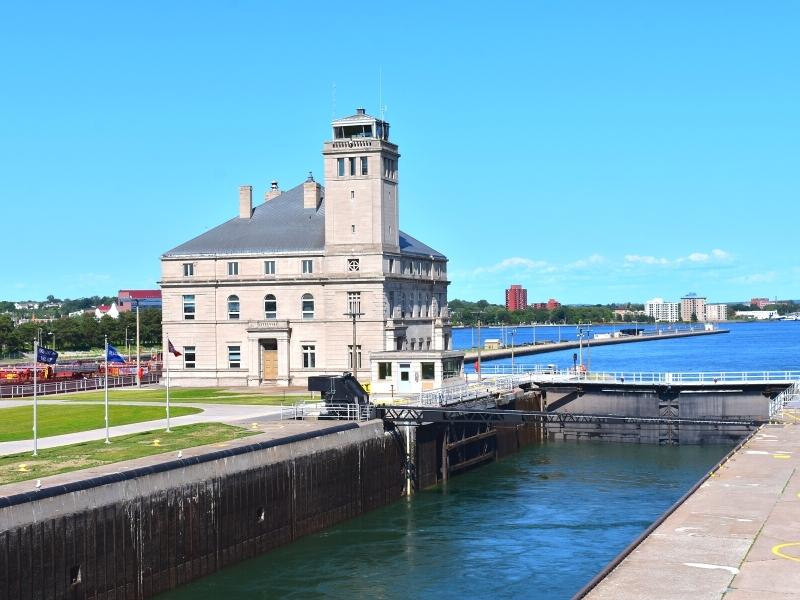 Wave at the tour boats as well as gawk at the freighters in the larger lock one spot over!
The visitor center explains the importance of this little-known area to America's commerce. Nearly all of the iron ore in the US passes through the Soo Locks, and keep in mind the locks close for the winter (January through March).
2. Soo Locks Boat Tour
Experience the Soo Locks firsthand on a guided boat tour! Two companies run daily tours through the locks: Famous Soo Locks Boat Tours and the Original Soo Locks Boat Tours.
Both provide narrated tours as you glide up the river, through the Soo Locks, and out onto Lake Superior before turning around and returning back through the locks to your origin dock on the St Mary's River.
The boats are usually crewed by retired freighter captains, so you have nothing to fear as you enter the locks and patiently wait as your boat rises and falls with the water in the locks.
3. Buy all the Delicious Fudge!
No trip to the Upper Peninsula would be complete without trying out a few different flavors of delicious chocolatey fudge!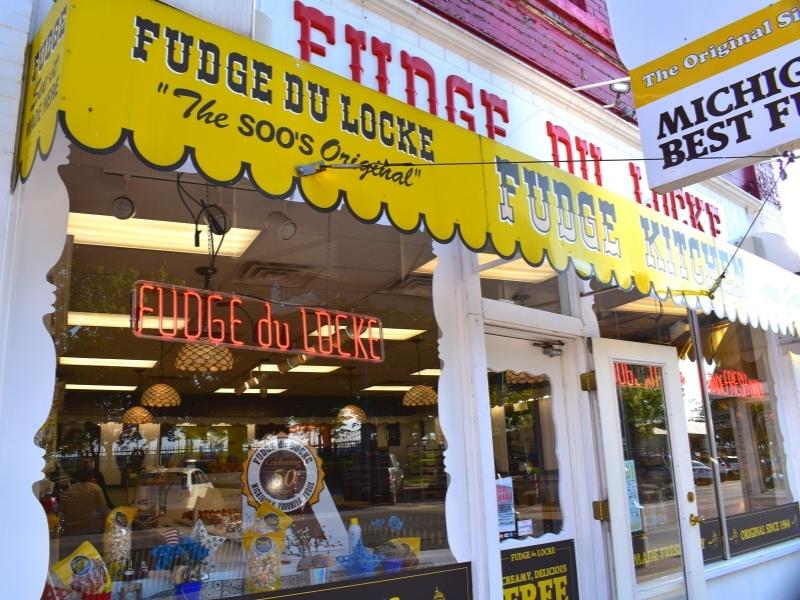 Every fudge shop has their own slightly different flavors to choose from, so feel free to step inside every fudge shop you see to browse. Leave room for fudge in your trip budget! One might say, a fudget. LOL.
Our personal favorites were the Michigan cherry chocolate and the sea salt caramel.
4. Tower of History
*Combo ticket eligible: Combine with Museum Ship Valley Camp and/or River of History Museum*
Hard to miss from town, this tall, plain concrete tower was built in the 1960s by a local Catholic church to exhibit the early missionary history of the area. The tower itself isn't much to look at, but this is the best place in town for amazing aerial views of the locks, the city, and the surrounding landscapes.
Meant to be part of a larger complex, the project was eventually abandoned by the church and the tower was donated to the Sault Historic Sites in 1980.
Today, the ground level features a museum which details the early missionary history as well as the local Native American history. An elevator carries visitors to the observation level for stunning views and exhibit plaques describing what you can see.
5. Museum Ship Valley Camp
*Combo ticket eligible: Combine with Tower of History and/or River of History Museum*
Explore a retired Great Lakes freighter ship and get an inside look into how a crew would live while underway. The massive cargo hold of this freighter has been converted into an enormous museum.
The Valley Camp was originally built in 1917, updated as technology became available over the decades, and changed names as it changed ownership.
It was retired in 1966 after nearly 50 years of service, when it was then purchased and converted into a museum. The Valley Camp is now on the National Register of Historic Places and can be explored top to bottom by eager visitors.
Highlights here are the two lifeboat portions recovered from the doomed Edmund Fitzgerald, several large aquariums showcasing Great Lakes fish species, and the restored crew quarters.
The SS Edmund Fitzgerald was the longest Great Lakes freighter ships ever built at that time, and it mysteriously disappeared during a storm in November 1975. Other ships were in the area, one was in radio contact with it, and it just disappeared without a trace.

It turns out it sank to the bottom of Lake Superior, taking all hands with it. How could it sink so quickly without any warning? We still don't actually know, and we never will.

If you want to know more, add a visit to Whitefish Point's Shipwreck Museum or pick up a copy of this book, a fascinating look into the eyewitness accounts from the post-disaster investigations.
6. Rotary Park
Enjoy the St Mary's River away from the bustle of the locks and downtown. Rotary Park is on the far east end of town where the St Mary's splits and turns south to eventually join Lake Huron.
Chill on a bench and enjoy a zen moment just watching the river. Bring the kids for the playground, or bring your own kayaks and launch into the river from the park.
Visiting Rotary Park can be a peaceful break or another exciting thing to do in Sault Ste Marie: your choice!
7. Admire the Historic Hydropower Plant
This is a quick, fun stop for those that love photography and architecture.
Previously known as the St Mary's Falls Hydropower Plant, it was bought out in 2010 and became the Cloverland Electric Cooperative Hydroelectric Plant.
The turn of the century architecture on display here is pretty dang cool. It's this long, beautiful, brick building that's pretty hard to miss when you drive by it, whether you're in your car or on a boat on the river.
It's still a working hydroelectric plant, and the current owners do not offer tours, so you'll have to admire it from afar instead.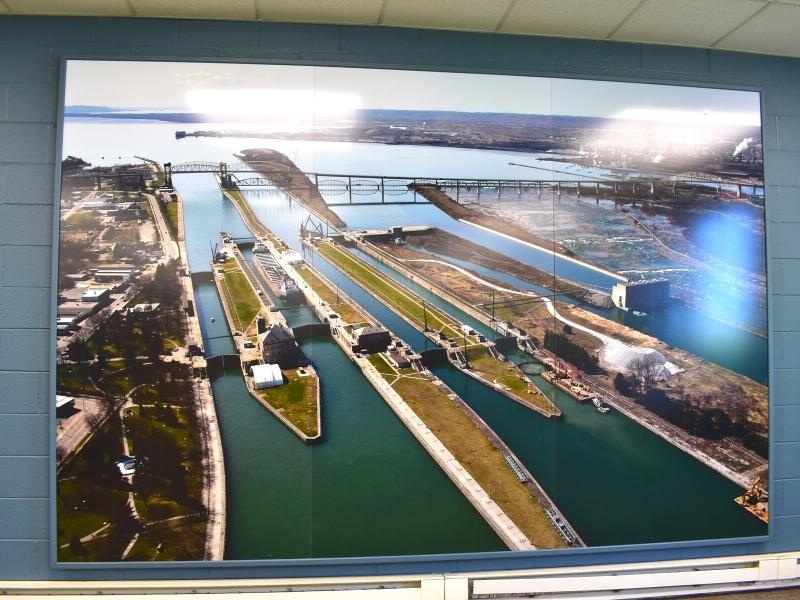 8. River of History Museum
*Combo ticket eligible, but you can't buy the combo ticket at the River of History Museum: Combine with Museum Ship Valley Camp and Tower of History*
The Soo area would not be what it is today without the St Mary's River. The whole point of the River of History Museum is to showcase the river, the lifeblood of the city. There wouldn't be a city without the river.
The river has been a key to commerce all the way back to Native American tribes that lived here before the French fur traders showed up.
But the River of History Museum goes back even further, to the creation of the St Mary's River with the retreat of the Ice Age glaciers. A unique perspective on the most important part of the city.
9. Mini Golf
Catch a game of mini golf while you watch the giant freighters slowly inch their way into the Soo Locks across the street. Lockside Mini Golf's location can't be beat!
This is a good way to kill some time downtown and break up all the history sightseeing. It's also within easy walking distance of much of the food downtown.
We wouldn't say this was a particularly impressive putt-putt course, but hopefully they've had good enough weather to replace those greens by now and you'll have an easier time of it!
10. Water Street Historic Block
Stroll the homes of Sault Ste Marie's early European settlers. The arrival of Europeans forever altered the history of this area, and these homes preserve examples of the different types of settlers that arrived.
Missionaries, fur traders, and eventually other commercial entities all have a place in the historic Water Street district.
The Johnston House features one of the first European settlers to arrive in the area, a fur trader that later married the daughter of the local Chippewa tribe chief.
The Henry Row Schoolcraft Office displays artifacts from the first Indian Agent assigned to the area, and soon Bishop Frederic Baraga's house will open to the public.
Where to Eat in Sault Ste Marie
Downtown eateries are all local owned, no chains here! There's a wide variety, too, from Greek and diner food to seafood and breweries.
Pro Tip: If you need chain fast food to satisfy any younger palates traveling with you, you can find those places south of town along Business I-75 Spur/Ashmun Street.
We stayed in Sault Ste Marie as our base while we explored other spots in the Upper Peninsula, but we only ate in Soo one night. We ate at Karl's Cuisine, right across from the Soo Locks. Delicious and good views! (And right next to the mini golf!)
Where to Stay in Sault Ste Marie
Sault Ste Marie is a small enough city that it's great for boutique accommodations. This is not a booming metropolis with tons of chains to choose from, but there are a few if that's more your speed.
We stayed at this Holiday Inn Express because it's so close to the locks and historic downtown.
If you have Hilton loyalty points, there's a Hampton Inn on the south side of town.
---
---
Enjoy your Visit to Sault Ste Marie, Michigan!
Enjoy a day visiting Sault Ste Marie before heading off into the wild wonderland of the rest of Michigan's Upper Peninsula. There are plenty of things to do in Sault Ste Marie on your next UP road trip.
More Resources for Visiting Michigan's Upper Peninsula
One Day in Pictured Rocks National Lakeshore
Happy travels!
Share it!