Michigan's Upper Peninsula is one of the best spots in the US for finding a lot of waterfalls in one area. Chasing waterfalls is one of the best things to do in the UP, and the Pictured Rocks waterfalls are some of the best of the best! The other amazing thing: all of these waterfalls are less than a 3 mile roundtrip hike. Many of the waterfalls near Pictured Rocks and Munising don't even require a hike! So get your camera ready and let's find all the best Pictured Rocks waterfalls near Munising, MI!
---
This post may contain affiliate links. As an Amazon Associate and associate of other programs, I earn from qualifying purchases. This means if you click a link and make a purchase, I may earn a small commission at no extra cost to you.
---
How to Find Waterfalls near Pictured Rocks National Lakeshore
In a few cases, all you have to do is look out of your car window! Most Pictured Rocks waterfalls are seen from viewpoints at the end of short, easy hikes, but a few require longer hikes.
>> All of the waterfalls within Pictured Rocks National Lakeshore are subject to the park entry fee. Most of the other waterfalls near Munising but outside of the park are free to visit.
Generally, people explore Pictured Rocks National Lakeshore starting from Munising, the larger of the two towns that bookend the park.
We've broken down the waterfalls by location: in the park, outside of the park, and best seen from the water. Yes, there are a couple of waterfalls that you just can't see from shore.
Pro Tip: Pictured Rocks National Lakeshore has a $10 entry fee, good for 7 days, or free with a valid America the Beautiful Pass.

The entry fee for Pictured Rocks is fairly new. Increased park popularity is making it harder to maintain park resources, and an entrance fee helps offset those costs. This park is packed with resources and well-worth the modest entry fee!
5 Best Pictured Rocks Waterfalls in the Park
These Pictured Rocks waterfalls are all within the park boundaries and are covered by park admission.
We've noted distance and difficulty to reach each. You'll be happy to know that they're all less than 3 miles roundtrip to see! Let the waterfall adventures begin!
Munising Falls
0.5 miles roundtrip / Easy
Possibly the easiest to reach waterfall in Pictured Rocks, Munising Falls is tucked away into a small gorge setting, just a quarter of a mile down a paved path from the Munising Visitor Center.
These falls are a tall, steady drop but not a ton of water. It makes for a pretty view, but there's no thundering goodness here. We spent about 20 minutes at this spot.
There are three viewpoints: right, left, and center. The right and left views require climbing a few earthen stairs to better vantage points from the sides.
We personally thought the right viewpoint had the best angle and view, but see all three for yourself first and see if you agree.
Miners Falls
1.2 miles roundtrip / Easy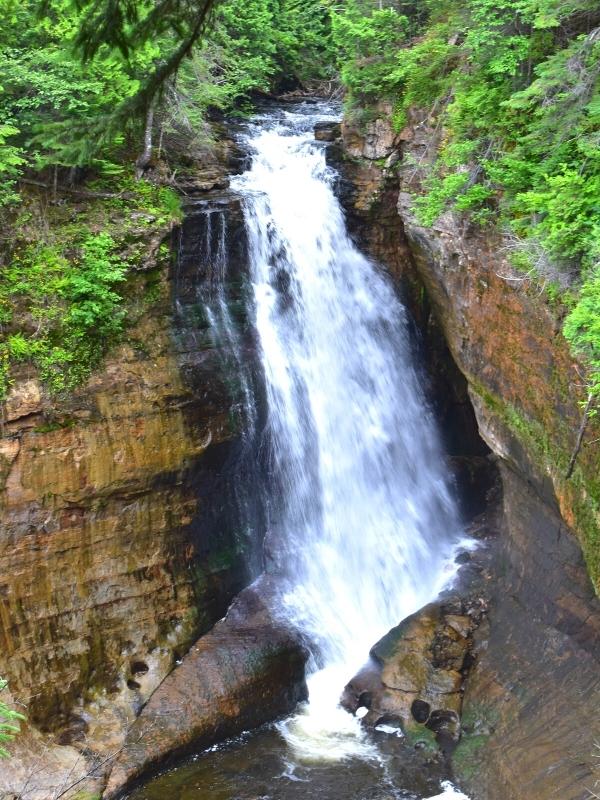 Hidden in the forest, Miners Falls is worth a stop on your way to Miners Castle Overlook, one of the most popular things to do in Pictured Rocks. The trail is dirt and gravel and mostly level. It took us about 30 minutes total.
Two viewpoints show off Miners Falls, although the one down the wooden steps is by far the better view, in our opinion. The one at path level is a bit underwhelming in the summer when foliage tends to block most of the view.
We recommend you stop for the waterfall hike first. After you stop at the viewpoints at Miners Castle it makes more sense to continue to Miners Beach than it does to backtrack to the waterfall.
Also, most people aren't going to want to hike to a waterfall, no matter how short of a hike, after they've gotten all sandy from spending time at the beach.
Mosquito Falls
2 miles roundtrip / Easy to Moderate
A three-tiered beauty in the forest above Mosquito Beach. This waterfall is also accessed from the Chapel parking lot. Just follow signs for Mosquito Beach and then about a quarter mile in a side trail leads to the falls.
Combine a trip to Mosquito Falls with a hike out to Mosquito Beach for a total of 4.5 miles roundtrip. The trail to the beach gets pretty muddy, so wear shoes you don't mind getting dirty and have some traction.
Chapel Falls
2.5 miles roundtrip / Easy to Moderate
If you just want to see the waterfall, this hike isn't too bad. Hike a little over a mile out on an old roadbed through the woods, see the amazing falls, and retrace your steps to the parking lot at the trailhead.
Chapel Falls is 60ft high and beautiful in summer or winter. Of course, getting here in winter is a different challenge.
In summer, we recommend extending the hike after you've had your fill of viewing Chapel Falls and continue on to Chapel Rock and even Chapel Beach if you have the time.
The Chapel Falls, Rock, & Beach Loop is about 6.2 miles roundtrip, but you can stop and relax at a beach at the halfway point.
Sable Falls
0.5 miles roundtrip / Easy (but stairs)
On the far eastern end of Pictured Rocks National Lakeshore lies one last waterfall within the park: Sable Falls.
To really appreciate this waterfall, you have to walk down a wooden staircase with 168 steps. The view gets better the further down the stairs you go, so don't stop at that first landing and go back to the car.
The stairs continue to Sable Beach, a great place to rest for a bit and take in views of Lake Superior before climbing back up to your car.
---
---
Pictured Rocks Waterfalls Best Seen from the Lake
The only way to see these Pictured Rocks waterfalls is from Lake Superior. If you take a boat tour, spring for the ticket to see Spray Falls, too.
Bridal Veil Falls
This small waterfall is seasonal and sometimes doesn't flow at all in drier months. It's easy to miss if conditions aren't right.
It's called Bridal Veil Falls because it's very thin and often makes a mist that looks like a veil. If it's flowing, the boat tour captain will slow down and point it out.
Chapel Beach Falls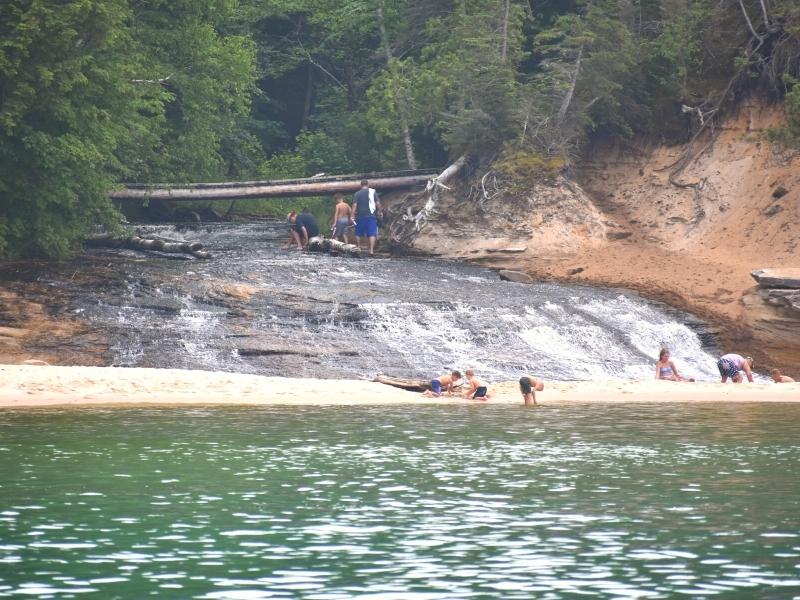 A waterfall on the beach! See where Chapel Creek meets Lake Superior at this unique confluence on the beach.
It strongly reminded us of Dunn's River Falls in Jamaica, except you shouldn't attempt to climb this one to the top!
Seeing this waterfall up close is possible if you hike the Chapel Loop Trail (6.2 miles roundtrip), but we think the pictures look better from the lake. You could always do both the boat tour and the hike and decide for yourself!
Spray Falls
The only way to see this waterfall is from a boat on the lake. Yes, it costs extra to include it on your boat tour, but we think it's worth it.
If you time your boat tour right, golden hour photography here is pretty awesome. The cliffs glow as the small stream cascades off a cliff and into the lake. It's stunning to see!
6 More Waterfalls near Munising & Pictured Rocks
The awesome waterfalls don't stop at the Pictured Rocks park boundary!
The following waterfalls are all within easy driving distance of Pictured Rocks but are not inside the park. Most of these waterfalls are near Munising, MI, but a couple are a decent drive away.
We've also noted which ones have their own entry fee as some of these are maintained by other entities.
Alger Falls
3 minutes from Munising
Roadside / Easy / Free
This waterfall is literally on the side of the road just south of Munising. There's an oversized shoulder for you to pull off the main road and snap a quick picture before continuing on your way.
When you stop here, make sure all 4 tires and your side mirror are out of the driving lane.
Wagner Falls (State Scenic Site)
3 minutes from Munising
0.25 miles roundtrip / Easy / Free
Not even a minute's drive from Alger Falls, you'll find the small parking lot for Wagner Falls State Scenic Site. This one requires a short walk but is another quick stop for a photo.
Wagner Falls is a beautiful tiered waterfall hidden from view from the road by a hemlock forest. No amenities here, but you're only a mile and a half south of Munising.
Scott Falls
15 minutes from Munising
Roadside / Easy / Free
Scott Falls is another roadside wonder! A 10ft drop over a cliff cascades water into a small pool at the base. You can even walk behind the falls into the alcove formed in the sandstone. A perfect quick stop for a cool photo!
There is a parking lot at a roadside park across the highway, but you'd then have to cross the highway traffic and walk down to the falls.
It's easier to pull off onto the extra widen highway shoulder (all tires and your side mirror) and get out for a quick picture before going on your way for the day.
Au Train Falls
20 minutes from Munising
0.5 mile roundtrip / Easy / Free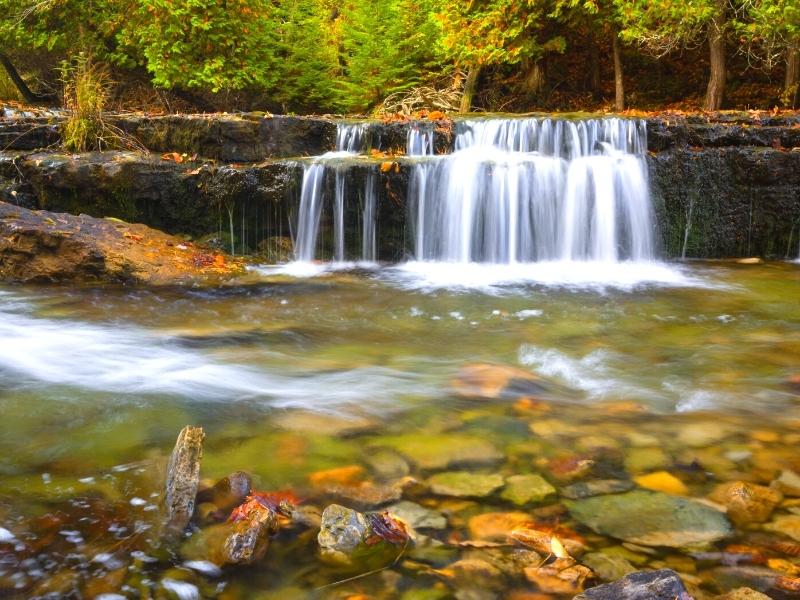 Two falls for the price of one! Au Train Falls is 14 miles southwest of Munising, on the way to and often paired with Laughing Whitefish Falls on a day trip of waterfall chasing from Munising.
Au Train Falls has an upper and lower falls, both easily accessible for viewing. The Upper Falls has the bigger drop, about 40ft, while the Lower Falls is only about 10ft.
Bring water shoes and feel free to wade! Young kids love it here for that reason. The flow isn't fast or deep so it's perfect for dipping your feet on a hot day.
Spring is usually best for visiting this waterfall. The waterflow is spread out over biscuit layers of rock, so in drier months these are more of a trickle than a waterfall.
Laughing Whitefish Falls (State Park)
35 minutes from Munising
1 mile roundtrip / Easy (but stairs) / Free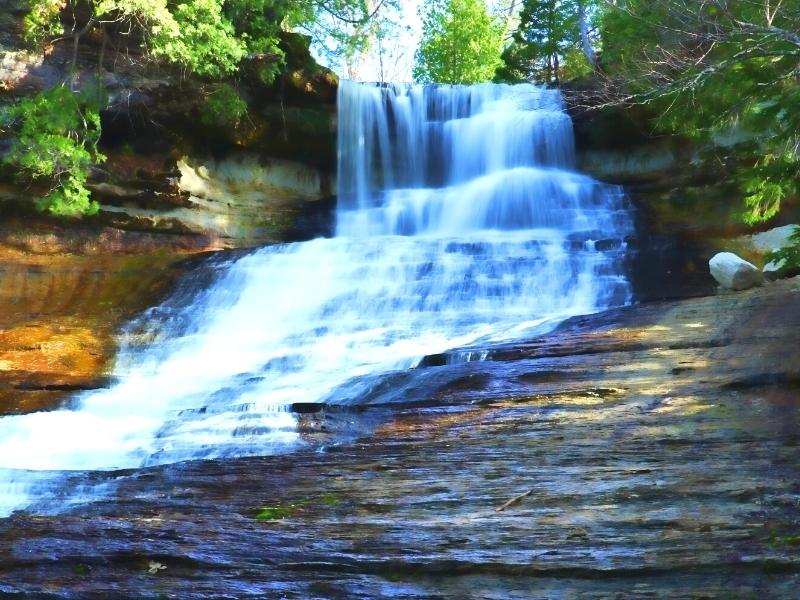 A beautiful, multi-tiered waterfall awaits you at the end of the trail. Laughing Whitefish Falls is 28 miles west of Munising, but one of the best waterfalls in Michigan, so it's worth the drive.
The trail first comes to the top of the waterfall and then you can walk down the wooden stairs to the bottom for even better views. It's a tall drop but at an angle so it looks more like a slide.
Spring is the best time to visit Laughing Whitefish Falls. Drier months sometimes see the water reduced and the waterfall isn't quite as impressive.
Tahquamenon Falls (State Park)
1.5 hours from Munising
$10 non-resident entry or Michigan Recreation Passport
0.33 miles to Upper Falls/ 0.25 miles to Lower Falls / Both Easy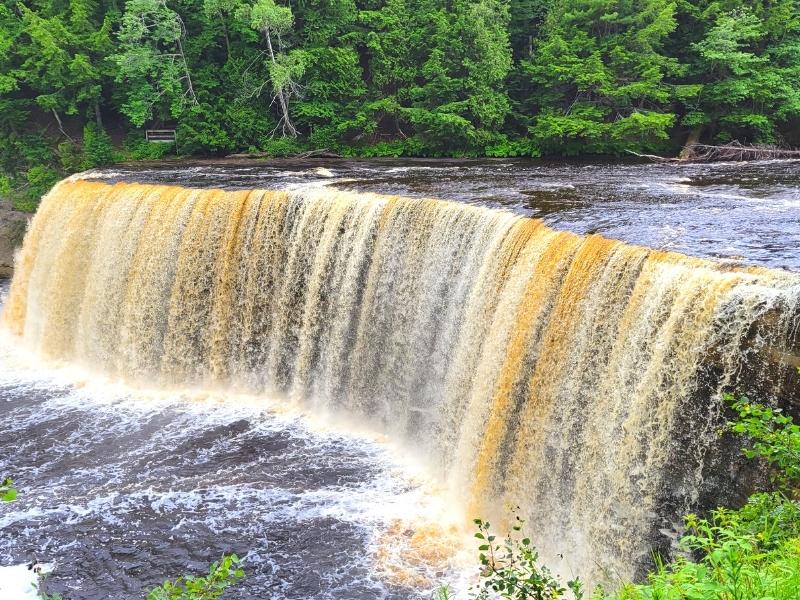 A road trip to see the eastern UP's best waterfalls wouldn't be complete without a stop at Tahquamenon Falls. This is the second-largest waterfall east of the Mississippi River, behind only Niagara Falls in volume.
Its tan-colored water has earned it the name Root Beer Falls, but is actually a unique feature created by the cedar forests that surround the Tahquamenon River.
Decomposing leaves create tannic acid, giving the water its color. But when you look closer, the water is very clear! Don't let the brown hue fool you.
Tahquamenon has two waterfalls: Upper Falls, which is like a mini-Niagara Falls, and Lower falls, which is a series of five smaller waterfalls moving the same amount of water. Both are worth a visit.
>> See our full guide for Visiting Tahquamenon Falls State Park. <<
---
---
Have Fun Chasing Waterfalls in Pictured Rocks!
We can't think of a better way to spend a fun weekend in Michigan's Upper Peninsula than chasing Pictured Rocks waterfalls near Munising.
You can't see all 14 of these waterfalls in one day, but make time for some on your next Michigan UP road trip!
Other Things to Do in the Michigan Upper Peninsula
Happy travels!
Share it!