Visiting Saguaro for the first time and can't decide where to start? We get it. That's why we're comparing Saguaro National Park East vs West head-to-head, to help you figure out where to start!
This national park has two completely separate districts on either side of Tucson, AZ, and it can be confusing figuring out where everything is.
We've been to both Saguaro East and West. While there are a lot of similarities, there are big differences, too. Differences that could be the deciding factor for which side is better for you.
So, let's compare Saguaro East vs West and see who wins best side of Saguaro National Park!
---
This post may contain affiliate links. As an Amazon Associate and associate of other programs, I earn from qualifying purchases. This means if you click a link and make a purchase, I may earn a small commission at no extra cost to you.
---
Saguaro National Park East vs West: What's the Difference?
At a glance, Saguaro East and Saguaro West seem very similar.
Both have a visitor center, a scenic drive, picnic areas, hiking trails, and stunning mountain and desert views.
But for each of those things to do in Saguaro, there's a side of the park that just does it best, ya' know?
Tons of saguaros? West is best.
Paved bike route? East is where it's at.
We'll get to the head-to-head comparison in a minute, but first, let's look at how to get to each district.
>> Saguaro East: The Rincon Mountain District
The portion of the park that is east of Tucson, AZ is officially called the Rincon Mountain District (RMD) of Saguaro National Park.
Most people just call it Saguaro East, which is easier to remember.
It's a straight-forward, 30 minute drive from the center of Tucson to Saguaro East's entrance.
You'll drive through suburban residential area and past the incredible aircraft graveyard at the Davis-Monthan Air Force Base before arriving at the park.
But once you arrive at the park, the landscape is vastly different than the well-tamed suburbs.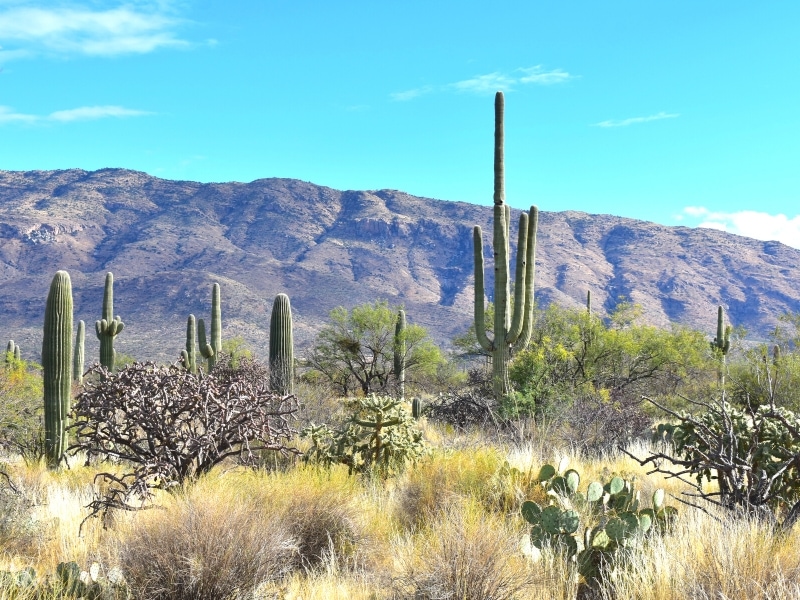 Saguaro East is home to the majority of Saguaro National Park's backcountry.
This is the district to visit if you're looking for a multi-day trek through arid mountains.
The front country hiking is good here, too, though, for those looking for something a bit more manageable, whether a day hike or just a few hours.
It's worth stopping at Saguaro East's Rincon Mountain Visitor Center first to ask a ranger for a hiking recommendation.
There are four additional trailhead parking areas that cannot be accessed from the paved loop in the main part of the park by the Saguaro East entrance.
A park ranger can help you pick the right trail difficulty and distance for you, and then help you find the right parking area.
>> Saguaro West: The Tucson Mountain District
West of Tucson is the Tucson Mountain District (TMD) of Saguaro National Park. Again, known as Saguaro West for simplicity.
It's also only 30 minutes from downtown Tucson to the Red Hills Visitor Center of Saguaro West, but this drive quickly leaves behind the 'burbs and becomes desert wilderness.
Saguaro West is a true saguaro cactus forest.
It'll take you by surprise the sheer number of saguaros in this part of the park.
The best thing to do here is to hike among all these incredible saguaros. It's not flat terrain, but it's also not backcountry ridgeline trekking, either.
You feel much more isolated in this section of the park because the Tucson Mountains block all signs of Tucson, as well as cell signal.
Like the eastern district, Saguaro West has several trailhead parking areas on the park boundary to access more remote trails. Rangers can help direct you.
>> Can You Visit Both Sides of Saguaro in One Day?
Yes, you can absolutely visit both districts of Saguaro National Park in one day. That's what we did on our first visit.
Spend the morning in one district, drive between and grab lunch during the hottest part of the day, and spend the afternoon in the other district.
We recommend you use the information below to fill your ideal itinerary.
Maybe you want to hike easy trails in Saguaro West to see all the cacti, then spend the afternoon biking around Saguaro East.
These head-to-head comparisons will help you choose the best activities for each side of the park.
Which Saguaro Visitor Center is Better: East or West?
Saguaro West's visitor center is better than Saguaro East's.
The Red Hills Visitor Center provides more information about the park, views from the patio, a larger gift shop, and real bathrooms.
We'd recommend starting your day in Saguaro West so you can begin at this visitor center.
Which Side of Saguaro has the Most Cactus?
Saguaro West has the most saguaro cacti in Saguaro National Park.
The number of saguaro cactus in Saguaro West will blow you away!
Seeing one of the last great saguaro cactus forests in the Sonoran Desert is an awesome thing to behold.
They're so close together and plentiful, covering hillsides, roadsides, and the valley floor up to the park boundary.
It's sad, though, to see the abrupt stop at the park boundary line. The valley floor past it is stripped bare.
Saguaro National Park East vs West: Best Biking Trail
Saguaro East has the better biking trail in Saguaro National Park.
The Cactus Forest Loop in Saguaro East is better than the Bajada Loop in Saguaro West, mostly because it's paved.
If you prefer mountain biking to road biking, then you may feel the opposite.
But the Cactus Forest Loop Road in Saguaro East is also safer, in our opinion, because the roadway is wider and easier to share the road with vehicles.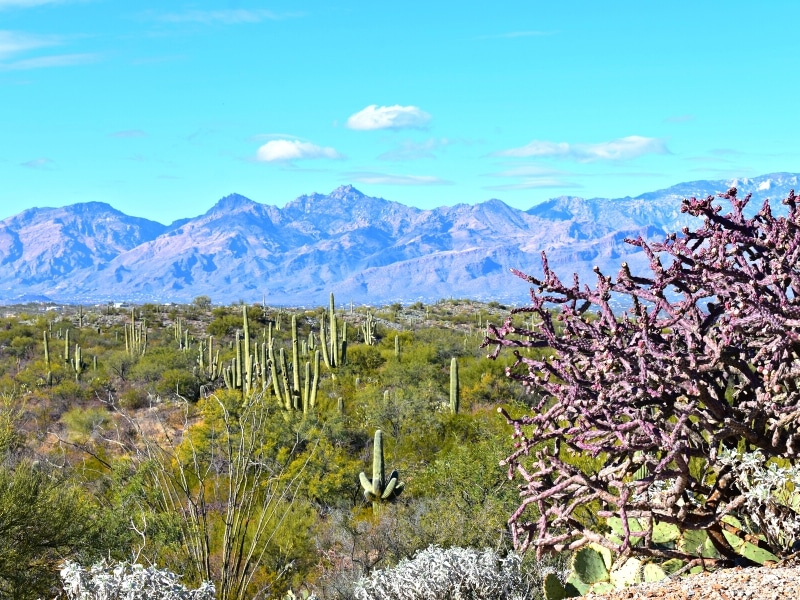 Which Side of Saguaro Has the Best Scenic Drive?
Saguaro East has the best scenic drive in Saguaro National Park.
This one was difficult to decide, but we chose Saguaro East for the paved road and variety of views.
The paved Cactus Forest Loop drive in Saguaro East doesn't kick up a suffocating cloud of dust like the Bajada Loop drive in the West does.
Also, while we love the dense collection of saguaros in the West, the scenic drive views in Saguaro East are more varied.
You'll see mountains, washes, and plenty of different types of cacti along the Cactus Forest Loop drive.
Best Sunset Views: Saguaro National Park East vs West
Tie!
Sunset views are stunning in both sides of Saguaro National Park.
It doesn't matter which district you choose; you'll be happy either way.
For Saguaro East, head to Javelina Rocks.
For Saguaro West, go to the Valley View Overlook or Signal Hill.
Where are the Best Short Hikes in Saguaro?
Tie!
Both districts of Saguaro National Park have good, short hikes.
In Saguaro West, take the Desert Discovery Nature Trail, the Valley View Overlook, and Signal Hill.
In Saguaro East, take the Mica View Trail, Desert Ecology Trail, and Javelina Rocks.
All are less than 1.5 miles roundtrip and have great views.
Where are the Best Long Hikes in Saguaro?
Saguaro East has the best long hikes in Saguaro because of its backcountry.
Saguaro East's backcountry features multi-day hikes through the wilderness and into the Rincon Mountains.
You won't find better long hikes for experienced hikers in Saguaro.
The front country trails in Saguaro East, too, vary in difficulty and length and are good options for day hikers.
All of the front country trails connect so you can string several shorter trails together to create a much longer hike.
Saguaro West has some good, long day hikes, too, so don't write it off entirely. It just doesn't have as many long hike options as Saguaro East.
The most popular day hike in Saguaro West is the 8 mile out-and-back Sendero Esperanza Trail to Hugh Norris Trail to Wasson Peak.
Saguaro East or West for Camping?
Neither.
There's no camping in Saguaro West at all, and Saguaro East only allows backcountry camping, which doesn't apply to most visitors.
If you're looking to road trip out here in your RV then you'll have to stay at a campground somewhere outside of the national park.
The most popular campground nearby is the Gilbert Ray Campground, just 10 minutes from Red Hills Visitor Center in Saguaro West.
Which Side of Saguaro Has the Best Mountains?
Tie. This depends what you want to do in the mountains.
If you're a day hiker, then the Tucson Mountains of Saguaro West are perfect. They can be explored in a day.
If you prefer isolated backcountry hiking, then the Rincon Mountains of Saguaro East are perfect.
Several backcountry cabins are stationed at key points so you can multi-day hike your way along the ridgeline and up in elevation for some stunning views.
One Day in Saguaro National Park: East or West?
Both! But if you really only have a few hours, choose Saguaro West.
You can't beat the density of the namesake saguaro cactus on the west side of the park.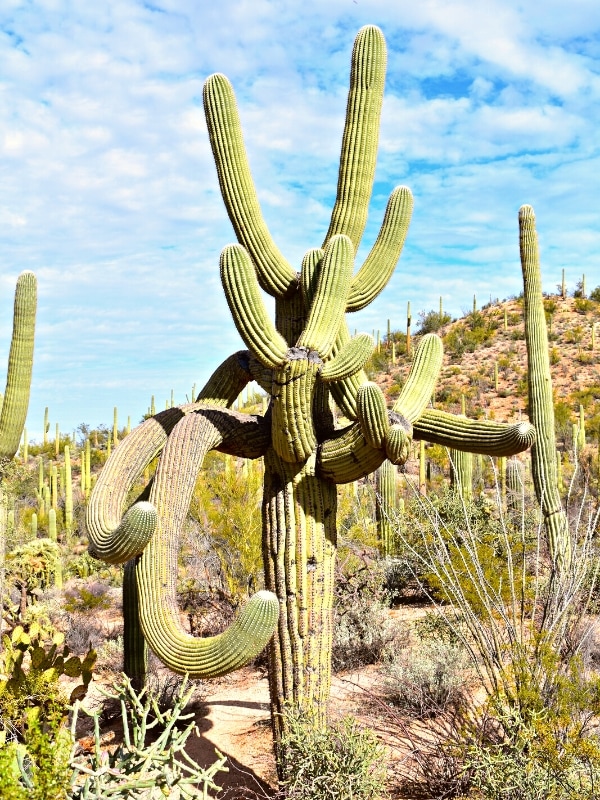 Saguaro National Park FAQs
Entry Fee: $25 per vehicle, good for 7 days in both districts of the park
This is the desert. Bring LOTS of water, sunscreen, and a wide-brimmed hat, even in winter.
Watch out for desert critters. Rattlesnakes live here, as do gila monsters and even bobcats. You may spot a snake, but you're unlikely to see the others.
>> How Much Time Do You Need in Saguaro National Park?
We recommend a full day to explore Saguaro National Park. Ideally, you'd have a full day per district, but you can visit both districts in one day and still see a lot of the highlights!
>> When's the Best Time to Visit Saguaro National Park?
The best time to visit Saguaro is in the winter or spring for cooler temperatures. Spring is ideal to see wildflowers and the saguaro cactus in bloom.
>> Is There Cell Service in Saguaro National Park?
Saguaro East has ok cell service. Saguaro West's cell service is awful. We highly recommend downloading offline maps before venturing away from wifi.
---
---
Time to Decide Which is Better: Saguaro East or West?
We really like both sides of Saguaro National Park, but if we have to choose one, we'd recommend Saguaro West.
Get your souvenirs at the visitor center, fit in a few short hikes or one long one, take in the view at Valley View Overlook, and see ancient petroglyphs while taking in the sunset from Signal Hill.
Not a bad first impression of Saguaro National Park!
More Arizona Ideas
Happy travels!
Share it!