Are you planning a trip to Lake Como in Italy but are unsure how to get there? Follow in our travel friend Taylor Clabaugh's footsteps as she shows you how to get to Bellagio from Milan.
Bellagio is just one of the many beautiful towns on Lake Como, but no matter where you're going on Lake Como, the transportation options are all similar.
Whether you want to travel by train, ferry, or car, we'll discuss the pros and cons and identify the fastest, cheapest, and most scenic options to get to Bellagio.
Taylor has explored this town from top to bottom, discovered the best routes, and has all the insider tips you need. Let's get you to Bellagio in Italy!
---
This post may contain affiliate links. As an Amazon Associate and associate of other programs, I earn from qualifying purchases. This means if you click a link and make a purchase, I may earn a small commission at no extra cost to you.
---
Is Bellagio, Italy in Lake Como Worth Visiting?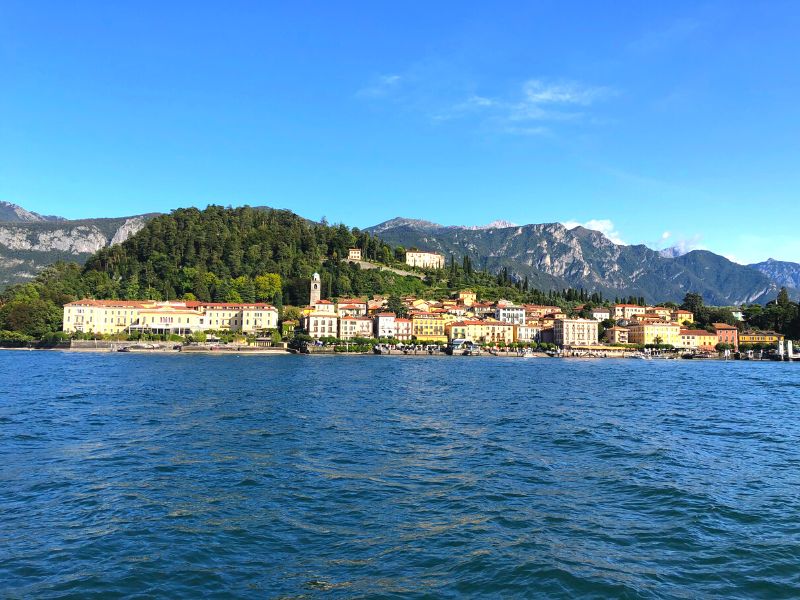 Yes, Lake Como is always a good idea! A trip to Bellagio is absolutely worthwhile.
Escape the hustle and bustle of the large cities to experience the serenity of this mountainside lake town.
Take a walk along cobblestone streets and enjoy an authentic Italian dish at an outdoor restaurant.
You'll need a minimum of 6 hours to explore Bellagio, dine at a local restaurant, and shop along the hillside.
Whether your itinerary is packed full of touring big cities or if you're planning a relaxing Italian retreat, setting aside one or multiple days to unwind in Bellagio is worth it!
Where is Bellagio, Italy Located?
Bellagio is located at the center of Lake Como with views of several villages, like Menaggio and Cadenabbia. It's approximately 35 miles or 1.5 hours north of Milan.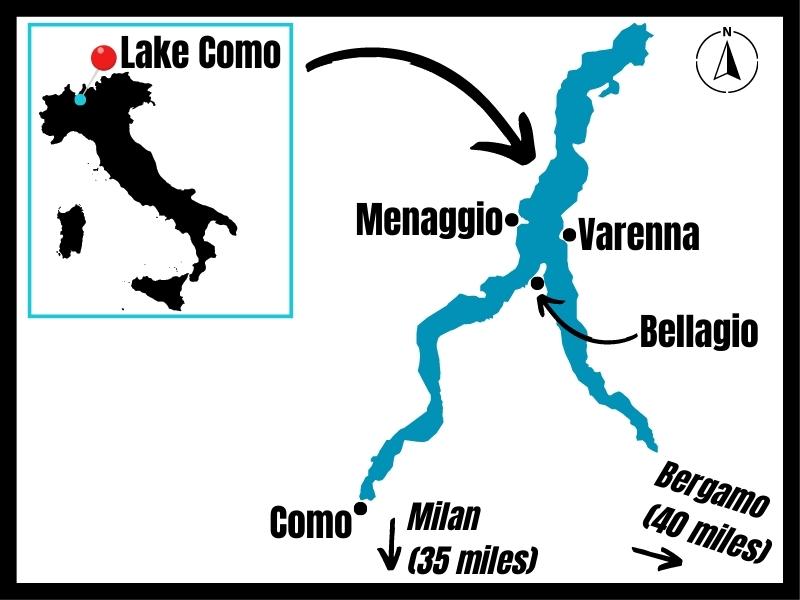 Lake Como is right next door to the Swiss border and town of Lugano. If you're interested in visiting the Italian-inspired side of Switzerland, we recommend you do it while you're in this part of Italy!
How to Get to Bellagio from Milan: Best Options Ranked
The best way to get to Bellagio from Milan is via train and short ferry that covers 47 miles within 2 hours.
You may be wondering, "Is there a train to Bellagio, Italy?" Simply put – no, you cannot get to Bellagio, Italy by train directly.
However, you can catch a train from Milan Central Station that will get you very close to Bellagio.
Here's our recommendations for how to get to Bellagio.
| Route | Transport | Cost | Duration |
| --- | --- | --- | --- |
| 1. Cheapest | regional train from Milan to Varenna-Esino + short ferry to Bellagio | about €20 per adult or €15 per child | under 2hrs |
| 2. Most Scenic | regional train from Milan to Como + longer ferry ride Bellagio | averages €30 per adult or €19 per child | minimum 3.5hrs |
| 3. Fastest | Taxi or private transfer | around €140 | 1.5hrs |
| 4. Most Private | Rental car or private transfer | around €138 | 1.5hrs plus a little time to grab the keys |
We recommend Option 1: train + short ferry for its incredible views on both the train and ferry rides while also making your budget happy.
This route is accommodating for luggage, especially for the traveler who is packing light (carry on suitcase and backpack), and you'll reach the finish line in under 2 hours.
If you're staying overnight in Bellagio and have some time to spare in your itinerary, we suggest the alternative-but-still-affordable scenic option. You'll need at least 2 additional hours to travel this route, but you won't be disappointed by the tranquil extended experience on the lake.
While taking a taxi may be quickest and a great option if you have a lot of luggage, it's the most expensive route.
A rental car is nearly as fast as and is cheaper than a taxi, but the shortcoming is that Bellagio really isn't made for cars. If you're day tripping here, you'll have a hard time finding parking and a long walk to the town center once you do.
---

---
The Cheapest Way to Get to Bellagio from Milan for the Budget- & Time-Conscious Traveler
Make the most of your time and budget and choose the cheapest way to get to Bellagio from Milan: regional train + short ferry!
Recommended Route – Get to Bellagio in 5 Easy Steps!
Begin at Milan Central Station
Take regional train to Varenna-Esino Station
Walk to ferry port Navigazione Lago di Como
Take ferry from Varenna to Bellagio
Arrive at Bellagio
Step 1 – Begin at Milan Central Station
If you flew in to a Milan airport, take public transit to Milan Central Station.
>> If you arrive at Malpensa airport, take the express train directly to Milan Central Station.
>> If arriving at Milan Linate airport, buses or taxis are most convenient for your schedule and wallet.
The exact address is Milano Centrale Railway Station, Piazza Duca d'Aosta, 1, 20124 Milano MI, Italy.
Although you cannot catch a direct train from Milan to Bellagio, you can catch a train to Varenna, Italy which is a skip and a hop across Lake Como to Bellagio.
Buy your regional train ticket to Varenna-Esino in advance so you can skip the ticket line. Here's a few reliable sites to purchase your train ticket:
If you're a free bird and don't know the exact time you'll get to the train station, you can buy tickets at the kiosks in Milan Central Station.
At the time of this writing, a ticket to Varenna-Esino goes for €7 – €11 depending on seating class.
Step 2 – Take Regional Train to Varenna-Esino Station
All aboard! Since this is a regional train, you likely won't have assigned seats, so seating and luggage storage is first-come, first-served.
Board early to have better choices for storing your luggage near your seat.
The ride is an hour long, so this is the perfect opportunity to have a snack, write in your travel journal, or relax with your travel companion(s).
As you get closer to Varenna-Esino station, incredible mountain views will appear outside your window. This is just a Bellagio antipasto (appetizer)!
Pro Tip: Always check your ticket to make sure you know whether or not your train has assigned seating.
Step 3 – Walk to Ferry Port & Purchase Tickets
When you arrive at Varenna-Esino station, there's a 10 minute walk downhill to the lakeside. You'll walk along Via per Esino road that runs parallel with a stream that empties into the lake.
It's mostly a stone sidewalk except for a bend in the road near the train station where you'll have to walk on the road for a couple minutes.
Overall, this walk isn't difficult to manage with luggage, and the only real obstacle is a few steps up and down a pedestrian bridge. Trust us though, you'll want to stop on the bridge to soak up the view!
Good to Know: The more you travel to the hidden gems of Italy, you'll find that many of these towns do not have the best sidewalk systems. You'll encounter many places with partial sidewalks that cut away when roads narrow. Always be mindful of the traffic.
Next, you'll look for the ferry ticket booth by the lake, Navigazione Lago di Como. If you plan to return the way you came, purchase round trip tickets which average €10 per adult, €5 per child.
We recommend taking their ferry (Traghetto, in Italian) which runs frequently and is a quick loop from Varenna to Bellagio.
The other boating option you'll see is "ship and fast service" which isn't as frequent and isn't intended to take you directly from Varenna to Bellagio. Go with the Traghetto ticket instead.
You don't have to purchase your ferry ticket ahead of time, but it's wise to visit the Navigazione Lago di Como website in advance to see timetables and boat options.
Step 4 – Take the Ferry from Varenna to Bellagio
You'll be on the ferry for about 15 minutes once everyone is boarded. Some ferries offer seating while others will have you standing with your face to the wind; it's refreshing, honestly.
You'll carry your own luggage on board, not an attendant, and stow it in the designated area.
Good to Know: The return ferry may take 15 minutes or 35 minutes because the ferry stops at Menaggio, too, a few times a day. Always check the timetables to see which routes have the Menaggio indicator and avoid those routes to prevent a delay. It can happen to the best of us!
Step 5 – Arrive at Bellagio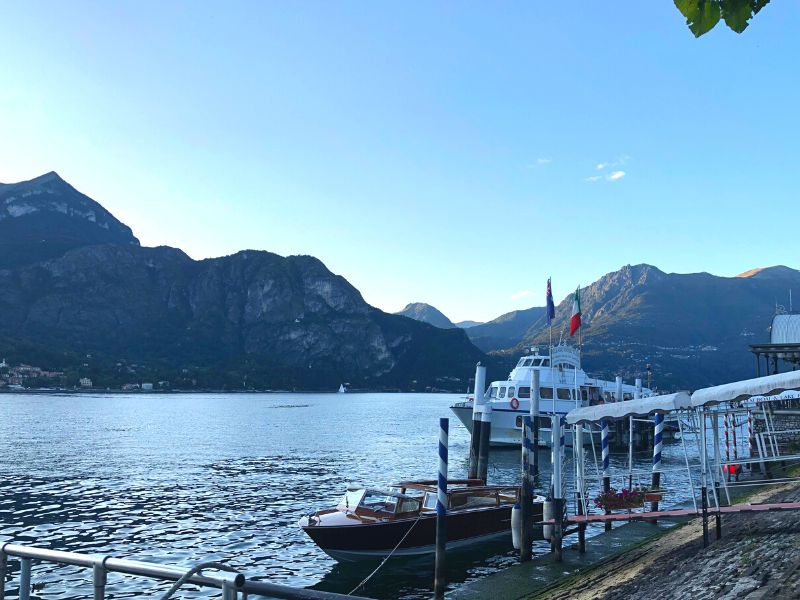 Once you exit the boat, you'll be immediately immersed in the town.
There aren't always free maps available, so print or download one ahead of time on Google maps or you can purchase a souvenir map at a local store to help you easily navigate the town.
If you're staying overnight, check into your lodging and shed your luggage right away because Bellagio has lots of steps throughout the town. If you don't, you'll soon remember why it's called luggage.
Have Extra Time on Your Hands?
If you have more than a day open on your Italy itinerary, you can take a more leisurely route. Consider staying overnight in Bellagio first and spend a few days exploring some of the nearby towns on Lake Como via ferry.
Pro Tip: Check the ferry schedule early in the day to confirm the departure times, and keep an eye on your watch. You won't want to pay for an unanticipated taxi ride because you missed the last ferry ride of the day.
---

---
The Most Scenic Way to Get to Bellagio from Milan for the Leisurely Traveler
The most scenic way to get to Bellagio from Milan involves a regional train from Milan to Como and a long ferry from Como to Bellagio.
If you want to maximize your time on gorgeous Lake Como and still get to Bellagio without a car, this is a great route for you!
I haven't been to the town of Como myself; however, it's very close to Bellagio and is a popular town on Lake Como.
The Leisurely Route for More Lake Como Views
Again, there is no direct Milan to Bellagio train, but this route also starts from Milan Central Station.
You'll depart via regional train from Milano Centrale to Como Lago. The train ride will take an hour and costs €7 at the time of this writing.
When you arrive in Como, feel free to explore the town before locating the ferry port.
>> If you're spending the night in Bellagio, you can tack on 2 or 3 hours in Como to walk around town, have lunch at a local café, or learn some history about the area.
However, you'll have your luggage with you so you may prefer to get a quick bite and come back another day to explore.
>> If you're day tripping, grab a bite to eat in Como if you need it, and then board the ferry so that you'll have enough time for Bellagio later. Remember to dedicate at least 6 hours in Bellagio.
When you're ready to set sail, there's a ferry between Como and Bellagio that offers unforgettable views. Navigazione Lago di Como offers two options:
One-way ticket to Bellagio: about 2.5 hours and runs €11 per adult and €5 per child
Daily ticket for the slow boat to Bellagio: (This is the Como to Bellagio ferry that allows you to get on and off the boat to visit towns along the way.) Daily tickets run €23 per adult and €12 per child.
Verify what type of seating and luggage arrangements are in place for the different boats so you don't get stuck standing for several hours. It's great to have friends that stand by you, but not for that long!
Getting to Bellagio from Milan – Without Getting on a Boat
If getting on a boat already has you nauseous, here are a few ways to get to Bellagio without getting on a ferry.
Hire a Taxi or Private Transfer
Getting from Bellagio to Milan by taxi or private transfer is the quickest option and only takes 1.5 hours.
Cost varies but an average taxi will charge you around €140 one way. The extra cost may be worth the reduced stress for you, and that's totally valid.
Just make sure your taxi or private car has enough room for all your group's luggage.
Driving from Milan to Bellagio
Getting from Milan to Bellagio by rental car is the most private option and also takes just 1.5 hours, excluding a little extra time to acquire your ride in Milan in the morning.
The biggest drawback here is the price if you're not returning through Milan. It increases dramatically if the car pick-up and drop-off locations are different.
You're looking at about €175 for one day if the drop-off spot is different from the pick-up spot versus about €100 for 2 days if returning the rental car to the same pick-up location in Milan after an overnight stay in Bellagio.
You may find this option worth it if you have a lot of luggage, want to set your own schedule, or are planning a few days in the Lake Como area and then returning to Milan.
Good to Know: Bellagio and most of the small towns along Lake Como's shores are not well-suited for cars, so you may find yourself walking a great distance from where you parked. You won't use the rental car to get around Lake Como, but it's a good option to get you there from Milan.
Taking the Train to Como and a Taxi to Bellagio
You can take a train from Milan to Como and catch a taxi to Bellagio for an excellent compromise between time and cost.
You'll pay €7 for your hour long train ride and another hour via taxi (one way) will average €75. Your grand total will be around €82 for a 2hr commute.
If you prefer privacy, aren't a fan of water, and have bulky luggage, this is a great choice.
Take a Bus to Bellagio?
While getting to Bellagio on a bus is possible, we don't recommend it. No bus goes directly from Milan to Bellagio.
You could take a train from Milan to Como and board the Fermata bus C30 from Como to Bellagio, but there'll be dozens of stops along the way to slow you down.
It's also difficult to purchase bus tickets in advance, a hassle if you've got luggage, and unlikely to be as frequent or punctual as the train system. This should be your last resort.
---
Frequently Asked Questions: Getting from Milan to Bellagio, Lake Como
How Far is Milan from Bellagio?
Bellagio is 45 miles north of Milan, which is about 1.5hr if you drive or 2hr if you take the train + short ferry option.
Can I Day Trip to Bellagio from Milan?
Yes, you can day trip to Bellagio from Milan quite easily! We recommend a day trip at minimum to Bellagio as there's much to see.
There are places to stay in Bellagio, too, so no need to rush while in this town. If you're day tripping, take the train + short ferry route or a direct taxi to save you time.
How Long Does It Take to Get to Bellagio from Milan?
It takes 1.5 to 2 hours to get to Bellagio from Milan, depending what type of transportation you're comfortable using.
Can I Get to Bellagio from Milan Without a Car?
Yes, you can get to Bellagio from Milan without a car, and we highly recommend the non-car options for cost-savings and incredible views via the train and ferry routes.
Can I Get to Bellagio from Milan Without a Boat?
Yes, you can get to Bellagio from Milan without a boat. If you don't have sea legs, you can also choose from a taxi, private transfer, or drive a rental car from Milan to Bellagio.
To cut cost a bit, you can catch a train from Milan to Como, then take a taxi to Bellagio.
What's the Best Way to Get to Bellagio With Luggage?
The best way to get to Bellagio with luggage is by taxi if you've packed several large bags (a large checked bag and roller carry on). However, trains and ferries in Europe are good about accommodating luggage.
If you travel light with only a checked bag or carry-on suitcase + backpack, it's easy to take the train + short ferry. Board your train early to easily store all of your luggage. Many short ferry options have you covered with large spaces for storing your luggage.
What's the Cheapest Way to Get from Milan to Bellagio?
The cheapest way to get from Milan to Bellagio is to take the regional train from Milan to Varenna-Esino followed by a quick walk down to the ferry to take the 15min ferry ride over to Bellagio.
What's the Fastest Way to Get to Bellagio from Milan?
The fastest way to get to Bellagio from Milan is taking a 1.5 hour taxi or private transfer. Keep in mind, though, the cheapest route involving a train + short ferry ride only takes about 30 minutes longer and costs 75% less.
---

---
Will You Take a Day to Experience Breathtaking Bellagio?
No matter which option you choose, the stunning views along the way will be a taste of the relaxation to come when you arrive in Bellagio. Now that you know how easy it is to get to Bellagio from Milan, let's start planning your Bellagio day trip!
Happy Travels!
---
About the Author: Taylor Clabaugh
After becoming an international traveler at age 21, Taylor discovered how soul-changing travel can be. She's been to 2 continents and 19 US states so far and is actively crossing more off her list. Taylor's traveling is always self-planned, as she enjoys taking the paths less followed in many aspects of life.
---
Share It!