Explore a beautiful coastal island, full of history, forests, prairie, and stunning beaches.
See if you can spot a whale, hike miles of trails through forests and along beach bluffs, or leisurely sip your way through all the island's wineries and distilleries.
There are so many fun and interesting things to do on Whidbey Island that you're sure to find something for everyone. Let's see what they've got!
---
This post may contain affiliate links. As an Amazon Associate and associate of other programs, I earn from qualifying purchases. This means if you click a link and make a purchase, I may earn a small commission at no extra cost to you.
---
Why Visit Whidbey Island?
Whidbey Island is one of Washington state's largest islands in Puget Sound. It's close enough to downtown that it's an easy escape for Seattleites but far enough that it's a peaceful world of its own.
A lot of Whidbey Island is preserved and protected, in one form or another. You won't find huge developments on every square inch of space.
Relish in the peace and quiet of the forest or the prairie. Hike miles of trails along bluffs, through fields, along beaches, and through forests.
Experience small town charm, just an hour away from downtown Seattle. Maybe even spot a whale or two!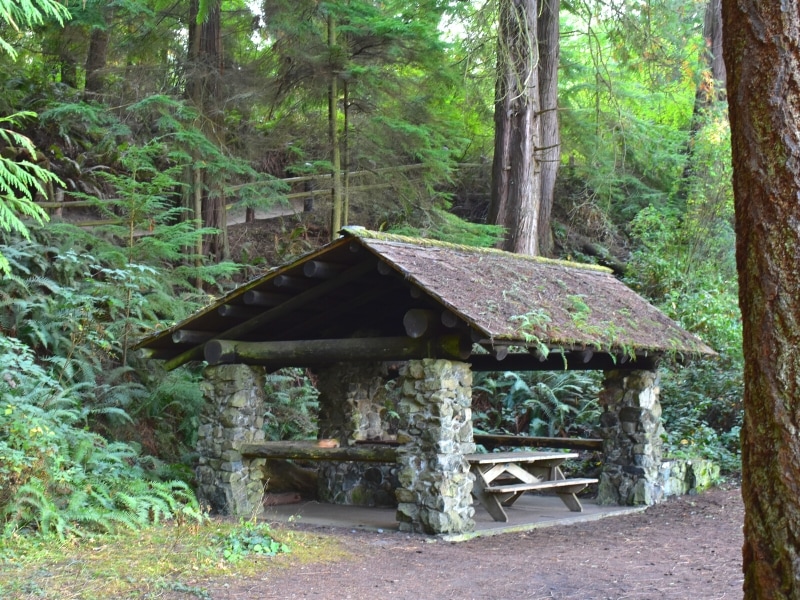 Where is Whidbey Island & How Do You Get There
Whidbey Island is northwest of Seattle. The northern end of Whidbey Island is very close to the San Juan Islands and the Canadian border while the southern end is parallel with Everett, WA.
There are generally two ways to get to Whidbey Island: ferry to the southern end or driving to the northern end via Deception Pass.
The Mukilteo/Clinton ferry is the most popular way to get to Whidbey Island because it's so quick and easy from Seattle.
However, not everyone likes boats, even if the ride is just 10 minutes long. Those people may opt to drive via Deception Pass.
We've done both and have a detailed guide for everything you need to know to get to Whidbey Island, including a few alternative options.
---
---
17 Fun Things to Do on Whidbey Island
There's a lot to see on this large island! We've organized the list in geographical order from north to south, to inspire and to help you plan out your day(s) on Whidbey Island.
It's also completely doable to drive the entire length of the island in a single day, if you want to see attractions in multiple areas of the island.
Here are 17 things to do on Whidbey Island!
Deception Pass Bridge
An amazing pair of bridges in a tricky area, the Deception Pass Bridge was first opened in 1935 and has dutifully connected Whidbey Island to the mainland ever since.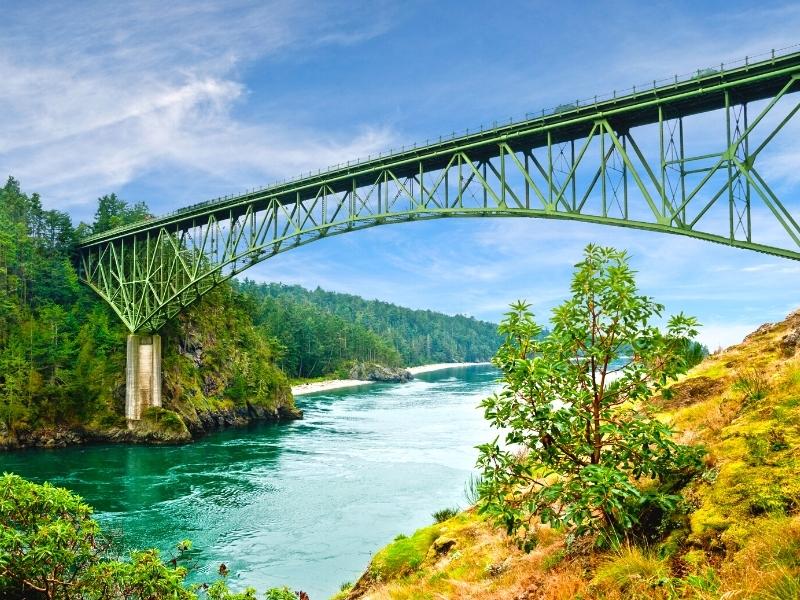 Coming from the mainland side (via I-5 and Fidalgo Island) there are multiple pull-offs along the side of the road for visitors that want to admire the views or walk out onto the bridge.
Be sure you get all 4 tires off the road and you're not sticking out into the driving lane, including side mirrors! The roadway narrows for the bridges.
Once you've safely crossed the bridge there's a scenic vista parking lot on Whidbey Island itself. However, this is part of Deception Pass State Park and requires paying a day-use fee unless you have a Washington state parks annual Discover Pass already.
The views from the bridge are awesome, but the views beneath the bridge are cool, too. Hike down from the parking lot to North Beach, a small stone beach with excellent views of the bridge from water level.
Deception Pass State Park
Deception Pass is Washington's most visited state park, straddling both Fidalgo and Whidbey Islands. We've already talked about the bridge, but there's a lot more to this park.
Camping, hiking, tide pooling, fishing, bird watching, and boating are all popular things to do at this state park. Three campgrounds service the park: Bowman Bay, Quarry Pond, and Cranberry Lake.
Almost 40 miles of hiking trails will keep hikers and bird watchers busy, and miles of both saltwater and freshwater shoreline await for boating, fishing, and other water activities.
Deception Pass State Park is open year-round but has reduced facilities in the winter.
Joseph Whidbey State Park
A small, day-use only state park just west of Oak Harbor, Joseph Whidbey State Park is a fantastic place to watch the sunset over the water or while away a few hours on the beach.
It's not a big place, but it's good for escaping crowds at bigger, busier parks.
Bring your own volleyball net and have a game with friends in one of the large open grass fields. Or, take a stroll along the 2.5 mile Moyer's Loop Trail.
Worth a stop, especially for those trying to visit all of Washington's state parks!
Visit Oak Harbor
The most developed of the towns on Whidbey Island, Oak Harbor has a Safeway and a Walmart. *waggles eyebrows*
Oak Harbor isn't quite the middle of Whidbey Island, but it's close enough. SR 20 passes through the middle of town, making it easy to get on your way to any other Whidbey Island attraction.
It's a great home base for those that want to spend a few days on Whidbey Island.
While in town, stop by Flintstone Park on the waterfront and find a concrete replica of Fred and Wilma's car!
Pacific Northwest Naval Air Museum
Not far from Oak Harbor is Naval Air Station Whidbey Island.
To raise awareness of the origins and continuing legacy of the NAS, the Pacific Northwest Naval Air Museum opened in downtown Oak Harbor.
The museum focuses on the PBY Catalina, an amphibious aircraft from the World War II era and the initial reason for establishing the Naval Air Station nearby.
Jump in a flight simulator to see how these planes work, tour decades of naval air history in the museum, and take home a souvenir from the gift shop.
A good stop for history buffs and anyone that likes planes!
Fort Ebey State Park
The last coastal fort built on Whidbey Island, Fort Ebey opened in 1942, had only one gun battery, and was manned for just 6 years before being rendered obsolete.
Today, Fort Ebey State Park is one of Whidbey Island's favorite parks. Miles of hiking and biking trails crisscross the park, and you can even explore the tunnels in the old battery. Bring a flashlight, though!
This park also has beach access and a small pond for bass fishing. Paragliders launch from the bluffs by the sea, a sight to see if you've never witnessed it!
We've said this before, and we're going to say it again, but this park is perfectly situated for amazing sunset views!
Ebey's Landing National Historical Reserve
Isaac Ebey was one of the first western settlers to make a land claim on Whidbey Island in 1851. He convinced his family and relatives to move out there with him, and he had one heck of a view from his farm.
In the summer, tour Jacob and Sarah Ebey's Home (Isaac's parents) and spot the few remaining blockhouses on the island.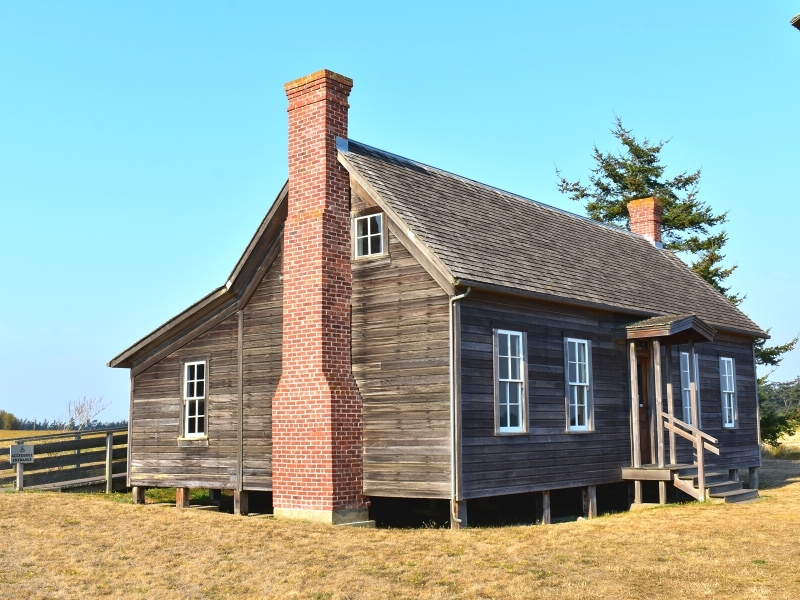 Blockhouses were built to protect settlers from native tribe attacks; although, we see a design flaw in a windowless building made out of wood with only one door in and out…
The Ebeys and other settlers farmed the island for several generations, with very little change to their way of life. Then, in the 1970s, a developer proposed to convert some of the prairie farmland for commercial endeavors.
The uproar from the local farmers was instantaneous, and they eventually succeeded in convincing Congress to create Ebey's Landing National Historical Reserve, over 17,000 acres in central Whidbey Island encompassing much of the original farmland, prairie, and the town of Coupeville.
Today, the majority of the reserve is still privately owned land. Many families are still farming the same land their ancestors farmed.
Three state parks and several county parks are within the reserve boundary and provide recreation for the public to enjoy this natural area.
The Bluff Loop Trail is a favorite in Ebey's Landing State Park, a portion of the reserve along the coastline adjacent to the Ebey House.
Fort Casey State Park
Whidbey Island once was the home of several coastal defense forts, built in the late 19th and early 20th centuries.
These forts were built into the bluffs and used disappearing carriage guns to protect Puget Sound. Any foreign warships trying to enter Puget Sound would have to contend with the guns on the bluffs.
Climb all over several batteries still in place at Fort Casey. And we do mean climb! Surprisingly, the park actually lets you climb ladders and the side decks on the guns!
Most parks close these off for safety reasons, but I love the trust here. Just keep an eye on your kids so they can keep these areas open!
Two (disarmed) guns are in place for you to explore. One is in the firing position and the other is in the loading position, showing off the disappearing carriage and how it works.
Fort Casey has several batteries to explore, as well as a few hiking trails that connect them and the bluff to the beach.
Camping is available in the park, and it's a popular stop for those adventurous souls thru-hiking the Pacific Northwest Trail.
The Coupeville/Port Townsend ferry terminal is also located within the park boundaries.
Admiralty Head Lighthouse
Another popular stop at Fort Casey is the Admiralty Head Lighthouse, on a small hill behind Battery Turman.
The original Red Bluff Lighthouse was removed to make way for the construction of Battery Kingsbury and Battery Worth, and the Admiralty Lighthouse was built further down the bluff to replace it.
The lighthouse is open seasonally for tours. Explore both the lightkeeper's home and the attached lighthouse tower. Check the website for current hours.
Visit Coupeville
Another historic small town on Whidbey Island, Coupeville is inside the Ebey's Landing National Historic Reserve boundary.
Coupeville is proud of its historic city center, with shops and restaurants on both sides of the main street and smaller streets in the area.
Several museums inhabit historic buildings and tell the stories of Coupeville from the beginning to present day. The Island County Historical Museum is right next to the wharf and tells the story of Whidbey Island's history.
Coupeville Wharf
The real show-stopper in Coupeville, though, is the historic Coupeville Wharf. The large red covered wharf houses shops and historic exhibits today but was once a bustling commercial wharf.
Grab a cup of coffee, watch the boats, and maybe pick up a souvenir at the gift shop.
Consider donating a few dollars to help save the wharf. Maintaining such an old structure is not cheap and yet they don't charge an entry fee!
Price Sculpture Forest
East of Coupeville, take a stroll through an art gallery in the woods! The Price Sculpture Forest is a free and unique attraction that you can walk to from town.
Walk through a PNW forest and see how many sculptures you can find. Total distance is a half mile, with two loops to choose from.
Don't worry. There's a self-guided tour (no app required) with directions, explanations, and videos from the sculptors for each piece.
This is a quick and fun stop, open all year round. Come in spring for the blooming rhododendron. No dogs or bikes, though.
Greenbank Farm
The Greenbank Farm is a small community farm/restaurant/shopping area all its own. Walk through the farm fields and see what's growing, or keep going and find the secret pond!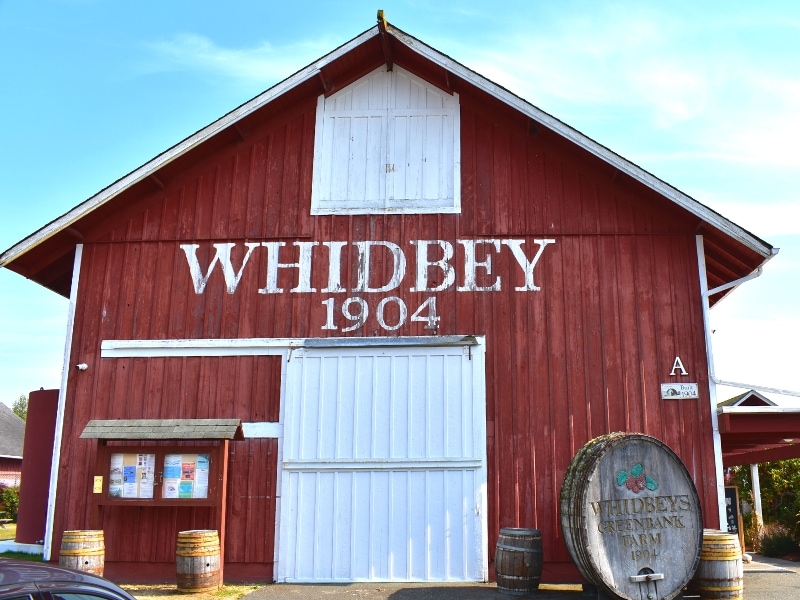 Greenbank Farm is famous for its pie. Seriously, you can walk in at 10AM on a Tuesday and they know you're there for the pie. Stop at the café for a slice or take home a whole pie!
Enjoy a wine tasting at the Wine Shop, or build your own charcuterie board for a take-away lunch at the Cheese Shop.
There's even a small art gallery here and a few other shops to explore, depending how much time you have.
South Whidbey State Park
Another small, day-use only state park, South Whidbey showcases old growth forest.
The park's most popular claim-to-fame is its 500 year old cedar tree. Take advantage of the 3.5 miles of hiking trails to explore several parts of the forest and see firs, spruces, and cedars.
If you're coming to Whidbey Island from Seattle, South Whidbey State Park is a good option for a breakfast or early lunch stop.
Visit Langley
Stroll the streets of Langley and enjoy southern Whidbey Island's historic small town. There's really only the one main road before town fades into residential and in turn fades back into rural.
Boutique shops and restaurants line both sides of the road, tempting you inside with delicious aromas and fun memorabilia. The South Whidbey Historical Museum is also in town.
Don't forget Seawall Park for some potential whale spotting! Langley takes its whale watching pretty seriously.
There's even a whale-spotting bell to ring specifically if you spot a whale so everyone can come out and see it.
Langley Whale Museum
The Langley Whale Center in downtown Langley has everything you could want to know about the area's whales. It's not a large place, but it has a lot of information for those that are interested.
Knowledgeable volunteers can answer your questions as you browse the detailed information on all the types of whales that stop by seasonally.
A large map with confirmed whale sightings over the last week is right next to the front door and hard to miss.
Gray whales and orcas are the most common sightings. Humpback whales make an appearance every once in a while, too.
A pod of orcas known as the Residents, hang out in this area and the locals are pretty attached to them! Ask a volunteer about them and find out.
A small gift shop has trinkets and t-shirt souvenirs, if you're so inclined.
Possession Point State Park
The most southern of the six state parks on Whidbey Island, Possession Point is good for sunsets and chilling on an isolated rocky beach.
There's not much else to do here but could be the perfect peaceful end to your day on Whidbey Island.
The parking lot is a gravel lot with maybe 6-8 spaces at the end of a narrow road. RVs and trailers aren't allowed; there's simply no room.
We wouldn't spend a lot of time here unless we were just relaxing at the end of the day, waiting for the sunset.
---
---
Enjoy These Fun Things to Do on Whidbey Island!
There are plenty of things to do on Whidbey Island, whether you're looking to escape the hustle and bustle of Seattle for a day or a long weekend, or you're escaping to Whidbey for a whole week!
Hopefully, this guide inspired your itinerary and convinced you to book your Whidbey Island trip today!
More Seattle Area Resources
Happy travels!
Share it!