South Carolina has seen its fair share of American history, good and bad, famous and not so famous. At Landsford Canal State Park, another small piece of history is preserved.
Come explore the ruins of the canal system that made the Catawba River navigable, see rare flowers bloom in one of the last natural habitats in the Southeast, and relax in the shade of giant trees while you fish or the kids play.
Let's visit Landsford Canal State Park, between Charlotte and Columbia.
---
This post may contain affiliate links. As an Amazon Associate and associate of other programs, I earn from qualifying purchases. This means if you click a link and make a purchase, I may earn a small commission at no extra cost to you.
---
Top 5 Know Before You Go Tips for Landsford Canal State Park
Small entry fee: $6 per adult age 16+, discounts for children and seniors, age 5 and under free
Rocky Shoals Spider Lilies are this park's claim to fame and in bloom May-June
Bald eagles nest here; come December-May for a chance to see them!
Easy hiking trails follow the river and the historic canal
Great spot for kayaking or canoeing!
How to Get to Landsford Canal State Park
This park is in South Carolina's Midlands region. It's just over an hour north of Columbia, SC or just under an hour south of Charlotte, NC, a quick detour off of the I-77 corridor between the two cities.
You could spend a full day here if you plan to get on the river.
A nice perk: the visitor center, playground, picnic tables, and hiking trails are all in a forested area, constantly shaded from the sun.
If you're just here to see the beautiful flowers in bloom in May or June, you can be in and out in an hour or two, depending how fast you walk and how many pictures you take.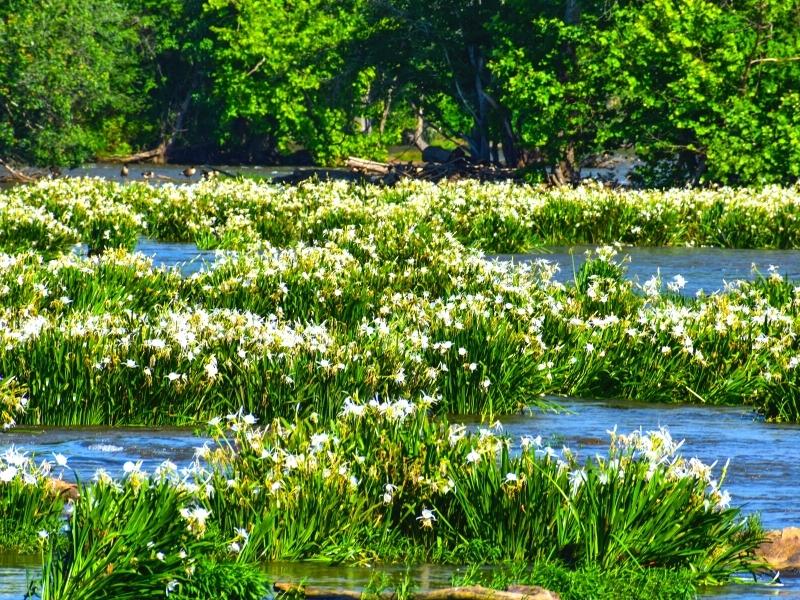 If you're also working your way through your South Carolina State Parks bucket list, the following are within an hour's drive of Landsford Canal State Park:
Andrew Jackson State Park, 20 minutes
Chester State Park, 35 minutes
Lake Wateree State Park, 45 minutes
Sesquicentennial State Park, 1 hour
Goodale State Park, 1 hour
Kings Mountains State Park, 1 hour
Rose Hill Plantation State Historic Site, 1 hour 10 minutes
Where is the Ultimate Outsider stamp at Landsford Canal?
The Ultimate Outsider stamp is at the park's bulletin board kiosk near the restrooms and playground.
If you're at the upper parking lot, near the river launch, you're close but still in the wrong place. If you're at the secondary lot at the Lower Access of the Catawba River, you're at the wrong end of the park.
Don't know what this is?
Visit all 47 South Carolina state parks, get a free stamp at each park, show proof of all 47 Ultimate Outsider stamps to the park ranger at your last park, and receive a free T-shirt!
It's a fun adventure that encourages residents to explore every corner of South Carolina!
Very similar to having a national parks bucket list, the South Carolina state parks Ultimate Outsider program is just easier to accomplish!
---
---
Is There an Entry Fee for Landsford Canal? Do I Need a Permit?
Landsford Canal has a $6 per adult entry fee, which applies to everyone age 16+. Seniors are $3.75 and kids ages 6-15 are $3.50. Little ones age 5 and under are free!
Pay online when you arrive at the park, or there is an envelope system at the park entrance gate that is cash only.
If you pre-purchase admission ahead of time, have the emailed receipt available to show as proof if requested by a park ranger. Note that admission is only valid on the day it's purchased.
Fishing is allowed on the Catawba River at Landsford Canal. A South Carolina freshwater fishing license is required. Prices vary based on residency. Learn more from the South Carolina DNR.
Brief History of Landsford Canal State Park
There's been a river crossing at this location on the Catawba River since well-before the European colonists showed up. Native Americans forded the river here, and eventually American colonists did, too, naming it the Lands Ford.
Lands Ford was used by both British and American troops during the American Revolution, by everyday citizens for decades, and by General Sherman's troops during the Civil War.
By the time the Civil War started, though, there was a sophisticated canal system in place next to the ford.
The Catawba River was briefly used as a navigable waterway in the first half of the 1800s. The trouble was those amazing rocky shoals that the spider lilies love so much were not great for commercial ships.
The Landsford Canal was built alongside the river with a series of locks to allow boats safe passage past the shoals and back into deeper, calmer water downstream.
The canal fell out of use as the economy and the world changed after the Civil War. Eventually the land was donated to the state of South Carolina, and they took over maintenance of this National Historic Landmark.
What to do at Landsford Canal State Park
To paddle or to hike, that is the question. Or, do both!
Enjoy paddling on the river, strolling along the river banks to the spider lily viewing platform, or hiking through the forest, following the old canal's route.
Kids will enjoy the shaded playground, and there's nothing like an unobstructed river view to brighten up your picnic lunch.
See the Rocky Shoals Spider Lilies in Peak Bloom (May-June)
About mid-April, the countdown begins for the big show.
The park website keeps a running log of blooms spotted and updates for peak bloom and when lily season is just about over.
The gorgeous white blooms of the rocky shoals spider lilies only last for about a month, and a lot of people visit the park during this time.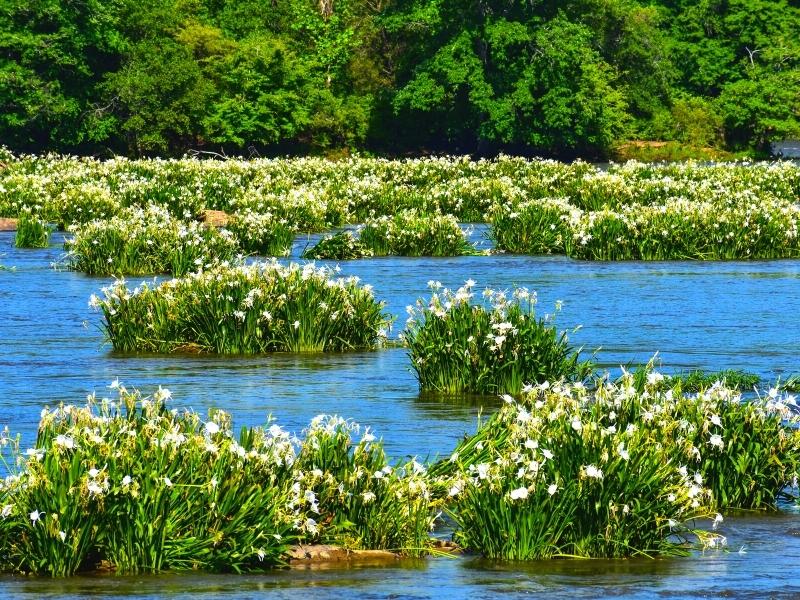 Bring your camera with a good zoom lens, and head for the Nature Trail.
This mostly flat, dirt path follows the river edge for about a half mile to a large platform with benches: the spider lily viewing area.
If you're visiting during peak bloom, thousands of lilies will greet you from the shallow shoals in the river!
Pro Tip: The absolute best way to see the blooms? From the water. Rent a kayak or bring your own, and go see the flowers from the middle of the river.
Paddling/Kayaking/Canoeing
Bring your kayak or canoe and get on the Catawba River!
Bonus points if you come during spider lily season in May or June! You'll get phenomenal up-close views of the blooms as you pass through the shoals on your way down river.
The distance between the launch and the take out downstream isn't much, so take your time to explore. Also, consider the depth and flow rate before deciding which direction you want to paddle on the river.
You can paddle upstream from the launch for quite a ways if you prefer deeper water with little current.
If water levels are low, there's a good chance you'll get stuck on rocks if you try to paddle downstream through the shoals.
Enjoy a Picnic by the River
Whether you're looking to book a spot for a small gathering or you just want to stop in and enjoy lunch, Landsford Canal has got you covered.
Several picnic tables are scattered about in the forested area near the playground, restrooms, and visitor center. Pick one you like and enjoy your lunch!
There are also five picnic tables with charcoal grills and 1 covered picnic shelter which can all be reserved ahead. Prices vary but expect around $25 per day for a table with grill or $35 for the shelter.
The covered shelter can seat up to 24 guests while the picnic table sites each have just one table with 6 seats. If it's not reserved and nobody's there, you can use these facilities for free!
Take a Hike & Learn Some History
There are three trails at Landsford Canal State Park: the Canal Trail, the Nature Trail, and the Eagle Point Trail.
The Canal Trail is the longest with the most to see. Don't worry; it's only 2.5 miles total (out and back, not a loop) and takes most visitors less than an hour to complete.
It follows the towpath route along the canal ruins with exhibit plaques as you go to understand what you're looking at and learn how the canal was built, how it functioned, and what a difference it made for commerce.
The Nature Trail is a mile total and only 30 minutes or so to walk. It's a pretty flat, easy path along the banks of the Catawba that ends at the spider lily viewing platform.
This trail also has a short offshoot with an exhibit plaque highlighting the bald eagle nest at Landsford Canal. A pair of eagles has taken a liking to this spot and comes back every year!
Lastly, the Eagle Point Trail is a very short (0.5 mile total) path to a good overlook of the Catawba River.
Fishing
Fishing the Catawba River is allowed, and the shady banks are perfect for it.
Beware of paddlers on the river, but there are plenty of calm spots near the banks. Bass, crappie, bream, catfish, carp, and gar are all found here, according to the park website.
---
---
Enjoy Visiting Landsford Canal State Park!
Whether you visit in spring for the bald eagles, summer for the spider lilies, or any time of year to learn a bit of South Carolina history, visiting Landsford Canal State Park is a good way to spend a relaxing day away from home.
You may also like:
More SC State Parks We've Visited
Battle of Rivers Bridge
Croft
Goodale
Hunting Island
Kings Mountain
Lake Greenwood
Lee
Poinsett
Is an Annual South Carolina State Park Pass Worth It? In most cases, yes, but check out the full cost breakdown to find out if it's right for you!
Happy Travels!
Share it!