Myrtle Beach, South Carolina is one of the most popular beach destinations on the east coast of the United States. Its nickname, the Grand Strand, isn't too far off.
Beautiful, sandy beaches and more sunshine than you can handle! But Myrtle Beach is also super crowded in the summer, so today we're spilling the beans on how to escape the crowds: by visiting Myrtle Beach State Park.
Don't get us wrong, the state park also gets busy. But the park starts turning visitors away once it hits capacity. The beaches along the developed Grand Strand of Myrtle Beach do not turn visitors away.
You're guaranteed more breathing room on the beach if you visit Myrtle Beach State Park instead. Bring your RV or tent, rent a cabin, or just stop by for the day, and come explore Myrtle Beach State Park.
---
This post may contain affiliate links. As an Amazon Associate and associate of other programs, I earn from qualifying purchases. This means if you click a link and make a purchase, I may earn a small commission at no extra cost to you.
---
Top 5 Know Before you Go Tips for Myrtle Beach State Park
Entry fee: $8 per adult, discounts for children and seniors, age 5 and under free
Familiarize yourself with Horry County ordinances, such as no pets or bicycles allowed on the beach 10AM to 5PM from May through Labor Day and no tents or awnings allowed on the beach, only umbrellas for shade.
Plenty of restrooms, changing stalls, and outdoor showers, right off the beach.
Think twice before leaving if you want to come back same day in the summer. Re-entry is not guaranteed, unless you're camping. You'll wait in line again with everyone else.
Watch for nesting loggerhead sea turtles from June through August!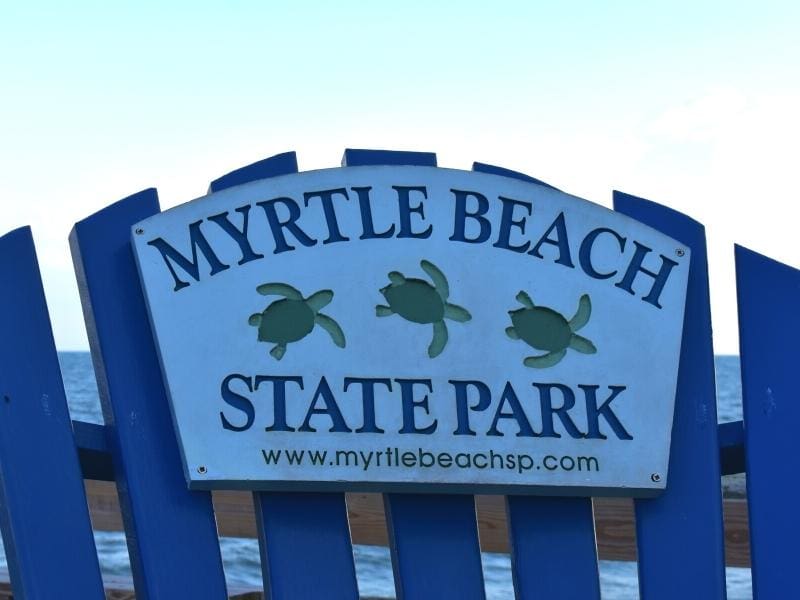 How to Get to Myrtle Beach State Park
Located on the south side of Myrtle Beach, SC but north of Garden City and Surfside Beach, Myrtle Beach State Park is off of US 17 Business.
If you're on regular US 17, you're on the wrong road. Yes, we know that's confusing. And the official address for the park doesn't help.
The address for the park refers to the side road off of US 17 Business: 4401 South Kings Hwy, Myrtle Beach, SC 29575
Myrtle Beach State Park is an easy drive from the following cities:
3.5 hours from Charlotte, NC
3.5 hours from Raleigh, NC
2.5 hours from Columbia, SC
2 hours from Charleston, SC, or
1.75 hours from Wilmington, NC
The city of Myrtle Beach also has its own airport, code MYR, if you prefer to fly in from afar.
Most visitors road trip here, so they can more easily bring all their beach gear with them.
The Myrtle Beach area has a lot to keep you occupied between the Boardwalk and being the mini golf capital of the world.
But if you're also working your way through your SC State Parks or US National Parks bucket lists, the following are within an easy drive of Myrtle Beach State Park:
How much does it cost to visit Myrtle Beach State Park? Do I need a permit?
There are four instances where you will pay a fee and/or need a permit for visiting Myrtle Beach State.
1. Park Entry Fee – Applies to Everyone
Myrtle Beach State Park has an $8 per adult (age 16+) entry fee. Seniors 65+ are $5.00, and kids ages 6-15 are $4. Little ones age 5 and under are free! The front gate takes both card and cash.
2. Fishing Fees and License Requirements
Fishing is allowed at the Myrtle Beach State Park fishing pier and from shore, although not in designated swimming areas north of the pier during the summer.
A saltwater fishing license is required if fishing from the shore. Prices vary for a fishing license based on residency. Learn more from the South Carolina DNR.
A fishing license is not required if fishing or crabbing from the pier, but there is a separate pier-use fee. Pier fishing fees are similar cost as park entry: $8 for adults, $5 for seniors, $3 for kids ages 6-14. (Yes, you have to pay both park entry and the pier fishing fee.)
Annual pier fishing passes are available for $150; worthwhile if you plan to fish here at least 19 times per year. This is more of a perk for locals than tourists.
A 7-day pier fishing pass is available for state park campers only. Inquire at the campground store.
3. Horseback Riding Permit (Available Winter Only)
Horseback riding is permitted on the beach at Myrtle Beach State Park in the winter. A $60 permit is required for each horse brought into the park.
4. Camping Reservations
Camping is a huge draw for visiting Myrtle Beach State Park. Understandable, as it's a cheaper alternative to hotels and has a less crowded section of beach.
But while it's certainly cheaper than paying for a hotel on the nearby Grand Strand, it's on the pricier end for camping in general but about average price for a beachside campground.
In summer, you'll be lucky to find a tent site for less than $50 per night while RV sites go for $70 per night on weekends. The offseason is slightly cheaper with sites in the $40-$50 per night range, and overflow tent sites even cheaper.
This South Carolina state park also has six cabins for rent. They come fully furnished with linens and basic cooking utensils included.
Cabin 6 is a four-bedroom cabin, the largest, going as high as $289 per night in peak season and as low as $189 per night in winter.
That may seem high, but you can fit up to 10 people in this cabin and share costs.
There are four two-bedrooms cabins, as low as $67 per weeknight in low season and $207 per night around a summer holiday.
Cabin 2 is the only three-bedroom cabin, and prices fall in between the others.
If you want to stay at one of the cabins, plan to reserve it up to a year ahead of time.
Brief History of the Park
Myrtle Beach State Park was the first South Carolina State Park, built by the CCC (Civilian Conservation Corps) during the Great Depression and opened in 1936.
This park is now an oasis in the otherwise crowded, overdeveloped area of Myrtle Beach and the Grand Strand.
It's a mile of beautiful, natural, undeveloped maritime forest coastline that you won't find anywhere else in Horry County.
Pro Tip: Horry County has a silent H. It's pronounced OR-ee.
What to Do at Myrtle Beach State Park
Most people visiting Myrtle Beach State Park are looking to escape the throngs of tourists on the public beaches along the Grand Strand, and we don't blame them.
Come spend the day on a less crowded Myrtle Beach, and take a hike or visit the nature center while you're here.
Pro Tip: Get here early to avoid long entry lines, and bring supplies (read: pack a lunch & a change of clothes) so you can stay all day without leaving. There's no guaranteed re-entry during the busy summer season.
Go to the Beach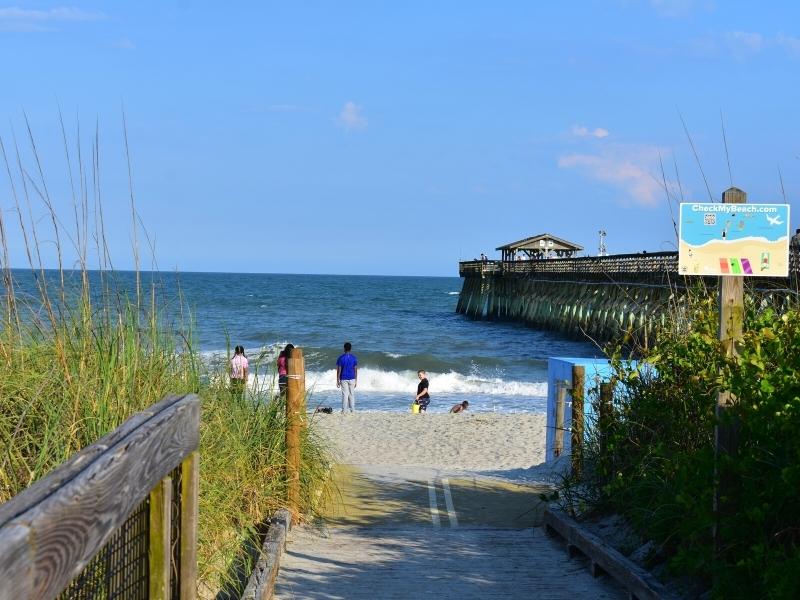 Spending the day at the beach is obviously the biggest draw for Myrtle Beach State Park. Get your gear and settle in for a day of relaxing or adventuring on the beach.
During the summer, the beach area just north of the pier has lifeguards on duty. Perfect for nervous swimmers.
Pro Tip: Tents and awnings are not allowed on the beach. Only umbrellas 7.5ft in diameter or smaller! That's an Horry County ordinance.
This beach can get some decent-sized waves for boogie boarding, and if a storm is coming in or passing by out at sea, you'll spot a surfer or two in the water.
Building sand castles is always fun, but make sure you knock them down at the end of the day before you leave!
Loggerhead sea turtles nest here in June/July, and a sand castle is like a hurtle for nesting moms making their way up the beach or newborns making their way to the ocean.
Fishing
The second most popular thing to do at Myrtle Beach State Park: fishing from the pier.
It's not nearly as crowded as other piers along the Grand Strand, and that also means the fishing is usually a bit better here.
The pier shop charges a pier-use fee, but you do not need a SC Fishing License.
Didn't bring your own fishing gear? The pier shop rents fishing rods for $25 per day. This includes the daily pier-use fee.
Fishing from the shore is also allowed, but does require a SC Saltwater Fishing License. (Yes, that's different from the freshwater fishing license, if you already have one of those.)
Take a Short Hike
This park has two short nature trails that explore the natural maritime forest of the coastline, probably the last bit on the northern South Carolina coast. No high-rise hotels here!
Both trails are only 0.5 miles in length, flat dirt/sand paths with plenty of tree roots to watch out for.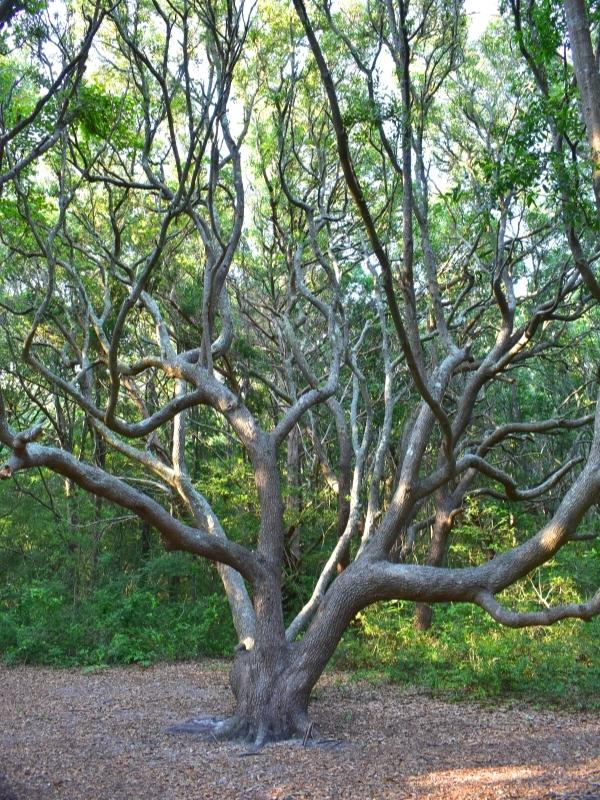 The Sculptured Oak Trail starts near the Nature Center parking area, runs parallel to the ocean for half its length, and then curves perpendicular to intersect the beach near the pier.
The oak trees along this trail are perfect sculptures, begging to be photographed.
The Yaupon Trail runs in a curvy parallel to the beach, starting at the far end of the beach parking south of the pier and winding its way through the maritime forest until it intersects the Sculptured Oak Trail.
A right turn leads to the beach; a left turn leads to the Nature Center. There isn't much to this hike, but it is a nice walk through a naturally shady ecosystem you won't find elsewhere in Myrtle Beach.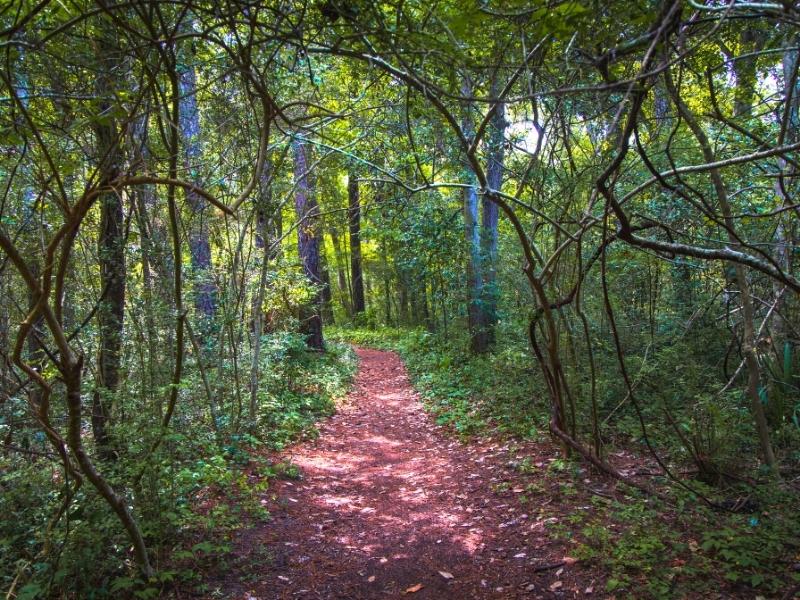 Make this a loop!
Park at the pier or nearby.
Walk to the first restrooms/changing station south of the pier. The Sculptured Oak Trail begins at the back, past the building.
Walk the Sculptured Oak Trail for about half of its length, and then turn left onto the Yaupon Trail at the junction.
Follow the Yaupon Trail to its end, behind a different restroom/changing station building further down the beach.
Walk across the road and out to the beach. Walk back along the beach to the pier and your parked car.
This loop took us about 20 minutes, max.
We appreciated the shade from the trees, but it was unexpectedly stuffy in the woods. No breeze gets through until you make it out to the beach!
Visit the Nature Center
The Nature Center at Myrtle Beach State Park features saltwater aquariums, live reptiles, and displays to teach visitors about the natural habitat that the park protects.
The park holds dozens of programs throughout the year, and some of the more major events will close the Nature Center to free up staff.
Hours vary, but it is always closed on Mondays. Check with the park website for current hours.
Have a Party or Hold an Event at a Picnic Shelter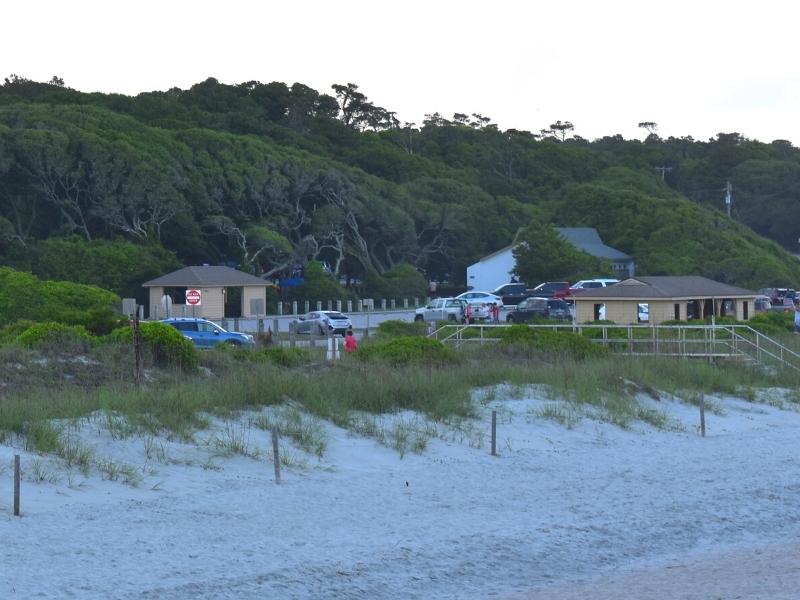 There are 7 picnic shelters available for reservation at Myrtle Beach State Park. Most can accommodate up to 50 guests. A few were even originally built by the CCC. These are legit nice shelters.
Shelters can be reserved online ahead of time, and you should absolutely do that if you're planning a party or event.
Rates vary from $75 to $200 per day, depending on which shelter you choose, the day of the week, and the time of year.
Tell your guests to arrive early. There can be long lines to get into the park, and there is no exception for shelter guests. Everyone must pay park entry.
Alternatively, you can prepay park entry for your group if you have a shelter reservation. Contact the park a minimum of 2 weeks ahead of your reserved date.
You'll prepay the entry fees for your group (plus a processing fee) and pick up color-coded wristbands from the park, or opt to have them mailed to you.
Your group members can then get through the main gate quicker with their wristbands.
Playgrounds for the Kids
Myrtle Beach State Park has two playgrounds: one near the beach picnic area north of the pier and one in the campground.
Get the kids out of the water for a little while, eat some lunch, and then head back to the beach, if you like.
Camp or Rent a Cabin by the Beach
The Myrtle Beach State Park campground is super popular. We get it. It's a much cheaper alternative to a hotel room on the nearby Grand Strand or other beach communities.
A two night minimum stay is required for campsites, while cabins require a one week minimum stay May through September.
Pro Tip: Free wifi is available in the park! The campground, the park office, and the pier shop all have wifi for guests. The campground covers the cabins as well.
✳️ CAMPING
The campground has almost 300 campsites, half with full hookup (water/sewer/electric) and half with just water/electric. Restrooms, hot showers, and laundry facilities are available throughout the campground.
Tents and RVs are both welcome at the campground. Campsites vary in price by time of year and proximity to the beach.
None of the sites are beachfront, but the campground is an easy walk to the beach. And you can hear the waves from the campsites!
Caution: Bring closed toed shoes and flashlights for walking around at night in the campground or cabin areas. Venomous copperhead snakes live in South Carolina.

It's not common to find one at a campsite, but if you do, contact a park ranger to remove it. Do not try to kill it or move it yourself!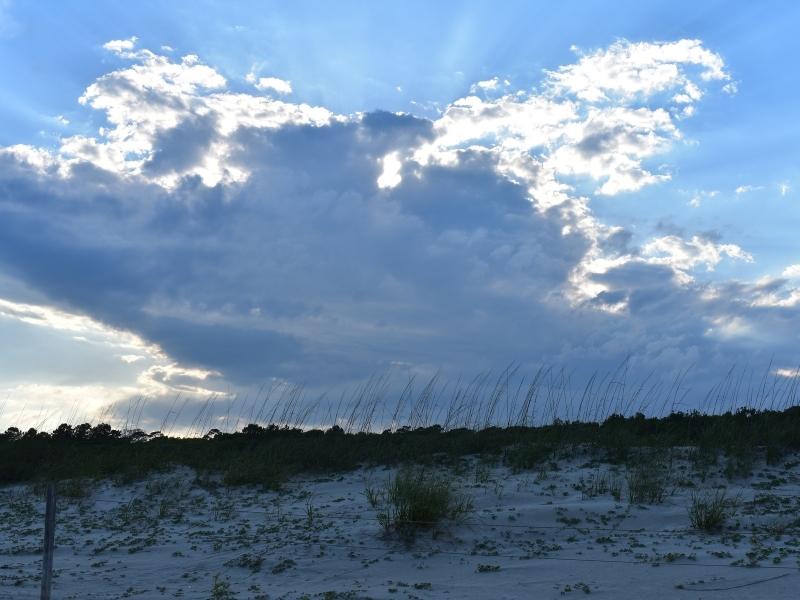 ✳️ CABINS
The six cabins in the state park were originally built by the CCC and have been updated along the way for modern amenities, like AC/Heat, microwaves, and wifi.
Cabins come furnished with linens and fully-equipped kitchens. Just bring your own food and drinks!
Did we mention the screened in porches with rocking chairs? That is an absolute must for enjoying this maritime forest without the South Carolina bugs. Or, get a fire going in your private outdoor space with fire ring!
Of the six cabins, four two-bedroom cabins accommodate up to 4 guests, one three-bedroom cabin accommodates up to 6 guests, and one four-bedroom cabin accommodates up to 10 guests.
These cabins are extremely popular and book out several months ahead, year-round. Reservations are open up to a year ahead of time, and they will get snapped up that quick.
The cabins are in a row by themselves, adjacent to the campground, with the exception of the big cabin. Cabin 6, the only four-bedroom option, is in the campground next to the office.
Biking
Riding a bike in the park is technically allowed, although there are no designated bike paths.
You may bike on either the roadways or the nature trails. Just beware of vehicles and pedestrians.
Biking on the beach is prohibited during peak hours in peak season. No bikes allowed on the beach between 10AM and 5PM from May 1 through Labor Day.
We personally wouldn't bother to bring our bikes here for a day trip, but it's a good way to get around the park if you're staying at the campground or one of the cabins.
Horseback Ride along the Beach (Winter Only)
Enjoy a short jaunt on the beach atop your favorite horse! Horses are allowed on the beach from the end of November through the end of February.
A permit is required to bring horses into Myrtle Beach State Park, and there is no overnight boarding for them.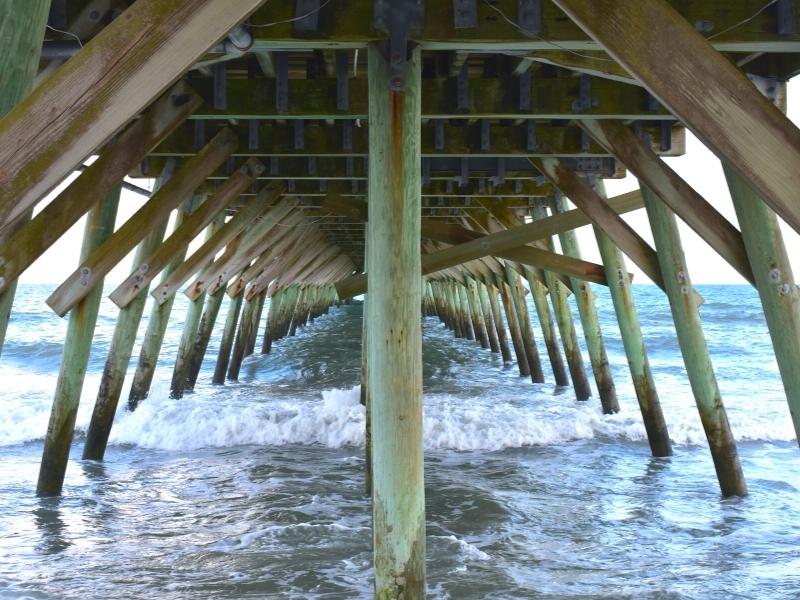 How to Spend a Day at Myrtle Beach State Park
Day tripping to Myrtle Beach State Park is a good option for locals that live within a 2 hour driving radius of Myrtle Beach.
If that's you, here's how we'd spend a day at this state park.
Get here before 10AM to avoid the worst of the traffic congestion at park entry.
Start on the beach! Spend the morning relaxing or enjoying the water.
Enjoy a picnic lunch at one of the many picnic tables. Bonus if you can snag one in the shade!
Stroll the boardwalk after lunch, giving your food time to settle before heading back out to the beach.
Enjoy the rest of your lazy afternoon on the beach.
Around 4PM or 5PM, pack up your beach gear, wash off at the showers, change into regular clothes at a comfort station.
Go for a quick walk through the woods on the Sculptured Oak and Yaupon Trails. End your loop at the fishing pier.
Stroll out onto the fishing pier for sunset.
Alternatively, you could sub out the afternoon beach session for some time fishing at the pier. Up to you!
Can I Bring my Dog to Myrtle Beach State Park?
Yes, dogs are allowed at Myrtle Beach State Park, but there are restrictions:
Horry County ordinances do not allow pets on the beach between 10AM and 5PM from May 1 through Labor Day. (Same goes for bicycles, go figure.)
Pets must always be leashed.
Owners must clean up after their pets.
Pets are not allowed in the rental cabins, but are welcome in the campground so long as they're leashed.
Leashed pets are allowed in every outdoor space in the park, including the trails, picnic areas, and shelters.
Enjoy Visiting Myrtle Beach State Park!
This state park is the perfect hidden gem you need to escape the tourist crowds of Myrtle Beach and enjoy a bit of breathing room on the beach!
You may also like:
More SC State Parks We've Visited
Battle of Rivers Bridge
Croft
Goodale
Hunting Island
Kings Mountain
Lake Greenwood
Lee
Poinsett
Is an Annual South Carolina State Park Pass Worth It? In most cases, yes, but check out the full cost breakdown to find out if it's right for you!
Happy Travels!
Share it!