Easily accessible from I-95 and located on the Edisto River, Colleton State Park is a small but mighty relaxing park for a weekend camping getaway.
This South Carolina State Park is all about playing in the river and relaxing with family and friends.
---
This post may contain affiliate links. As an Amazon Associate and associate of other programs, I earn from qualifying purchases. This means if you click a link and make a purchase, I may earn a small commission at no extra cost to you.
---
Top 5 Know Before you Go Tips for Colleton State Park
Free admission! No fee to enter the park (but see #2).
Camping requires a reservation fee: 25 RV and tent sites & 1 Camper Cabin available
Small park focused on the Edisto River and camping
Motorized boat access to the Edisto River is adjacent to the park (1/4 mile from entrance), not from the park itself
Participates in the Tackle Loaner Program: the ranger shop will loan you fishing rod and tackle for the day!
Camping on the Banks of the Edisto River
The Edisto River is one of the longest free-flowing blackwater rivers in the US. Bring your kayaks or canoes and get on the water! We even saw a jet ski on the river last time we were here.
South Carolina's Lowcountry knows every way to enjoy life on the water, so you'll see all manner of motorized and non-motorized water transportation out on the river.
Looking for something more challenging?
Paddle 23 miles down the Edisto River to reach Givhans Ferry State Park. It'll only take you about 8 hours, if paddling is your thing.
How to Get to Colleton State Park
Colleton State Park is tucked away in a corner of the Lowcountry, near Walterboro, SC.
From Charleston, it's a little over an hour's drive. From Columbia, it's a 1hr 20min drive via I-26 and I-95.
Most visitors from upstate South Carolina will travel via Columbia. Coming from Aiken (or Augusta, GA) takes a little longer on US 78 at about 2hrs.
If you're also working your way through your South Carolina State Parks bucket list to become an Ultimate Outsider, the following parks are within an hour's drive of Colleton State Park:
How much does it cost to visit Colleton State Park? Do I need a permit?
Colleton Park is free to enter! If you're just stopping by for the day to use the playground or volleyball court or to fish or swim on the banks of the river, then Colleton is a good free option.
Camping reservation fees vary by day of the week and time of year and are fairly reasonable for the amenities included (discussed further below).
Note the 2 night minimum stay requirement! It applies whether you're considering the cabin or an RV/tent site .Check Colleton State Park's camping reservation website for availability and rates.
Fishing is allowed on the Edisto River. A freshwater fishing license is required. Prices vary for a fishing license based on residency. Learn more from the South Carolina DNR.
What to Do at Colleton State Park
This park revolves around the river: wading, swimming, fishing, boating, paddling.
Most park visitors are also overnight guests at the park's campground. Colleton State Park is a popular weekend camping spot, so reserve your spot a few weeks in advance!
Other features include a small playground near the Ranger shop and a grass volleyball court and baseball field, sufficient for a quick pickup game with the family.
Colleton is all about just being away.
It's not overly packed with a lot of things to do, but it's great for getting away from the house for a while or a weekend.
Here are some ideas for how to spend a day or weekend at the park:
Enjoy the Edisto River: Lounge, Wade, or Swim
Even if you aren't spending the night, you can access the Edisto River from the park. Many visitors set up chairs and lounge along the bank while the kids play in the shallows.
Find some good sand bars for lounging if you go a smidge upriver (to the left, when looking at the river from the park campground).
It is "swim at your own risk" with no lifeguards or dedicated swimming areas. Keep track of your little ones, be aware of the boat launch, and watch out for nearby fishermen.
Overall, though, this is a great place for families to relax and unwind in the water.
Boating/Kayaking/Canoeing on the Edisto River
Boating, by one means or another, is the most popular activity for the Edisto River.
Colleton State Park is a good put-in point for the Edisto River canoe trail, which will carry you 23 miles downriver to its conclusion at Givhans Ferry State Park.
For those of us that don't have 8-10 hours (or *cough* the core or upper body strength *cough*) to paddle between parks, there are other exit points along the river for shorter duration paddle trips.
Fishing
As mentioned, fishing is allowed and encouraged on Colleton State Park grounds.
Visit the shop near the entrance for a loaner rod and tackle! You still need a South Carolina fishing license.
Camping
The second most popular thing to do at Colleton is camping! There are 25 camp sites, all in close proximity to the river.
The camping reservation site can be filtered for tent only sites or by RV length. Some, but not all, camp sites can accommodate an RV up to 40ft in length. Each site has water and electric hookups.
If you prefer a cabin experience, there is one camper cabin available at Colleton. It backs up to the river and is part of the campground.
Important note: This is a camper cabin. The cabin sleeps up to 6 people, has electric lights, heating/air conditioning, and even a small fridge and microwave.
But it does not have running water and does not include linens. Cabin guests have a spigot and fire ring outside for cooking and use the shared campground bathrooms and shower house.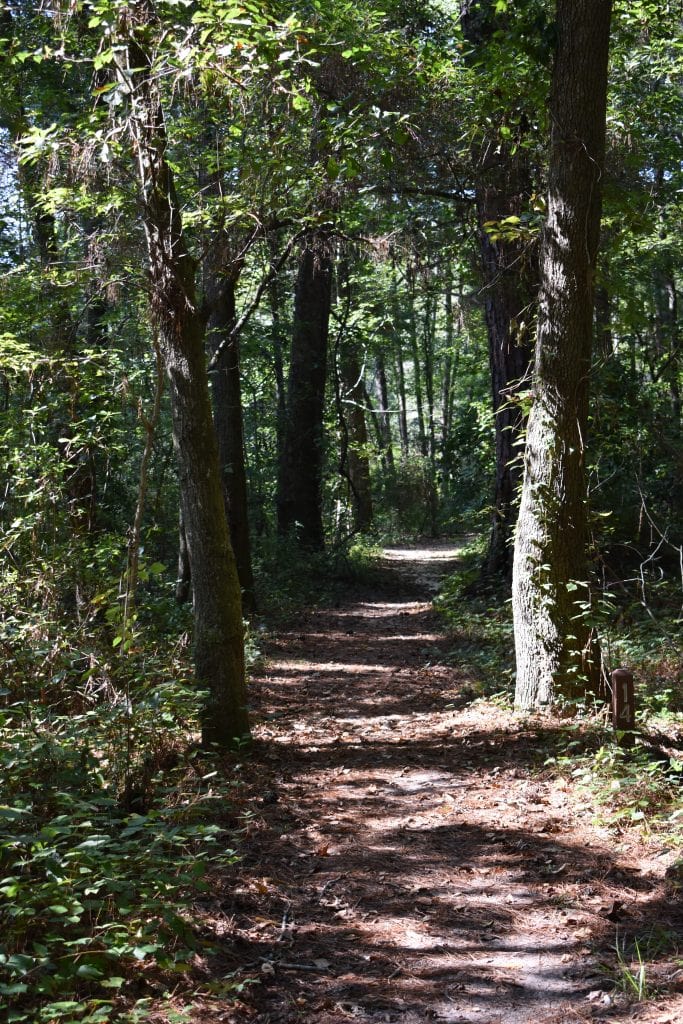 Nature Trail (0.3 miles)
The Cypress Swamp Trail is a very short, easy, packed earth trail that starts near the park shop, across from the playground area.
Brochures are usually available (not when we were there) at the trailhead in a container on the fencepost. Grab one if you're interested in learning more about the types of trees along the trail.
The trail makes a loop and stays level. Honestly, it's a bit underwhelming.
At the far end of the loop, you can access the park canoe dock boardwalk to see the river. This was the most interesting part of the trail because you see the cypress tree knees and the river.
The rest of the trail is pretty standard wooded area for South Carolina. The walk will only take 10 minutes, max.
---
Enjoy a peaceful, laid-back weekend at Colleton State Park!
I hope this guide inspires you to consider visiting and helps you plan your visit to this laid back state park!
More SC State Parks We've Visited
Battle of Rivers Bridge
Croft
Goodale
Hunting Island
Kings Mountain
Lake Greenwood
Lee
Poinsett
Is an Annual South Carolina State Park Pass Worth It? In most cases, yes, but check out the full cost breakdown to find out if it's right for you!
Happy Travels!
Share it!