Did you know that you can explore the beauty of underwater Hawaii without getting wet? Hop on a submarine tour from Lahaina on Maui's west coast, and see coral reefs and all their marine life up close!
Today, we're comparing the two best Maui submarine tours: Atlantis and Reef Dancer.
Both offer unique underwater experiences but differ in how they deliver the stunning underwater views.
We'll look at the pros and cons of Reef Dancer vs Atlantis submarine tours, what to expect onboard, and answer some nagging questions that might have you hesitating to enjoy this adventure.
Let's dive in!
---
This post may contain affiliate links. As an Amazon Associate and associate of other programs, I earn from qualifying purchases. This means if you click a link and make a purchase, I may earn a small commission at no extra cost to you.
---
How to Go Underwater in Maui Without Getting Wet: Submarine Tours!
It's easier than you might think to get underwater in Hawaii without worrying about first getting scuba certified or finding a snorkel mask that fits.
Submarine tours in Maui are a popular way to see the underwater sights and still be able to make a dining reservation right after, no having to leave time for a trip to the shower first.
Even better, it's making the ocean more accessible.
Those that are limited by age, mobility, or ability can still enjoy the sea without the physical exertion that may bar them from snorkeling or scuba.
And this isn't like a billionaire paying his way onto a space shuttle, either. These submarines were made for tourism endeavors for average people with average budgets.
Aquariums can be fun, interesting, and informative, but observing animals in their natural habitats (without disturbing them) is a different, unforgettable experience!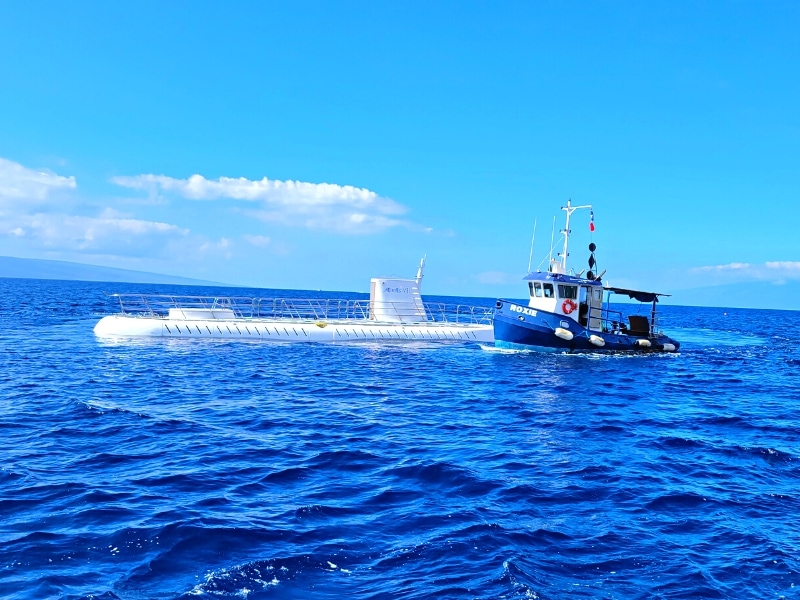 The Most Popular Submarine Tours in Maui
There are two popular submarine tours in Maui: the Reef Dancer and the Atlantis.
Technically, the Reef Dancer is a semi-sub and not a true submarine like the Atlantis.
Prices are quite different, but the level of underwater access is also quite different. One lets you peek underwater while the other fully submerges you.
There's also a clear difference for those that may be claustrophobic or who are traveling with toddlers.
Let's look at the two most popular submarine tours in Maui and see if we can find the right fit for you and your traveling group.
Reef Dancer vs Atlantis Submarine: What's the Difference?
The type of vessel is the obvious and significant difference between the Atlantis and the Reef Dancer.
Atlantis is an honest-to-goodness submarine.
Reef Dancer is a "semi-sub" which is a boat with a deck below water.
Both leave from Lahaina marina and have air-conditioned spaces with a dedicated porthole view for every seat. They even visit the same area of the coast, but different reefs.
The vessels, though, offer slightly different experiences depending on your mobility and claustrophobia.
The Atlantis submarine requires mobility and no problems with claustrophobia.
Everyone, including children, have to be able to climb the 10 step metal ladder into and out of the sub by themselves.
Once inside and seated, you have to remain there for the next 45-60 minutes. There's no bathroom and nowhere to get up and walk around.
Most guests are too distracted by the sea creatures outside of their window to care, but maybe not you if you're prone to claustrophobia.
The Reef Dancer semi-sub requires some mobility but is less claustrophobic than a real sub.
The underwater viewing deck requires navigating some stairs, but there's no age requirement for kids.
You're never fully underwater on the Reef Dancer, either. If you start to feel uneasy in the space, the top deck is always open for you to go take a breather.
Atlantis Submarine Review
Duration: 2 hours (45 min in the sub, 1 hour-ish total on the shuttle boat)
Cost: $160 per adult, $70 per child (12 and under)
What to Expect on the Atlantis Submarine Tour
Meet at boat slip #18 in Lahaina and board your shuttle boat to the submarine.
The shuttle boat ride out to the submarine is quick with great views of the Maui coastline as you go.
There are open benches for seating and the deck is covered, which is helpful for protection from the Maui sun.
You'll rendezvous with the Atlantis submarine, but you won't see it yet.
Get your cameras ready to film as you watch the submarine surface from the depths beneath you, right next to your boat!
The previous tour will disembark from the sub first.
You'll then be directed to board the sub a few people at a time so buoyancy and balance is maintained.
There's no moving once you're seated on the sub.
Everyone has their own porthole for viewing, but you'll be knee-to-knee and back-to-back with your neighbors on three sides.
These are not super comfortable seats, more of an indent in a plastic seat with no backs or arm rests.
But it's air conditioned, so you're not sweating being that close to your neighbors, and you're going to be more interested in the marine life outside your window anyway.
The sub ride takes you to the bottom, purely for the fun factor to watch the depth gauge, and then you cruise past a sunken whaling ship that's now an artificial reef.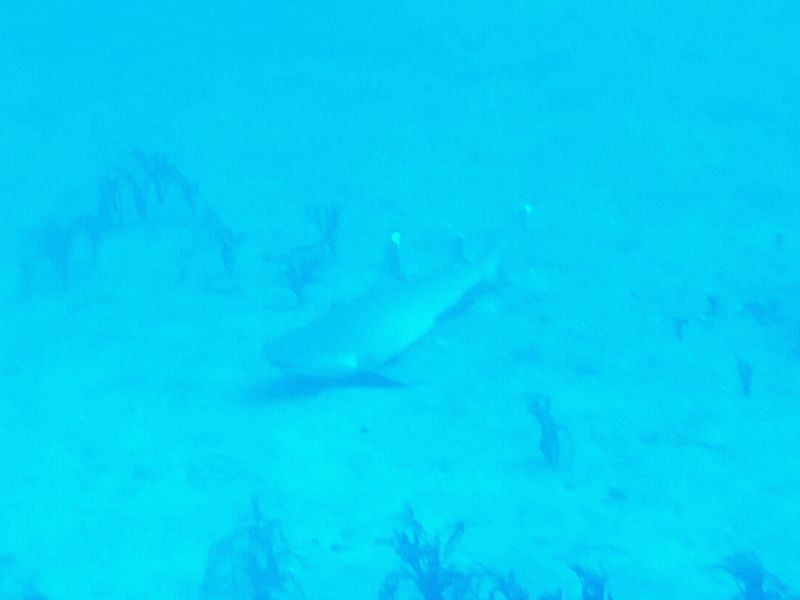 They pass by the ship/reef multiple times so both sides of the sub get a front row view of the sunken ship several times.
Our tour was early afternoon and we saw A LOT of fish (more than I can name), several black tip sharks, a ray that kept its distance, one eel living in an old tube on the ship/reef, and plenty of coral, urchins, and starfish.
A guide provides narration throughout the tour while the sub pilot keeps you close to groups of fish and sometimes even catches up to sharks or rays swimming by.
They'll name all the creatures you see, recount the history of the making of the artificial reef, and tell obligatory submarine jokes. Don't worry; they keep it family friendly!
When our tour time was up, we resurfaced and climbed the ladder out of the sub hatch and back onto the shuttle boat for the quick cruise back to land.
We visited in January, which is prime whale watching season in Maui, and since we were the last Atlantis tour of the day, the boat captain took us on a little detour to see some of the breaching whales on our way back to Lahaina.
Quite the magical afternoon on and under the sea!
Is There a Bathroom on the Atlantis?
No, there's no bathroom on the Atlantis submarine. There is a small head (boat toilet) on the shuttle boat, but we recommend you use a restroom before you get on the boat.
There's a public restroom next to the marina, on the southernmost corner near the Banyan Tree Court's Old Fort exhibit.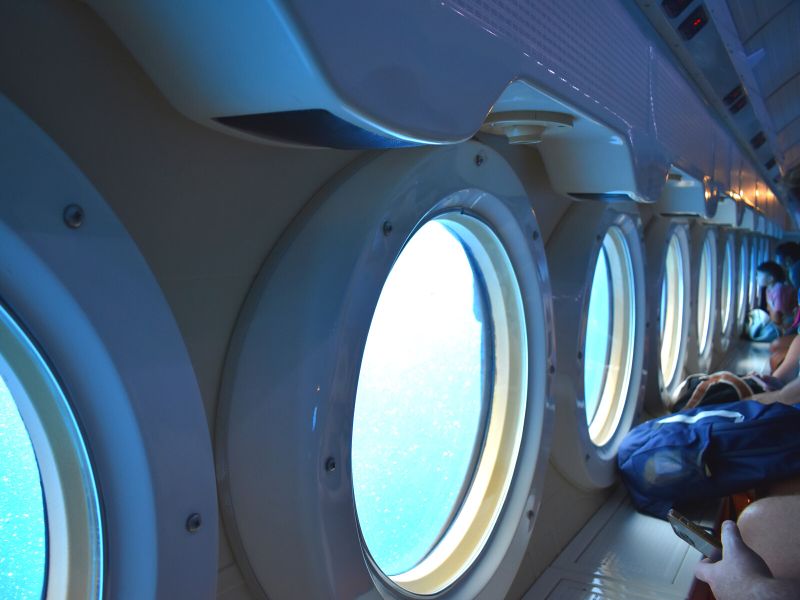 Reef Dancer Semi-Sub Review
Duration: 75 minutes
Cost: $50 per adult, $22 per children ages 4-12, $6 per kids 3 and under
What to Expect on the Reef Dancer Tour
Meet up with the Reef Dancer at Slip #6 in Lahaina marina.
The Reef Dancer is a semi-sub so it looks like a submarine with an open top deck and a tower.
There's no shade or covering on the top deck, so bring sun protection if you want to enjoy the coastline views while onboard.
Below is the air conditioned underwater viewing deck. This is where you'll spend most of your time, watching for marine life out of the large windows.
Seats are similar to what you'd get on the Atlantis sub: plastic seats with indents, no arm rests, and no backs.
These seats are slightly more spaced out, though, and there's plenty of room in the middle. You're not back-to-back with anybody.
Reef Dancer visits the barrier reef on Maui's west coast. As you drift along the reef, you'll see coral and fish galore, and maybe an octopus or a sea turtle.
Divers find shy sea creatures and bring them up to the boat windows so everyone gets a good, up-close view.
The advantage of the Reef Dancer is it never fully submerges, so if you're a bit claustrophobic or prone to sea sickness and need some air, the open top deck is always available.
Is There a Bathroom on the Reef Dancer?
No, there's no restroom on the Reef Dancer. Go before you board.
There's a public restroom next to the marina, on the southernmost corner near the Banyan Tree Court's Old Fort exhibit.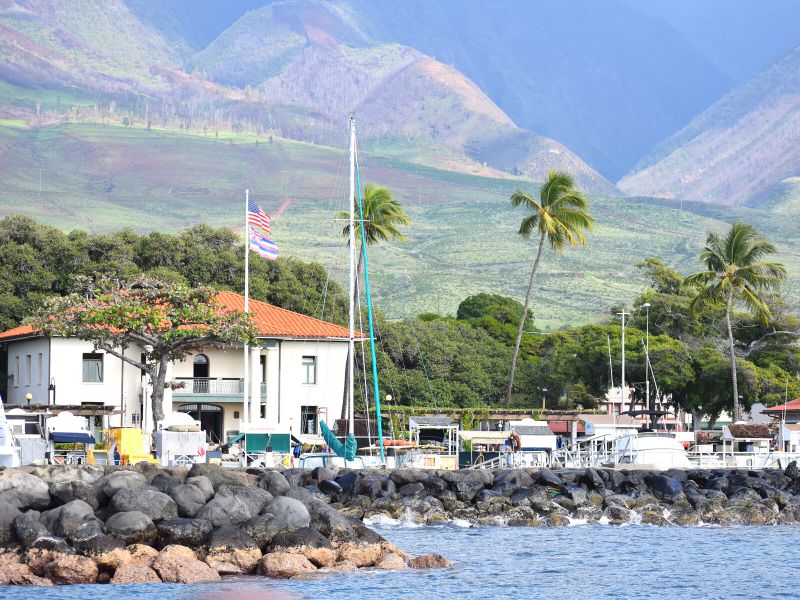 Is This a Bad Idea if You're Claustrophobic?
Not necessarily! It depends how bad your claustrophobia is and whether it's a fear of small spaces or a fear of crowds.
Both vessels are fairly big spaces with plenty of head room, and the Reef Dancer even has access to a deck above water whenever you need it.
Busy tours will have you knee-to-knee with strangers, but you'll more than likely be too preoccupied with the sea creatures outside of your window to care.
If you have panic attacks from claustrophobia, we wouldn't recommend the Atlantis sub.
Once you're seated on the Atlantis sub, there's no getting up for the 45 minute ride.
Which is Better for Kids: Atlantis or Reef Dancer?
Reef Dancer is better for young kids, but older kids would enjoy either option.
The Atlantis has a height restriction, so children under 36" can't ride, regardless of age.
That being said, we saw plenty of little kids on our Atlantis tour that may or may not have met the height restriction.
Parents may have to work harder to keep little ones occupied on the sub, because there's no room to wander.
At least on the Reef Dancer they can move around in the middle or you can take them up to the deck if they can't sit still any longer.
---
---
Enjoy Maui's Best Underwater Excursion with Reef Dancer or Atlantis!
If you've got the funds and the time, take a submarine tour on the Atlantis and get that bucket list check!
Watching a sunken ship appear out of the gloom is a rare and unforgettable experience you don't want to miss.
If you need the reassurance of an open, top deck or you just want a shorter and less expensive experience, opt for the Reef Dancer semi-sub.
You'll still see plenty of underwater views and creatures in a comfortable, air conditioned environment.
Looking for more things to do in Maui or Hawaii? We've got you covered.
More Hawaii Travel Resources
Happy travels!
---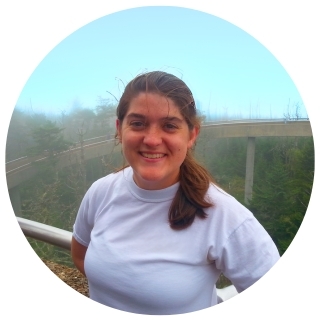 About the Author: Rachel Means
With six-figure student loan debt and only 10 PTO days per year, Rachel started traveling the world. A decade later, she's paid off her loans, changed careers, and been to 36 US states and 14 countries. She's an expert at planning and budgeting for travel and loves to help others do it, too! Read her full story here.
---
Share it!