Are you planning a trip to the beautiful island of Maui and trying to decide between a Haleakala sunrise vs sunset?
Both events feature spectacular displays of color from an unrivaled vantage point atop a volcanic crater. It's hard to get more epic than that!
But there are some key differences in the experiences that will help you choose, and no, it's not just whether you're an early bird or a night owl.
We'll cover the pros and cons of both sunrise and sunset, as well as if you need a reservation, how long you need to get there, and what to bring with so you don't freeze!
Let's compare Haleakala sunrise vs sunset and find the best fit for you!
---
This post may contain affiliate links. As an Amazon Associate and associate of other programs, I earn from qualifying purchases. This means if you click a link and make a purchase, I may earn a small commission at no extra cost to you.
---
What's So Special About Haleakala National Park?
Haleakala National Park is Maui's crown jewel. Haleakala means "house of the sun" and this dormant volcano has been sacred to Native Hawaiians for centuries.
Haleakala is the world's tallest mountain, technically taller than Mt Everest if you measure from Haleakala's roots on the ocean floor.
The summit of Haleakala sits at an elevation of 10,023 ft above sea level. Witness amazing views from atop a volcano above the clouds!
The elevation and clean air provide perfect conditions for some of the world's clearest stargazing.
The high-powered telescopes on Haleakala's summit are used by researchers around the world.
---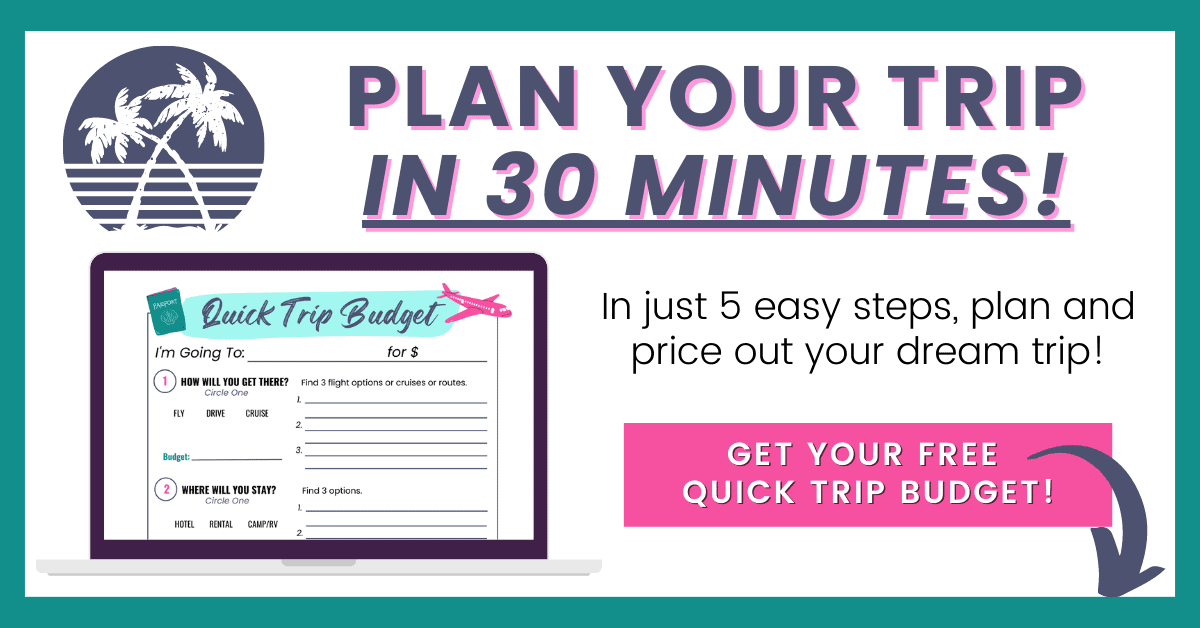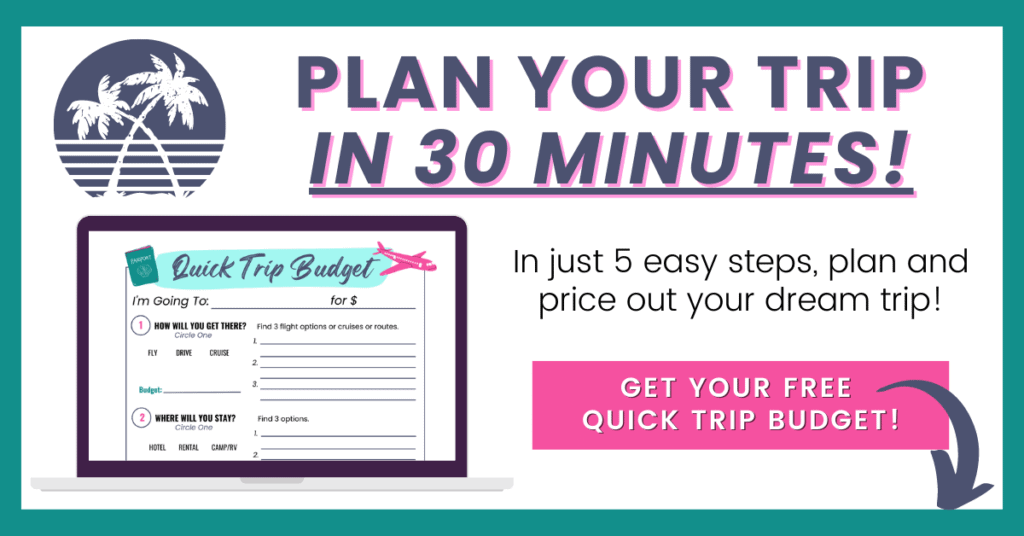 ---
The unique environment created by a dormant volcano at elevation in the Hawaiian Islands is the only habit in the world for nenes (Hawaiian geese) and petrels.
Both are on the endangered species list.
Haleakala Sunrise vs Sunset: Which is Better?
The average sunrise vs sunset debate will go on for all eternity, and generally boils down to whether you're an early bird or a night owl.
But the Haleakala sunrise vs sunset debate has a few nuances that don't apply to just any ole' sunrise or sunset.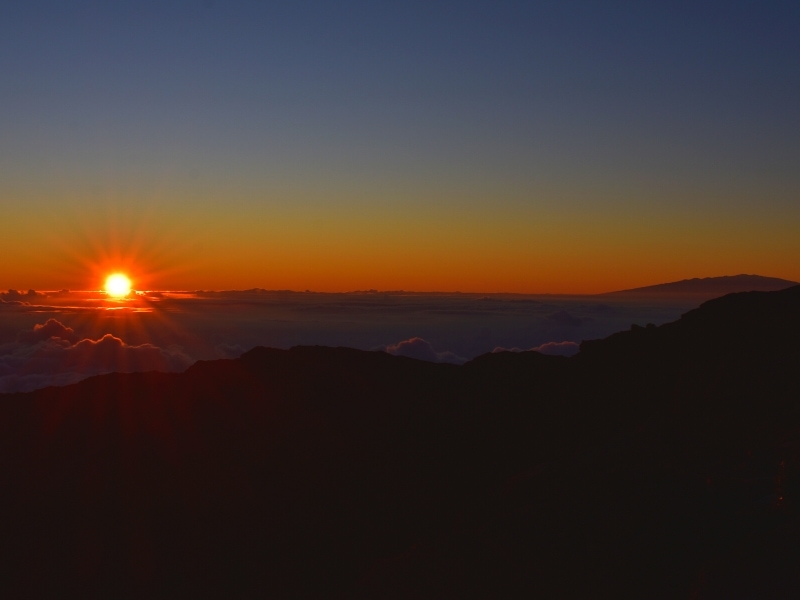 Both sunrise and sunset at Haleakala involve cold temperatures. Like you'll need a heavy jacket, pants, gloves, and a hat kind of cold.
Even in the summer, yes.
Whether you're driving up the mountain for sunrise or driving down after sunset, you'll need to be comfortable navigating mountainside switchbacks in the dark.
The road to Haleakala is not dangerous, and honestly, it's probably better driving it in the dark if heights concern you.
But you do need to keep an eye out for endangered nenes (Hawaiian geese), and you'll have to take it slow if you get stuck behind a tour bus.
>> The biggest differences between Haleakala sunrise and sunset are the view and whether or not you need a reservation.
Sunrise at Haleakala is so popular that visitors started parking in dangerous and illegal spaces after the parking lots filled up.
Now, the park uses a $1 reservation system to limit the number of vehicles allowed in the park for the rush to see sunrise.
So, is sunrise or sunset better at Haleakala National Park?
We prefer sunrise for the cultural experience. I'm a night owl, so trust me, I don't say that lightly.
Let's look at both Haleakala sunrise and sunset in detail so you know what to expect and can make your own choice.
---
Is Haleakala Sunrise Worth It?
Sunrise at Haleakala National Park is extremely popular.
That's because it's not just a regular sunrise; it's a welcoming-the-day experience sacred to the native Hawaiians.
Visitors crowd the railing along the crater edge, jostling for position and trying to keep warm while waiting for the sun.
The national park rangers, too, are waiting, providing useful tips for best viewing and informational anecdotes with just enough humor for the early morning hours.
Once the sun starts to break through the cloud cover, the native Hawaiian song begins to welcome the sun for the start of the day.
It's a unique experience you'll find only in the House of the Sun (Haleakala) on Maui.
Pros and Cons of Sunrise at Haleakala
We think of Haleakala sunrise as a high risk but high reward activity.
There may seem like more disadvantages than advantages to Haleakala sunrise vs sunset, but it feels like the more exclusive of the two experiences.
We also feel it has the better photo opportunities and cultural experience.
Here's our list of pros and cons of Haleakala's sunrise.
✅ Epic experience in an epic location
Sure, you can watch the sun rise above cloud banks in many places around the world.
But at Haleakala, you stand on the brink of an enormous dormant volcano, listening to an ancient Hawaiian chant with the legend of Maui fresh in your mind's eye.
The pictures are beautiful, the videos are amazing, but neither can compare to actually being there for the experience.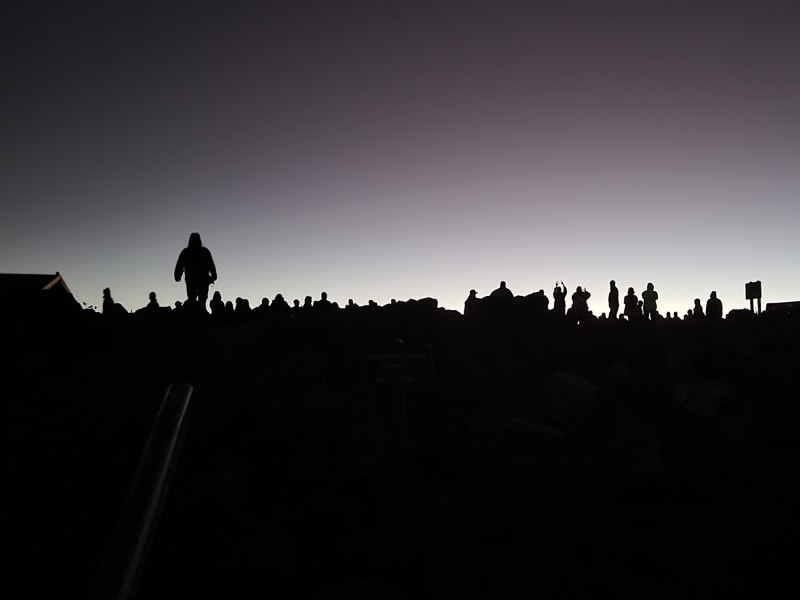 ❌ Early wake-up call
The downside to all sunrises, for fellow night owls, is the early alarm.
For sunrise at Haleakala, it's compounded by the long drive to get to the summit.
Your alarm needs to go off 3 hours before sunrise, give or take depending where you're staying on the island.
You want to be at Haleakala's entrance 1.5-2 hours before sunrise to get a good spot at the upper parking lots.
Good to Know: Hawaii does not follow daylight savings time. That means from November to mid-March Hawaii is 5 hours behind EST, but from mid-March to November, it's 6 hours behind EST.
We went in January when sunrise was at 7:04AM.
Staying in Wailea, we had a 1.25 hour's drive to the entrance gate, another 30 minutes to the summit, and a 45 minute or so wait before the sun broke through the clouds.
All told, our alarms went off at 4AM so we could leave by 4:30AM.
✅/❌ Reservations required
Requiring reservations is both a positive and a negative for visitors to Haleakala for sunrise.
On the one hand, it protects the park and your experience.
It still gets crowded, especially at the summit visitor center parking lot, but it's not nearly as bad as it could be if they didn't regulate how many people were allowed up there.
On the other hand, tickets sell out fast.
Most people plan their Hawaii vacations pretty far in advance so you have multiple chances to get a reservation.
Don't leave this to the last minute! See our section below on how to get a Haleakala sunrise reservation.
If you're even just considering it, get the $1 reservation while you can. You can always release your ticket later if you choose not to go.
✅ Native Hawaiian cultural experience
The most unique thing about a Haleakala sunrise is the cultural aspect.
Watching the sun rise above a cloud bank is cool. Doing it from the rim of an almost dormant volcano is even cooler.
But the icing on the cake is the cultural portion of the sunrise experience.
Park rangers will tell the legend of how the demigod Maui hid behind a rock and then lassoed the sun so it would slow down so the people could grow food.
And when it's time, the ranger and a group of Hawaiians sing a native Hawaiian chant to welcome the sun for the start of a new day.
It's such a unique and rare experience that doesn't happen anywhere else on Earth.
❌ Out of luck if the weather doesn't cooperate
Occasionally, Mother Nature just doesn't cooperate with your plans.
At sunrise, that could mean the clouds are too dense for the sun to break through, and there's not a great way to tell if that'll happen without driving all the way to the summit first.
If the weather doesn't cooperate, you're out of luck, likely until your next visit to Maui.
There is no rain check policy, meaning you can't just come back another day. You'd have to get another reservation, and they limit it to one per account every 3 days.
Rangers have a well-rehearsed answer if you ask them if it's worth it if the sunrise is blocked by clouds.
Even if conditions look poor from sea level, it could be a completely different story at the summit, which is true.
But it doesn't take the sting of disappointment out of it if you don't get any sunrise pictures.
Tips for Haleakala Sunrise
Schedule your sunrise reservation for one of your first days on Maui, while you're still a few hours ahead of Maui time. It'll be easier to get up early, and it gives you the option of trying for a last minute do-over if the weather doesn't cooperate on your first try.
Be at the park entrance gate 1.5-2 hours ahead of sunrise. (We asked a ranger. The only reason to get here on the 3AM end of the timed entry window is if you want to stargaze beforehand.)
Wear layers you can take off once the sun warms everything up.
Don't forget to look behind you as the sun is rising. The mountain's shadow will be on the clouds behind you.
Hang around after sunrise, so you don't follow the tour buses down the mountain.
Haleakala Sunrise Tours
If you'd rather not make the drive in the dark yourself, book a Haleakala sunrise tour instead.
This is also a great option if you'd rather sleep on the drive from your hotel or you're getting around Maui without a car.
Fair warning though: the drivers narrate the tour, even in the wee morning hours.
Funny and informative commentary may keep you from sleeping, but the experience is amazing!
These are the most highly rated Haleakala sunrise tours:
---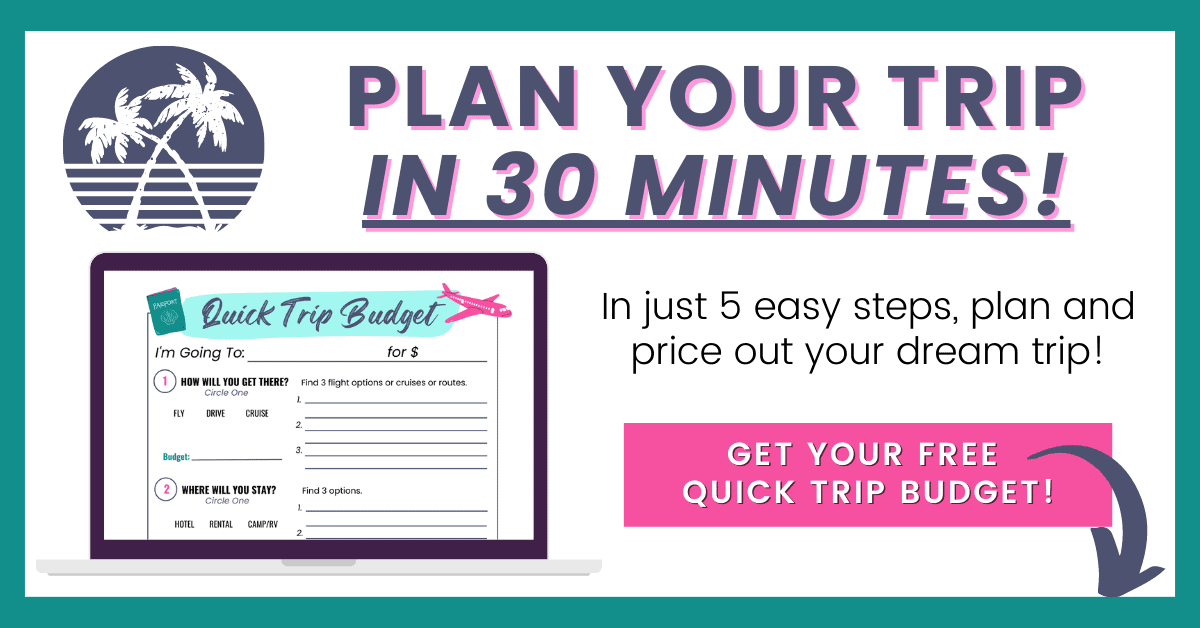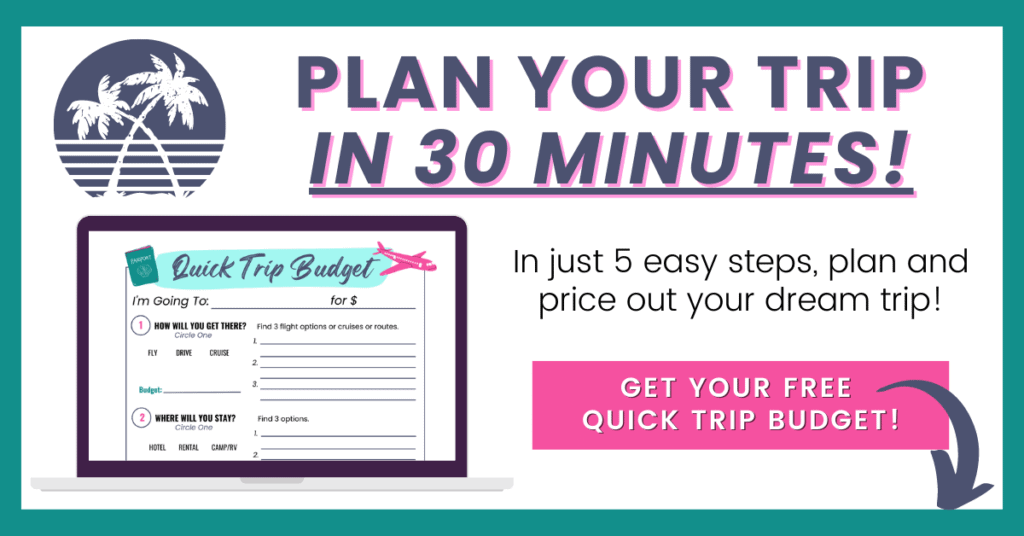 Is Haleakala Sunset Worth It?
As night owls, we love a good sunset. You don't have to get up early for it. It fits neatly into your day's schedule without any inconvenience.
On Maui, the west coast sunsets are stunning!
The only thing to watch out for is the neighboring islands just off shore.
Lanai and Kaho'olawe can block your sunset view from the beach if you don't pick the right spot.
Sunset from the Haleakala summit doesn't have to worry about that, but it does have a few of its own quirks.
Here's our list of the advantages and disadvantages of a Haleakala sunset.
Pros and Cons of Sunset at Haleakala
✅ No reservations required
Forget the hassle of figuring out the time zone difference so you can book a reservation 60 days ahead of your trip, missing the window, and having to try again 2 days ahead.
Anyone that wants to show up (and pays park entrance) can view sunset at Haleakala National Park.
You could even come every night you're on Maui if you wanted to!
✅ Sleep in!
It's vacation! If you want to sleep in, do it!
The wonderful thing about sunset is it fits into your daily schedule without any need to set an alarm to get up early so you don't miss it.
That's not to say that you won't get distracted with some other amazing Maui activity and forget to look for sunset.
But at least setting an alarm for sunset isn't messing with your sleep schedule.
❌ Not the same view as sunrise
While sunset at Haleakala National Park is gorgeous to behold, it's not the same iconic view that you get for sunrise.
Sure, the sun rises in the east and sets in the west, so of course you're looking in different directions.
But at Haleakala that means the sun rises perfectly over the crater, but it sets behind the observatory.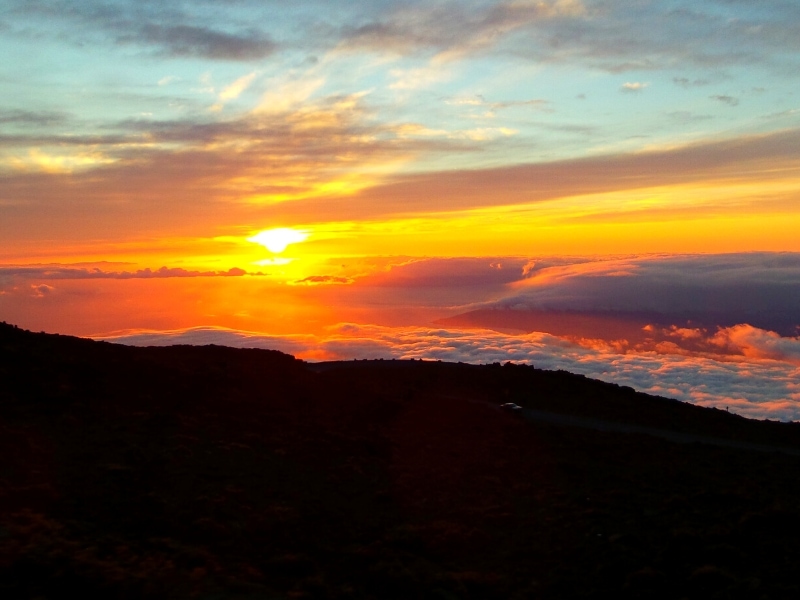 The photos are still beautiful, but you won't get those starburst shots over the crater rim at sunset.
You'll also have to contend with entitled photographers setting up their tripods right in front of your view. (They do it at sunrise, too, to be fair.)
But at sunset, there's limited space for a clear shot without buildings in the view.
❌ No cultural demo like sunrise
Sunset isn't celebrated the way sunrise is in Hawaiian culture.
There will be park rangers hanging around for sunset, but there isn't any chanting.
✅/❌ Smaller crowds, but upper parking lot still fills up
Sunset at Haleakala sees much smaller crowds than sunrise.
We suspect this is a combo of the slightly less convenient pictures and an unwillingness to miss dinner reservations.
But don't let the smaller crowds fool you; the upper summit parking lot will still fill up well before sunset.
The lower parking lot at the summit visitor center, though, usually has plenty of spaces, and you can walk up to the summit.
Just bring a headlamp or flashlight for the walk back to your car in the dark.
✅ Easier to work around the weather
We know weather doesn't always cooperate, but for sunset, it's usually easier to make that call before driving all the way up the volcano.
You'll be able to see if the summit is shrouded in clouds, and summit webcams can help you decide visibility at the summit. (It's too dark to use either of these tactics before sunrise.)
Even if you do drive all the way to the Haleakala summit for sunset and it's a bust, there's no reservation system barring you from trying again tomorrow or another night.
Tips for Haleakala Sunset
Arrive an hour or so before sunset as the upper parking lot will fill up early.
Bring layers. It'll get cold after sunset.
Hang around after sunset for epic and clear stargazing.
Haleakala Sunset Tours
Like sunrise, if you'd rather not make the drive yourself, book a Haleakala sunset tour instead.
It's still a good way to experience Haleakala without renting a car on Maui.
There are fewer sunset tour options because most people DIY this tour, but the tours that do run are a similar experience to the sunrise tours, except they don't include dinner.
Here are a couple Haleakala sunset tour options:
---
How to Get Haleakala Sunrise Tickets
The reservation system for Haleakala sunrise requires a free Recreation.gov account.
Remember, you don't need a reservation for sunset. Only sunrise.
Set up your account the day before you need it. You can't add tickets to your cart without an account.
Sunrise tickets can go so fast that you won't have time to create your account and check out before they're all gone.
Tickets for a given date are released at 7AM HST in two waves: 60 days ahead and 2 days ahead.
We recommend you pick one of the first days you're in Maui and secure your preferred date 60 days ahead.
This leaves a possible last-minute backup of going later in your trip if you get rained out on your first attempt.
We don't recommend waiting until the 48 hour notice to get your tickets. There's a good possibility you'll be disappointed.
Haleakala Sunrise Tickets FAQs
Only one sunrise reservation per account every three days.
One sunrise reservation required per vehicle, not per person.
Park entry fee is $30 and not included in the $1 sunrise reservation fee. Be prepared to add it to your reservation, pay at the gate, or have an Annual Pass.
The person whose name is on the reservation must be in the car with photo ID to enter the park.
Bring a copy of your reservation, whether paper or screenshot on your phone. Don't rely on cell service for email at the gate!
Your reservation grants you access to the park between 3AM and 7AM.
Tickets don't reserve you a specific parking spot. Get there early to guarantee a summit parking lot spot.
What to Do if Sunrise Tickets are Sold Out?
If individual sunrise tickets are sold out for all dates of your trip, go see an amazing Haleakala sunset instead!
There's no reservation needed, and you'll get similar amazing colors as the sun sets along the west side of the park.
If you absolutely want to see sunrise, not sunset, then consider taking a Haleakala sunrise tour instead.
They're more expensive but provide door-to-summit service, breakfast, and stops in other towns on your way back down.
Haleakala Sunrise/Sunset Packing List
Whether you're heading to the Haleakala summit for sunrise or sunset, we recommend you bring the following items.
This lets you focus on the awesome experience in comfort and have souvenirs to remember the moment later.
Layers: hat, gloves, jacket, pants/blanket, closed toed shoes and socks
Hand warmers
Something to sit on
Snacks
Camera & unobtrusive tripod
GoPro for the timelapse video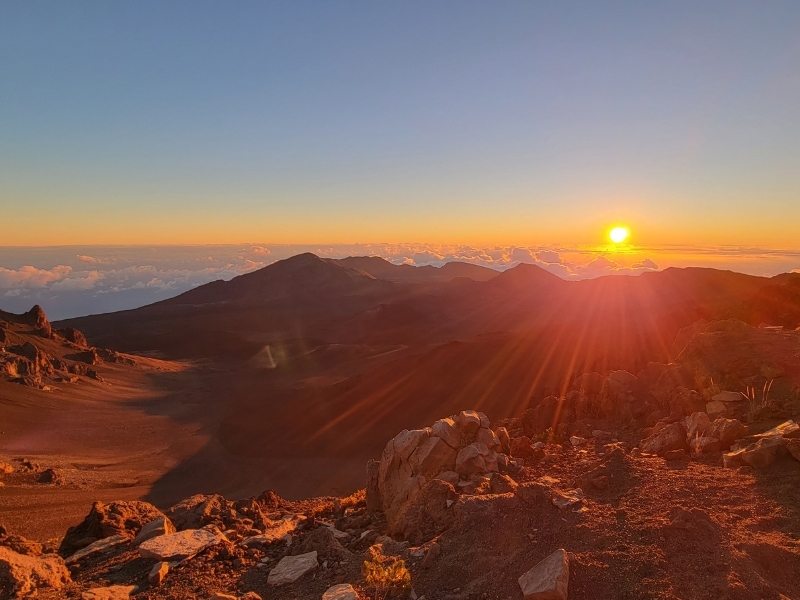 What Else is There to Do in Haleakala National Park?
Spend some time exploring Haleakala National Park after sunrise or before sunset!
Include short stops at both Kalahaku Overlook and Leleiwi Overlook for different perspectives of the crater.
The Sliding Sands Trail starts at the Haleakala Visitor Center at the summit and descends into and across the crater of Haleakala.
Hike to the first viewpoint and back out if you're short on time.
If you prefer a shorter or less strenuous hike, try the Pa ka'oao Trail near the summit visitor center for an elevated view into the crater or the Leleiwi Trail from the overlook of the same name for stellar views of the gap in the caldera wall and out to Maui's east coast.
Good to Know: Haleakala's most popular hiking trail, the Pipiwai Trail, is in the Kipahulu Coastal District, accessed from the Road to Hana.
For the adventure seekers, how about biking down the side of a volcano?
Several tours offer different experiences, but all start just outside of the park boundary and include a bike, helmet, and van pickup at the bottom.
FAQs for Haleakala Sunrise & Sunset
Haleakala National Park Entry Fee: $30 per vehicle, good for 3 days
Sunrise reservations required ($1 sunrise reservation does NOT include your park entry fee)
No reservations needed for sunset
There's no food or gas sold in the park, and the visitor centers aren't open for sunrise or sunset. Fill up your tank before you leave and bring snacks.
>> How Cold Is It at the Summit?
Haleakala's summit is reliably 20-30 degrees Fahrenheit colder than sea level, often at or just below freezing before sunrise/after sunset.
That means 80°F (27°C) at the beach could mean 50°F (10°C) at the summit.
We visited in January, and it was 40°F at the summit for sunrise and 67°F at the beach at the same time.
>> What Time Should I Leave for Haleakala Sunrise or Sunset?
Be at the Haleakala park entrance 1.5- 2 hours before sunrise. You'll still have another 30 minute drive to the summit from the entry gate.
Drive time to the Summit District entrance gate from:
Kahului: 1 hour
Wailea: 1.25 hours
Lahaina: 1.5 hours
This means if you stay in Wailea you need to leave your hotel 2.75-3.25 hours before sunrise or sunset to get a good parking spot at the summit.
>> Are There Bathrooms at the Summit?
Yes, there are flush-toilet bathrooms at the summit visitor center. They are open even though Haleakala Visitor Center is not open for sunrise or sunset.
>> Is the Drive to the Haleakala Summit Dangerous?
No, the drive up to the Haleakala summit is safe. There are switchbacks, but the road is wide and well-maintained with shoulders and guardrail.
This is not the same type of winding, narrow road as the Road to Hana, but you do need to keep an eye out for livestock and endangered nenes (Hawaiian geese) on the road.
>> What Other Islands Can I See from the Top of Haleakala?
The Big Island (Island of Hawaii) is most noticeable with Mauna Kea and Mauna Loa to the southeast rising above the clouds, too.
To the west, Lanai and Kaho'olawe are easily spotted just off Maui's shores.
To the northwest, Molokai can be visible if conditions are very clear. It's extremely unlikely to see Oahu.
---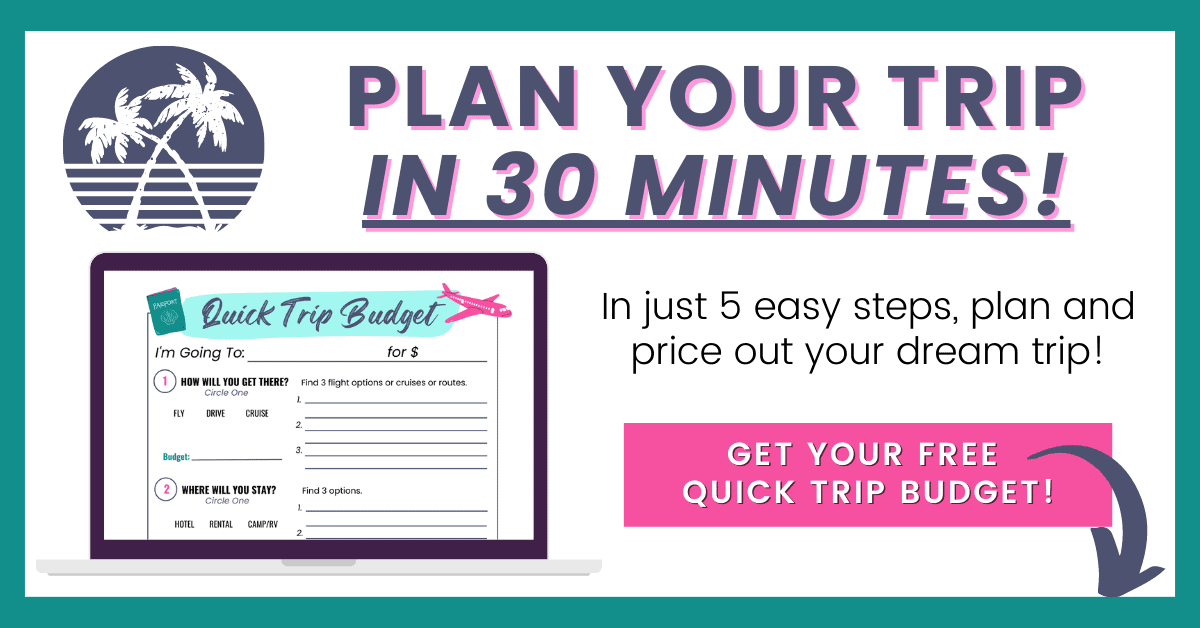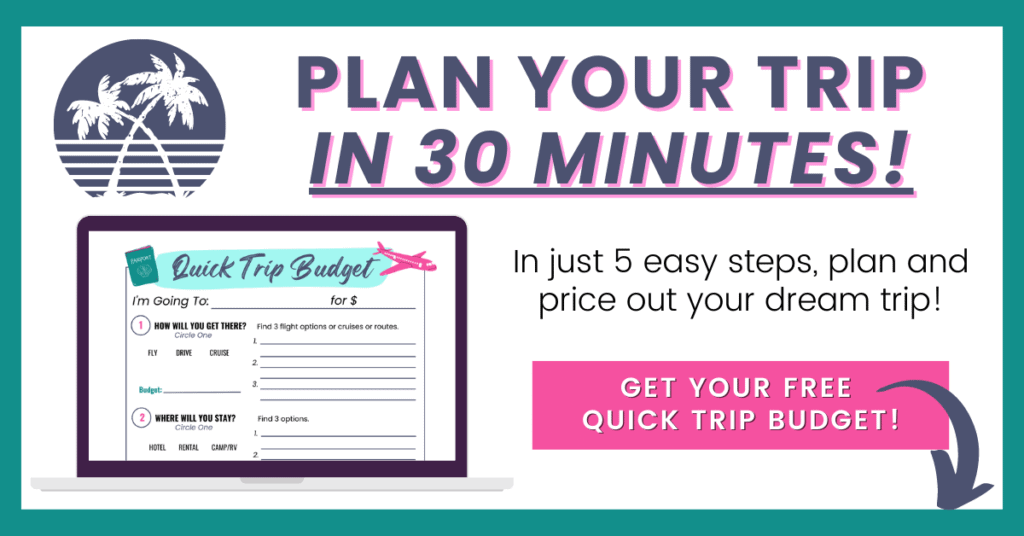 ---
Haleakala Sunrise or Sunset: Both Great Options!
If you have the time, check out both sunrise and sunset at Haleakala National Park!
If you must choose one, we prefer sunrise for its cultural experience and gorgeous views over the crater rim.
If that's not a deal breaker for you, then sunset can be just as beautiful.
More Hawaii Travel Resources
Happy travels!
Share it!