Looking for romantic things to do in Charlotte, North Carolina? You're in luck because the Queen City is brimming with fun things to do together as a couple!
Don your most charming smiles and your fancy or comfortable clothing, depending on your intended activity, and embark on a journey to get out of your date night rut.
From leisurely park walks to luxury experiences to adrenaline-pumping adventures, everyone's definition of romance will vary, but we've tried them all. Charlotte's vast array of romantic things to do caters to all tastes.
So buckle up and get ready to impress your sweetheart with an unforgettable date night in Charlotte!
---
This post may contain affiliate links. As an Amazon Associate and associate of other programs, I earn from qualifying purchases. This means if you click a link and make a purchase, I may earn a small commission at no extra cost to you.
---
43 Romantic Things to Do in Charlotte for Couples
Date nights don't have to be expensive or short. You just need to get creative and think beyond a nice dinner out.
We've grouped our best date ideas into these 7 categories to help you narrow down and choose your ideal date night in Charlotte.
Iconic Charlotte Experiences
Outdoor Activities
Fun Date Night Ideas
Unique Romantic Things to Do
Culinary Experiences
Cultural Experiences
Fun Things to Do Nearby (but not in) Charlotte
Let's explore some fun and romantic things to do in Charlotte to help you reconnect with your partner and make lasting memories.
Iconic Charlotte Experiences for an Epic Date Night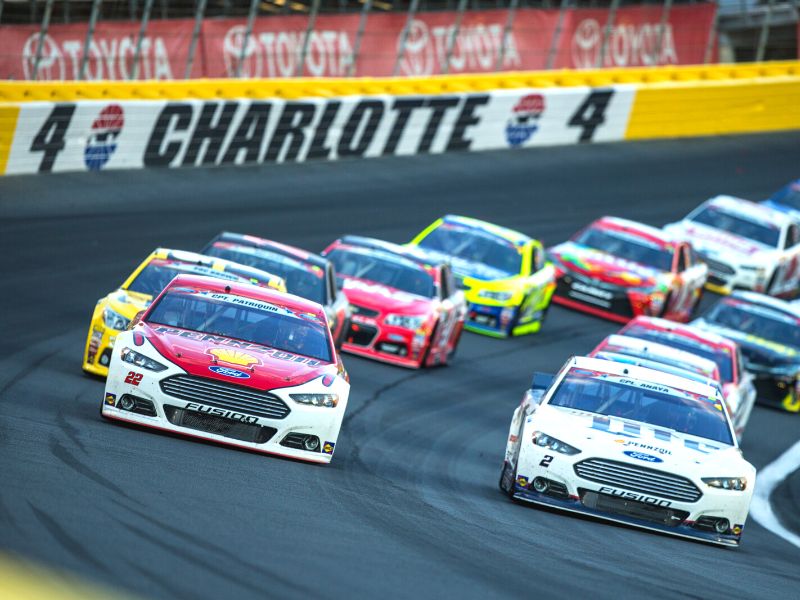 1. Charlotte Motor Speedway
For a thrilling date experience, head to Charlotte Motor Speedway!
NASCAR is not everyone's cup of tea, but if you and your sweetie share a passion for motorsports, then this iconic racing venue is a must-visit for an epic date in Charlotte.
Attend a NASCAR race to experience the high-speed adrenaline rush and excitement as a crowd of thousands all cheer on the field.
If you want to get behind the wheel yourself, try a private racing experience, or sign up to ride shotgun as an instructor drives.
The track offers several types of racing schools for different experiences, like driving a NASCAR race car or an Indy-style race car.
You won't be able to ride together, but you can cheer each other on from the sidelines!
Besides racing events, the speedway also hosts car shows, swap meets, and other special events year-round.
2. NASCAR Hall of Fame
If it's not race season or Speedway tickets are out of the budget, then the NASCAR Hall of Fame Museum in Uptown could be a fun, alternative first date for enthusiasts.
See the drivers and crew that made the sport what it is today. Exhibits tell the tales of heroes and remember those that are gone.
You can even take a ride in a simulator for an additional fee.
3. US National Whitewater Center
The US National Whitewater Center is a must-visit destination for outdoor adventure enthusiasts in Charlotte.
You and your date can try whitewater rafting or kayaking in the world's largest man-made whitewater river, designed by a three-time Olympian.
Flatwater kayaking and paddleboarding are also available, if whitewater makes you nervous.
Prefer to stay on land? Try out world-class mountain biking trails in three different difficulty levels, or go for a hike or trail run on dozens of miles of trails.
Don't miss the opportunity to challenge yourselves on the various ropes courses, ziplines, and climbing walls. Yoga is big here, too.
In the winter, they stay open and offer ice skating.
As a bonus, there's always live music and festivals happening, making it an ideal spot for a dynamic date experience.
Whether you stay for a few hours or all day, this one of the best adventure dates in Charlotte!
4. Attend a Sports Game
Got a sports enthusiast by your side? Sweep them off their feet with tickets to the game!
Nothing says date night quite like cheap beer and nachos at the ballpark.
Grab some fried food, cheer on your favorite team, and create lasting memories bonding over the thrill of the game.
Charlotte has almost every major professional sport covered. Here are the biggies:
The Charlotte Hornets (NBA basketball) play at the Spectrum Center
The Carolina Panthers (NFL football) play at Bank of America stadium
Charlotte FC (MLS soccer) plays at Bank of America Stadium
The Charlotte Knights (minor league baseball) play at Truist Field (previously BB&T Ballpark)
5. Relax in Romare Bearden Park
Located in Uptown Charlotte, Romare Bearden Park is an urban green space that's close to so many epic Charlotte experiences.
A date at Romare Bearden Park comes in many different forms.
It's an easy add-on when visiting any of the nearby attractions, but it'll also do for short but fun lunch dates if you both work downtown.
Right next to both Truist Field (BB&T Ballpark) and Bank of America Stadium, it's a great place to hang out before a game.
It's also a great spot for a leisurely stroll or a relaxing picnic with your loved one after exploring the nearby museums, like the Uptown branch of the Mint Museum or the Bechtler Museum of Modern Art.
The park boasts public art, water features, and up-close-and-personal skyline views. Keep an eye out for food trucks and farmers' markets.
It's also host to events throughout the year, like concerts, fitness classes, and film screenings, which may require a ticket for entry.
Outdoor Activities for Couples in Charlotte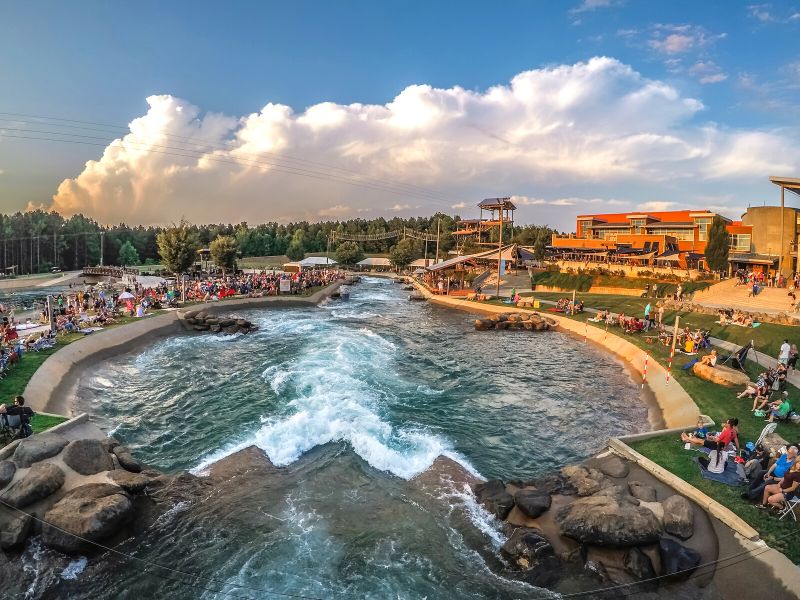 6. Have an Impromptu Picnic at First Ward Park
Sometimes you gotta sneak dates in between classes or meetings, and First Ward Park is the perfect downtown park to accommodate that.
This lovely green space nestled amid skyscrapers is ideal for a quick walk or an impromptu lunch picnic.
It's not a big place, but it's a good option if you're both stuck in the city.
First Ward Park also hosts festivals and events in the summer, so you might end up walking around a craft fair or enjoying a music festival on your date!
7. Go Rock Climbing at Inner Peaks
Are you both up for a little adventure? Test your strength and endurance at Inner Peaks, one of Charlotte's premier rock climbing gyms.
They have two locations, one near downtown and one in Matthews, but both provide similar fun times.
Ok, so this isn't technically outdoors, but it's definitely a fun activity that would be done outdoors if Charlotte had the mountains for it.
They're bringing the mountains to you!
With a combination of top-rope, bouldering, and lead climbing, you and your date will have plenty of options to choose from.
Never climbed before? No problem!
They also offer beginner classes, so you can learn to climb safely together!
8. Have a Picnic at Freedom Park
For a more laid-back outdoor activity, pack a picnic and a frisbee and head to Freedom Park.
With a picturesque lake and Little Sugar Creek running the length of the park, Freedom Park is a beloved green oasis in the heart of Charlotte.
Sports fields and walking trails beckon so you can work up an appetite before claiming a spot in the open space near the lake to sit down and relax.
Bring your favorite foods, a comfy picnic blanket, and soak in the natural beauty of this urban park.
Pro Tip: Pack finger foods that are easy to eat and share, like strawberries (better yet, chocolate-covered ones, if you have a cooler) and fancy cheese to make this picnic extra memorable.
9. Hit up the Driving Range at TopGolf
TopGolf is a fun experience for newbs and pros alike, whether you enjoy laughing at yourselves or competing against yourselves.
There's always food and drinks to fall back on if you need a break in between games.
Charlotte has two TopGolf locations, one each north and south of downtown.
We strongly recommend you reserve a lane ahead of time.
This is a super popular date night activity in Charlotte, and you could be waiting a long time if you show up spontaneously.
10. Little Sugar Creek Greenway
Grab your partner and gear up for a bike ride through Charlotte!
The Little Sugar Creek Greenway provides 19 miles of paved path that connects parks throughout the city.
Get your exercise in with the bike ride, and then stop at one of the many parks for a cold drink or snack before heading back.
It's the perfect combo date night in Charlotte, with a little exercise and a little picnic time. Couples that play together, stay together!
11. Wing Haven Gardens & Bird Sanctuary
Sneak a peek into the well-kept gardens of regal homes from a bygone era.
Wing Haven preserves three public gardens between two historic homes in the Myers Park neighborhood.
Enjoy a self-guided tour through the gardens for a peaceful and quiet date idea in Charlotte.
If you can round up a few friends for a group date, you can schedule a guided tour through the gardens for a slightly higher but still very reasonable fee.
Fun Date Night Ideas in Charlotte
12. Go Duckpin Bowling
With smaller pins and bowling balls, duckpin bowling is a unique and fun twist on the modern sport. Technically, duckpin bowling came first.
Pins Mechanical Co. is Charlotte's only traditional duckpin bowling venue and a fantastically laid-back bar-like space full of fun, perfect for date night.
They also have foosball, pinball, and ping pong. It's all about the small balls for them, and they're not shy about it. 🤣
You and your date can take turns trying your skills at the various activities and then grab a drink at the bar. Always 21+ after 8PM.
13. Try Your Hand at Arcade Games
Step into the enchanting realm of arcade games for a uniquely fun date night in Charlotte at an arcade bar.
All of these include arcade games and alcoholic drinks, but several also include other games, like duckpin bowling, giant jenga, or even ping pong.
Share some laughs as you challenge each other to beat high scores and prove your gaming prowess as you release your inner child!
14. Try Axe Throwing
Another fun indoor (but outdoorsy) activity to beat the heat in Charlotte: axe throwing.
You might be surprised how fun this is! Reserve a lane at Bad Axe Throwing and enjoy tossing sharp objects at a wooden bullseye for a bit.
If you're not sure this is right for you, come during walk-in hours. It's cheaper (because you don't get as long on the lane and you may have to wait).
They sell beer and wine on-site, and they'll even let you bring in your own food if you want. We suggest you combine this with dinner elsewhere for a fun date night out.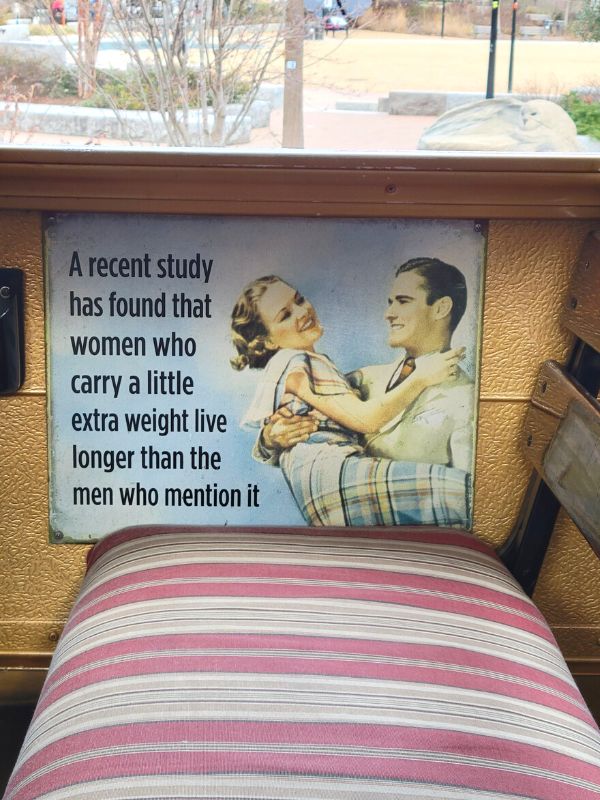 15. Ride the Funny Bus
If you and your partner have a good sense of humor, hop aboard the Funny Bus for a wildly inappropriate time as you drive around Charlotte.
There's a joke to offend everyone on Charlotte's best comedy city tour!
You'll learn a surprising amount about the history of Charlotte along the way, but it's snuck in between outrageous jokes so it's not boring.
This bus also has a generous BYOB policy and stops at a brewery in NoDa at the halfway point, so you'll never run out of liquid fun to make the jokes funnier!
16. Experience Karaoke Nights
If you and your date love singing or just enjoy watching others take the stage, head to karaoke night at a local bar or restaurant.
Check out places like NoDa 101, Snug Harbor, or Jeff's Bucket Shop for a memorable night filled with upbeat tunes and sometimes-questionable-but-usually-entertaining performances.
17. Comedy Zone
Looking for a good time with lots of laughter? Check out The Comedy Zone, a popular comedy club for date night in Charlotte.
Acts change every week, and they even host some honest-to-goodness celebrities on occasion. Those shows sell out well in advance, though, so snap up those tickets if you see availability.
Enjoy a night filled with laughs, fun, and good vibes.
18. Learn to Dance
Think outside of the box and give dance lessons a try! Arthur Murray has everything from beginner to advanced and a variety of types of dances.
Get close with the tango or feel like royalty with the waltz. Or just have fun and learn to hustle!
Don't stress and just enjoy this fun date night together!
19. Enjoy Dinner and a Movie at the Same Time
How about eating dinner while watching a movie, but not at your house?
Cinergy Dine-in Cinemas on the north side lets you do just that.
Now, this isn't fine dining. It's fun dining. Think fried apps, burgers, and small pizzas. But they do have alcoholic drinks, and, of course, regular movie theater concessions.
Take what you don't finish before the film into the theater with you and get settled in your adjustable, reclinable luxury chair.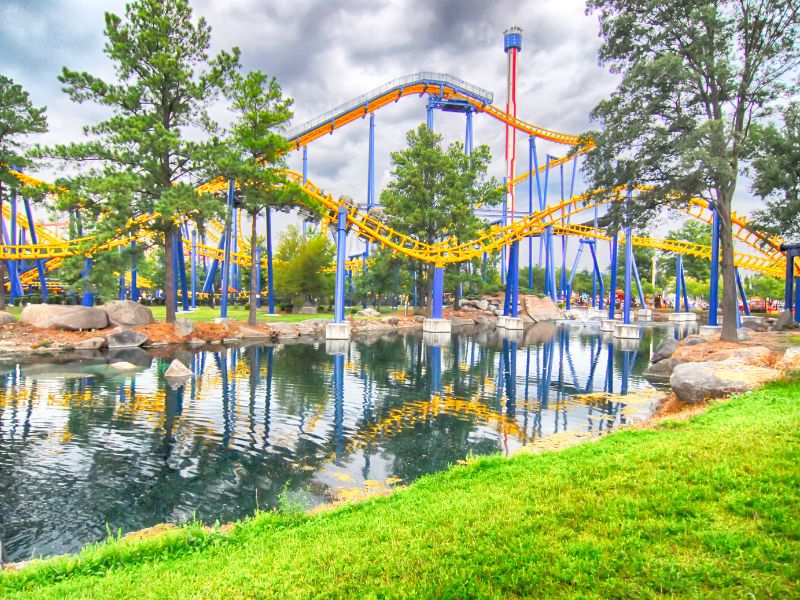 20. Solve Puzzles at an Escape Room
Put your heads together and solve puzzles to escape! Try Exit Strategy for unique and challenging puzzles.
Each room has its own theme and story. Check the website ahead and you can find the right puzzle difficulty and theme for you and your date.
Escape rooms can be difficult to win with just two people, so maybe go on a double date or group date for this activity.
Pro Tip: If you're the super competitive type, this might not be a good idea for date night.
21. Ride the Rollercoasters at Carowinds
Unleash your inner child and enjoy a day date full of laughter and excitement at Carowinds!
Hop onto roller coasters or enjoy classic carousel rides. Eat funnel cake and play carnival games. Get off your feet and watch a show.
Enjoy a carefree day of fun and adrenaline with your favorite person!
Unique Romantic Date Ideas in Charlotte
22. Hot Air Balloon Rides
Eagles Wings Hot Air Balloons operates out of Rock Hill, SC, a short drive from downtown Charlotte, and they provide an incredible aerial experience that only a hot air balloon can give.
Help the team unload and prep the balloon for flight, or hang back and watch the professionals, and then get ready for stunning views!
Soar through the air in nothing but a small basket as the balloon pilot uses the burner to move you up and down to catch air currents before safely landing in a field and being picked up by their ground crew.
Now, obviously, this isn't for those with a fear of heights, so make sure you subtly ask your partner about heights before surprising them with this adventure.
It's on the pricier end as far as Charlotte date ideas go, but it's definitely one of the most romantic options that you'll not soon forget!
23. Visit the McGill Rose Garden & Rosie's Coffee & Wine
Tucked between Uptown and NoDa, the McGill Rose Garden is a beautiful pocket garden that's also a popular wedding venue for Charlotte.
Enjoy a peaceful, romantic stroll through the blooms with your partner. You can even bring your doggo, too, if they're well-behaved and on a leash.
Rosie's is the cute coffee shop and wine bar that also has access to the garden. Grab a drink and sit for a while!
In fact, if you want to visit the garden after 4PM, you have to go through Rosie's first.
The garden is free and usually open to the public, unless there's a wedding.
Check their public hours before your visit to make sure the garden and Rosie's aren't closed for a private event.
24. Take a Helicopter Tour of Charlotte
If you're up for an unforgettable adventure, consider booking a helicopter tour of Charlotte!
Flying high above the city, you'll witness stunning aerial views of iconic landmarks and get a fresh perspective of the city you love.
Charlotte Helicopters offers several different sight-seeing packages, all for one fixed price for up to 3 passengers.
Note: they don't leave from the Charlotte airport. They're in Waxhaw, NC, about 30 minutes south of the city.
We haven't tried this one ourselves yet, but it comes highly recommended!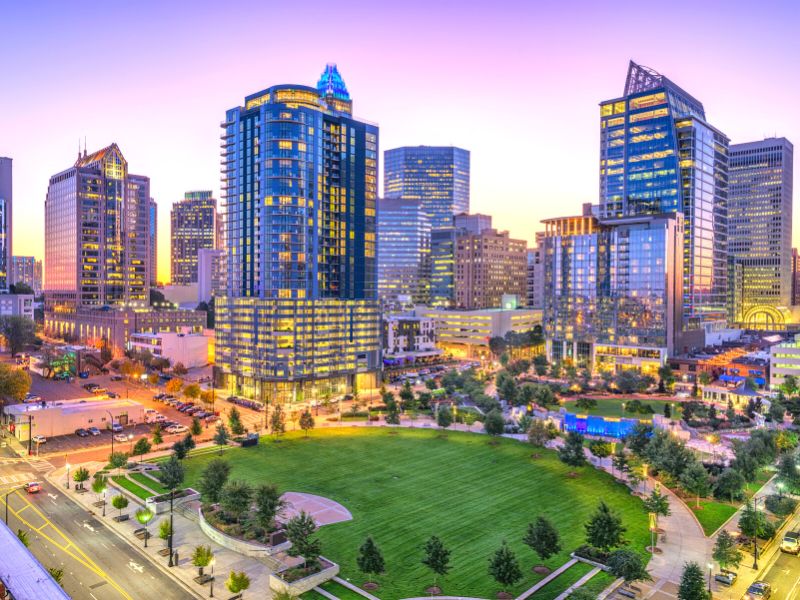 25. Plan a Romantic Staycation
The wonderful thing about romantic staycations is how flexible they are: at home or at a spa, budget or splurge, casual or fancy.
You can have a date night in Italy without leaving your house, if you plan it right and get creative with a little help from the dollar store.
Or you can level up your romantic date idea to "oh la la" status with a stay at one of Charlotte's luxurious hotels.
Book a night or two at the Ritz or the Ballantyne and pamper yourselves. Room service, comfy robes, spa treatments, and a couples' massage: the very definition of romance!
Life is too short to not indulge in whimsical, romantic retreats with the one you love. Whether you book the fancy hotel or create the romantic atmosphere at home, a staycation can be just the right amount of couple time you need.
26. Take a Ghost Tour
Are you and your partner thrill-seekers? Then get ready for a spine-chilling ghost tour through Charlotte's most haunted locations!
It's not just for Halloween; it's a year-round adventure that you won't soon forget. Charlotte is an old city for America and has its fair share of unexplained mysteries.
Check out Queen City Ghosts and Carolina History & Haunts for haunted walking tours held year-round.
Hold your partner's hand tight and uncover the spooky side of Charlotte together!
Romantic Culinary Experiences in Charlotte
27. Chef Alyssa's Kitchen Cooking Classes
We heard somewhere that 90% of a relationship is deciding what to eat, and we honestly feel that's true once you make it past the first year together.
Forget the same ole' boring options, and spice up date night with a cooking class!
Don your apron and prepare your best food puns!
Located in Charlotte's popular Dilworth neighborhood, Chef Alyssa's Kitchen cooking classes let you and your significant other learn new dishes together.
From classic Italian cuisine to modern takes on Southern favorites, you'll enjoy creating and indulging in a delicious meal.
And no, these aren't all fancy dishes you'd never eat. There's one class that uses the Big Green Egg smoker for some delicious Southern food.
28. Rooftop Bars & Craft Cocktails
After an eventful day Uptown, unwind with your partner at one of the city's trendy rooftop bars.
Our favorite thing about rooftop bars and restaurants? The views!
Sip on delightful cocktails and enjoy the relaxed ambiance while marveling at the breathtaking skyline view as the sun sets on the horizon.
Try Fahrenheit, Merchant & Trade, or Nuvolé Rooftop TwentyTwo for a good time.
29. Food Trucks & Live Music at The Music Yard
For a more laid-back atmosphere, check out The Music Yard, an outdoor music venue that also frequently hosts food trucks during its shows.
You and your partner can indulge in food truck fare while enjoying live music performances from local and touring artists.
It might just be the perfect fun night out that you two need!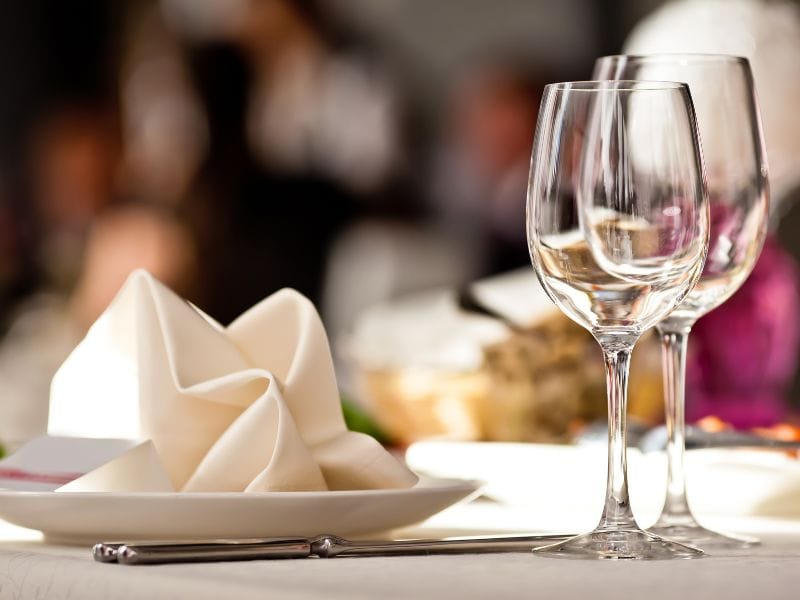 30. Splurge on a Romantic Restaurant in Charlotte
Treat your taste buds and impress your date with a visit to one of Charlotte's most delicious eateries.
Go all out at The Capital Grille or Del Frisco's. Think caviar, oysters, or steak tartare for starters and finish with a steak that might change your life.
If you're looking for something European, try The Fig Tree Restaurant for a French and Italian inspired fine dining experience in a historic home, perfect for a romantic dinner.
We'll be the first to admit that we're not big foodies. Honestly, we're a sucker for The Melting Pot; yes, even though it's a chain!
It's higher than normal for dinner for two, so it still counts as a splurge, but not so fancy that it's off-putting to those that prefer to be comfortable while dressed up.
A fancy dinner out doesn't have to cost more than your car payment and require a dress code, unless you want it to.
31. Enjoy a Dinner Cruise
To truly impress your date, set sail aboard a dinner cruise on nearby Lake Norman or Lake Wylie.
Wine and dine as you float along the shimmering waters of Charlotte's lakes, creating an atmosphere of romance and enchantment that can't be topped.
Lady of the Lake (a luxury yacht) and The Catawba Queen (a Mississippi riverboat) were the two clear favorites before the pandemic, but they've sadly gone out of business (owned by the same company).
We suggest renting a private charter instead for an extra special dinner and sunset cruise with your sweetheart.
32. Bar Crawl through NoDa
A good ole' fashioned bar crawl is the perfect group date experience in Charlotte. Head to NoDa (North Davidson neighborhood, if you're unfamiliar) and enjoy a relaxed evening with drinks.
Try NoDa Brewing Company – The OG (of course) or Heist Brewery to start.
If you're really ambitious, try the full NoDa Craft Beer Trail for an epic adventure that explores the neighborhood.
Unique Cultural Experiences in Charlotte for Couples
33. Try Science on the Rocks
Have you ever wanted to try all the fun things at the museum but couldn't because you were too busy wrangling your kids as they ran from exhibit to exhibit?
Or maybe you don't have kids and it would just be awkward visiting the museum and waiting in line with a bunch of kids for your turn to try the thing.
Well, here's your chance for kids-free fun at the museum! It's the perfect date night in Charlotte for adults that want to play.
Science on the Rocks gives adults an evening of fun, science, and drinks in this adults-only event at Discovery Place.
Feel free to try all the things, after hours, with no kids to make you be responsible!
34. Attend a Play at Blumenthal Performing Arts Center
For a memorable date night in Charlotte filled with drama, music, and dance, head to the Blumenthal Performing Arts Center.
This world-class venue hosts a wide range of performances, from Broadway shows and musicals to ballet and orchestras.
You and your date can choose a show based on your personal preferences and marvel at the talent displayed on stage.
Don't forget to dress up for this special night out in Charlotte!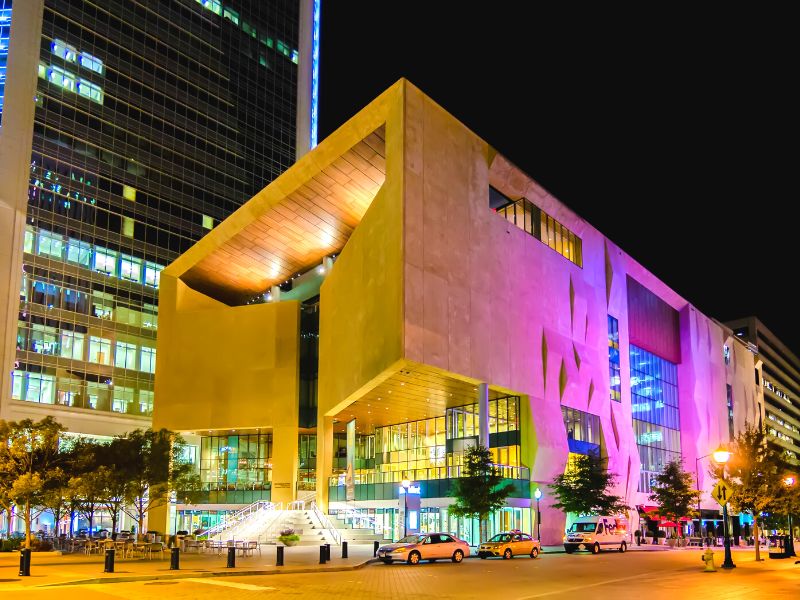 35. Browse the Mint Museum
If you and your date appreciate history and art, check out the Mint Museum.
There are two locations to choose from: Uptown and Randolph. The original US Mint building is at the Randolph location.
As the oldest art museum in North Carolina, it houses a diverse collection of art and design from around the world.
Stroll through galleries, exploring everything from ancient American art and European ceramics to modern photography and contemporary art.
Make it a budget-friendly date night in Charlotte with free admission at both campuses every Wednesday evening from 5-9PM!
36. Tour the Bechtler Museum of Modern Art
For a more modern and abstract art experience, consider the Bechtler Museum of Modern Art.
Designed by renowned architect Mario Botta, this museum is both an architectural masterpiece and a showcase for mid- to late-20th century European artists.
You'll encounter iconic works by artists such as Pablo Picasso, Alexander Calder, and Andy Warhol.
Wednesday nights after 5PM are free admission. Perfect for a frugal date night in Charlotte!
37. Duke Mansion
Looking for more of a historic and romantic-feeling atmosphere? The Duke Mansion's gardens are the perfect surprise for your sweetie.
Just imagine: 4.5 acres of pristine grounds, a classic southern ambiance, and an opportunity to feel like royalty.
The Mary DBT Semans Gardens at the Duke Mansion are free to explore, but call ahead to check if there's an event.
If you've got the time and funds, book a romantic weekend at the Duke Mansion and reconnect with your beloved at this enchanting haven.
38. Explore the Harvey B. Gantt Center for African American Art & Culture
The Gantt is a one-of-a-kind museum, featuring "the best in visual, performing, and literary arts reflecting the African diaspora."
The focus on digital art and alternative mediums is something other art museums don't even consider. It's a refreshing look into an underserved part of the art world, both creators and mediums.
If you think most art museums are boring, give this one a try for a unique cultural date night experience.
Fun Date Ideas near Charlotte
Sometimes you just want to escape the city for a minute and enjoy being away from the urban hustle and bustle.
These date ideas are perfect for a day date or an overnight stay away from Charlotte.
39. Stroll around the Daniel Stowe Botanical Garden
For a more serene and romantic date idea, head 40 minutes west of Charlotte to the Daniel Stowe Botanical Garden on the shores of Lake Wylie.
Escape the city's hustle and bustle and stroll along charming garden paths with your special someone admiring gorgeous plants and flowers as you go.
Three miles of walking trails show off the surrounding natural area.
The garden's serene atmosphere creates the perfect backdrop for stargazing during Garden Nights events, and you might even spot some shooting stars while you're here!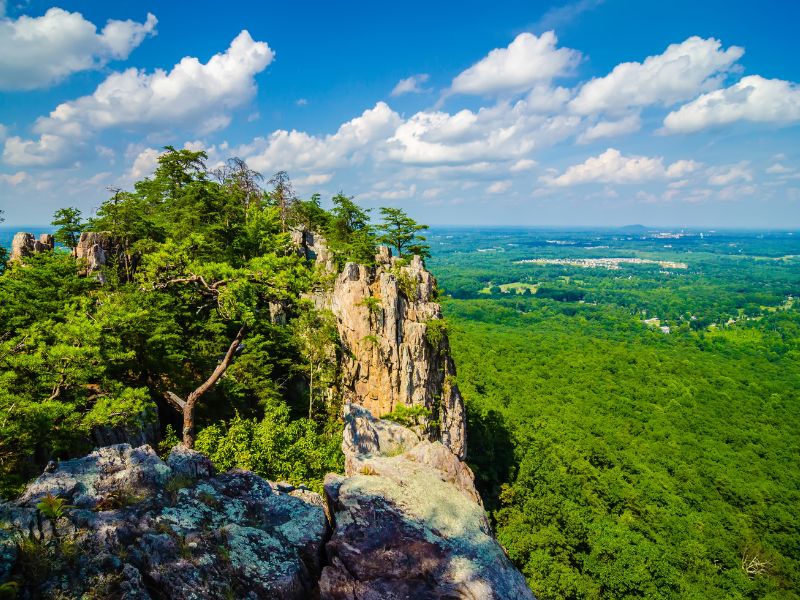 40. Hiking at Crowders Mountain State Park
Climb to new heights at Crowders Mountain State Park, the perfect place for an outdoorsy day date away from the city.
It's only a 40 minute drive west of Charlotte on I-85.
Hiking trails of varying degrees of difficulty will take you through green forests and up to incredible panoramic views of Charlotte's skyline and the surrounding landscape.
We recommend comfortable clothes and shoes and a water bottle for each of you.
If you're really into hiking, the Ridgeline Trail links Crowders Mountain to both Kings Mountain National Military Park and Kings Mountain State Park, just across the state line in South Carolina.
41. Zipline Through the Trees
Fly through the air over the Catawba River with Canaan Zipline Canopy Tours!
Technically outside of Charlotte in Rock Hill, SC, Canaan is on the very southern end of Lake Wylie.
They have two tours to choose from: a beginner's tour (that they call the Bootleg tour) to see if you like ziplining and the Full tour that's 3 hours of ziplining awesomeness.
Both include a 70ft tower, and if you finish the Bootleg tour but want to keep the adrenaline rush going, you can upgrade on the spot to the Full Tour.
You'll be in full safety harnesses and wearing helmets for this adventure, so dress comfortably. This isn't a fancy date; it's a fun date!
Pro Tip: The Whitewater Center also has ziplining. If you want to do a full day of several different epic activities, go there instead.
42. Exploring Lake Norman or Lake Wylie
The southern end of sprawling Lake Norman is just 30 minutes north of downtown Charlotte via I-77, and Lake Wylie is just 30 minutes southeast.
Lake life can cater to fun-loving adventurers that want to boat or paddleboard their way around the lake, or it can provide a romantic sunset over the water from a lakeside restaurant.
These beautiful lakes offer plenty of opportunities for couples to connect while having fun in nature.
If you prefer to stay on land, there are also plenty of parks and beaches for taking a leisurely stroll or enjoying a waterside picnic.
43. Visit the McDowell Nature Preserve
Speaking of parks on the banks of lakes, the McDowell Nature Preserve on the east side of Lake Wylie is a great place for a stroll with your favorite hiking partner.
Over 8 miles of trails wait for you to explore the many ecosystems next to the lake, including forests, wetlands, and prairie.
The Nature Center also hosts different events throughout the year. Check the schedule ahead and see if there's something particularly interesting for you and your date.
You could even extend the fun into a weekend long camping trip or take the boat out and fish on the lake! McDowell is a great option for an outdoorsy date near Charlotte.
---
---
What're Your Favorite Date Ideas in Charlotte?
Have you tried any of these date night ideas in Charlotte? What're your favorite romantic things to do in Charlotte? Let us know, and we'll update the list!
Happy travels!
---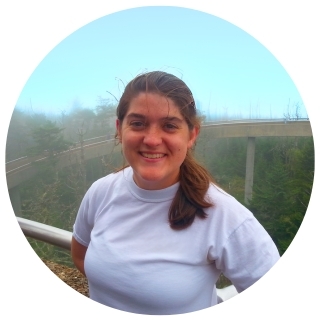 About the Author: Rachel Means
With six-figure student loan debt and only 10 PTO days per year, Rachel started traveling the world. A decade later, she's paid off her loans, changed careers, and been to 36 US states and 14 countries. She's an expert at planning and budgeting for travel and loves to help others do it, too! Read her full story here.
---
Share it!