So, you've made it to South Carolina's capital city for work or leisure, and now you want to go to the beach. But what's the closest beach to Columbia, SC?
That depends what kind of beach you're looking for.
Columbia is in the middle of the state, so the ocean is a bit of a drive. However, there are several lakes in the area, and you could be on a lake beach within a 30 minute drive of downtown Columbia.
Let's look at all your options: ocean and lake beaches, how far away the beaches are from Columbia, and which ones will best suit the kind of watersports or activities you're interested in.
Here's everything you need to know about the closest beaches to Columbia, SC!
---
This post may contain affiliate links. As an Amazon Associate and associate of other programs, I earn from qualifying purchases. This means if you click a link and make a purchase, I may earn a small commission at no extra cost to you.
---
The Closest Beach to Columbia Isn't Actually Close
You might have an idea in your head that South Carolina is a fairly small state on the Atlantic coast, and, therefore, the beach is just a stone's throw away from any point within the state.
We'll forgive you for thinking that if you're not from around here.
The reality is that the ocean is a minimum 2-2.5 hours' drive away from Columbia. The closest ocean beaches to Columbia are the Charleston area beaches, around 125 miles to the southeast.
We're using the words "close" and "nearby" very loosely in this case. The closest ocean beach to Columbia isn't actually close.
Now, if a lake beach counts as a beach in your book, then the closest beach to Columbia is at Lake Murray, just 30 minutes from downtown Columbia at its easternmost point.
What you want to do at the beach will determine which type of beach you should visit and will dictate how far you have to drive to get to the beach from Columbia.
It's up to you how flexible (or inflexible) you are on your preferred beach activities.
---
---
Ocean Beaches near Columbia, SC
Sometimes you just need the ocean to have some fun.
Boogieboarding, skimboarding, and surfing all require an ocean beach. They tend to have bigger, sandier beaches, too, perfect for making sandcastles.
If you're looking for an ocean beach adventure from Columbia, you have a bit of a drive ahead of you.
Some of these can be done as a long day trip. Others are better off as overnight adventures.
Here are the closest ocean beaches to Columbia.
Charleston area beaches
Charleston is home to the closest beaches to Columbia, all of which are about the same distance (125mi) and require similar effort to reach.
Good to Know: The Charleston area beaches are not in Charleston. Don't navigate to downtown Charleston and expect to find a beach. Charleston is on a peninsula in the harbor with no beaches. You have to travel to one of the area's oceanfront islands to find the beautiful, sandy beaches.
There are five main, publicly accessible Charleston area beaches, listed here from north to south:
Isle of Palms
Sullivan's Island
Folly Beach
Kiawah Beachwalker County Park
Edisto Beach
Most visitors end up at either Folly Beach or Isle of Palms, both excellent options with wide, sandy beaches, tons of nearby restaurants, and a fishing pier each.
Visit between June and August and you might see sea turtles nesting or baby sea turtles making their way to the ocean for the first time at Edisto Beach!
The Charleston beaches are your best bet for a beach day trip from Columbia, but there's plenty to do in Charleston if you've got the time for a longer stay.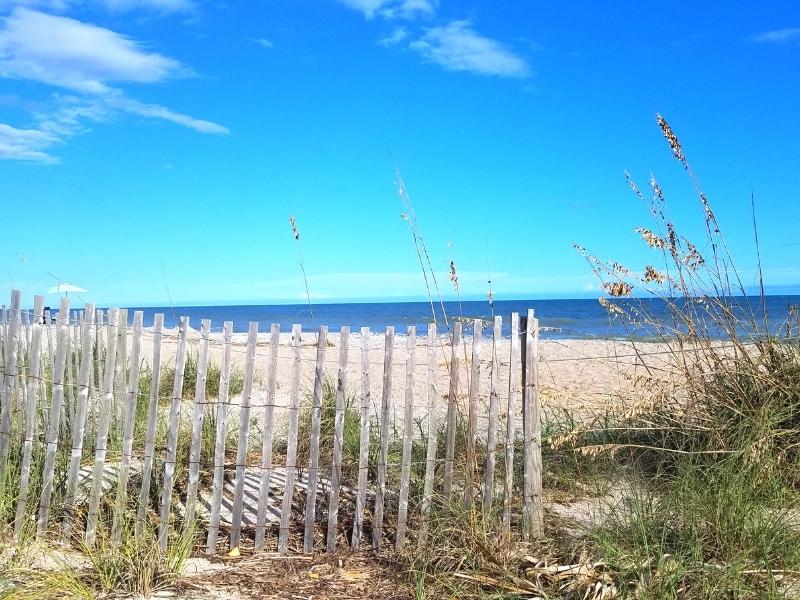 Myrtle Beach
The next closest beach to Columbia, SC is Myrtle Beach, 152 miles or about a 2.75hr drive away.
The most popular beach in the state, Myrtle Beach attracts visitors from across the country. It's packed in the summer. Book your hotel well in advance!
Myrtle Beach is just as famous for the things to do in town as for its Grand Strand beaches. The Boardwalk and Promenade has a sky wheel, arcade games, and carnival treats, right by the beach.
And let's not forget the plethora of mini golf courses in Myrtle Beach. You'll find one every block or two as you drive down the main strip in town.
Good to Know: Horry County, home of Myrtle Beach, has several beach-related ordinances: no dogs, no bikes, no tents during the high season.
Hilton Head
For a more upscale beach experience, Hilton Head Island is the furthest South Carolina beach from Columbia but still less than 3 hours away.
Hilton Head offers pristine beaches, stunning views, golf courses galore, and luxurious accommodations.
You'll find everything from gorgeous, sandy beaches to high-end shopping and unique restaurants for the perfect mix of relaxation on and off the beach.
Georgia Beaches
The Georgia coast isn't too far from Columbia. Savannah, GA and Hilton Head, SC are next door neighbors.
The closest Georgia beach to Columbia is Tybee Island, basically Savannah's beach, and is 177 miles and about a 3.25hr drive from Columbia.
It's an ideal spot for those that want to explore the charm and history of Savannah but also get in some beach time.
Better yet, make a loop and check out both Savannah and Charleston.
At the opposite end of Georgia's oceanfront are St Simons Island and Jekyll Island, both about 4 hours from Columbia.
We wouldn't consider these beaches as "close" to Columbia, but they're worth a stop if you've never been.
Jekyll Island is small and worth a quiet visit, once home to a millionaires' club, but there's not a lot to do here besides enjoy the beach.
St Simons is more commercialized but similar to any of the closer South Carolina beaches.
North Carolina Beaches
Wilmington, NC is only a 3hr drive from Columbia and offers its own wonderful mix of history, culture, and beaches.
Tour Battleship North Carolina, explore a museum, historic mansion, or plantation, and chillax at the beach.
If you're looking for North Carolina's famous Outer Banks, make that its own separate trip.
They're about 6-7 hours from Columbia, depending which island you're headed to.
Lake Beaches near Columbia, SC
The closest beaches to Columbia are lake beaches, almost all man-made, and they offer a chance to cool off in the water or relax on a boat without straying too far from the buzz of the city.
There's a lake beach to fit most timetables, whether you need a half day, full day trip, or an extended stay away from Columbia.
Here are the closest lake beaches to Columbia.
Lake Murray
Just 30 minutes from downtown, the closest beach to Columbia, SC is at Lake Murray Public Park.
Lake Murray is big, with several beaches and dozens of public access boat ramps around its shoreline.
Lake Murray Public Park and Lake Murray North Recreation Area are both a short drive from Columbia and provide easy access swimming areas.
Dreher Island State Park is also on Lake Murray but about an hour's drive from Columbia as it's on the opposite side of the lake from the city.
Dreher Island is a camper's dream but also works as a day trip from Columbia.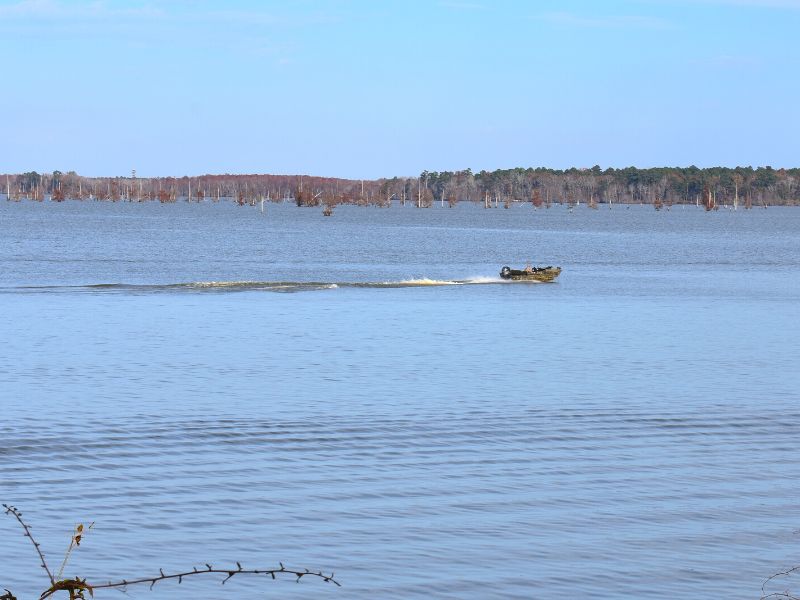 Lake Marion
Lake Marion is about an hour south of Columbia and known as South Carolina's "inland sea." It's one of the largest lakes in the country, but it's man-made.
We recommend a visit to Santee State Park to enjoy this lake. It's got fishing, boat ramps, camping, and even mountain biking.
Lake Marion also holds the state's record for biggest largemouth bass caught at 16.2lbs!
Lake Moultrie
Right next to Lake Marion connected via a canal, is Lake Moultrie, another man-made lake/reservoir.
Given its location between Lake Marion and the Charleston area beaches, it doesn't see as many visitors as either of the other two options.
This isn't a bad spot by any means, but if we had to choose a beach close to Columbia to visit, we'd either stop at Lake Marion or continue on to Charleston's ocean beaches.
Lake Wateree
Forty minutes north of Columbia you'll find Lake Wateree for an easy day trip escape to the lake.
We're big fans of state parks, as I'm sure you've noticed by now, so we recommend Lake Wateree State Park for enjoying Lake Wateree.
Lake Greenwood
An hour west of Columbia is Lake Greenwood, another good option for getting in the water and enjoying a day on the lake.
We recommend Lake Greenwood State Park, especially if you're interested in camping or fishing.
Not far from the lake is the town of Ninety Six, home to Ninety Six National Historic Site, one of South Carolina's Revolutionary War battlefields.
Save an hour or two to explore Ninety Six while you're in the Lake Greenwood area.
More Lakes on the Georgia-South Carolina State Line
If you want to combine a lake day with an adventure to a new city, consider one of the many lakes on the Georgia-South Carolina state line.
Augusta, GA sits on the Savannah River just an hour west of Columbia, SC. Another 30 minutes north of Augusta is Hamilton Branch State Park, on what we're still calling Clark Hills Lake/Reservoir.
Greenville, SC is 1.5hr northwest of Columbia, and we recommend a stop, if for nothing else than to see Falls Park on the Reedy.
From there, another 5 South Carolina state parks on lakes are within a 30-45min driving distance.
---
---
Enjoy Your Beach Day Trip from Columbia!
Now that you know where the closest beach to Columbia, SC is, all you have to decide is which type of beach you want to visit!
Or try both!
More SC State Parks We've Visited
Battle of Rivers Bridge
Croft
Goodale
Hunting Island
Kings Mountain
Lake Greenwood
Lee
Poinsett
Is an Annual South Carolina State Park Pass Worth It? In most cases, yes, but check out the full cost breakdown to find out if it's right for you!
More Charleston area Travel Resources
Happy travels!
Share it!