Summer is the perfect time for a lazy float trip down an easy-going river. It's a great way to relax outside, unwind from the work week, and just chat with friends or family for a few hours.
We've been on our fair share of river tubing adventures; some long forgotten and others that will live on for years through shared inside jokes with friends.
There's a direct correlation between your group's preparedness level and the amount of fun you'll have on the river.
That's not to say you can't do this spur of the moment. But there are certain float trip essentials that will make your day on the river a fond memory rather than just a passing thought.
So, without further ado, here's our finely tuned float trip packing list for a fun day out!
---
This post may contain affiliate links. As an Amazon Associate and associate of other programs, I earn from qualifying purchases. This means if you click a link and make a purchase, I may earn a small commission at no extra cost to you.
---
Float Trip Essentials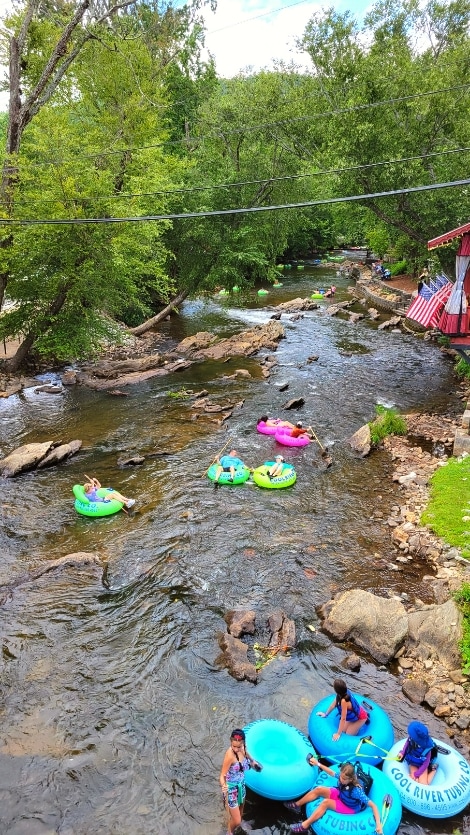 1. The Tube
The one float trip essential that you can't go without: the tube.
We're talking an honest-to-goodness river inner tube, not a cheap/thin one for a pool or from Amazon.
If you're tubing with a company, then you're all set and don't need to bring your own.
The tube should be included in the price (hopefully transportation, too), and you'll be able to spot and avoid the partially deflated tubes on the rack.
Your float trip will get un-fun real fast if your inner tube gets a puncture and deflates.
Then you're, quite literally, stuck up the creek. Probably in a swimsuit with a cooler full of beverages, surrounded by muddy banks and nowhere near a real road.
Most rivers we've tubed are shallow, and you WILL scrape the bottom at some point during your journey. Pool floats won't make it past the first rock.
The best river float tubes have handles and maybe even a back support/cushion thing.
We're personally indifferent to whether or not the tube is open or not on the bottom.
Some people have strong opinions about this, for innocent and sometimes otherwise reasons.
Generally, those that want a closed bottom think it will protect their stuff from the river, be it their electronics or their swim bottoms.
Tubes can tip over so easily. Having a closed bottom tube to protect your stuff is a false sense of security.
Pro Tip: Closed bottom tubes are good for holding coolers, but keep in mind that they can still tip over. Bring one that has a lid that latches so you don't lose all your drinks if its tube flips.
Then there's the pro open bottom tube people.
Some innocently enough prefer to cool off as they float, or they prefer to wear their tube like a hula hoop instead of sitting in it.
Others want it for the bathroom option, which we personally think is gross. Other people are floating on that river with you.
If you have to answer nature's call mid-river, pull off to the side away from others so it has a chance to dilute in the river, and for the love of all things hygienic, don't pee ON the tube.
2. Bungee cords (or Twine)
Tubing is more fun with a group! But how do you stick together on a body of water with moving currents?
Bungee cords.
Some people will say Velcro straps, but we're here to tell you those don't work. They pull apart too easily.
If you want to make it through those tiny rapids together as a group, you need bungee cords.
Pro Tip: Loop the bungee cord through the tube handles, and hook the hooks to themselves. We've had much more success with this method than with hooking to the tube handles themselves.
Sizing is important here. You need enough slack to let the tubes move around but enough tension to keep a tube from lagging behind or speeding up.
Too small and the tension in the bungee cord can cause two tubes to sandwich together.
Too big and the slack could cause the bungee cord to unhook itself.
If you're in a pinch and don't have bungee cords, you can almost always find a tube that already has a bit of twine on the handle.
Tying tubes together with twine can work on gentler rivers, but may break on float trips that involve minor rapids or simply a faster current.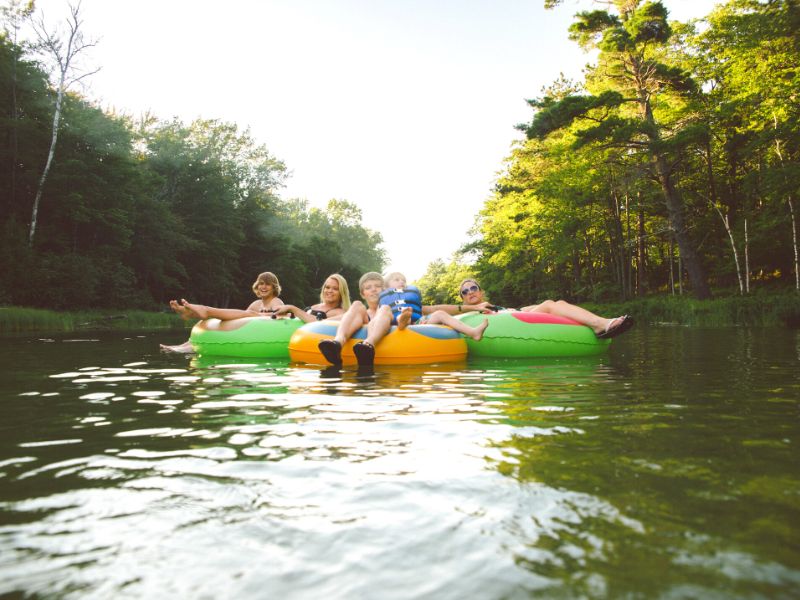 3. Swimsuit or clothes you don't mind getting wet
You will get wet on your river float trip. But you'll also likely get a lot of sun.
There's a fine line to walk here between staying cool and not getting sunburned.
Swimsuits are made for the water, but they offer the least sun protection.
We know from experience that reapplying sunscreen mid-river is a tricky business. The less area you have to reach, the better.
For that reason, we tend to favor the half and half approach: swimsuit tops and shorts.
For me, that's a tankini with athletic shorts over the bottom. For my husband, it's a rash guard and his swim shorts.
4. Water shoes (or flip flops or old shoes)
It's a truth universally known (any Jane Austen fans?) that you will have to walk your tube out of shallows or off of a rock at some point on your river float trip.
You'll thank your past self for wearing water shoes.
Bonus: they'll protect your feet from getting sunburned, too.
If you don't own water shoes, flip flops or old shoes can work, too.
But flip flops have a habit of floating away when you're not paying attention, and old shoes will get waterlogged and heavy.
Water shoes are not only float trip essentials but also our go-to footwear for most water activities.
Shoes that can get wet, not weigh you down, protect your feet, and dry quickly are a must-have for anyone that enjoys playing in/near the water.
5. ALL the sun protection
Tubing down a river is basically mobile sunbathing, but you can't turn over when you start to cook too much on the top.
Sunscreen is a must before you head out and should be top of your float trip packing list so you can reapply while floating.
Pro Tip: Bring chapstick with SPF to keep your lips from getting sunburned.
Alternatively, wear a hat, sunglasses, and maybe even a rash guard shirt if you don't want to bother with reapplying sunscreen on the water.
Your tube will rub off the sunscreen, too, so be mindful of that when applying. You'll get weird burns on the sides of your arms and legs.
Bring an umbrella if it's not too windy and use it to shade most of your tube, or at least your upper half.
Don't forget your feet! If you're sitting in your tube, your feet stick out the most and will get sunburned.
6. The Cooler!
Often, the most beloved float trip essential is the cooler.
It holds all the cold, liquid fun for your trip, but if you do it right, it also has the tasty, not melted snacks.
Bring both sweet and salty snacks. As long as you keep chocolate and fruit snacks in the cooler, they're fine to eat on the river. Otherwise, they turn into a sticky mess.
We also like granola bars and beef jerky sticks to help replenish some of the salt from sweating in the sun.
If you bring popsicles, eat them first. Don't bring an entire box unless you have that many people in your float group.
Only you can know how many drinks per person is enough, but we'd recommend you keep it low so your cooler doesn't get too heavy.
It may be floating in its own tube, but you still have to carry it into and out of the river.
Pro Tip: Most tubing companies let you rent an extra tube for a cooler. Some even have smaller tubes specifically for coolers.

If you're a professional, tubing every weekend, you can buy floatable coolers.
There's debate between Styrofoam coolers or hard-sided, reusable coolers. We go reusable every time.
They insulate better, keep drinks cold longer, and are infinitely better for the environment.
If you're worried about losing it, just make sure it's securely tied to its tube's handles.
Even if the cooler tube flips, the cooler will stay attached and not sink. (You'll need something stronger than twine or Velcro straps, like bungee cords…)
And let's be honest, most of you would dive after the cooler like you were saving your first born child.
7. Trash bag
Leave no trace, people! Don't be a litter bug. Clean water is the most precious resource our planet has.
We've already talked about the wonders that the cooler may hold, so we need to have a trash bag to contain all the leftover debris.
A mesh produce bag works just fine for your empty cans, but snack wrappers need to be contained.
Use a small plastic bag that is attached to your stuff (and won't become trash when you lose it when the tube flips) or just a particular zippered pocket on a bag or someone's shorts.
8. Bug spray
Depending where you're tubing, this is one of the most important float trip essentials.
We've only needed insect repellent on maybe a 1/4 of all the float trips we've ever taken. But the ones we used it on, we were super grateful to have it handy.
We keep our sunscreen and bug spray in the same bag, always in the trunk of our car so we can't forget them.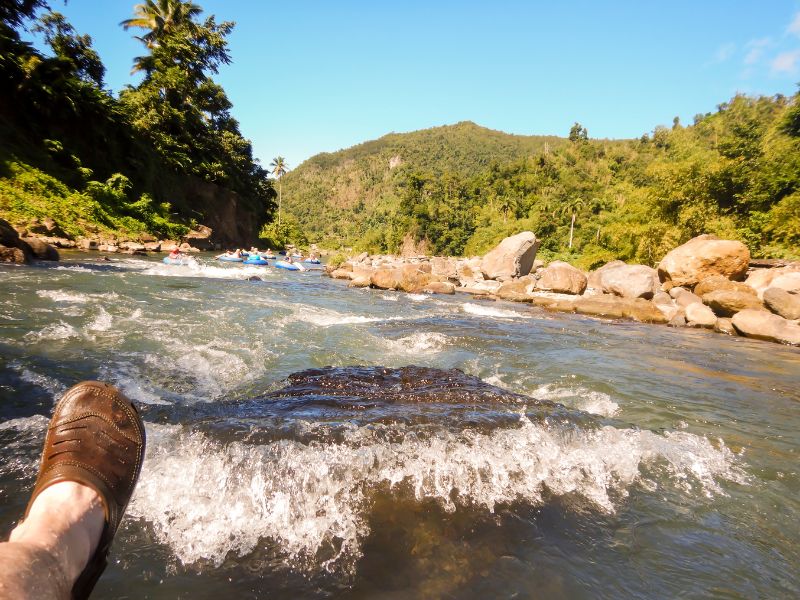 Float Trip Extras to Bring
9. A dry bag
We don't consider this one of the float trip essentials because you can easily go without one. Not everyone needs a ton of stuff with them on the river.
It's a nice to have and not a need to have to enjoy your float trip.
10. Towels
This is a personal preference. We don't bring our towels with us on the river because if they get wet, we're out of luck all the way home, which for us has sometimes been several hours away.
But others want to dry off as soon as they exit the river and have the towel for warmth on the tubing company bus ride back to their car.
Up to you if you're willing to risk it.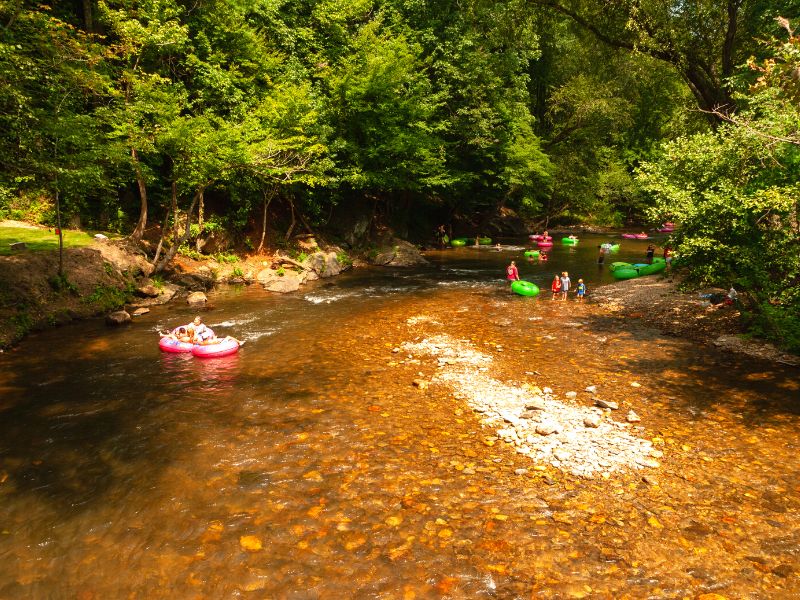 11. Water guns
Great for kids and adults alike, water guns are a fun way to keep the float trip lively.
Depending on your location and the flow of the river that day, you might be floating for a while and need to break up chats with a brief water gun fight.
12. Hand sanitizer
In a post-pandemic world, we take hand sanitizer everywhere.
We're much more aware of all the gross things we touch without thinking about it and then touching our face or using our hands to eat snacks.
13. Water-friendly camera
Some float trips have a strict Las Vegas policy (what happens on the float trip, stays on the float trip), but for the rest of us, a GoPro can capture the fun and preserve the memories.
GoPro is our water-friendly camera of choice, but it does have its limits.
It's meant for being strapped to you while doing something athletic, like snowboarding or surfing, so it doesn't have a lot of flexibility in the type of shots you'll get.
Most cell phones have some amount of water resistance, but we'd still recommend a floating waterproof phone case to avoid losing it.
Get Your Float Trip Packing List Here!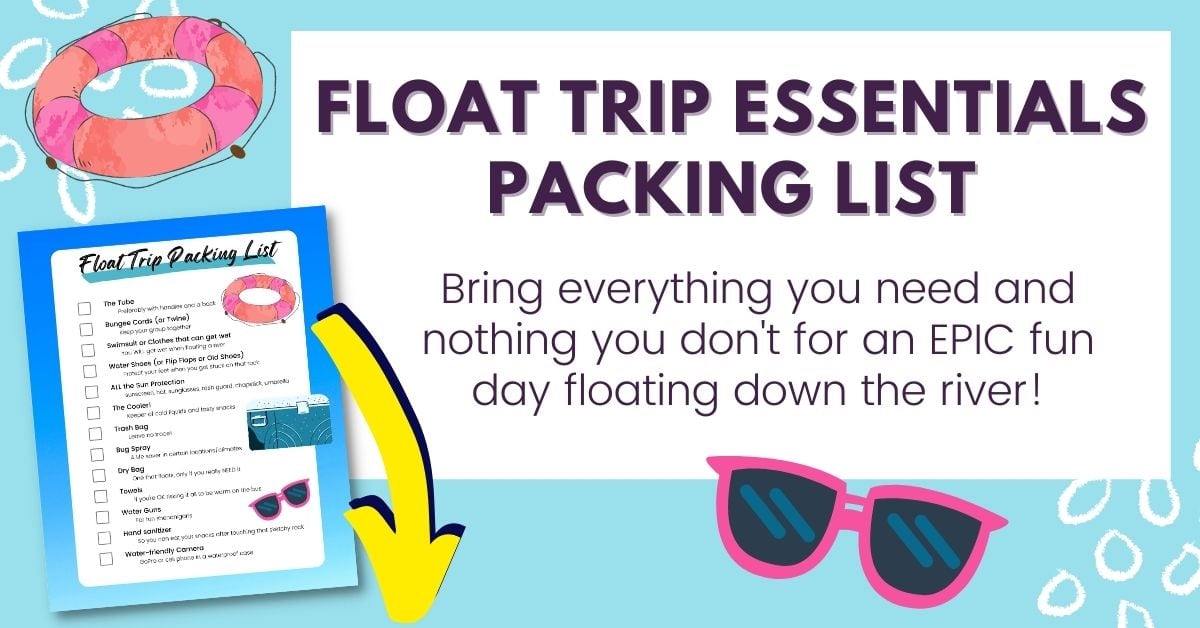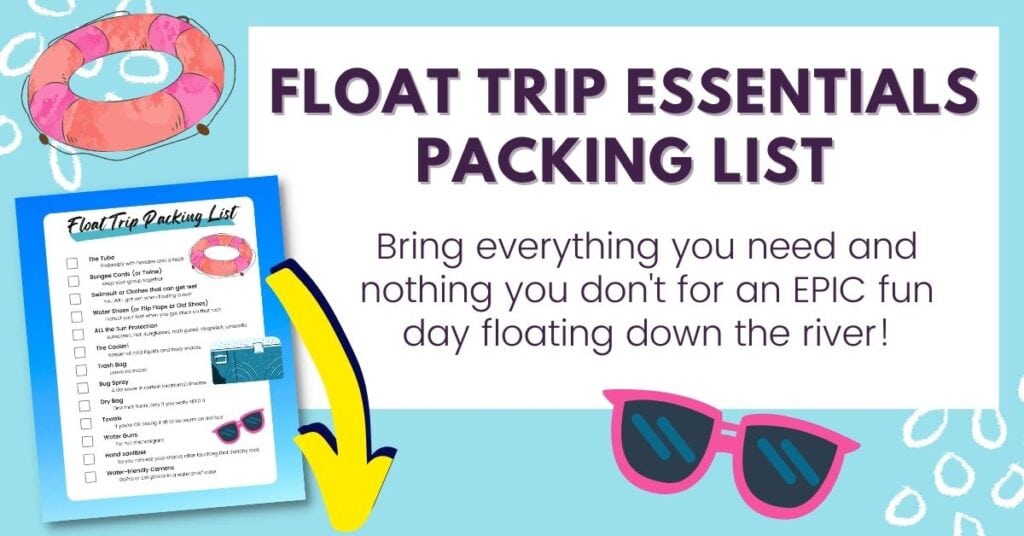 What Not to Bring on Your Float Trip
We've talked about your float trip essentials and handed you a float trip packing list, but let's talk for a minute about the things you DON'T want to bring on the river.
Wallet
Car key
Electronics that can't get wet
Cotton, jeans, or other heavy fabrics
Expensive sunglasses
Leave the expensive sunglasses at home. If you bring a pair on the river, be sure they either have a strap or you don't care about them if you lose them.
Cotton isn't heavy when it's dry, but it's a problem once it's wet. Synthetic, quick-dry fabrics are best on the off chance you fully submerge when your tube tips.
There's nothing to buy on the river, so leave your wallet (hidden) in your car.
Electronics are a given that they don't mix with water.
But some cell phones are getting better at water resistance and a GoPro was built specifically for surviving the outdoors and capturing footage, so use your discretion.
The car key is the most difficult to decide how to stash. You have to lock your car, and common sense is to take the key with you.
But you don't want to accidentally drop it in the river and lose it, so maybe you tie it to your wrist.
Good try; most car keys are electronic these days.
Most still have a physical key hidden inside the clicker somewhere, but the car usually won't lock if you leave the clicker part inside it.
The best option is a locker with your tubing company. Some companies include them in the price; others charge an additional fee.
It's worth the ask and usually worth the fee to have a secure, dry spot to keep your car key safe from the river.
Depending on the company, you'll either have a locker key to wear on your wrist on the river or they'll store your key in their office and you show your ID to get your stuff back when you're done.
If your tubing company doesn't offer lockers or key storage, then bring a waterproof, floatable bag.
Ziploc bags are waterproof but not floatable when weighed down with contents. Some dry bags are floatable.
Enjoy Your Float Trip!
With these float trip essentials in hand, you're sure to enjoy a memorable day on the water!
More Travel Logistics Resources
Happy travels!
---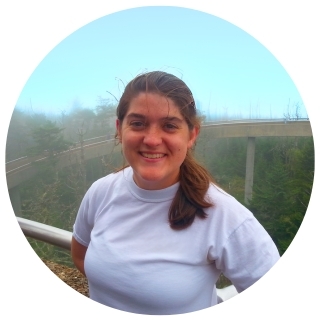 About the Author: Rachel Means
With six-figure student loan debt and only 10 PTO days per year, Rachel started traveling the world. A decade later, she's paid off her loans, changed careers, and been to 36 US states and 14 countries. She's an expert at planning and budgeting for travel and loves to help others do it, too! Read her full story here.
---
Share it!